---
Review of EGONlab., JW Anderson, Courrèges, & Bluemarble Spring 2022 Men's Fashion Shows
A Powerful Show of Burberry's New Hunks Did Not Dampen the Eloquent Spirit of Independence in Paris
By Long Nguyen
On this second day of the Paris men's spring 2022 season, Burberry men's filmed show on the official Paris calendar added a heavyweight to the day's primary focus on emerging brands and independent designers. 
Strong collections featured specific points of view from Florentin Glémarec and Kévin Nompeix, the team that creates Egonlab. and the menswear debut for Nicolas di Felice for Courrèges. JW Anderson, the other British brand showing in Paris, offered a more subdued collection, at least by his design standards.
In a rare live show at the Musée des archives national, Anthony Alvarez continues his journey traveling, literally and figuratively, to incite a colorful and high-spirited show based around surfing.
EGONlab.
Florentin Glémarec and Kévin Nompeix founded Egonlab in 2019 as a unisex fashion project. "We see ourselves as visual artists. Therefore, each collection wants to preserve the aesthetics that a work of art must provoke."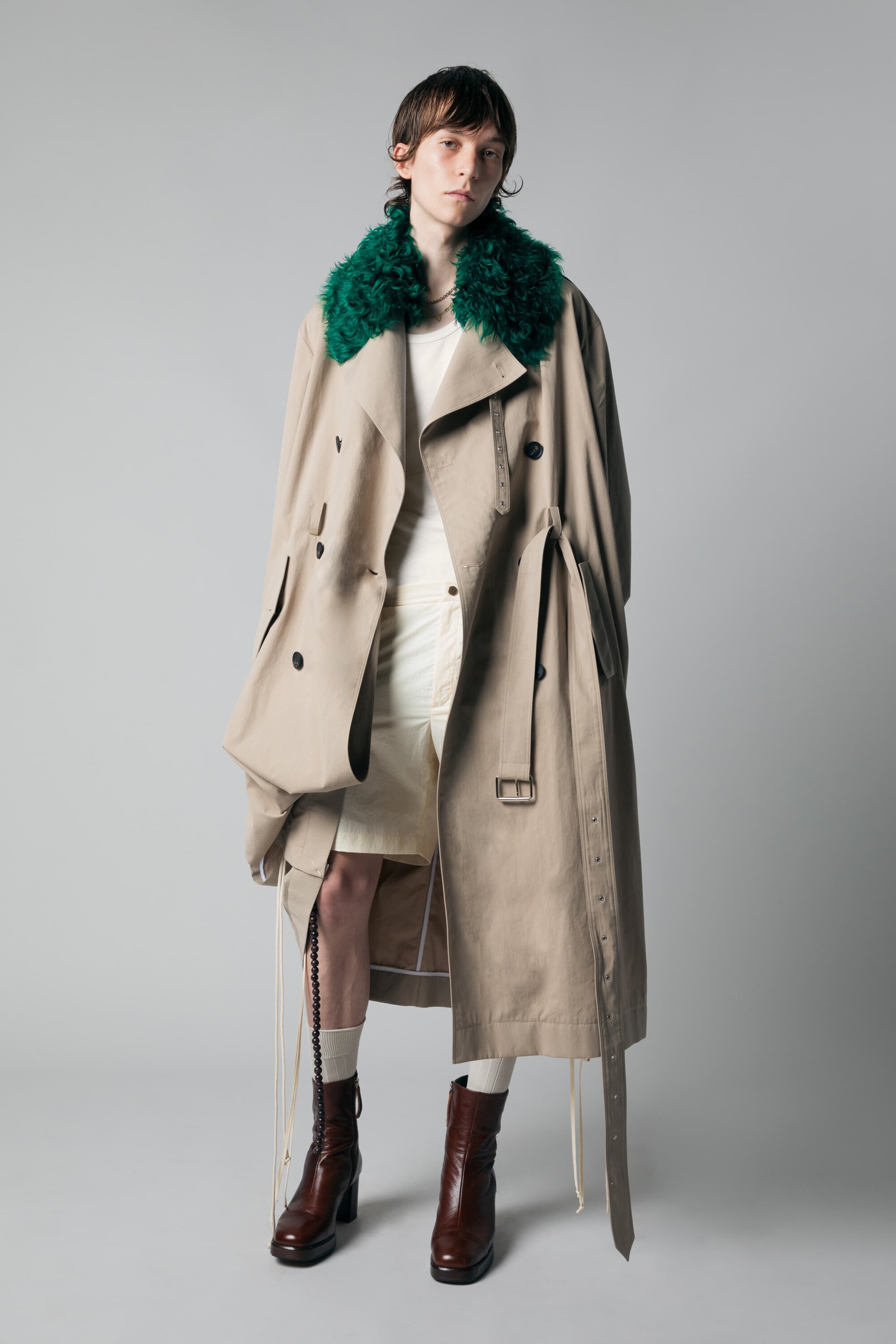 For this spring season, the pair showed a solid Egonlab collection, which mixed a greater focus on tailoring with a range of sportswear offerings made from recycled fabrics.  
But Glémarec and Nompeix are tailoring in their way, trying to instigate shapes that would entice the younger generation to consider a potential wardrobe of a double breast pantsuit. This look lies beyond the hegemony of streetwear-and-sneakers.
"We want a very positive collection with the symbols that have always associated with love and acceptance. Since we started, we always stayed on top of things that are happening now," Glémarec said in a zoom preview of the new concept for the clothes last Sunday from their studio in Paris. "We want everyone to be able to choose the clothes they wear without being judged," added Nompeix on their unisex clothes aiming at the new young generation.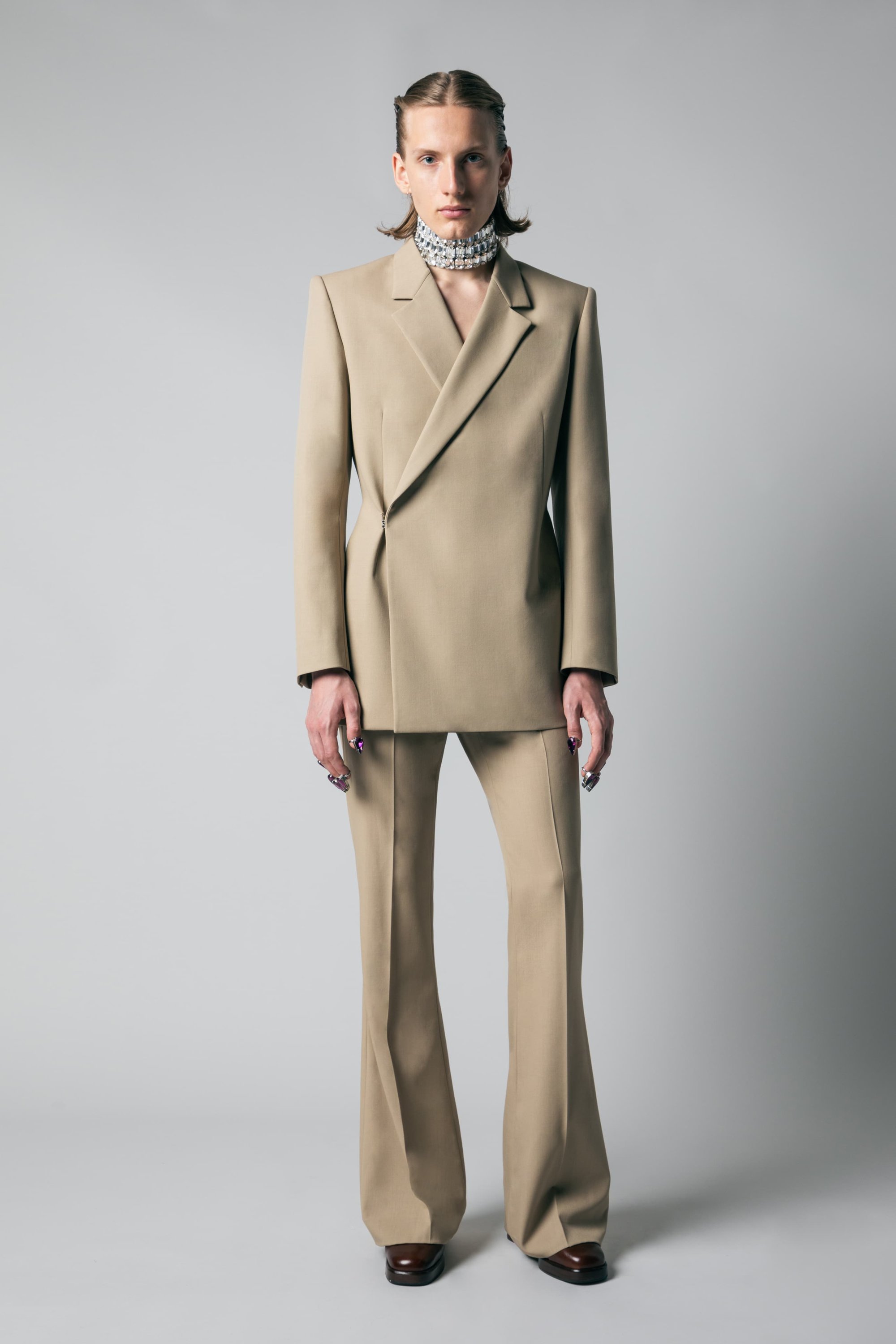 The pair said they shot their film presentation in the format of an actual runway show inside an empty studio in Bagneaux, an hour southeast of Paris, for what they called their 'Dynasty' collection.
"Love and chaos" is the new message here of this very concise and powerful.
The pair said they saw the heroic act of the wife of the Earl of Chester protested naked on a horse against a high tax levy at the turn of the first millennium as a source. That gave rise to medieval symbolism like the colorful hand-painted patterns resembling dark ages inscriptions on a white silk quilted shirt jacket. "The symbolism on this jacket is something we would like to continue as it is becoming one of the recognized signatures of our clothes," Nompeix said.
And this medieval emblem doesn't just stop on the quilted jacket. There's a stretch tattoo tee shirt full of the drawings and engravings that the designers said they paid homage to the Jean Paul Gaultier Spring 1994, and of course, the full-on jacquard double breast loose trench coat featuring the Archangel Michael. A simpler version of the trench coat is in camel with a green furry collar and asymmetrical folding.
Elsewhere in this precise and focused collection are plenty of street sportswear items. Hand tie-dyed oversized blouson and khaki shorts, camel quilted work jacket, and blue denim with white guipure lace spread collar. A black and white A-line nylon baseball jacket is a continuation of its work with the Sergio Tacchini sports brand in its third season.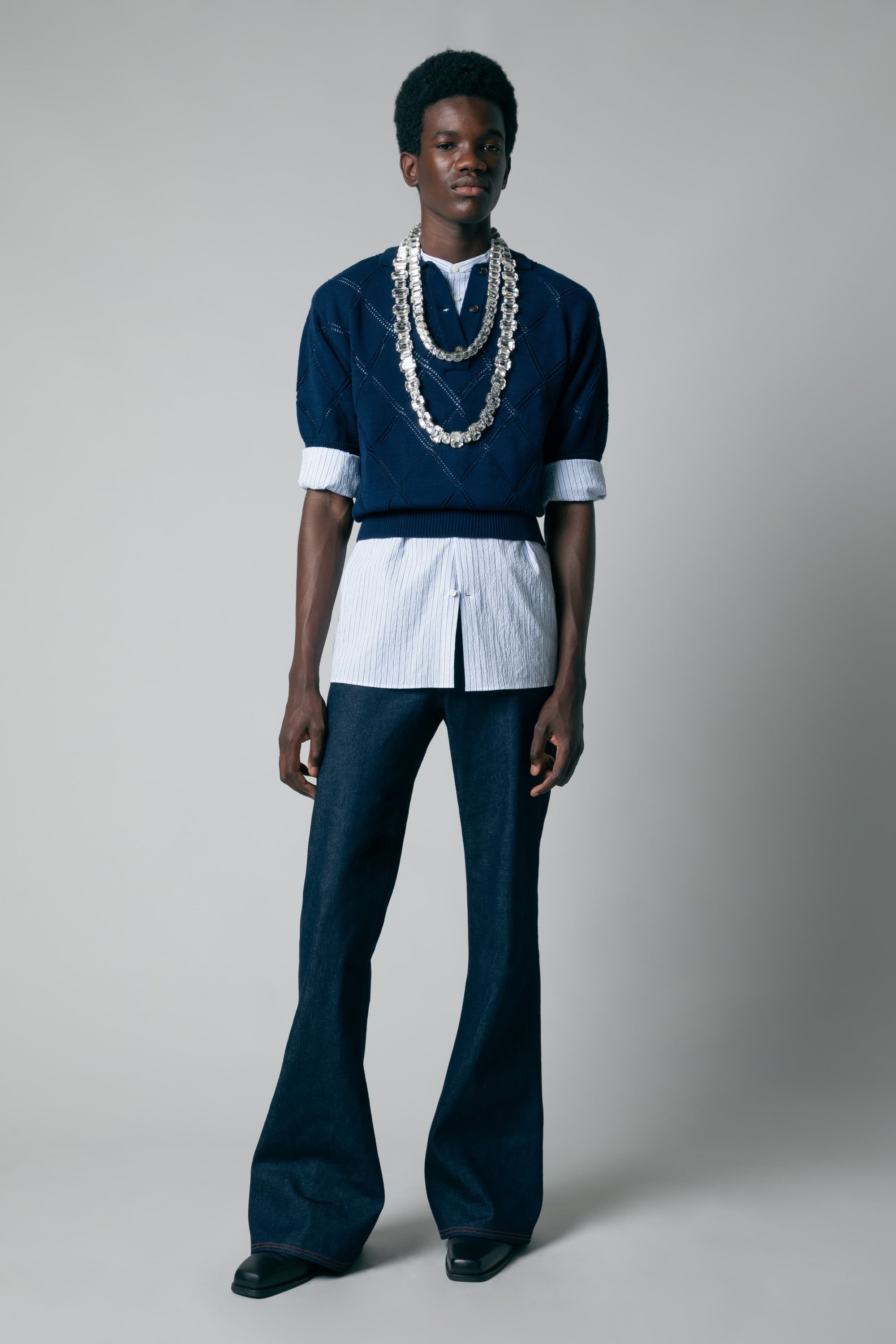 The classic Egonlab tailored silhouette is a strong shoulder double breast cross-body jacket with side hooks, slight cinch above the waist, and little flare at the hips in light camel wool paired with a straight leg below the knee flared pants flared. This pant cut runs throughout the collection at times, shown with a red/black argyle blouson or a sleeveless cotton-lace singlet.
The denim jeans – made in dark unwashed denim in the shape of straight-leg pants that flared out into bell-bottoms – are another strength of the collection.
Asked during the zoom preview on a mannequin behind them, Nompeix moved the mannequin forward towards the screen and showed the deep green tartan long dress with a structured corset top and side hand pockets.
"In the picture, we have both a male and a female model this dress as we intend.  Our collection and for this couture dress is to be unisex," he said, pointing to how they had cut the corset top section open without any additional strap supports to further the design idea that the dress can fit into all types of bodies. "We would eventually like to have this as a separate studio area working with clients on these couture garments," Glémarec added. 
JW Anderson
"For the show box, we had looked at these frames in which a lot of people will know when you were at school and the pop-up frames. And then, the idea is that you can alternate the pictures within the frames. So the wrapping paper is quite interesting – it's like an old 18th-century picture of a squirrel eating strawberries. It's a picture of a picture within a picture," JW Anderson said in the video explaining his men's spring collection contained in a box of 33 pictures and frames.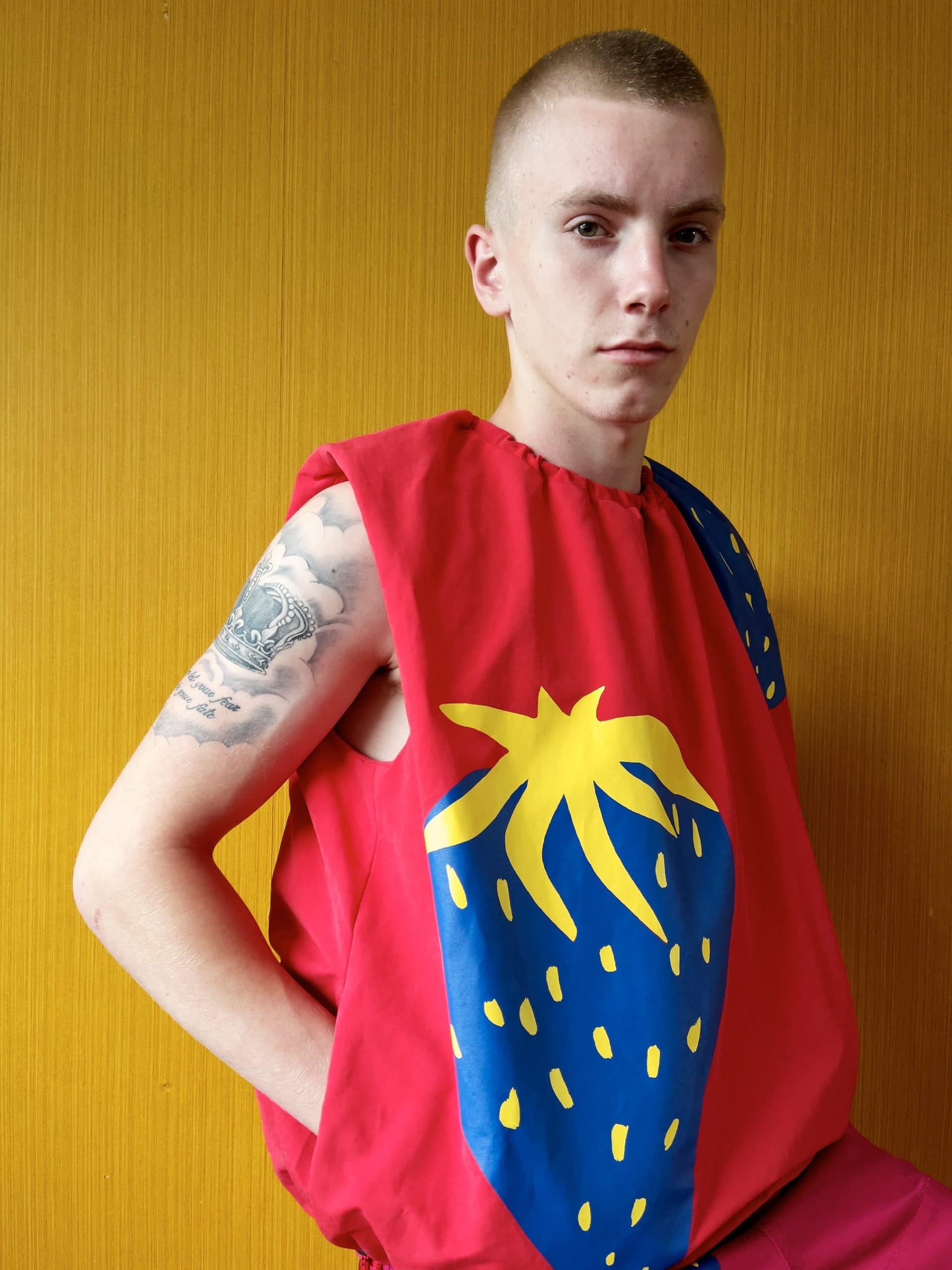 Anderson has worked with the photographer Juergen Teller, now for the third time, as a "kind of voyage to find newness in terms of how to present collections in today's world." Anderson focused on the personal aspects of fashion for how the spring clothes shown, photographing guys in these clothes around their bedrooms and the visuals showing each in various positions around this very intimate setting with a dose of nostalgia coupled with looking forward.
Privacy and the glorification of each individual mean clothing with a sense of "heightened normality," as Anderson described. The designer combined good and bad taste as he showed how the image of the strawberry printed or knitted or embroidered on a green tank, on the front pockets of red parkas or white jumper can become a sort of kitsch.
"I started this brand many years ago, and I'm trying to find new ways that turn you on with the design. So you're trying to find new avenues or sometimes stripping back. It's more about the attitude of the character," Anderson said. 
Anderson meant about intimate and individual clothes is the traditional way Anderson is known for his shape-changing distortions, creating a new kind of more sportswear focus spring clothes than in the prior season. A red sleeveless tank and blue strawberry print have an oval shape. A green drawstring track pants are cut with billowing legs. A sleeveless knit v-neck jumper stretches as a tunic. A purple logo pajama transforms into a jumpsuit. A running short is in electric blue leather.
The graphic clothes with strawberries and plenty of JWA handwritten logos are perhaps one of Anderson's most minor conceptual collections for some seasons. But the straightforwardness of the clothes fits in well with the sort of high school pictures idea. Moreover, the clothes make total sense in the environment of these high school pupils. 
Courrèges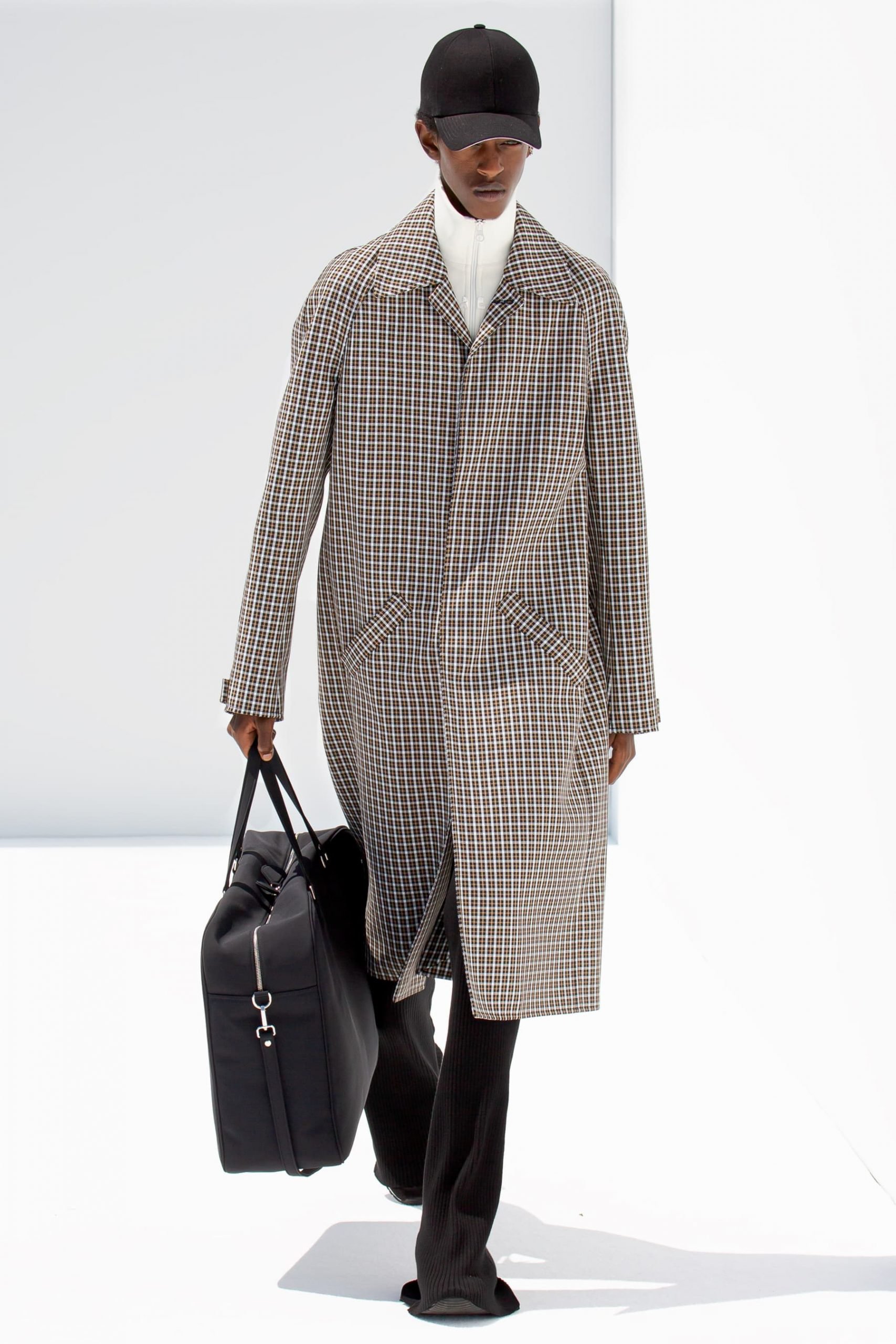 "This is the first menswear show for Courrèges. I wanted most of all to have the idea of continuation from the debut Fall 2021 show to make the distinctive heritage all part of the signatures of the collection. So my point of departure starts with a 1969 photograph of André Courrèges standing in front of his store wearing a tan coat, white pants, white shirt, and white shoes," said Nicolas di Felice, the creative director at Courrèges. The designer showed the brand founder's black and white photograph taken in 1969 during a zoom preview at the Paris showroom the day before the official presentation via film video. 
While a more brief runway outing, the spring film continues the theme of last season's show in a white cube at La Station Gare des Mines in the 18th arrondissement. The 'grimpeurs' seen at the end of the Fall 2021 show climbing on the sides and top of the giant box wore precursors to today's official men's debut.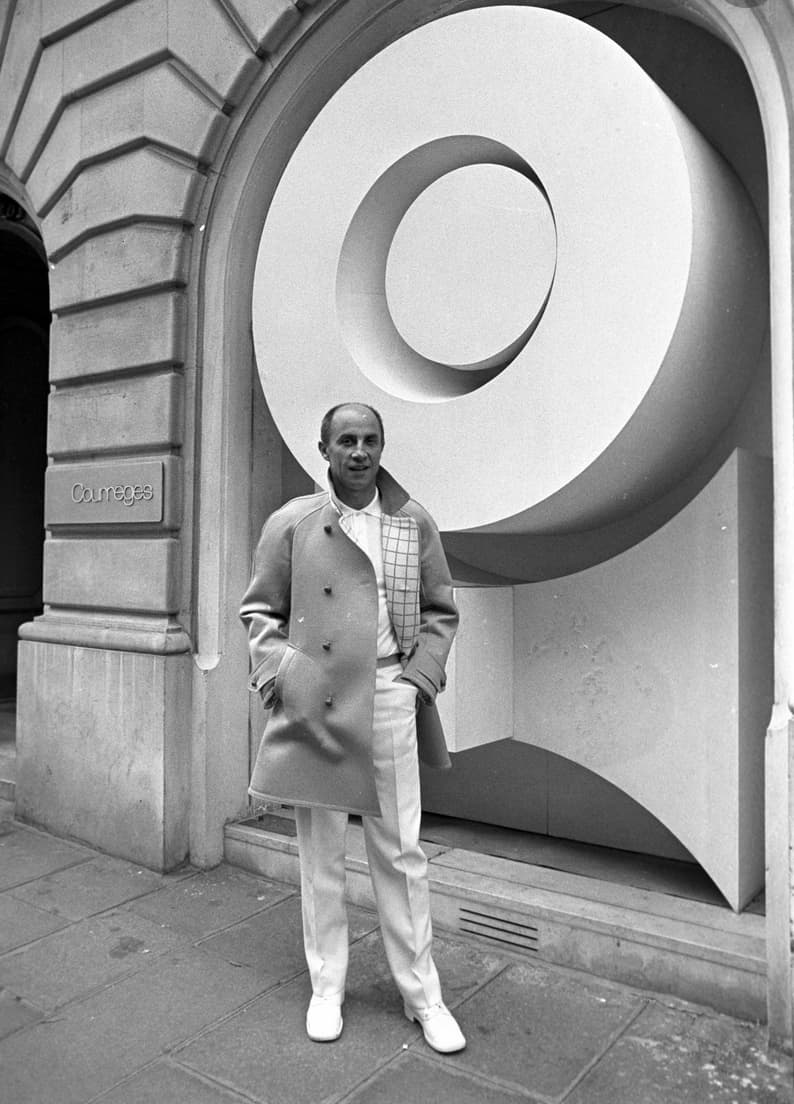 "It is my first menswear collection ever," said di Felice as a model showed off the new spring spread collar long single breast slightly boxy coat with raglan sleeve and angled pockets in a soft wool white and brown small windowpane stripes. The Belgian-born designer, a graduate of La Cambre in Brussels, has worked many years for Nicolas Ghesquière at Balenciaga and Louis Vuitton and Raf Simons at Dior. A firm command of craft and design techniques is a strong suite for the veteran behind the womenswear designer.
"What is most important is the preserve some of the known heritage but do so in a way that is more now and what guys would want to wear." 
The designer meant in clothes with less space-age and high-tech materials that were part of his launch collection last September. The most visible remnant of the heritage design is perhaps the black knit tank top with a circle cut out in the front and black knit pants. Aside from this particular look, this spring streamlined collection has many strong menswear staples items that are easy to mix with other clothes. The black leather mandarin collar blouson, a short collar zippered trucker jacket, or a simple light shirt-jacket paired with a black vinyl pant made from vegetable stretch cloth are examples of these standouts items.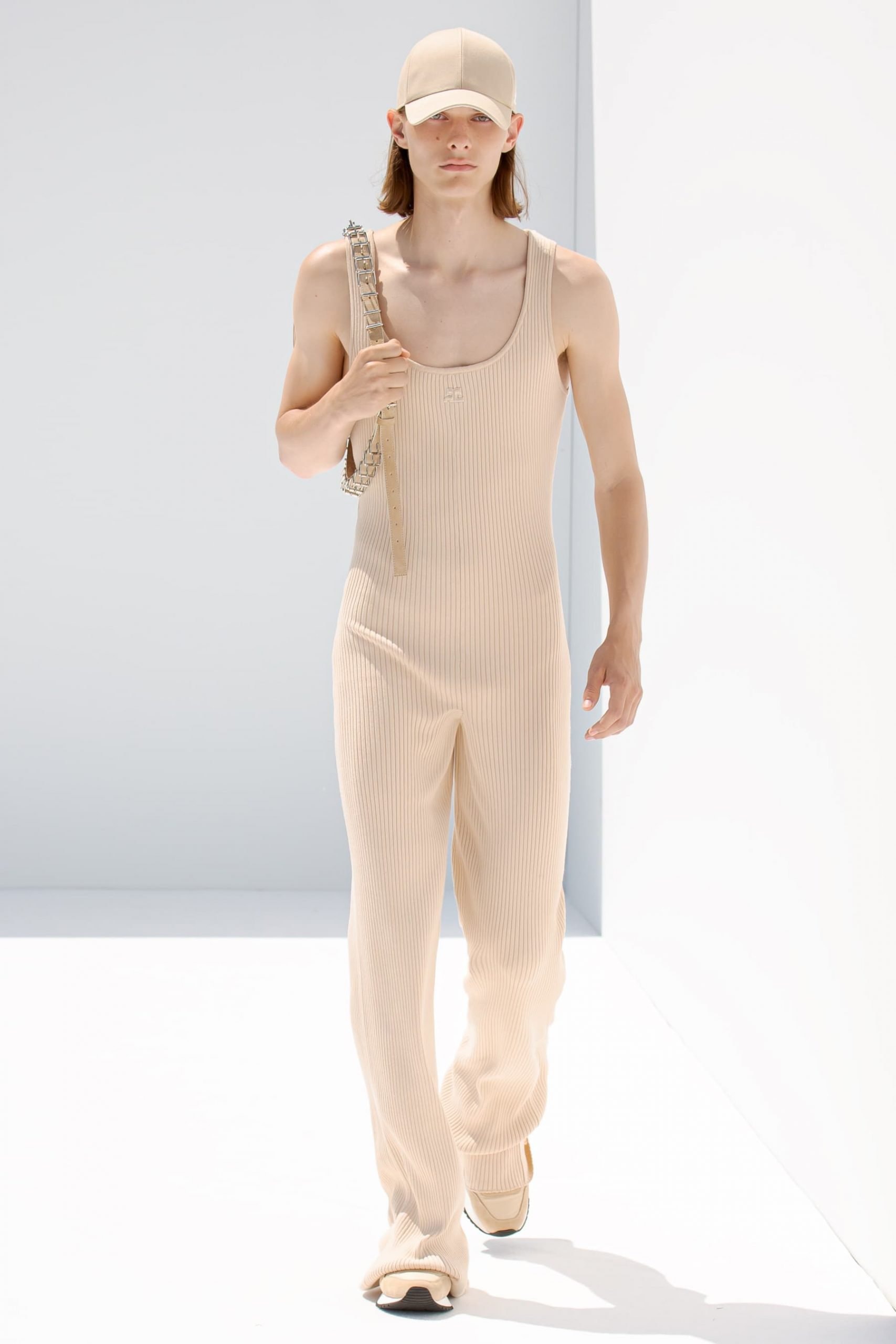 Several of the denim looks are strong elements here. Jeans are straight cut and tapered at the ankle in white and a loose fit sleeveless matching mock neck jacket with the house logo lightly embossed at heart. Regarding item drive merchandise, the tan non-denim jean is another example of how easy it is to break down this show into readily merchandises at stores.
The finale look – a tan jersey ribbed knit jumpsuit – demonstrate the remarkable control di Felice exerted in his design sensibility not to have too much heritage standing in the way of this super of the moment now collection.
Bluemarble
One of Anthony Alvarez, a French-Filipino founder of Bluemarble since 2019, the principle for his brand has always been exploring the tapestry making up the consciousness of modern pop culture the forefront idea of his fashion. Bluemarble has since delivered on this premise, each collection of urban sportswear marred with a whiff of the thinking of combining a bit of travel exoticism in the colorful garments.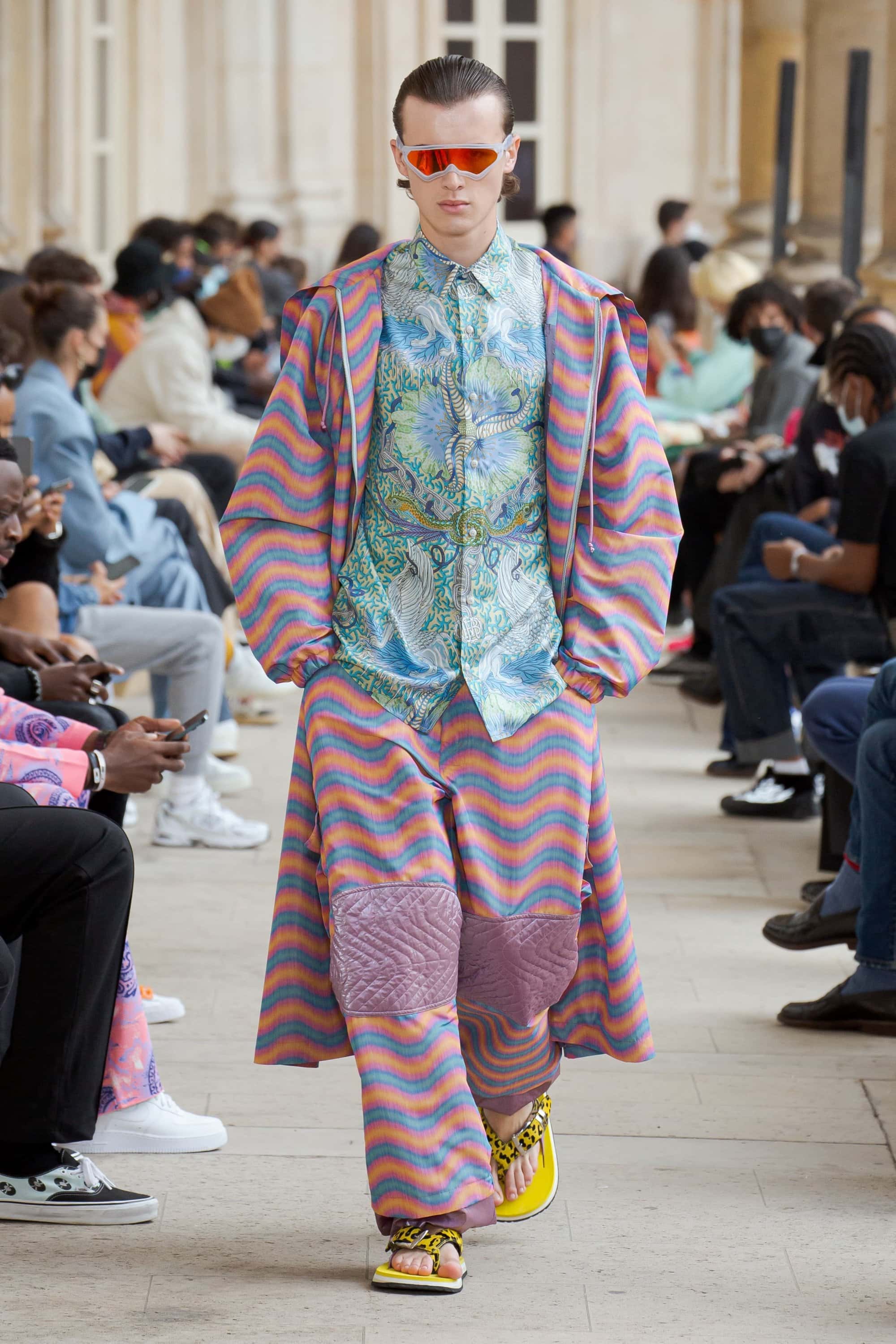 This season's fashion stems from an excursion that results from a trip home to the Philippines.  During the lockdown, Alvarez spent time in the Siargao archipelago, a surfer paradise alternative to the waves of the Hawaiian coast. 
In one of the few live shows staged at the Musée des archives nationale, the idea of the surf came alive with plenty of a wild kaleidoscope of patchwork stripes, colors, and oversized shapes. A current moment hippie feels in the clothes that aren't dated, with clothes made from recycled local fabrics. As an ode to his Filipino heritage, Alvarez showed a barong, the collared tunic formal dress shirt of the island nation, now in a psychedelic floral print. The blue floral print jeans and the brown jacket with embroidered trims are other great garment items from this collection.
Another great outfit is the colorful shirt/long shirt print suit paired with an olive floral embroidered wavy shirt collar quilt blouson. Displaying a bit of a couture touch, a yellow and white camouflage pattern zippered jacket and cargo pants have hand-embroidered crystal beads in denim fabrics, all of course made in France.
Even with a surf leitmotif, the clothes do not have as much of a close identity to actual surfing but rather an imaginative rendition of the environment and the atmosphere surrounding this cultural phenom.
Nevertheless, it is an excellent step forward for Alvarez, with such easy pieces that can appeal to a range of young consumers. 
---