---
Review of Etro, Tod's, Antonio Marras, Romeo Gigli, Marco Rambaldi, Act Nº1, & Vivetta Fall 2021 Fashion Shows
As Commerce Takes Precedent, Other Aspirations Tow Behind
By Long Nguyen
The third day of Milano fall digital fashion week started with the exceptional Marni dinner via Zoom, taking place just past midday in New York.
In another breakthrough in how to present fashion in this time frame, Francesco Risso found the perfect solution in commissioning Wu Tsang to film a hybrid documentary-narrative short film imitating a dinner party. There was a breakfast and a lunch event, depending on where on the global time zone.
But in Milano proper, the fashion business went forward with most shows and presentations from more established commercial brands from Etro to Marco Rambaldi's likes.
Veronica Etro, the women's creative director and heir of Etro founded in 1968, found the reasons for her new fall collection shown live stream from Milano for the house known for the vibrant print fabrics, especially the signature paisley pattern in a combination of two unlikely sources, both free-spirited – Jimi Hendrick and Rudolf Nureyev, albeit for different reasons. The songwriter Arlissa did a live virtual performance.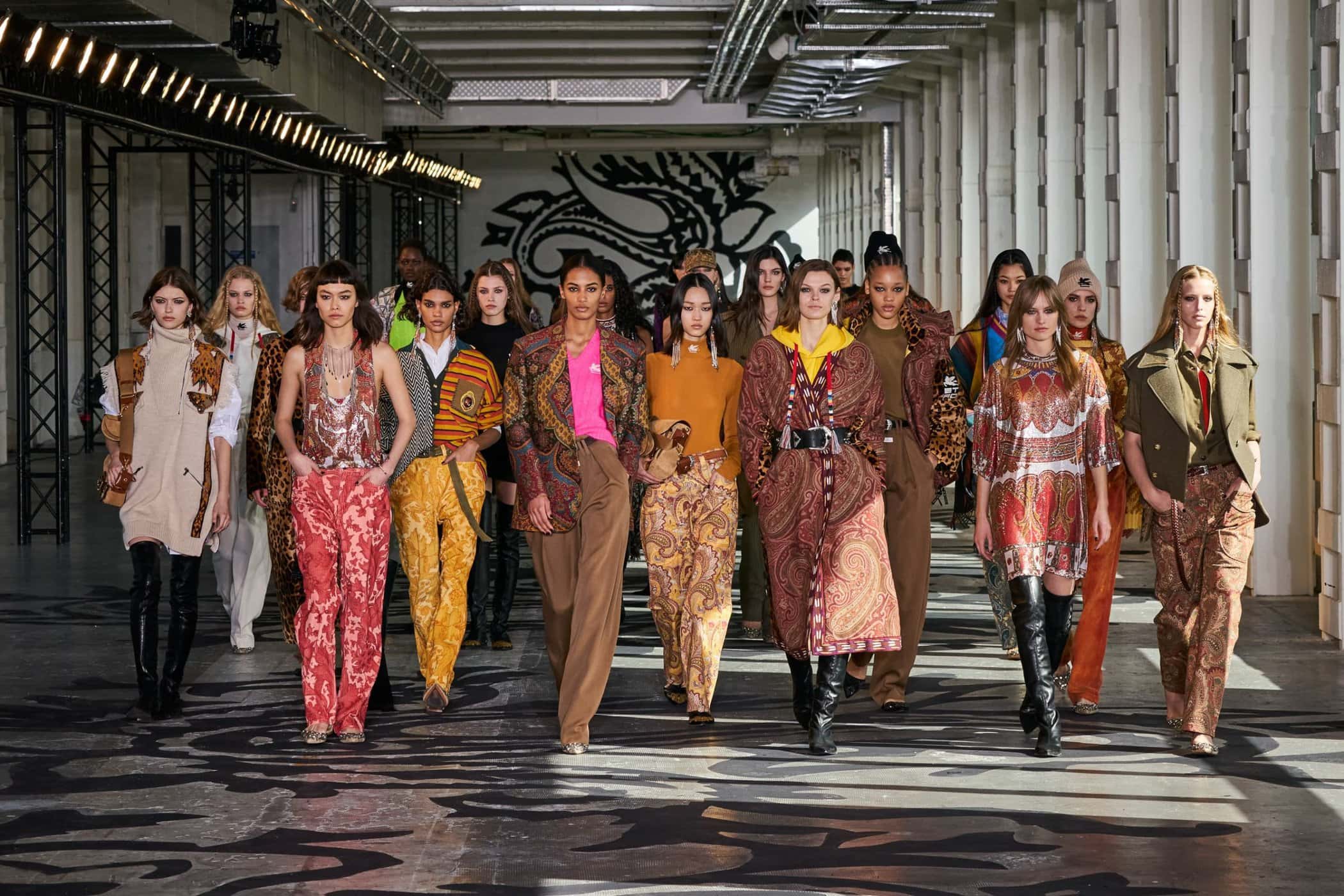 In Nureyev's obsession for home decors, especially with the work of Renzo Mongiardino, Etro saw how the dancer's exotic décor in his costumes for his Ballets Russes performances with geometric intarsia and print motif that reflect the Etro's DNA. The olive jacquard vests, blousons, and patchwork pants are paired with a green ruffle blouse, and colorful knit sweaters are manifestations of Nureyev's sensibility actually on this fall live stream show.
Hendrick's rocker known signature of embroidered velvets and mixed colors stripes pants, poet shirts, and fur hats now see reincarnations in a black velvet dress with long purple fringes velvet print dress or a velvet robe coat with embroideries.
Elsewhere in the collection are Etro's commercial classics that include patchwork coat and quilted anoraks, brocade jacket and velvet pants, and knit sweater from the straight olive green wool crew neck to aqua blue mohair v-neck.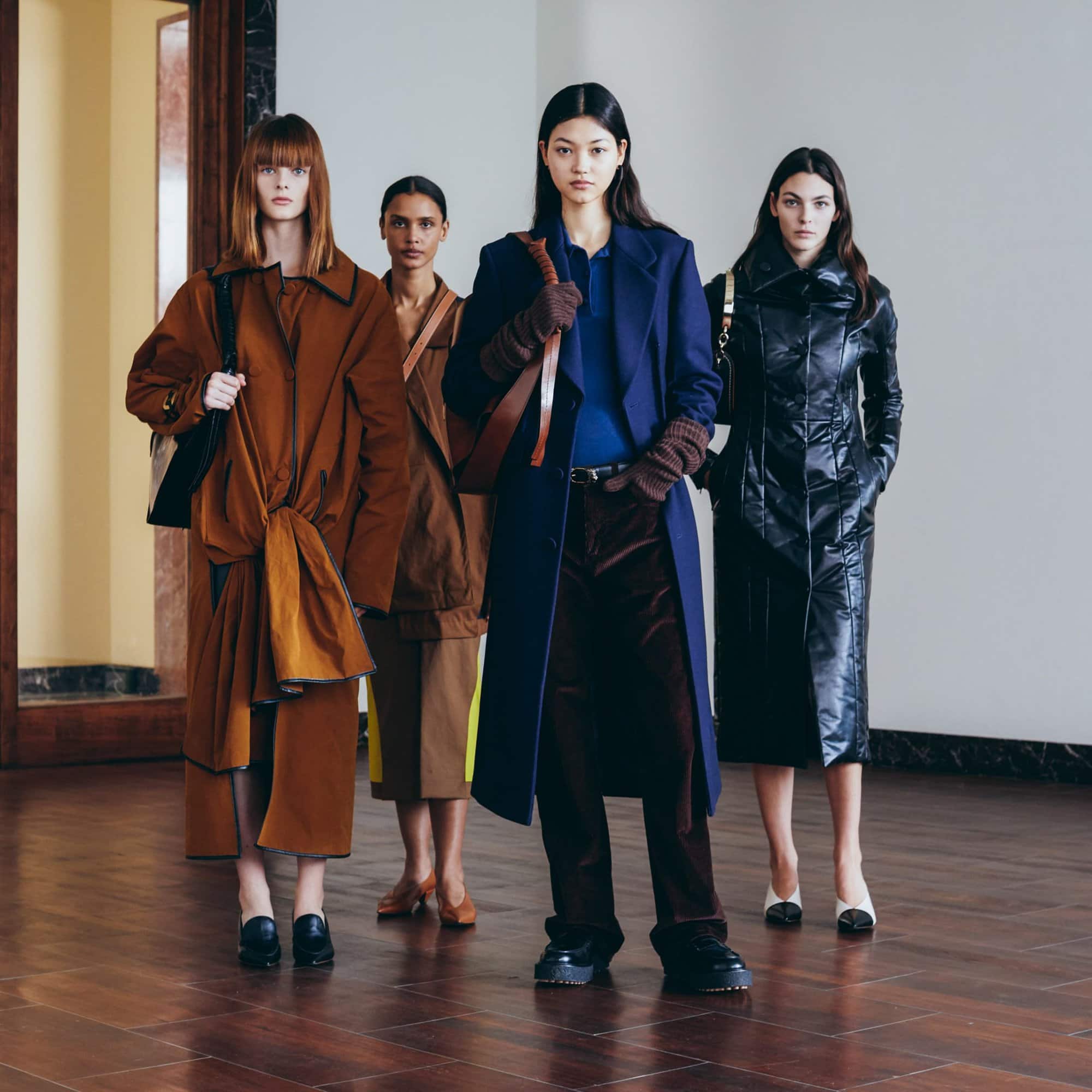 Commerce, to is the prime directive at Tod's. There, the creative director Walter Chiapponi, installed at the group in late 2019 coming from his tenure at Bottega Veneta under Tomas Maier, crafted a series of slim fit shape outerwear like a black leather long shiny coat or a chocolate brown long shearling coat paired with purple knit and wool pants. But, an ice-blue sheer lace pleated long shirt with a blouson top didn't really seem to fit in with the rest of the collection, like a camel wool flare coat with a ruffle collar.
"Walking is already in itself a penance yet a redemption," a female voice-over said at the start of Antonio Marras' fifteenth minutes stream short filmed on location on the island of Sardinia with shots of a group of women gathered in a group at dusk after sunset. The film, directed by the Sardinia native filmmaker Roberto Ortu, narrates a story of a group of Sardinians from all walks of life, all dress up as they walked to visit their queen. A few carried goats and books as gifts as she is said to possess magical and healing powers.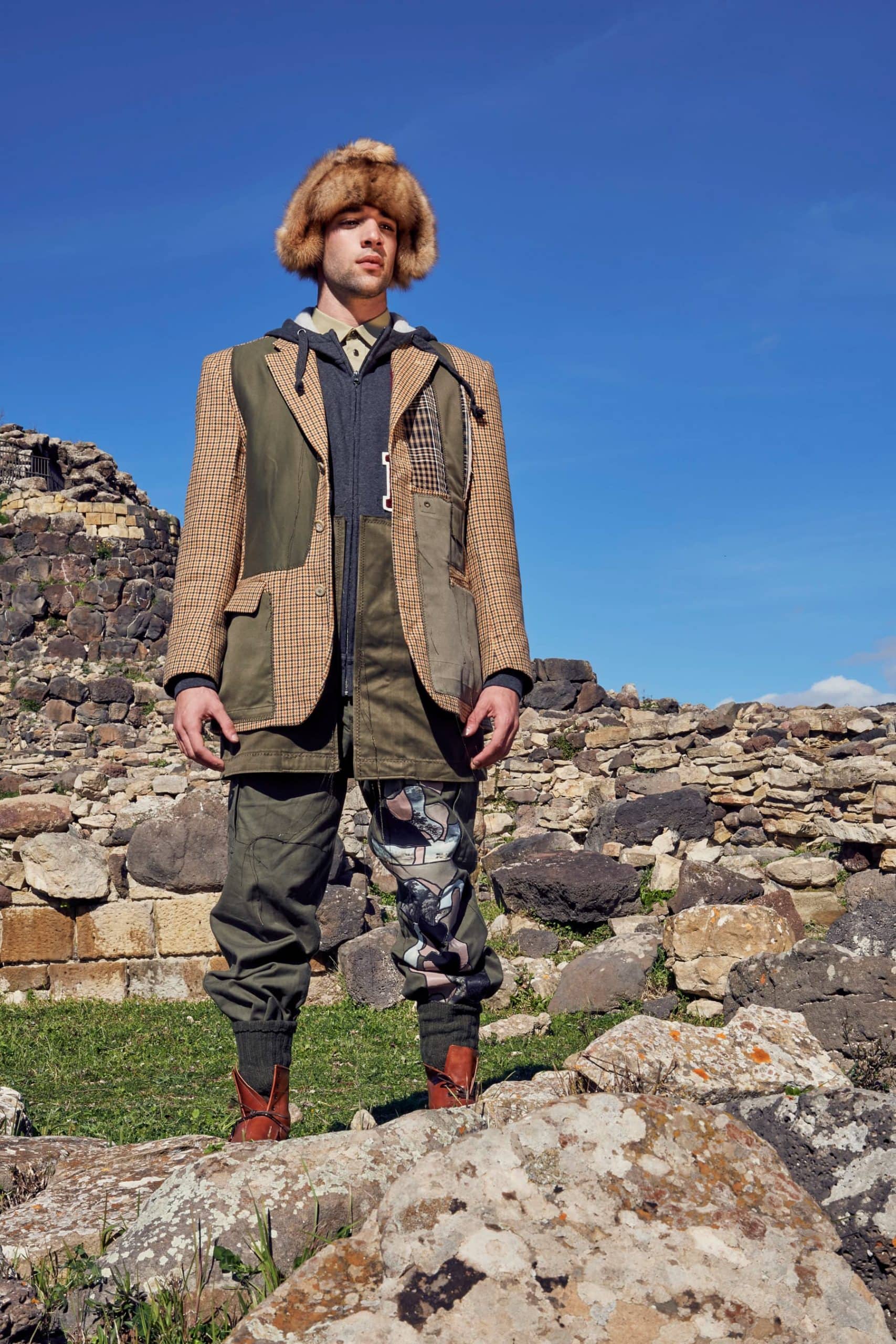 What follows in the film is a moment that duplicated the French designer Jacquemus's tenth-anniversary show in late June 2019, where the models walked in the lavender fields in Valensole in Provence. Marras had the models walked single file along a deserted highway wearing his overly ornamented fall clothes in opulent velvet, brocade, heavy jacquards, and even embroidered fleeces. Oh, and yes, don't forget the floral appliqués.
Despite the sunshine and the green grass on both sides of the country road in Sardinia, the clothes overwhelmed their natural setting. Many of the garments are slightly over-designed and made in heavy fabrics that weighted on the clothes.
Within the collection, there are nice clothes such as the oversize padded blanket coats, a simple light grey one-button boxy single breast suit with multi pleats front pants, or a men's double layer grey jacket paired with loose short pants. The red tartan and black wool short sleeve dress or the red tartan and black leather mixed skirt paired with a simple black leather blouson are perfect examples of this collection's more commercial aspect. Other examples include military parka and cardigan-cape or the series of light brown plaid coats, jackets, and skirts.
Marras' penchant for embellishments knows no bounds and sometimes got in the way of the clothes. Why leave the black striped skirt suit alone with embroidered flowers on the front side, or why not add even more floral embroideries to a sheer black dress.
In this film, the men's clothes are far more substantial than the women's. The plaid jacket paired with a cameo short, color stripe knits and cargo pants, or the drop shoulder patchwork layered jacket and vest are examples of the men's clothes that stood out.
However, this Marras film, supported by the Fondazione Sardegna Film Commission, moves in the right direction in providing an intriguing story for fashion in the digital format. Within this context, the clothes are perfect as they mesh well within the film's narrative plot. But perhaps they are more costumes for this drama, more fitting perhaps to remain within the celluloid or digital realm rather than in real life.
In a short film titled Le ombre dell'oceano, the emblems of storytelling merged this time for the Romeo Gigli brand, now under the control of Eccentric S.r.l. Alessandro De Benedetti relates the story of a woman in love with a sailor who left behind clothes as he set out at sea as a way to show his fall collection based on the feel of the winter sea and the colors of the Nordic ocean.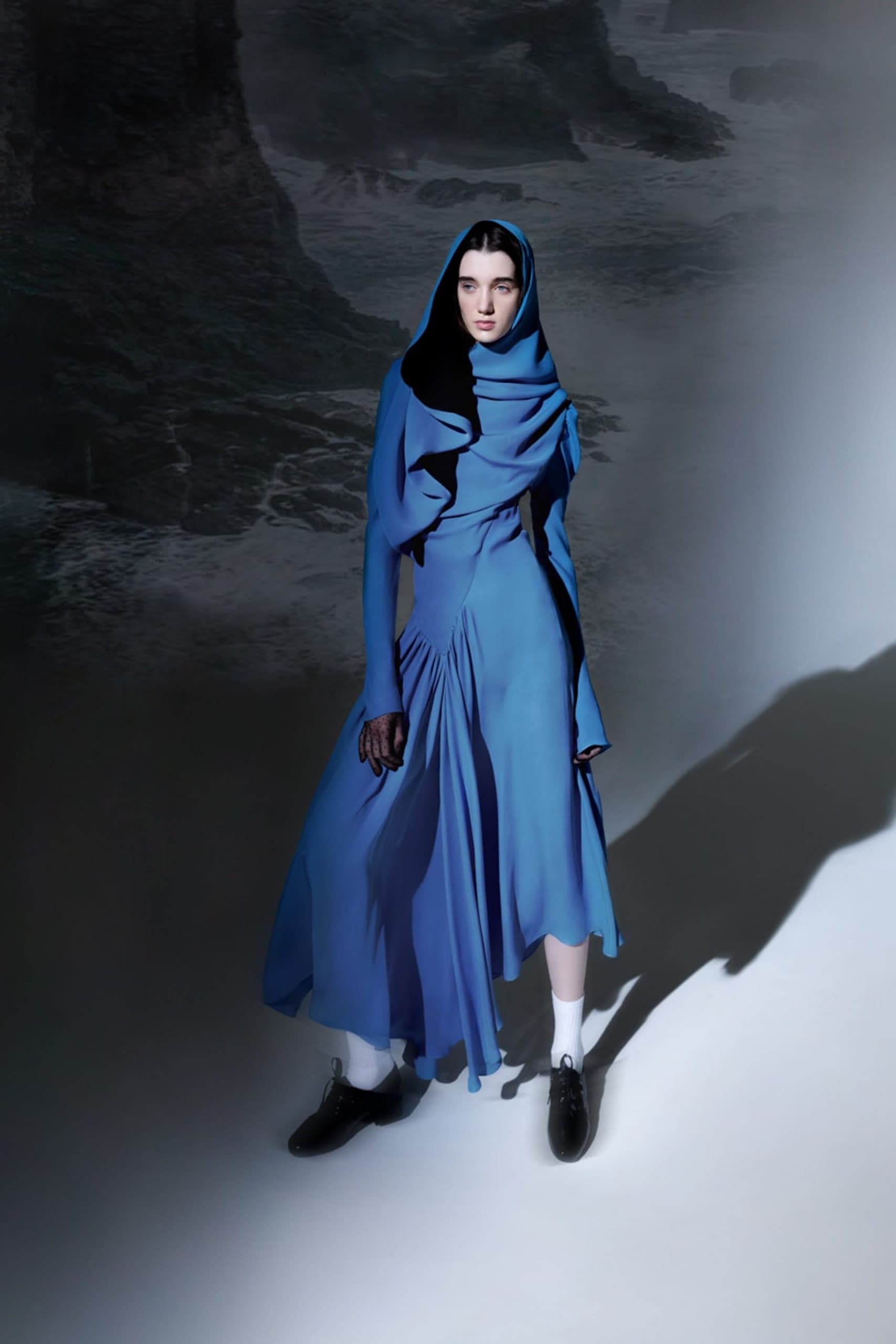 Thus, the heroine wore the clothes of her former lover, enveloped herself in his oversize ice blue cashmere coat, flare legs grey or deep red wool sailor pants, a deep navy long coat with an attached back cape, or a Scottish tartan double-face jacket belted at the waist. The collection also includes evening dresses like deep green flare dress with puff sleeves or a similar version in ecru silk satin georgette and a ruched grey-blue chiffon long dress with honeycomb neckline.
De Benedetti re-launched the brand with a spring 2020 collection as the new creative director. At the brand's website, the owner Eccentric states its purpose of choosing De Benedetti as the creative captain who can translate the original Gigli's template conceived in the late 1980s anew or "to find again the magic and sophisticated touch which marked the label inside the fashion Olympus."
But, the attempts to make the original Romeo Gigli fashion aesthetics with romantic shawl collars, gentle shoulder jackets, and cocoon coats to oppose the big shoulder shapes of the 1980s don't seem to make any sense at this time in fashion. Indeed, this collection, with its share of commercial clothes – clothes that don't shout out a reason for their existence, will not propel this new iteration of the Romeo Gigli brand anywhere, now, or next fall.
Marco Rambaldi took his fall action out of Milano to Bologna where the designer opted for staging a reenactment of the squatting that took place in the 1970s with the Traumfabrik in Bologna. The designer shot a short film titled Manifesto paradisiaco in the reconstructed Le Corbusier house as a utopian home where the designer shot the short film.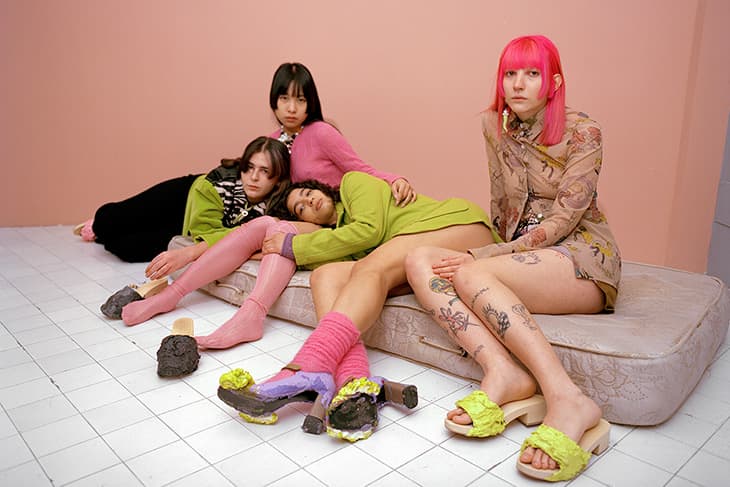 The film, with its inferences to the 1970s aesthetics, reflects the actual fall collection. Rambaldi's strength is in the inventive knitwear – floral crochet vests, ice blue corset Shetland knit micro-dress or pink knit corset, and knit pants ribbed knit cardigans. It is a more focused and scaled-down collection for Rambaldi, and that is not a bad thing. For one, the designer can concentrate on his strength and build out his business one step at a time.
In tune with the rising call for responsible fashion, Rambaldi teams up with LineaPiù in yarns for knitwear, Colombo Industrie Tessili, to achieve sustainable production in knitwear and other fabrics. Marzotto Lab Group provides the FSC-certified viscose and Marzotto Lab Group for using existing fabrics from Tessuti di Sondrio and velvets from Redaelli.
An art film directed by the experimental filmmaker Tommaso Ottomano featured models within the confines of an imaginary art gallery covered in sand with a funeral scene, well, a dead body on display for Act Nº1. Galib Gassanoff and Luca Lin showed a more restraint fall collection with more manageable pieces than in their past seasons since launching their Act Nº1 with the fall 2019 season.
The fitted single-breast pantsuit decorated with a sheer black viscose chiffon panel wrap or a black jacket top with an olive skirt at the waist and pants is a better example of more commercial clothes.
But anything with the mix of tulle in this collection is silly. The giant ruffle orange or blue-purple tulle ball dress resembles those from Giambattista Valli. The black body one-piece swimsuit jacket with orange tulle train, the white shirt with black tulle overlay micro dress or the messy morphing of a blue cotton shirt, a black corset body, and a single layer blue tulle dress are plain silly.
In future seasons, the designers ought to look at how young people dress today and what kind of fashion would stimulate their interest. The real problem with this collection is its position in the nether world, between so many worlds, but not landing into any in particular.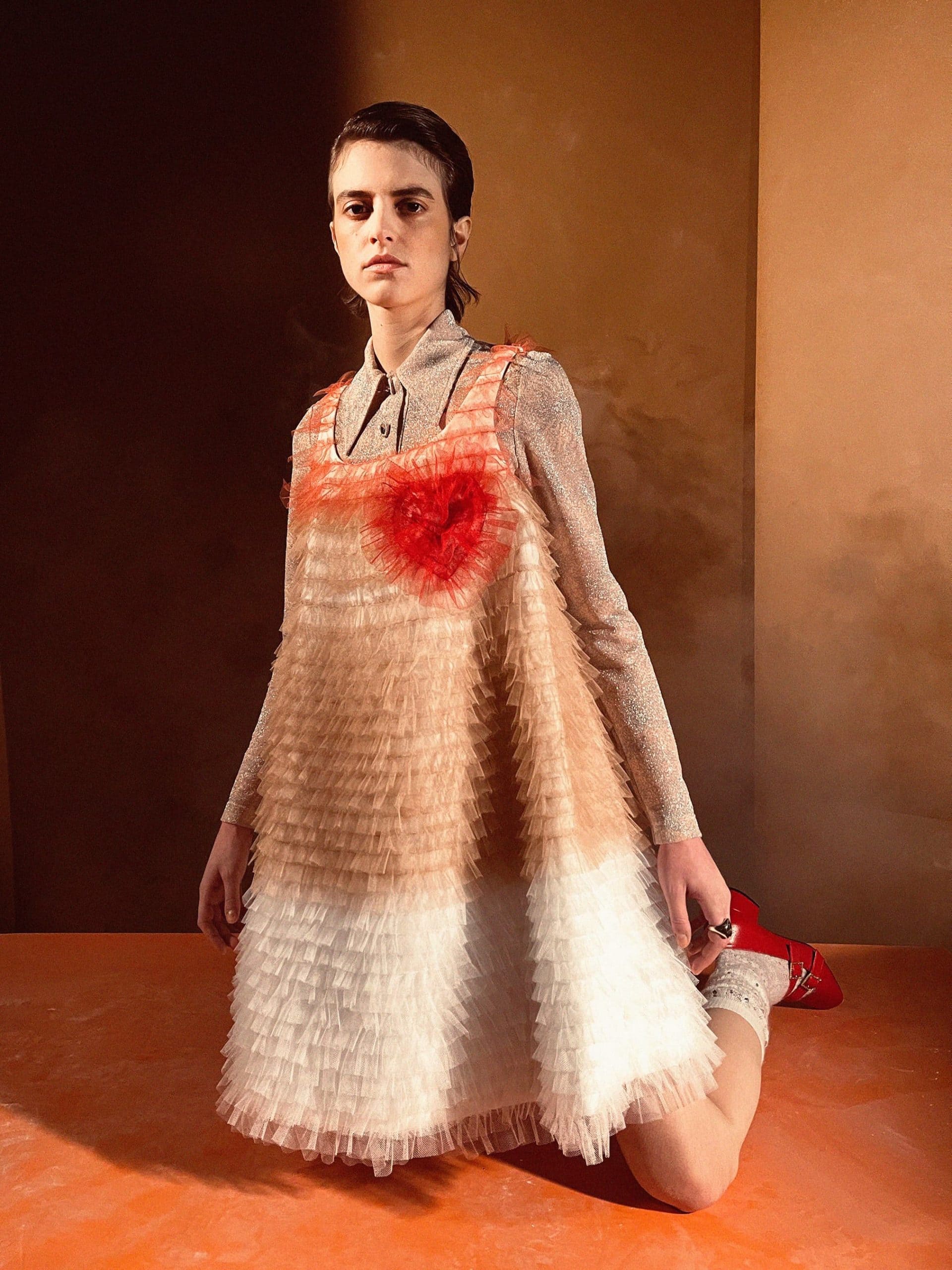 In the same breath, Vivetta's fall collection suffered from the lack of a forward vision. There, the designer Vivetta Ponti did not venture at all beyond her familiar vintage obsessions and tropes, regurgitating the 1960s dolls' looks with heavy floral assemblage on a coat or a strappy A-line short dress.
---