---
Review of Gabriela Hearst Spring 2022 Fashion Show
Mantras and Ethos to Real Clothes 
By Long Nguyen
I realized the collections have become journals. I discovered Hester Diamond through my love for minerals. This impressive trailblazing woman had all the characteristics I am attracted to – passion, instinct, intelligence, skills, and a strong value system. She built one of the most impressive art collections with pure love and wit. She collected art because she loved it, in contrast to today's world where, for some, art has become an asset in a portfolio," Gabriela Hearst said of the genesis of her new Spring 2022 collection shown live at Greenpoint Terminal in Brooklyn.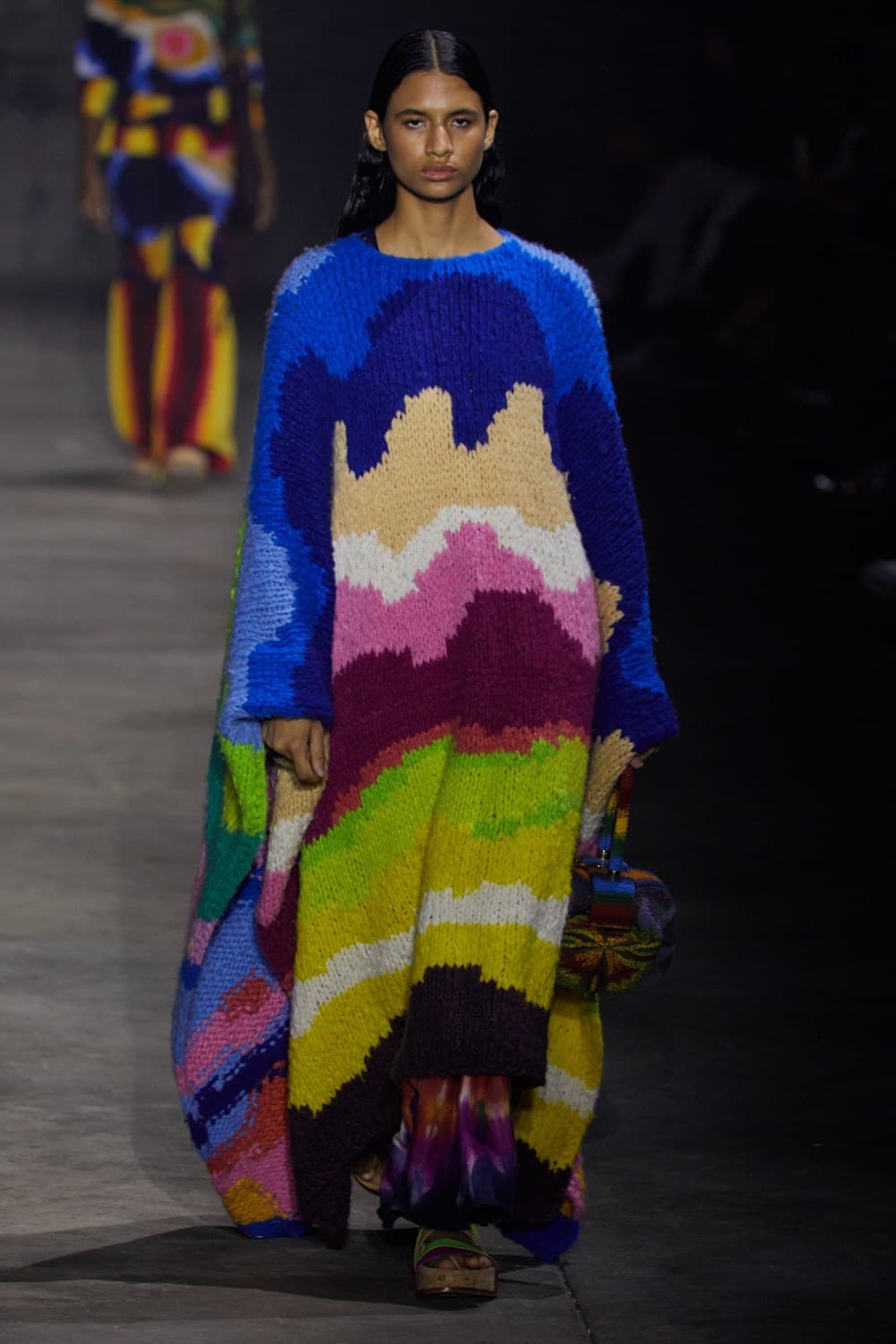 As with each of her collections, Gabriela Hearst works directly with the different handicrafts artisans in other countries to bring their work into her making her clothes as a means of preserving these skills beyond the immediacy of extending a business lifeline to these often struggling disenfranchised communities.
"The work we did with the Navajo community was serendipitous and a spiritual gift. It brought the Americas craft together in the collection along with the work of Uruguay and Bolivia, both of the non-for-profit we work with," Hearst said, describing the current work with the Madres & Artesanas in Bolivia and the Manos del Uruguay.
The artisans at Madres & Artesanas made the colorful multi-stitch mineral pattern crochet long strappy dress. At the same time, those at Manos del Uruguay hand knit the intarsia long poncho of multi-color wave patterns inspired by the mineral arts collected by Hester Diamond.  Hearst also works directly with Navajo weavers from Navajo Nation who made the pleated re-purpose ivory wool linen dress with the Navajo herringbone stitch artwork at the front and the deep Bordeaux suede long trench with Navajo weave artwork intarsia onto the suede. Even the Nina bag comes decorated with a Navajo weave pattern. 
Inherent in the clothes of this spring collection itself is a testimony to long-term growth and sustainability values. 
At Hearst, responsible fashion isn't a notion or a concept but actual practices. This spring collection comprises 26% linen, a fabric absorbing less water as a crop while its flax seeds have nutritional values while all the cotton is from dead stocks. The rubbers used in footwear come from a natural rubber derived from the milk of hevea trees, and corks come from tree trunk shaving. At the moment, recycle and dead stock total about 38% of this entire collection, to reach 100% by pre-fall 2022. And garment dyeing is, of course, from 100% natural ingredients.
But that isn't all. The brand also participated in a carbon offsetting project with Ecoact in Rano, Madagascar, providing access to safe drinking water.
While the brand is hyperactive in the drive towards a responsible fashion business at every level from production to its consumption of materials, the direction of the fashion at Hearst is a slow process, taking step-by-step forward with slight radical alterations from season to season. It is the same tree but with a few more branches and perhaps more giant leaves.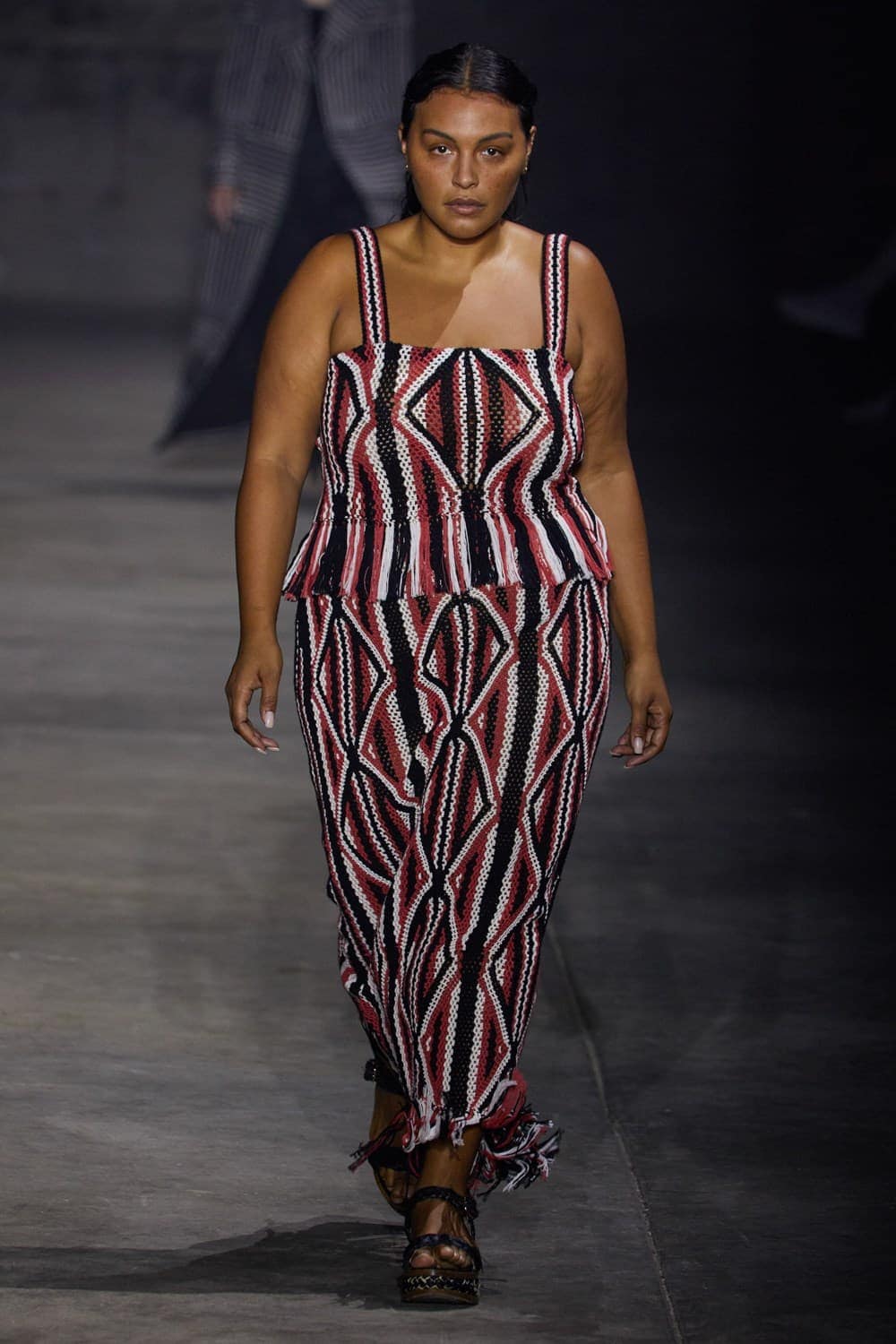 In this way, the brand's customers are purchasing products they understand. First, by looking at the familiar, say a strappy long camel leather dress – a long black dress with the same shape came out for the spring 2021 show in Paris or, for that matter, an ecru knit version in the same collection. The dress and the fit should look and feel exactly had the customer had purchased a Hearst dress from other seasons.
Just as there are always versions of a poncho in Hearst's collection – sometimes like a cocoon coat, other times more cropped. There are blue-dyed recycle cashmere knit poncho or a navy mélange multi weave linen poncho with blanket stitch detail.
Other Hearst signature looks are the double breast pantsuits and the range of long dresses that are the brand's staples. The broad shoulder relaxes shape pantsuits in light ecru wool, and soft red wool silk and linen featured ankle flare pants with patch pockets in either four or six-button double breast. The evening dresses feel more lightweight and breezy like an ivory textured linen long lean dress with pleated pattern sleeves or the now-classic Hearst poncho-dress also in
The clothes are long-term investments for the clients as they are for Hearst. This slowing down of fashion consumption doesn't value fashion brands celebrating so much because corporate entities have to declare quarterly earnings to the public. There are no games to play around that issue of the bottom line for these corporate entities. 
As an independent company, Hearst can settle her own pace of growth, and her business model reflects with absolute clarity. For example, Hearst's Nina and Baez are the brand's best-selling bags, but they are available in limited quantities and at the brand website instead of through other retailers.
In this new fashion era where brands are touting and throwing the word 'sustainability' around like dirt, only just a handful of fashion brands practice what they preach. Since the launch of the fashion brand in 2015, embracing the mantra of responsibility and environmental consciousness, Gabriela Hearst has slowly brought every level of her company towards achieving a natural, sustainable foothold in making the actual clothes.  
---