---
Review of Giambattista Valli Spring 2022 Fashion Show
Keeping It Light
By Erin Hazelton
Light, feminine, fun and sophisticated, it always feels like spring with Giambattista Valli.
Valli's most recent collection was a particularly sweet lineup of confections, however they never felt saccharin thanks to clever dose of salty styling.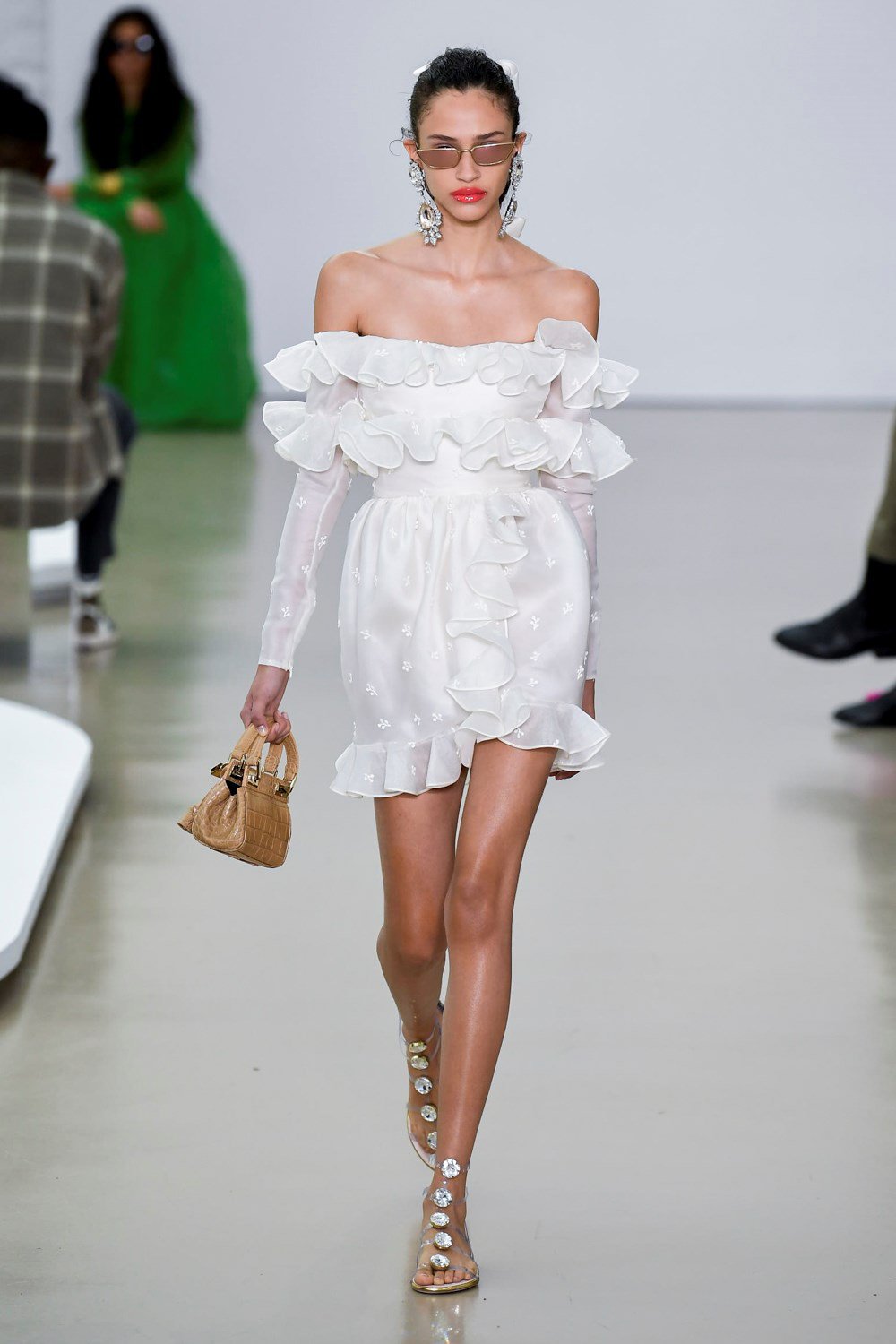 Airy silks, gold-threaded tweeds, flounced skirts and layers of ruffles were paired with in-your-face (literally) crystal earrings, colorful, narrow '90s sunglasses, Jackie-esque feathered kerchiefs and super-tall pillbox hats, and a generous dose of sparkle on the feet; our favorite shoe a flat with giant solitaires running up the center of the foot and ending just above the ankle. It was sweet-meets-chic.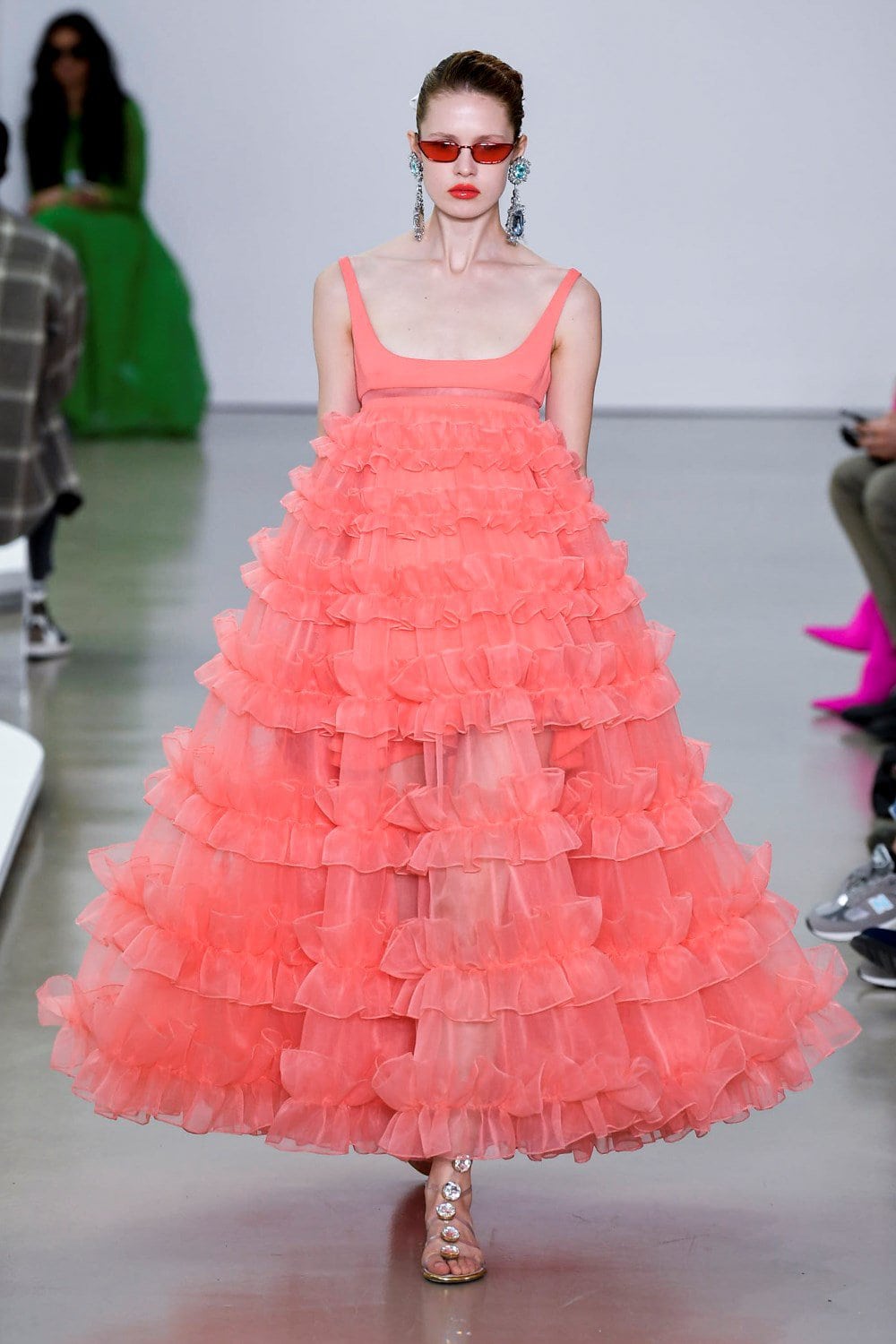 The first forty looks of Valli's Spring/Summer 2022 collection were pretty much a steady flow of white with a delicate bud of a finely embellished, silk organza minidress opening the collection. From there, minis got mixed with full, ankle-length, ball-skirts, narrower silhouettes, the occasional pair of trousers, or a flounced skirt. Valli's love of the ruffle clearly remains undiminished, ruffles of all sizes fluttering throughout the collection. A nice breather from all this soft beauty arrived when a more "masculine" (but actually rather feminine) white suit was sent out about a fourth of the way through the show.
With so much white, pale florals, and the occasional pastel dominating the show, one's mind drifted to the weddings we used to attend and reminded us that bridal is a large part of Valli's business.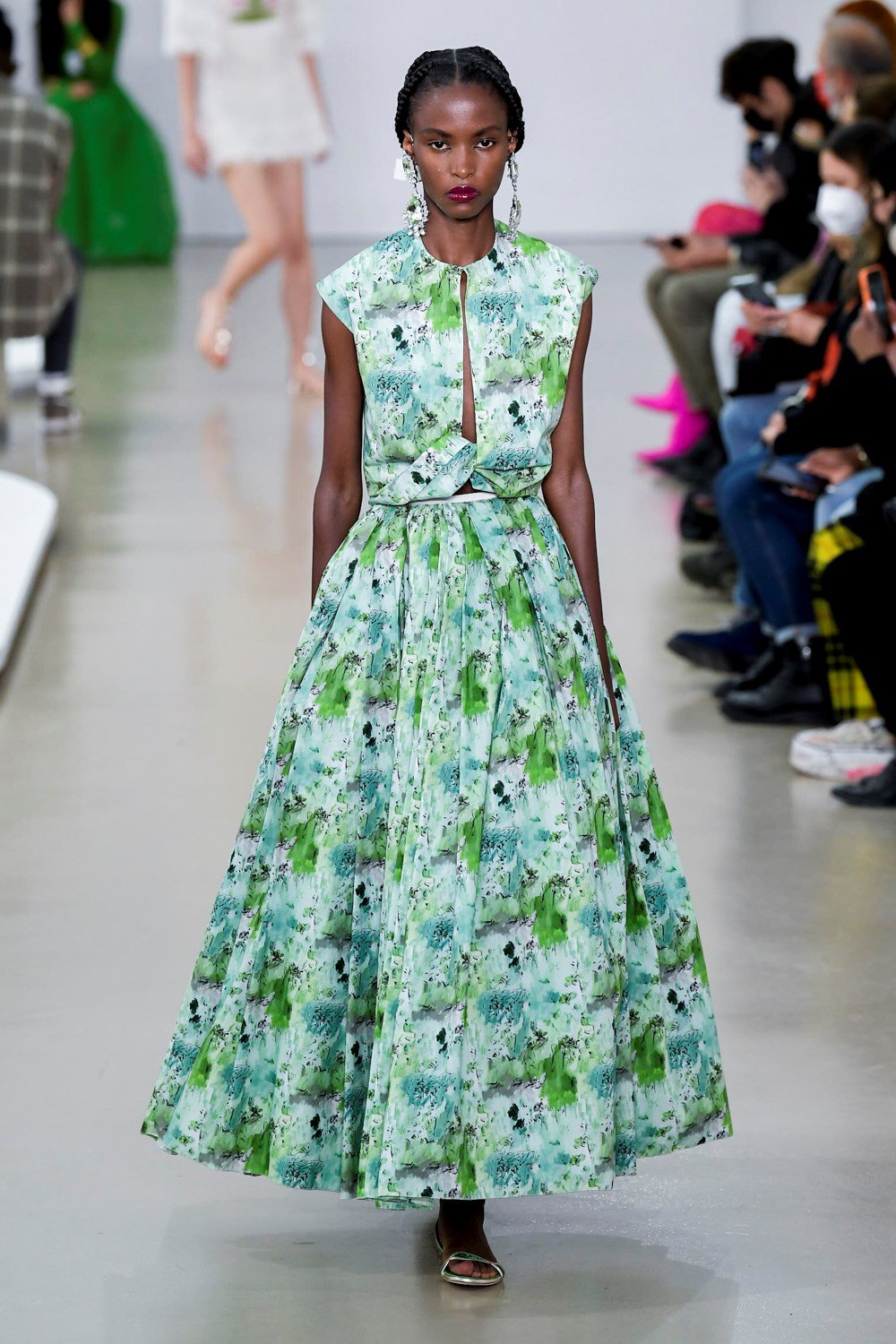 That said, these looks would not only work for more "casual" (and not-so casual) brides, but anyone else attending the wedding… or a garden party… or a luncheon.
The looks aired on the side of formal, which is how Valli rolls, but there were plenty of pieces that could be separated out – namely cropped "blazers," "bra" tops, and full-legged trousers – and worn in a more relaxed way, i.e. with jeans, or the trousers with a t-shirt.
However romantic and lovely an all-white beginning may be, by the time look 41 bounded out from backstage – a long-sleeved, off-the-shoulder, two piece, full-skirted broderie anglaise set in bright red – we were more than ready for it.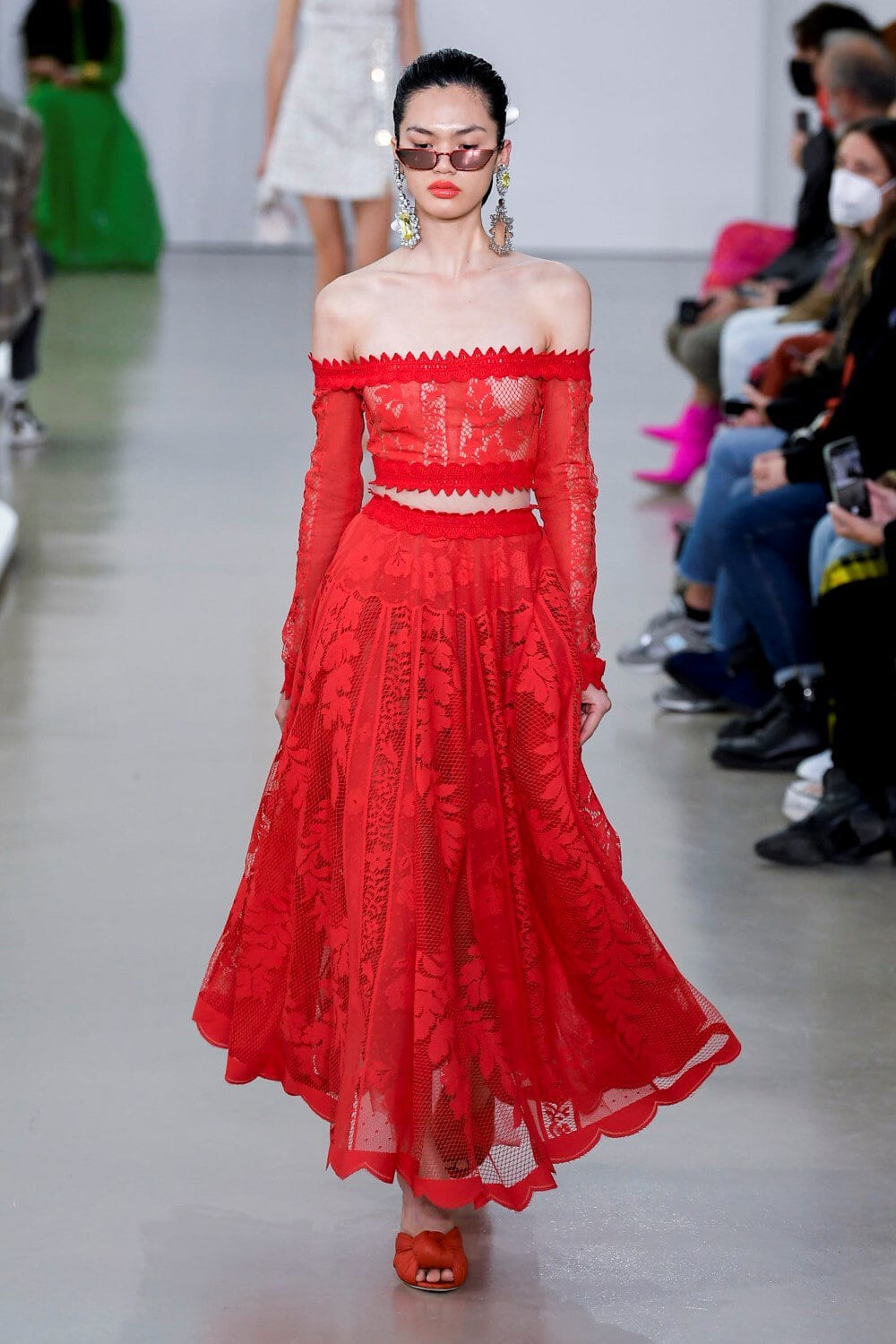 The red seemed to mix the pallet, and from then on, the collection included plenty of pink, and even two black "suits," both crop-topped and full-legged.
In one last clever turn of events, Valli sent his last model down the runway (historically the "bride moment" in a fashion show), not in white, but in a vibrant, billowing, bubblegum pink gown perfectly suited for a modern bride… or a post-covid party-goer.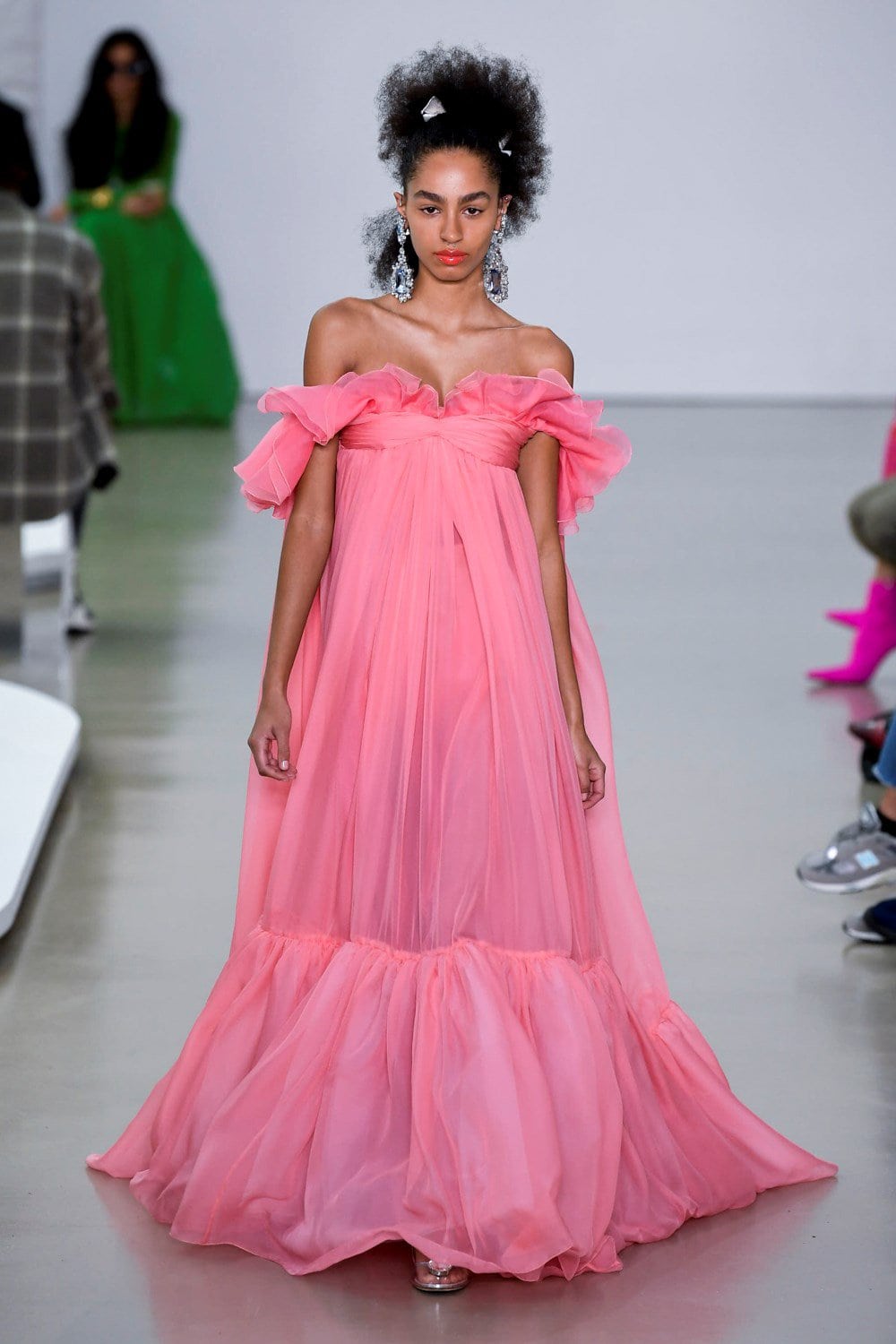 ---