---
Review of Givenchy Fall 2021 Fashion Show
More Luxurious Merch, But the Aesthetic Idea Is Largely MIA
By Long Nguyen
In the vast industrial space with steel beams exposures and wet cement floors in Paris, Matthew M. Williams had the excellent opportunity to stage a breakthrough first actual fashion show for his second season at Givenchy as creative director, albeit via a streaming taped version, like a captain putting an anchor to stable his ship.
In many ways, this collection is about a constant tension between two worlds. It's about finding personal meaning in difficult circumstances; it's about sincerity in what we do rather than strategy. We wanted to bring a sense of lived reality alongside precision, elegance, and extravagance in the clothing and looks. Ultimately, fashion for us is a way of being, feeling, and connecting rather than a game to be played. It's almost like monumentalizing every day, filling it with emotion – like the music you can wear.

– Matthew M. Williams
But, this Givenchy fall show, with an impressive music score by Robert Hood, did little to provide that much-needed aesthetic ground to establish the French fashion house once more in the fashion consciousness at large and especially critical in the most sought after the attention of young consumers.
The fall clothes are a mixed bag of slim and lean tailored pantsuits and long column dresses in a range of men's outerwear, oversized faux fur coats in black and camel, and some real shearlings coats comfort with the layering of volume outerwear with skinny pants. The show presentation was fast-paced as models walked on the wet concrete floor, splashing the water with their enormous cocoon leather boots. Those giant boots are the direct descendant reminisced of Lee McQueen, who was at Givenchy for a few short years in the late 1990s.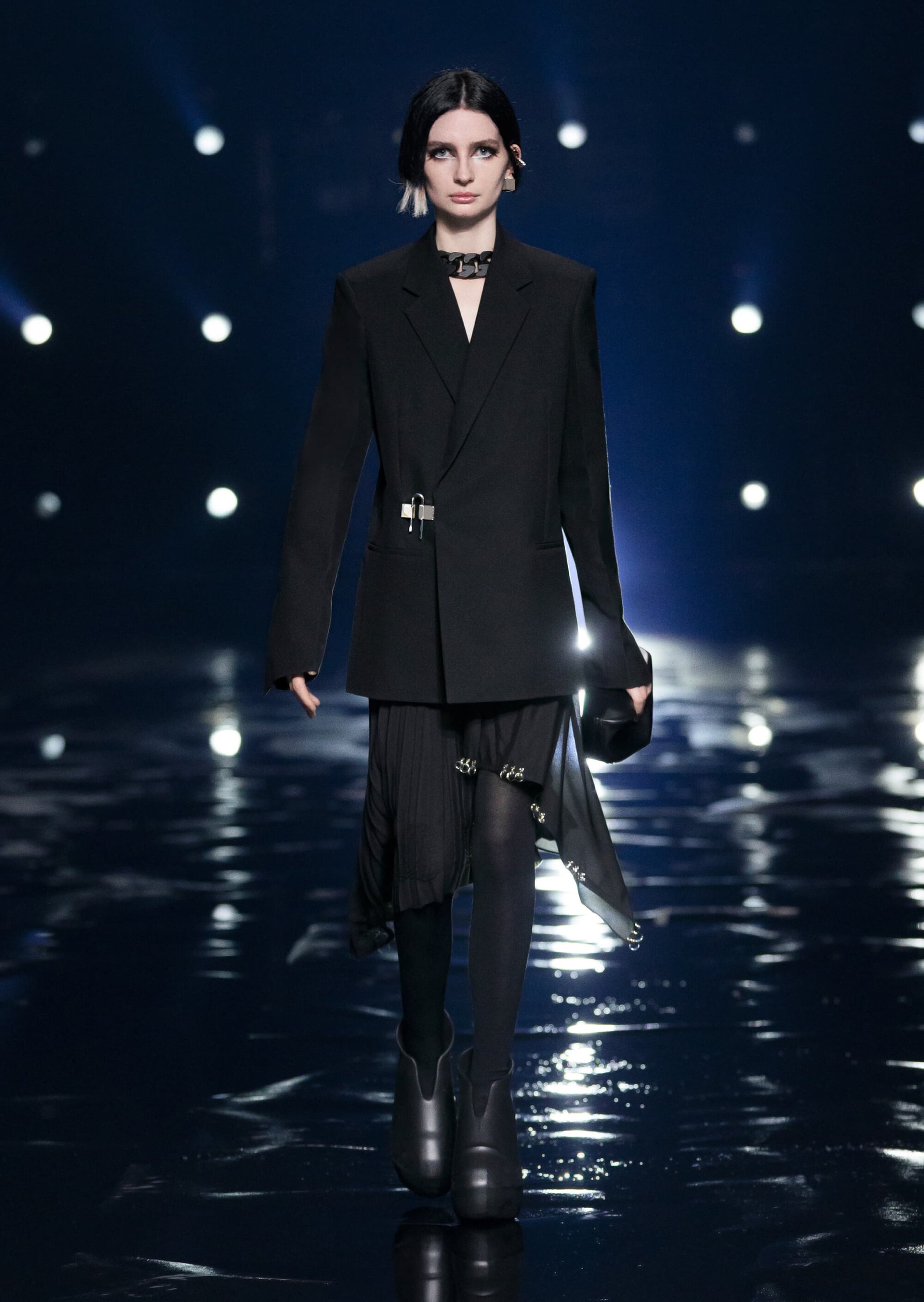 Tailoring is the strength of the clothes seen in the show that opened, focusing on a model in a black wool double breast jacket and a beaded chiffon skirt. The jackets have primarily strong and elevated shoulders with creases of the back of sleeves of jackets. The closure of both the men's and women's double breast jackets with slim pants in chocolate brown and black wool with no buttoning is a metallic snap fastener with the brand's logo inscribed on them. The precise laser cutting of a black woman-fitted leather jacket is another example of the artisanal tailoring at Givenchy. Another fantastic black suit is the black spread lapel one closure, since there are no buttons on the jackets, with the single breast jacket shaped and curved around the waist and hips paired with a tight fitted creased front cuffed pants.
Givenchy is a premier French haute couture house. With the range of experts in house ateliers and with the corresponding factories, it is a given that any products made and sold under the house's name are undoubtedly luxurious – made with the best of wools, leathers, and pieces of cashmere, etc. That said, it is evident that the brown leather down coat or black leather vest, or wool coat is the perfect luxury product. The violet long sleeve column dress and the black sleeveless sheath are stand-out dresses. The sparkling square sequins long dress with feather trims paired with a black single breast wool jacket is a perfect evening look and very couture.
What is Williams' idea of Givenchy?
Missing here is that authentic creative vision at the center of the brand serves as a motor and the nerve of authenticity and even originality.
In the Riccardo Tisci era, young audiences could identify with the consistency of his Goth, Victorian romanticism, and punkish sentiments that propelled the brand into young people's lives. These kids and the brand share an aesthetic affinity that fosters a sense of authenticity whether they purchase a print sweatshirt, sneakers, or crossbody bag.
Tisci's sense of luxury and streetwear's tangency was one of the first manifestations of this phenomenon now exploited by every brand. More importantly, Tisci gave his audience something to think and something to feel aside from the products.
In this fall collection, there isn't much of a deep reservoir of anything coming close to a provocative idea here, besides the notion of crafting expensive streetwear items that are already available everywhere and slim-fitted pantsuits in a variety of colors.
Certainly, in this century and at this point in fashion, sending a model out in a cut-out black wool bra and black legging pants baring her chest for a winter collection is so far from even an image that can cause incitation fashion hype on or off lines. These few outfits, including a black sweater worn pulled up to reveal a sheer lace bodysuit, don't seem to make sense, along with the rest of the lineup. Ideas can provoke, not this kind of display.
What are the ideas that propel these new fall clothes in this co-ed show? How are the ideas then translated into the physical clothes? What are the signs of an emerging signature style?
These questions may need to wait for future seasons. The focus here is perhaps too much on the actual products and less so on the overriding aesthetics that can bind everything together from purses to sneakers, eyewear, and pantsuits.
It is hard to imagine how this Givenchy collection can grow and nurture the French brand in the near term. But for next fall, there is plenty of merchandise to choose from and a lot of jewelry like giant necklaces. But, there isn't a prevailing idea, an arc here beyond the notion of practical luxury that can resonate in any way, and indeed not with young people.
Less than a week before this fall show, Givenchy signed on other ambassadors such as Fan Chengcheng and Ouyang Nana, hoping to garner more fandom in the global arena.
But ambassadors are carriers and transmitters of messages.
Shortly after the first collection for Spring 2021, Williams and Givenchy embarked on a massive digital campaign to establish #givenchyfamily comprising of celebrities and influencers across the globe, each individually photographed in a specific look from the collection. Kendall Jenner wore outfit 54, Julianne Moore in look 47, Playboi Carti in look 27, Kenshi Yonezu in look 11, and even somehow Victor Cruz in look 28, and so forth.
Massive in its scale, but it wasn't an Internet breaker by any means. That has to say something about the difference with making real connections.
It is Williams' task to establish a singular and clear sense of the Givenchy identity to inspire the youth out there to believe in the brand. First and foremost is to instill in the imagination of this young public his precise idea of Givenchy, not just a heritage of craft in the service of more products, more parkas, more jewelry, more sneakers, more sunglasses, and more cocoons platforms boots.
---