---
Review of Givenchy Spring 2023 Fashion Show
Givenchy's Clash of the Trans-atlantic Dress Codes
By Angela Baidoo
Matthew M. Williams streamlined Givenchy show, which had a powerfully feminine undertone, was the keenest example yet of the designer settling into the house and hitting his mark.
For the Givenchy Spring-Summer 2023 collection, Artistic Director Matthew M. Williams proposes a cultural exchange between the cosmopolitan dress-codes of France and America

– Matthew M. Williams, Givenchy
There was an undeniable streetwear focus to the collection, but as has happened this week those oversized, utilitarian and cropped silhouettes were made new through the use of unexpected fabric renderings and shifting the idea of what is appropriate to wear when.
From embellished blazers worn over Bermuda shorts and a hoodie, to denim cargo pants and a very ladylike tweed jacket with sheer ruffled top. This updated way of styling will enable the brand to continue appealing to the younger customer that the designer was brought on to attract, while keeping the stalwarts happy in the process.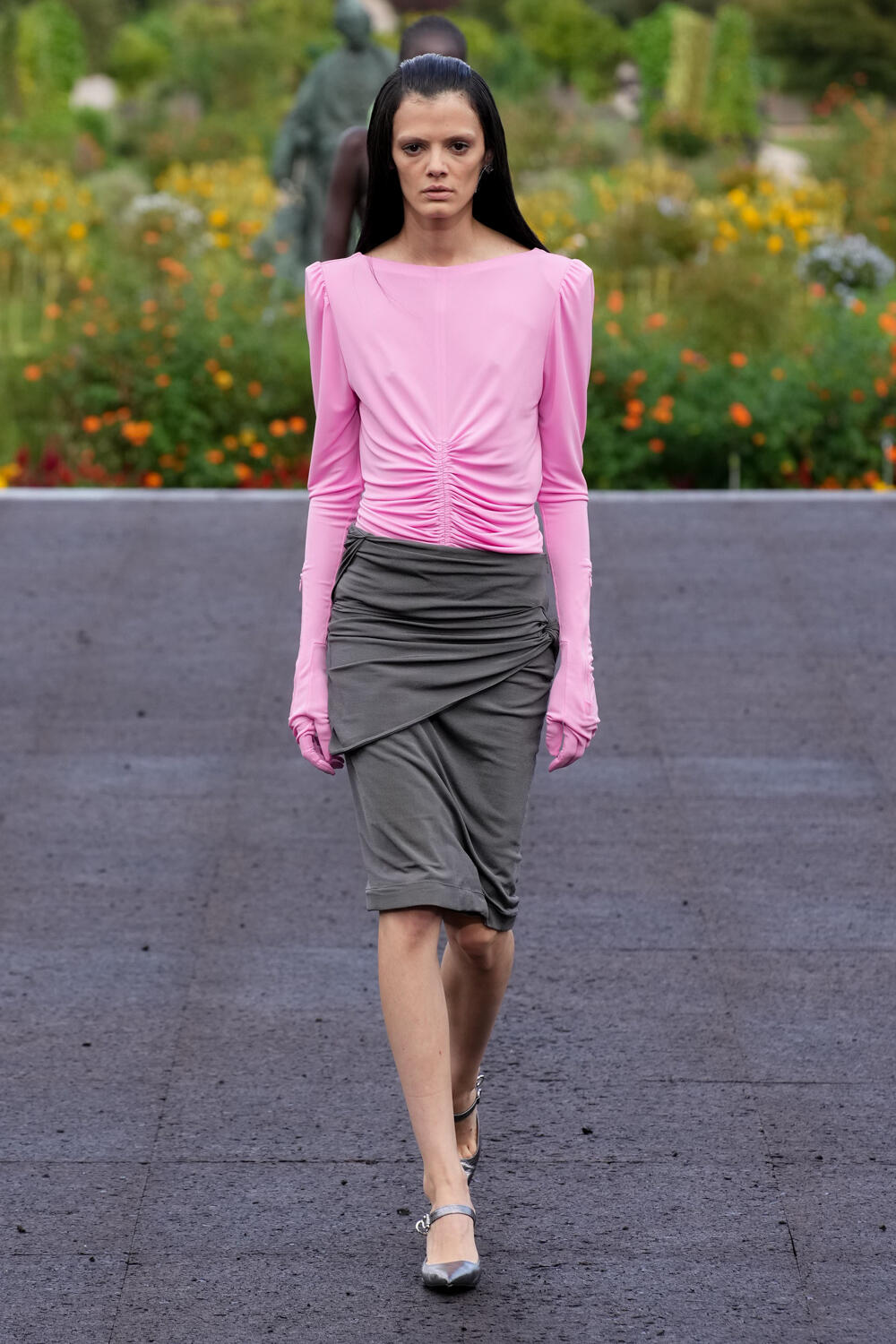 In spite of the heavy rain during the day, a well-timed break in the clouds, allowed for the show to go on in its setting of the Jardin des Plantes, which played a significant part in the inspiration for the day. Williams sought to foster a culture and connection which celebrates cross-pollination. The distinctive elegance and timelessness of Hubert de Givenchy's eye coupled with Williams intuitive knowledge of what todays Millennial and Gen Z consumer wants manifested itself in a cohesive collection which celebrated both mens legacy's.
Blending the codes of American and French fashion, the uniformity of the tailored tuxedo blazer met with the urban uniform of white cotton tank and denim jeans, a match made in heaven, while the workwear staple of denim featured heavily. A doubled-up denim jacket and cargo Bermuda shorts being a particular favourite, the designer also developed looks for those unafraid of a little skin-baring. Bella Hadids buckled denim bralet and longline denim skirt will be a popular, yet wearable choice.
Tailoring is intensified at the shoulder and nipped at the waist, coats structured with zips at the front transform into capes, and classic blazers are imbued with boned corsets.

– Matthew M. Williams, Givenchy
Catering for all eventualities and ensuring these designs have staying power, Williams took from military and men's wardrobes and gave us shrunken embellished bombers, the perfect trench coat, and an array of casual cargo bottoms. This will be collection that will require seeing and exploring in person, as the team outline that outerwear can be converted into a cape and classic blazer styles are embedded with corsetry to create a nipped-in effect.
A finale of dresses epitomised the New Sexy with an urban edge for the present day. Draped mini shifts, asymmetric slip dresses, and more relevant than ever separates were delicately embellished, high-low at the hem, and from the back revealed sheer Givenchy branded lingerie.
In this spring summer 2023 collection it now feels Williams has found his happy place.
---