---
[column size=two_third position=first ]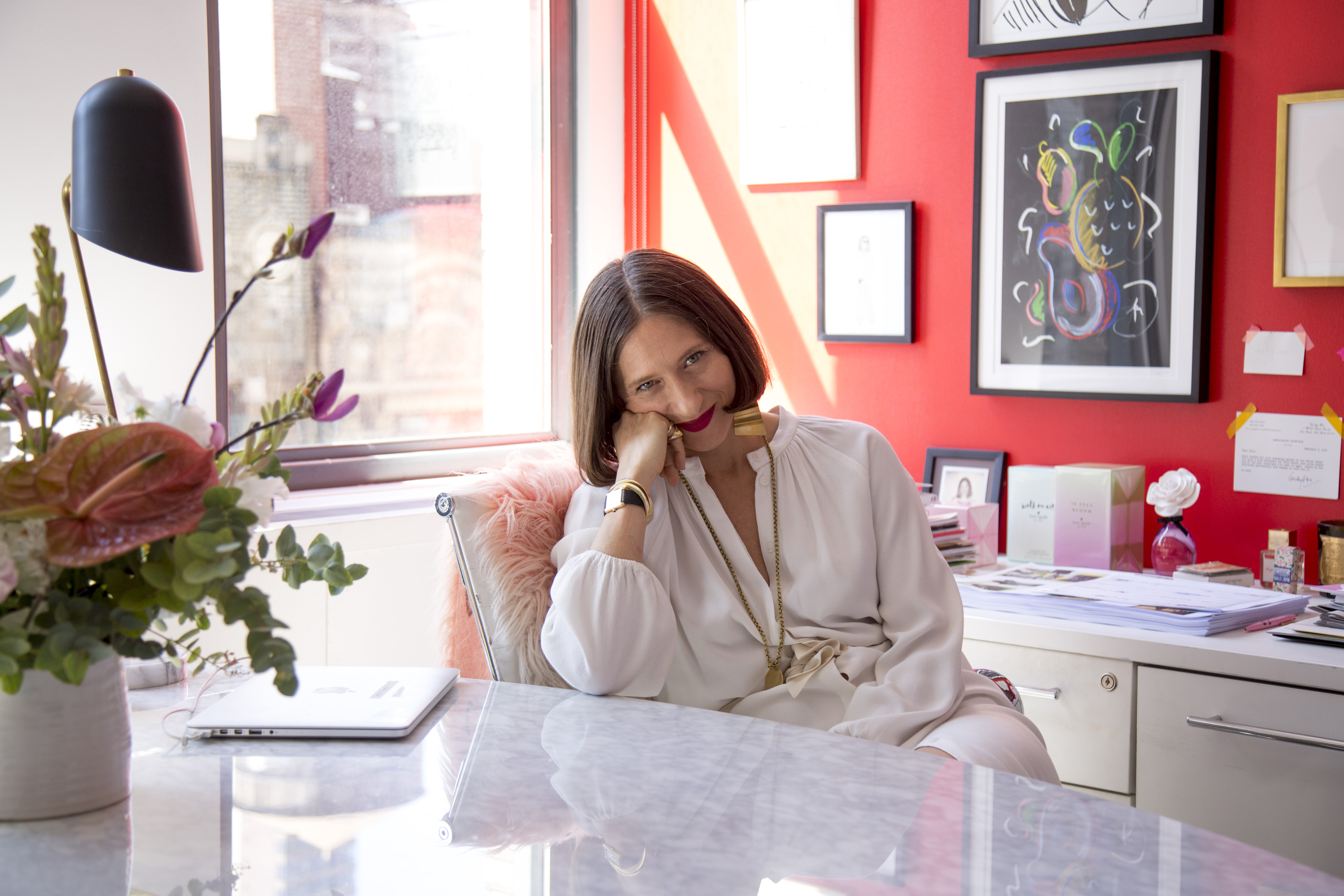 [/column]
[column size=one_third position=last ]
A peek into the offices of Kate Spade with the woman who leads it – Kristen Naiman[/column]
While fashion has it's fair share of fun, surprisingly there are few houses that have been brave enough to own 'humor.' A quick survey of comedians will explain why, as humor comes with all the risk of a traversing a high wire and all the dangers of walking it without a safety net. With that in mind, Kristen Naiman, SVP of Brand Creative for Kate Spade New York, has becomes fashion's ultimate high wire act to watch, taking the house to new heights since joining in 2014 from more than eight years at fashion's very own Oscar Wilde, Isaac Mizarahi. Blending intelligence, wit, charm, and a keen sense of timing Naiman's jocose media approach has added a humorous bent to the Kate Spade label with a slew of 'misadventures' staring some of today's forward comedians including the likes of Anna Kendrick, Anna Ferris, Marisa Tomei, and Lily Tomlin to name a few. We caught up with fashion's funniest strategist in her New York City office for a laugh and a tour.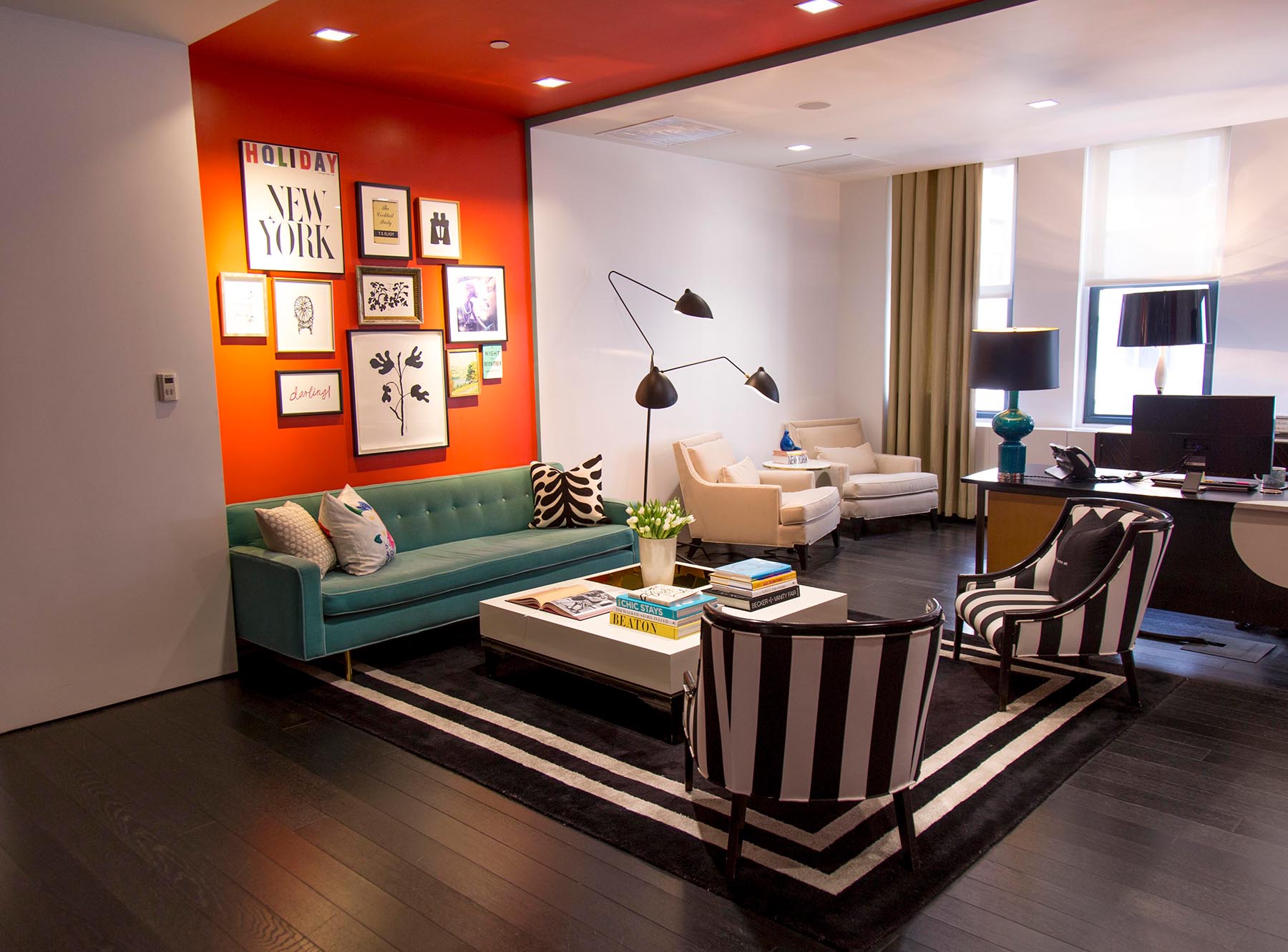 On how the Kate Spade's story has evolved since joining:
The Kate Spade story is constantly evolving and brand building is sort of like a relay race. A brand builds over time, there are different eras, and it's our jobs to pick up the baton, honor the runner before and then add on as much as we can in our leg. I have tried, in my era at Kate Spade, to honor the emotionally powerful storytelling that is our hallmark, play with the overt femininity and optimism that is our core, and add an honest and insightful humor that makes people smile and feel seen.
On humor and branding:
Good comedy is funny because it is familiar and a revelation at the same time.
There has always been an insightful wit to Kate Spade. Wit is enjoyable, comedy is emotional. A witty remark makes you smile, a brilliant comedic remark makes you laugh and cry and see things in a new light. Branding is about connection and making people feel understood. To me there is no better way to connect with someone than making them smile and laugh. We are ghostwriters. It's our jobs to take the brand and dream up its best possible expression- it's best hair day every day.

Funniest unscripted moment:
The funniest unscripted moment is hard to choose, there are SO MANY! But, I have to say, I think my favorite unscripted moment in all of Missadventure is with Ali Wong in "Ready or Not." Ali was just a month back to work after having her first child. We'd developed her scene based on a conversation she and I had about being working moms.
Ali is face timing with her two-year-old daughter, who is on the toilet trying to poop, and Ali is late to go on stage, but can't get off the phone until she gets her little girl to go to the bathroom. We were shooting really fast because we were losing the light and Ali was doing what we scripted. After she did it a few times, we asked her to try it a different way and in one take she went on this amazing riff about how "mommy is a working mommy, and it's very powerful to make your own money, which someday she'll understand, and that she needs to know that money is evil and magic all at the same time." We were shooting on the balcony of The Rainbow Room, it was dusk, it was the last take, just before we lost the light, and the entire crew was howling and tearing up at the same time.

Favorite part of the office:
My favorite part of the Kate Spade office is the energy, which is optimistic, warm, exuberant and moving 65,000 miles an hour. Kate Spade is full of incredibly smart people who are no nonsense and great at what they do. You feel that energy the second you walk through the door.

On Clio Fashion & Beauty Awards:
We won a gold Clio for the first season of our scripted branded content series Missadventure. Missadventure is the first campaign I developed when I started at Kate Spade. At the time, a lot of fashion films felt like still images that moved, which felt counterintuitive to me. I was interested in what I saw happening with short form serialized storytelling online (shows like High Maintenance) and I thought the female voices that were emerging in comedy felt fresh and vital and inspiring. So, I pitched the idea of developing our own serialized comedic series, which amazingly they let me do, and it became Missadventure.
We also won a Clio for my very first print ad campaign at Kate Spade, which is a picture of Iris Apfel and Karlie Kloss sitting on a bench in Central Park holding hands. We hadn't asked them to hold hands, they naturally did it, and for me it's what makes that image feel so genuine.

On what winning a Clio Fashion & Beauty Award meant to her and the team:
It was exciting to win the Clio's! What we are always trying to do is have a meaningful voice in the current culture conversation and wining the Clio's is an acknowledgement that we were able to do that. And to win for Missadventure was wonderful validation on how experimentation and taking risks is always worth it. It's very nice to be acknowledged for doing so.

The 2018 Clio Fashion & Beauty Awards program is now open for entries and the final deadline is Friday, April 13, 2018.  For more information, visit clios.com/fashion-beauty
---