---
Fashion's favorite social media channel, Instagram, has just made shopping much easier through its new app 'Checkout,' for shoppable posts.
Twenty-three fashion and beauty brands partnered with the platform to launch the new feature, including Dior, Burberry, Prada, Balmain, Michael Kors, Oscar de la Renta, H&M, Uniqlo, Nike, Adidas, Zara, Outdoor Voices, Warby Parker, Revolve, MAC Cosmetics, NARS, NYX Cosmetics, Huda Beauty, ColourPop, Ouai Hair, Anastasia Beverly Hills, KKW Beauty and Kylie Cosmetics.
Through Checkout, users can buy products using Visa, MasterCard, American Express, Discover and PayPal. In addition, shoppers can check their order status, delivery dates and tracking numbers through the app.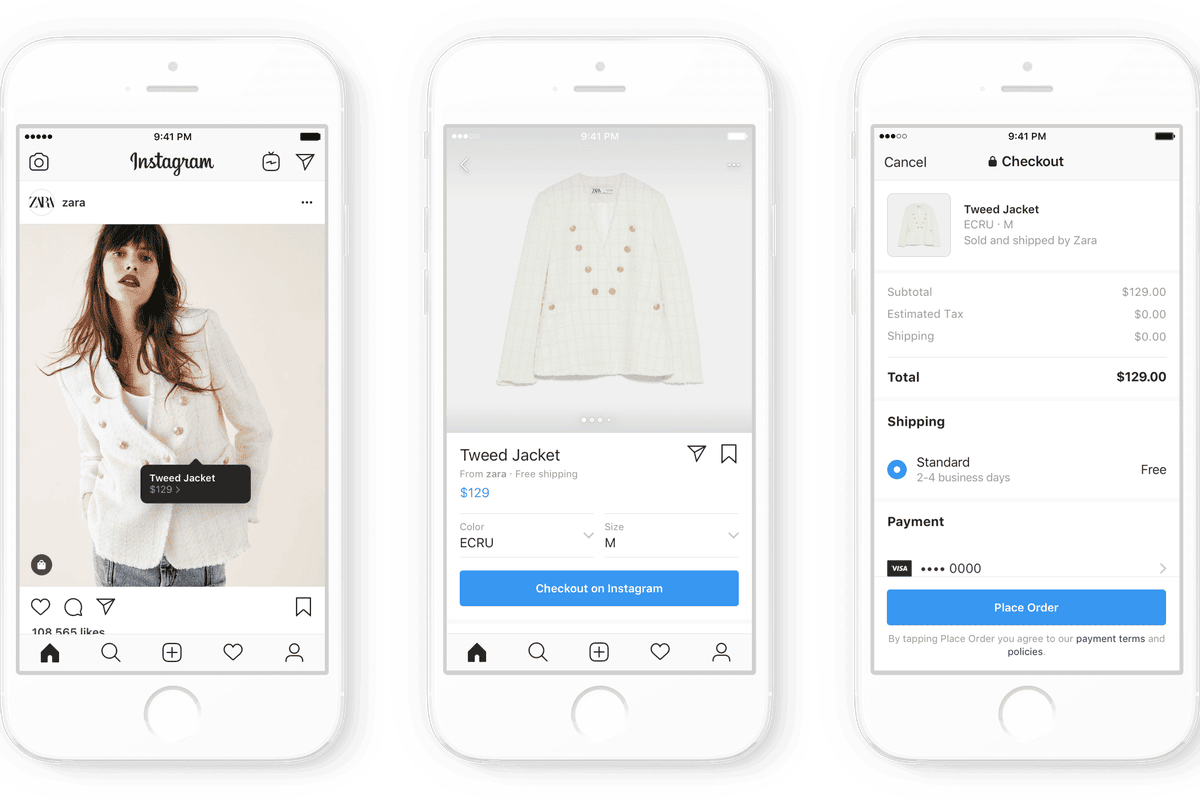 The creation of Checkout was inevitable. While many speculate that Checkout is a way for Instagram's parent company, Facebook, to maintain and generate revenue following its FTC violation, one cannot overlook how mobile devices have become the primary tool for online shopping. The introduction of Checkout removes the need to jump from the Instagram app to the mobile device web browser to shop. This will continue to be the reality in the initial phase, as only 23 brands are participating, but expect the number of participating brands to grow.
It will be interesting to see how brands capitalize on this new feature. One challenge brands have with Checkout is the inability to obtain all of their customers' data with every purchase. Will it be worth it to lose out on valuable insight? On the plus side, brands can see the direct results of social media and influencer marketing in real time. This will pose a challenge for influencers that use only their high follower count and other figures for deals and negotiations, but give an opportunity for these influencers to create content in a new way.
Brands should see success in cutting out the middleman and marketing directly to shoppers on the app with fun content. Dior recently created an Instagram Stories filter for its 'DiorSoLight' sunglasses, which allowed users to try on AR versions of the sunglasses and matching headbands. This is an example of how brands can make shopping interactive, fun and informative.
Finally, how will retailers be impacted by this new feature? Is Checkout competition for brick-and-mortar and online stores like Amazon or an opportunity to sell more products in its online inventory? All will be answered in due time, but for now, head to Instagram to shop directly from Nike, Dior and more.
Adidas @adidaswomen & @adidasoriginals
Anastasia Beverly Hills @anastasiabeverlyhills
Balmain @balmain
Burberry @burberry
ColourPop @colourpopcosmetics
Dior @dior
H&M @hm
Huda Beauty @hudabeautyshop
KKW @kkwbeauty
Kylie Cosmetics @kyliecosmetics
MAC Cosmetics @maccosmetics
Michael Kors @michaelkors
NARS @narsissist
Nike @niketraining & @nikewomen
NYX Cosmetics @nyxcosmetics
Oscar de la Renta @oscardelarenta
Ouai Hair @theouai
Outdoor Voices @outdoorvoices
Prada @prada
Revolve @revolve
Uniqlo @uniqlo
Warby Parker @warbyparker
Zara @zara
---