---
Review of Louis Vuitton Spring 2022 Fashion Show
A Costume Drama Closes Paris
By Anna Ross
A gong sounded at dusk to mark the end of Paris Fashion Week and the beginning of the Louis Vuitton S/S22 show, which offered high drama on all accounts.
Tonight, the Louvre's Passage Richelieu shimmered under the lights of hundreds of chandeliers, in a venue of which Nicolas Ghesquière chooses to return to again and again – not only for its iconically French setting – but for its associations with history, decedance and fine art. This evening, his collection came elevated by its in surroundings perfectly.
Opening looks saw girded, embroidery-laden dresses and skirts resembling the decedent chandeliers' frames hanging overhead.
Although these looks bounced around the hips rather than hanging statuesque – as light on their toes as the wrestling shoes that accompanied them – although from different centuries entirely.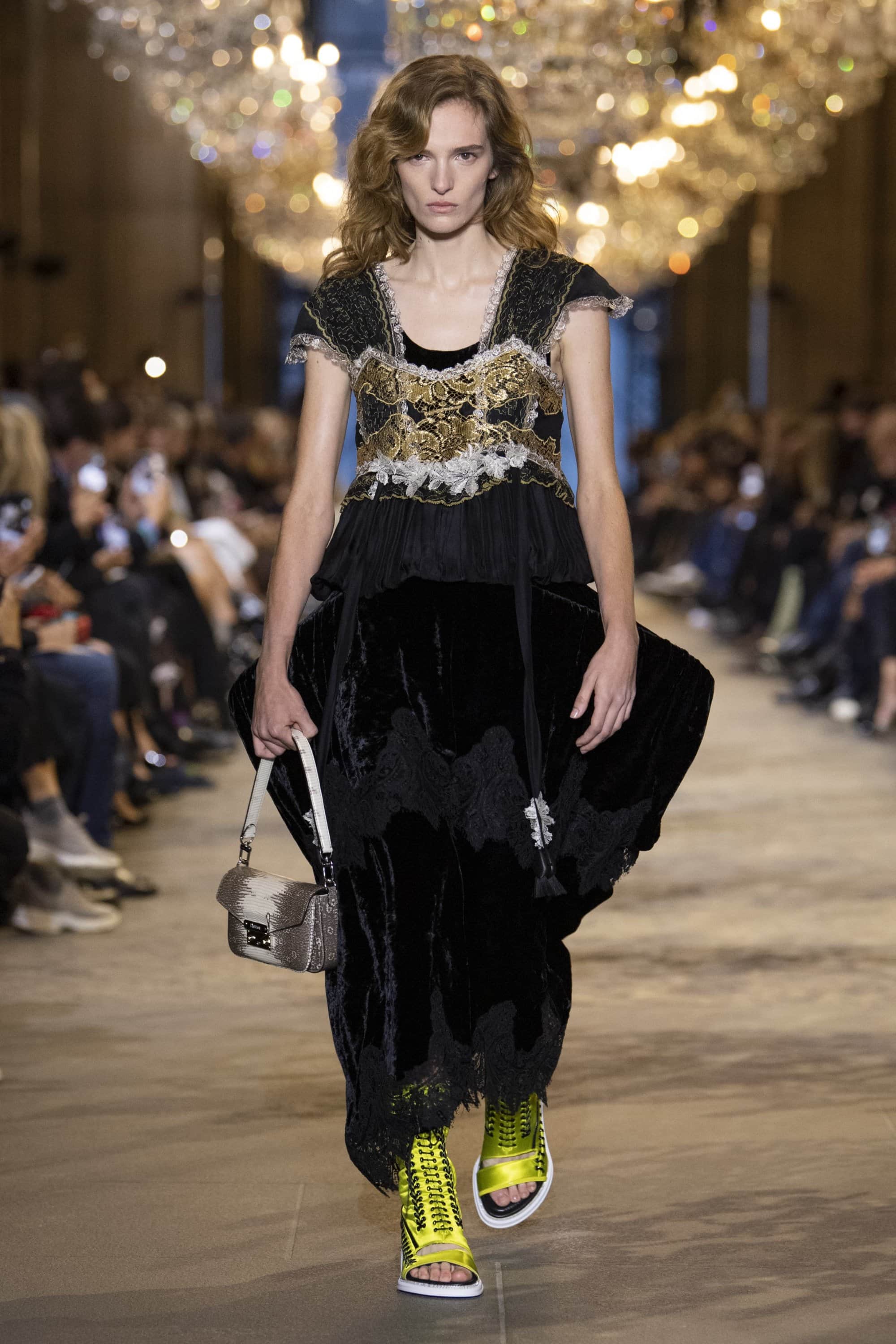 Ghesquière's fusion of the high and low, old and new, was on full parade here. Dramatic, Matador-esque shoulders and couture-ready capes met their match alongside these protruding skirts, occasionally downplayed with slim-fit denim or boxy cargo shorts. These outerwear styles came largely informed by Ghesquière's costume design in the upcoming series "Irma Vep," on HBO, which is inspired by the 1915 silent film "Les Vampires" by Louis Feuillade.
"I like the figure of a vampire who travels through the ages, adapting to dress codes of the era he lives in while maintaining a certain air of the past."

– Nicolas Ghesquière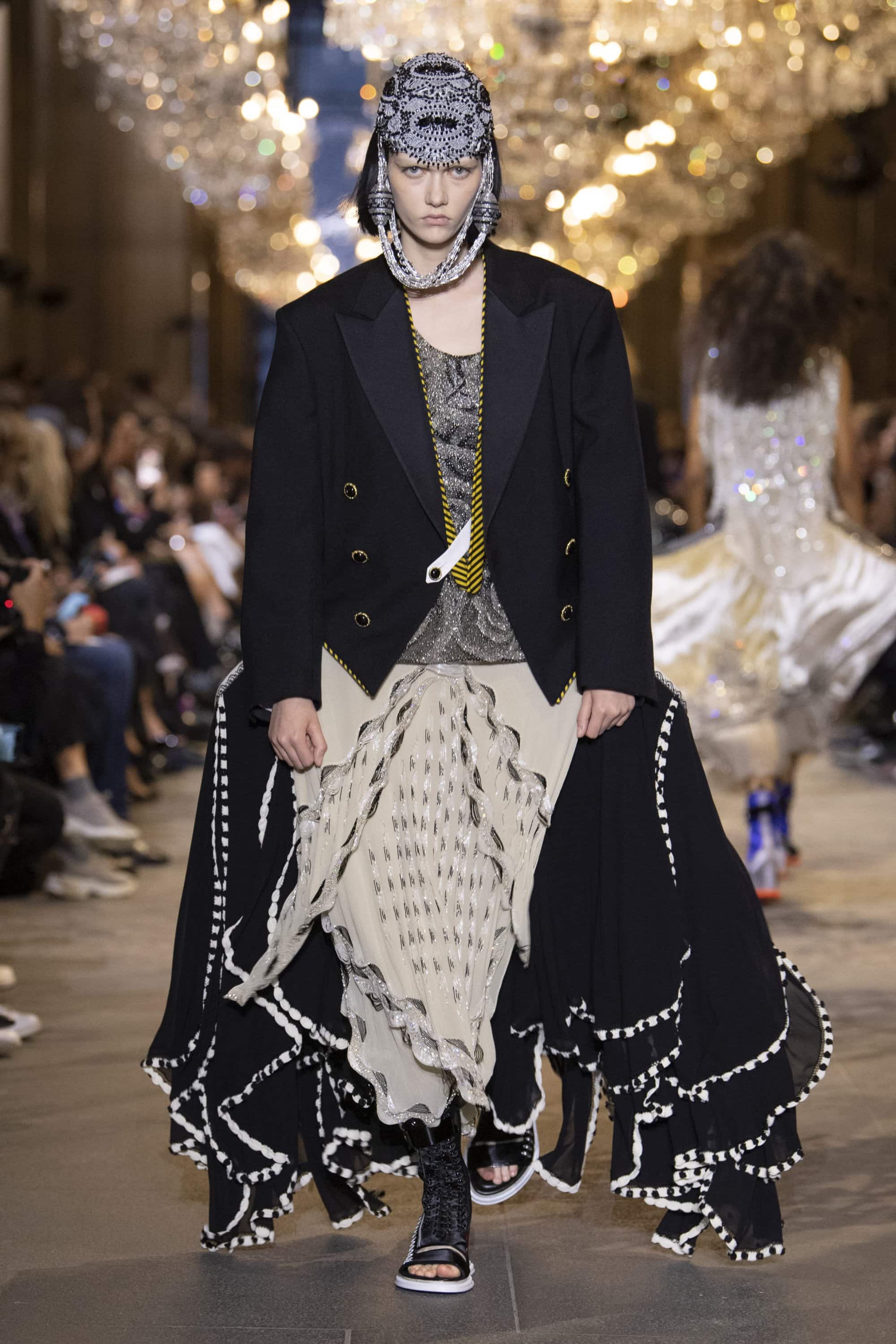 The vision of this mystical vampire and a decedent grand ball filled the designers mood board, giving the collection a "phantasmagoric" atmosphere. The drama unfurled through opulent embroideries: dense seed beading (replenished from the 19th century) met soft, scalloped lace or gold gilted buttons. Frolicking, frothy collars added drama to street-ready puffer jackets, while art-nouveau glasses in gigantic proportions gave a side serving of Dame Edna making an appearance the masquerade ball. Polka dots from the 1980's met jeans from the 1990's, teamed with deconstructed tail coats or exquisite 1920's style lingerie-dresses. What could go so wrong felt oh-so-right in Ghesquière's dressing-up box of dreams.
The designer beats entirely to the sound of his own drum. In a Fashion month laden with youth-gazing trends, Instagram-ready colorways and sexed-up details, his collection felt one-of-a-kind, and much like the artwork that surrounded his runway: museum-worthy.
However, the Louis Vuitton collection will make headlines tomorrow for more than just beautiful clothes. Tonight, a climate activist from the Extinction Rebellion stormed the runway carrying a sign reading "Overconsumption = Extinction."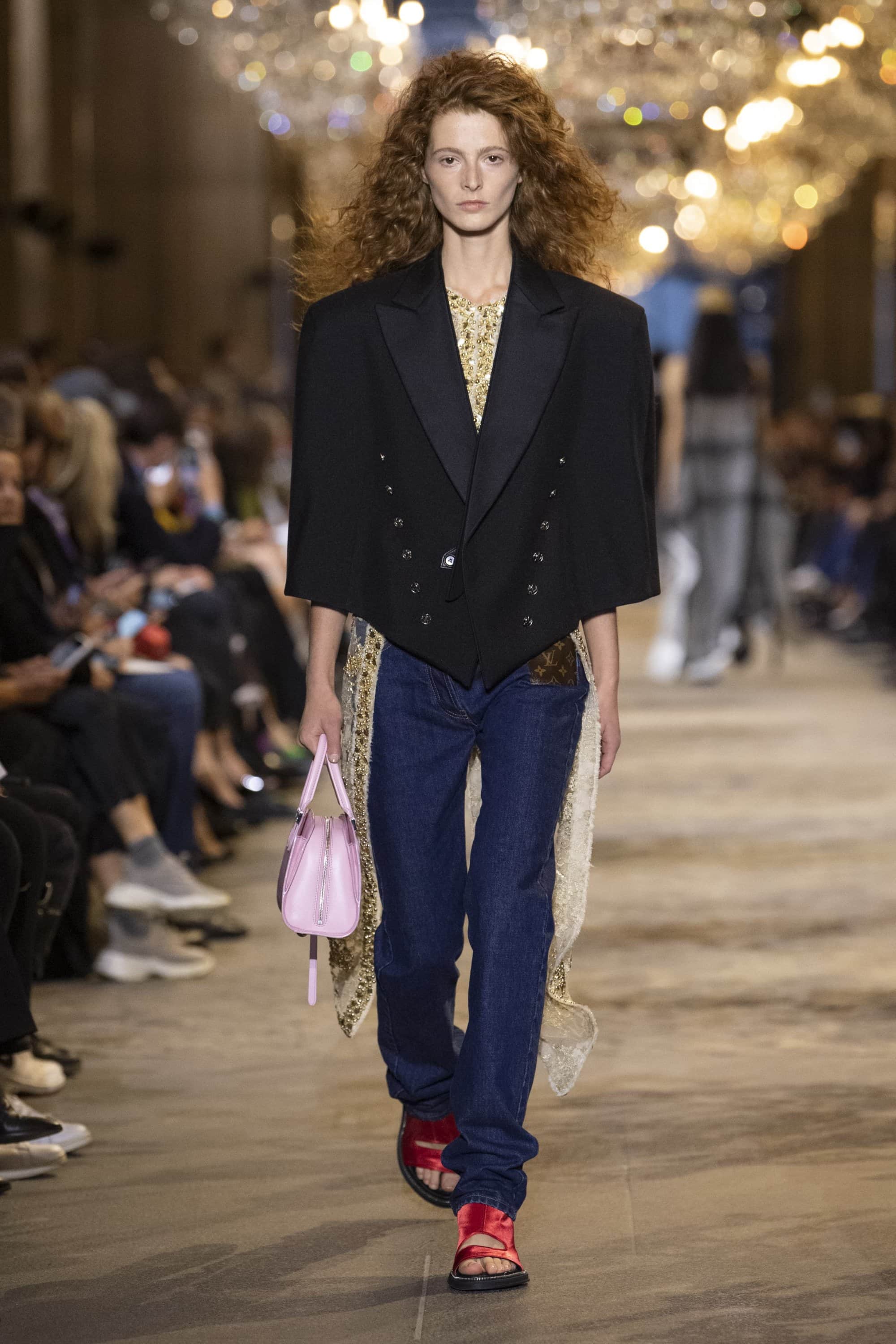 Of course, this isn't the first time a climate-change activist has charged a fashion show, but the protest felt poignant for an industry re-finding its feet post-covid amidst a bi-annual event that undoubtedly kicks off a carbon emission or three.
No matter how much we try to masquerade anything, the fashion industry is one of the most significant ecological burdens on our planet- falling just behind the oil industry. Of course, LVMH is a company dedicated to pioneering positive change and has been paving the way with their program, LIFE 360, which lays out sustainable and ethical goals for the company from the ground up. Tonight's disruption will undoubtedly instigate conversation – as disruption always does – and that's a good thing. The interruption serves as a stark reminder of the very real climate change situation we face, put into perspective alongside the parade of fashion.
Come what may of the headlines tomorrow, the craftsmanship, curation and creativity of these clothes will undoubtedly tell a story in their own right.
---