---
Review of Louis Vuitton Spring 2023 Men's Fashion Show
Arts and Craft
By Mark Wittmer
Virgil Abloh's legacy at Louis Vuitton continues to live on, and the house's Spring 2023 men's collection – designed by its own studio collective in lieu of a single creative director – affirmed that the brand's vision (at least when it comes to menswear) has learned and gained much from the late designer's generosity of spirit and optimism.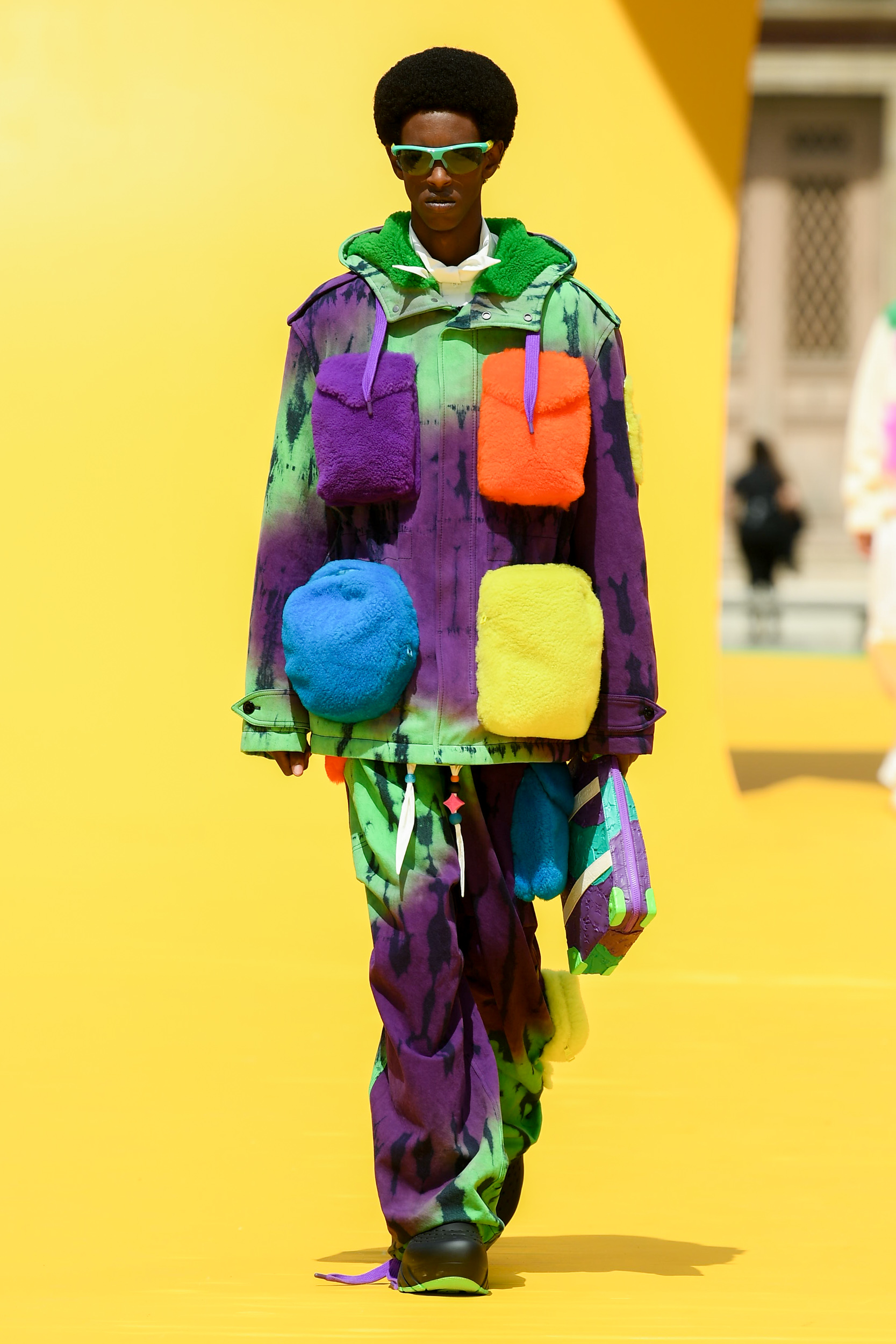 The collection formed one of the most vibrant and direct expression's of Virgil Abloh's visionary celebration of boyhood and imagination for which the maison of Louis Vuitton became a vehicle.
Taking shape over a base layer of strong tailoring and hot-selling streetwear staples, a world of color and imaginative iconography that explored and reiterated the limitless possibilities of childhood play, worn by a legion of models who strode down a runway that recalled a Hot Wheels track.
Chunky beads that suggest necklaces assembled in elementary school arts-and-crafts time, leather renditions of classic origami hats, suit jackets and pants bedecked with paper planes or scissors and paste.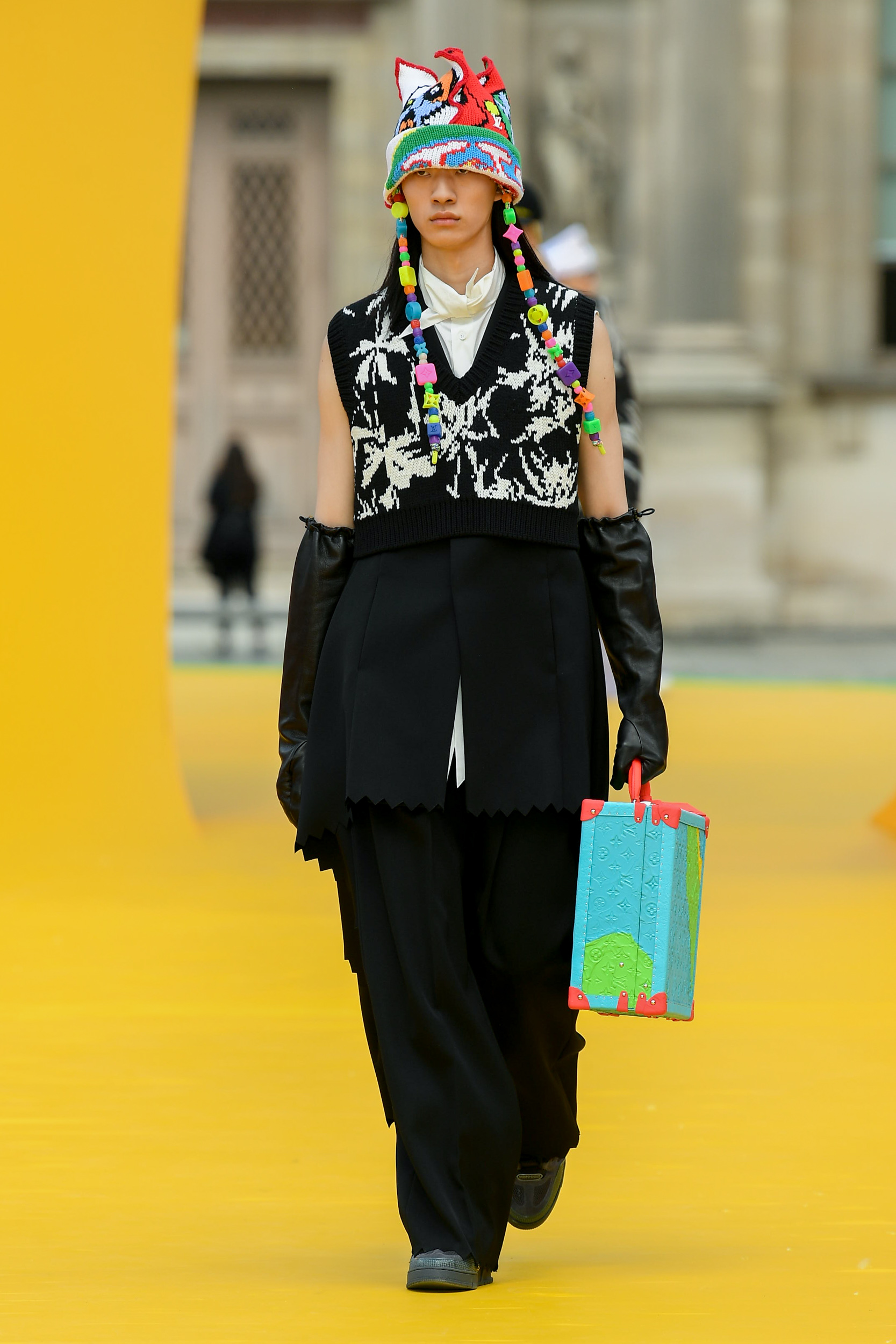 Other, less-literal references to the world of playtime include oversized, croc-like clogs that recall the shoes of retro cartoon characters, checkerboard patterns, bags in the shape of a many-sided die, oversized proportions and pop-art colorblocking that recall early childhood educational toys. Tapping into both the season of spring and its metaphorical connotations of youth, newness, freshness, a motif of flowers also runs throughout.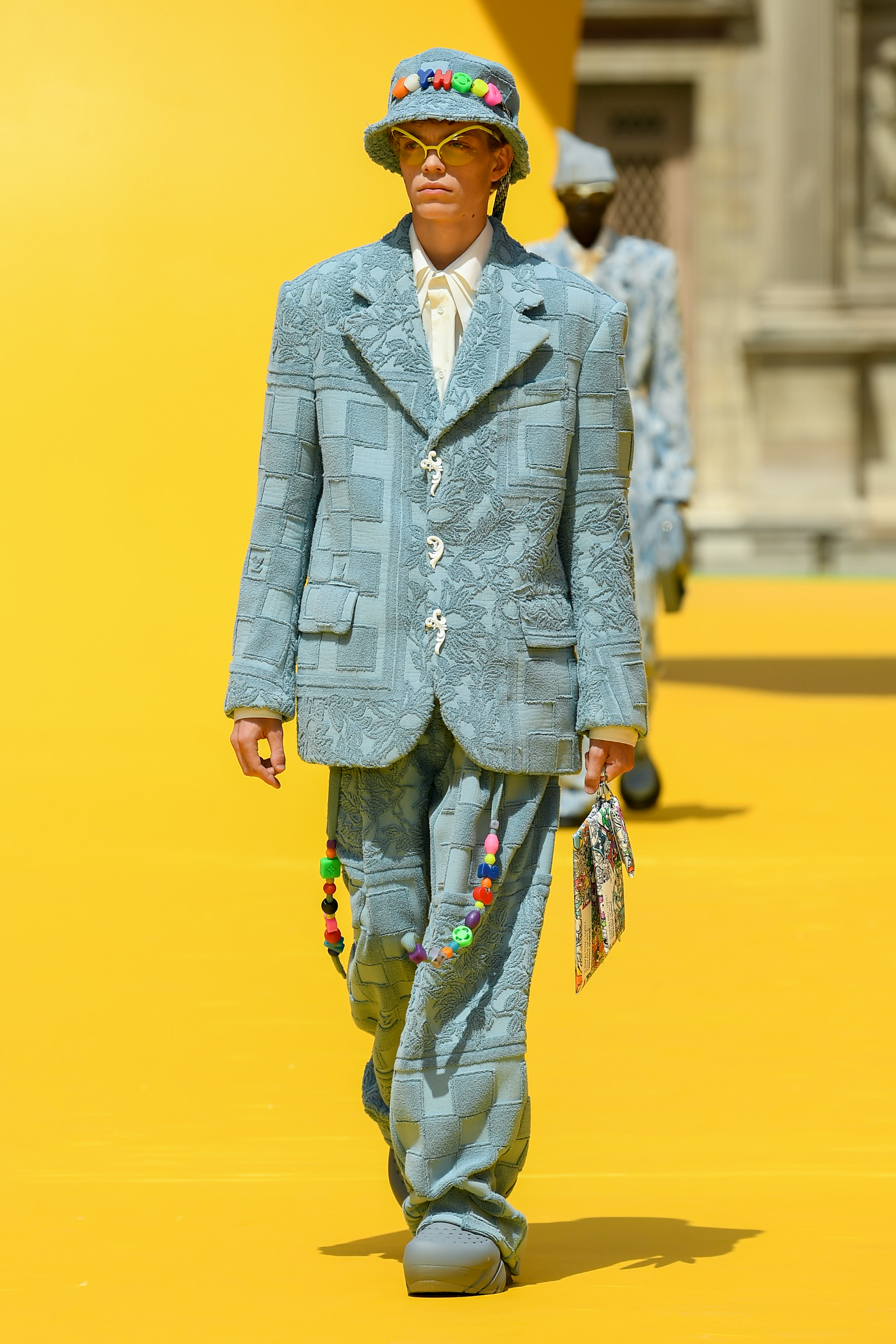 Of course the collection was realized with a sharp dedication to another kind of craft – what might be called the savoir-faire variety – bringing the imagination behind these looks to life with skill and a broad array of techniques: jacquard, embroidery, beadwork, crochet, and unique knit patterns, to name just a few. The strength of Louis Vuitton's studio was fully on display, even if it was easy to lose the details in the playful rush of color.
While many of the details of childhood memory are forgotten, it's often the seemingly smallest of details that remain with us, lending visual shape and clarity to an elusive recollection of a time that felt more optimistic, more new, more boundless. Reminding us to stop and smell the flowers, to take time for play, Louis Vuitton revives this sense of wonder in all its vibrant detail.
---