---
Review of MSGM Fall 2022 Fashion Show
Wish Upon A Star
By Lizzy Bowring
The last two years have triggered several changes in the fashion world, some obvious, some not so. Meaningful equations have been proposed that have given rise to new design philosophies – call it re-set, re-birth, or just simply re-evaluating. Massimo Giorgetti is one of those Creatives where today's outing was a private showing built on his new principles. On each seat, he left a 'Letter from Massimo.' The words resonated.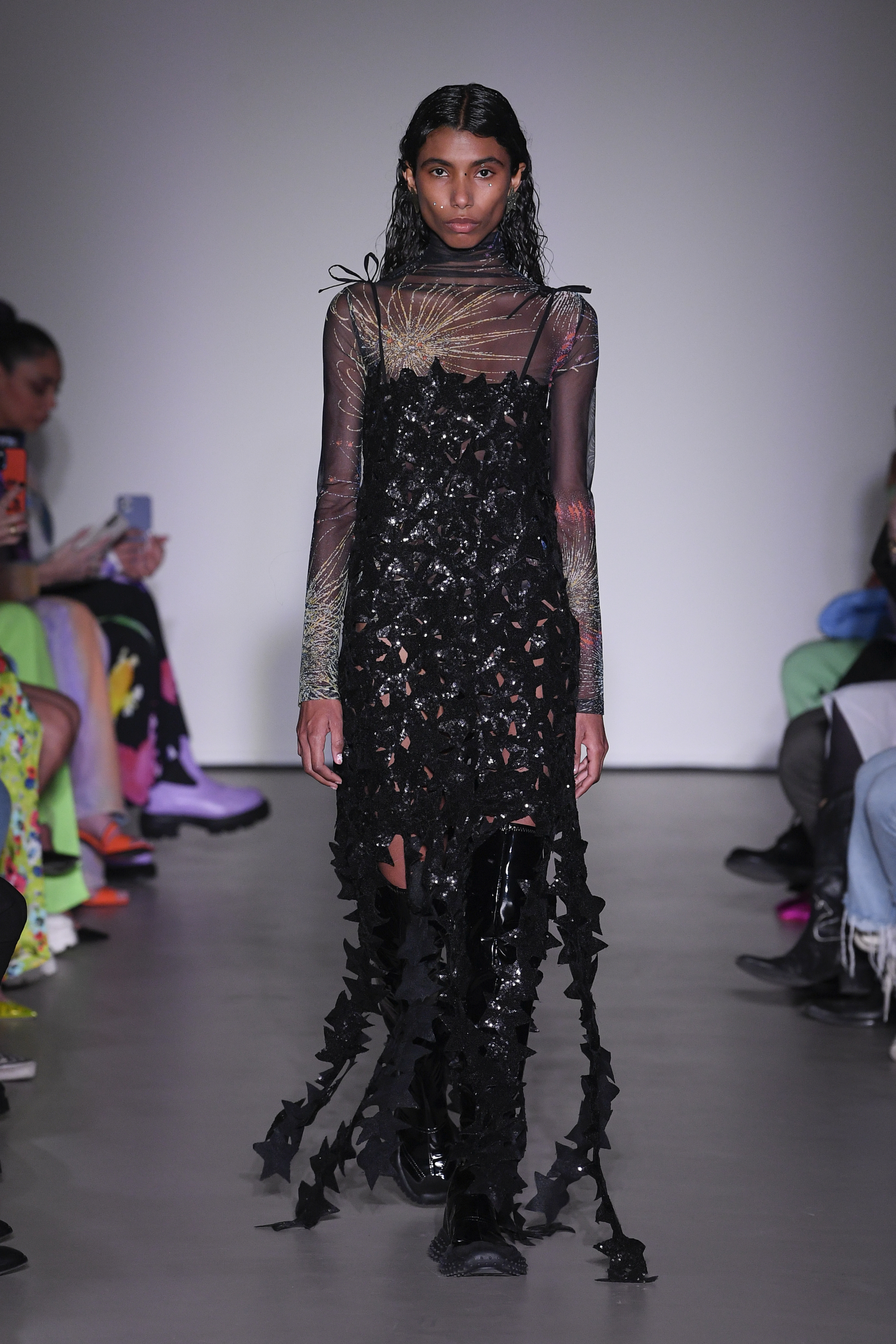 In recent years, I have looked to the sky on more occasions than I have ever done before; it has been therapeutic. I thought of the stars as a constant element in our lives, visible to all, companions in adventure, and a compass to guide us."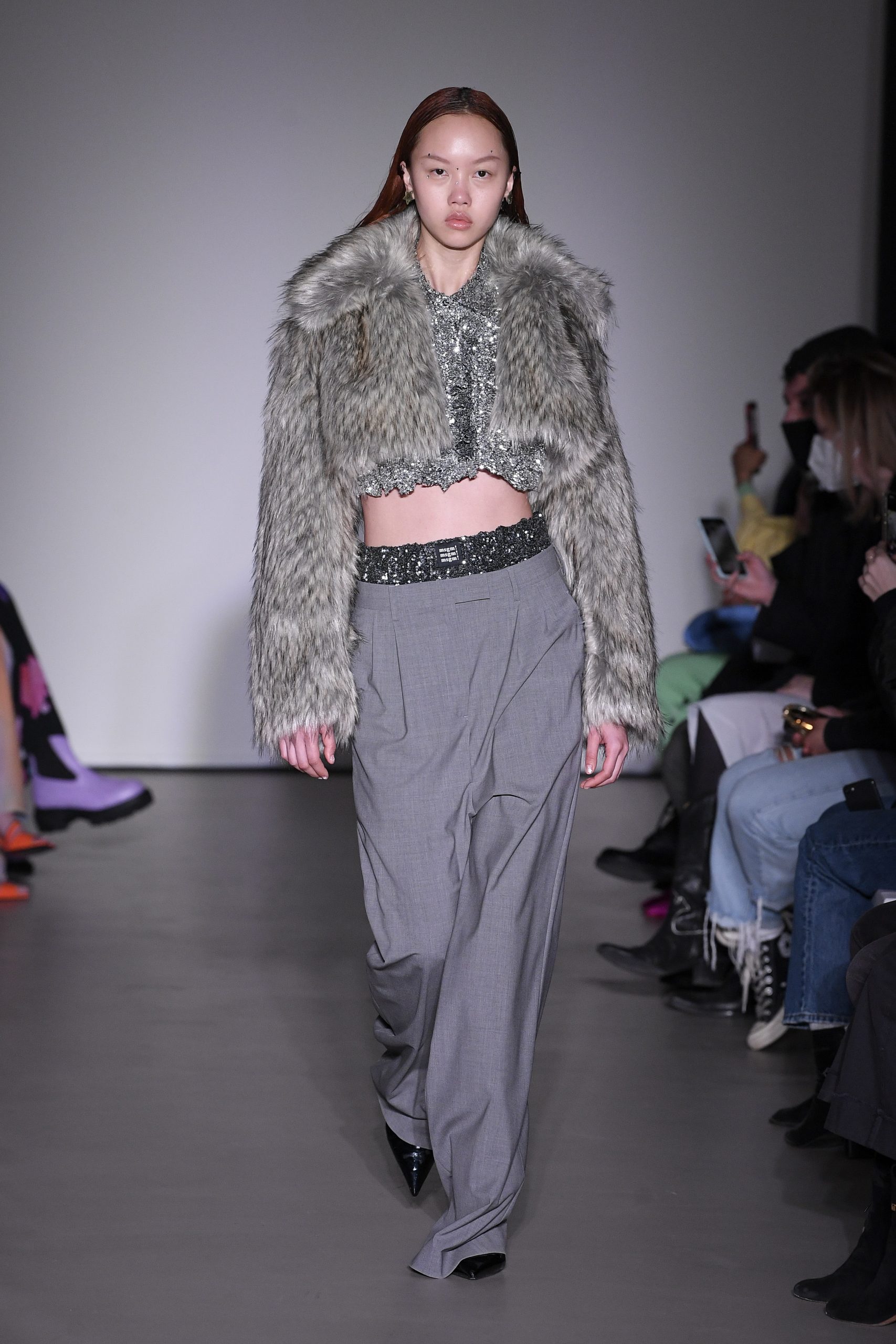 Recently, a celestial body was discovered – MaCoMP_V1, for those that don't know. Located in the constellation of Cepheus, near the Wizard Nebula, its beauty struck him. As Giorgetti looked to the heavens, he also came back to earth, thinking of our inhospitable habitat – it led him to believe in another utopia where science dreams of a thousand possibilities.
A horizon of escape and hope, a suspended vision, a page yet to be written".
Giorgetti became mesmerized by this singular discovery, and it became the leitmotif for his collection, transforming everything that he touched – silhouettes were illuminated, star-spangled, vivid, and deliberative.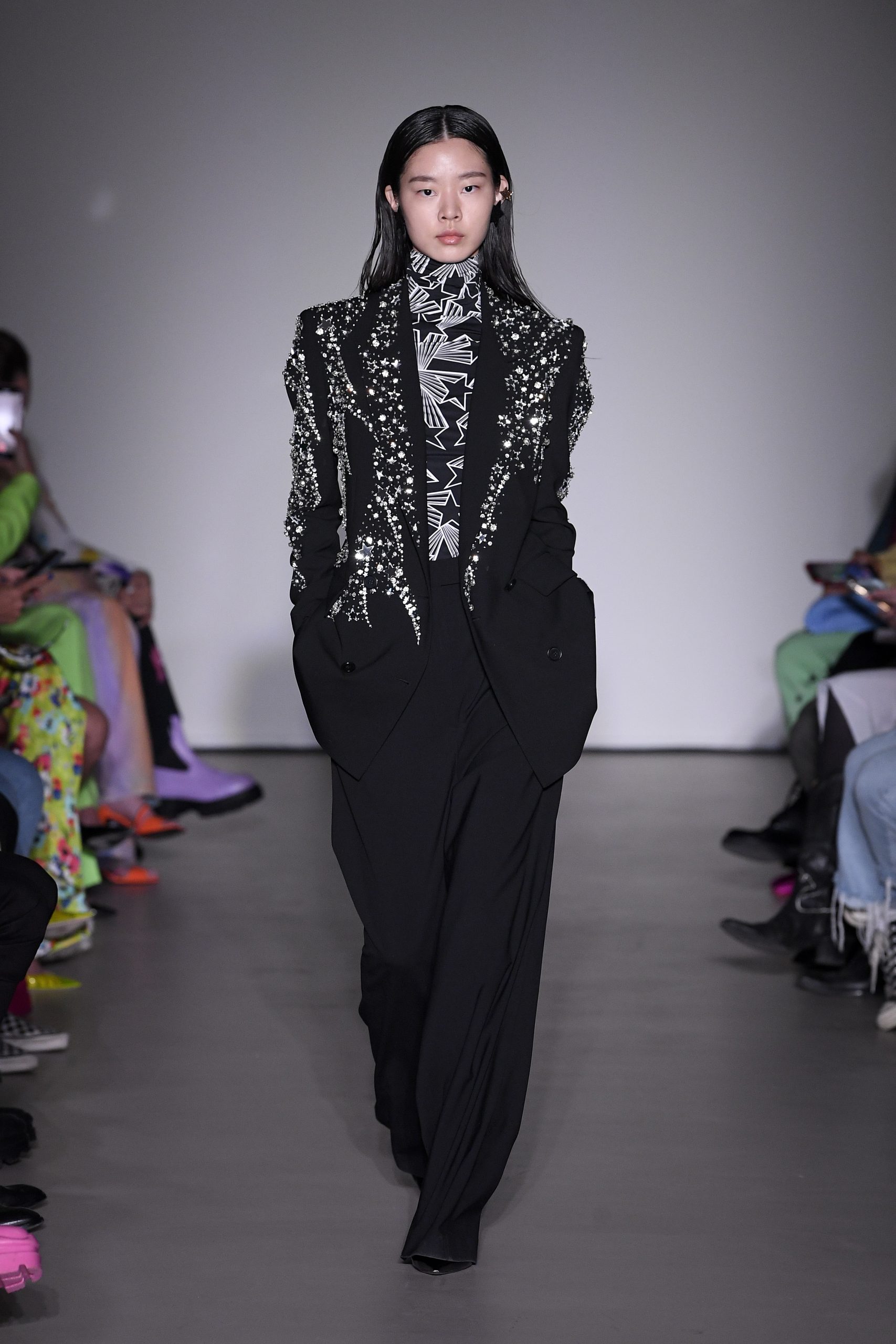 Prints and embroideries were otherworldly, from spheres, orbits, stars, the Milky way – the heavens opened and cascaded over every silhouette".
There was too much overkill – the number of stars embroidered onto jackets, starry strands cascading from every hemline, laser-cut shapes in sweaters strategically placed to allow a peek of a nipple and it went on! Celestial orbits also came as prints on a dark sky; now that may sound somewhat over the top, but the saving grace was that we were looking at a collection that was much more grown-up. Therefore one could overlook these extraneous nuances.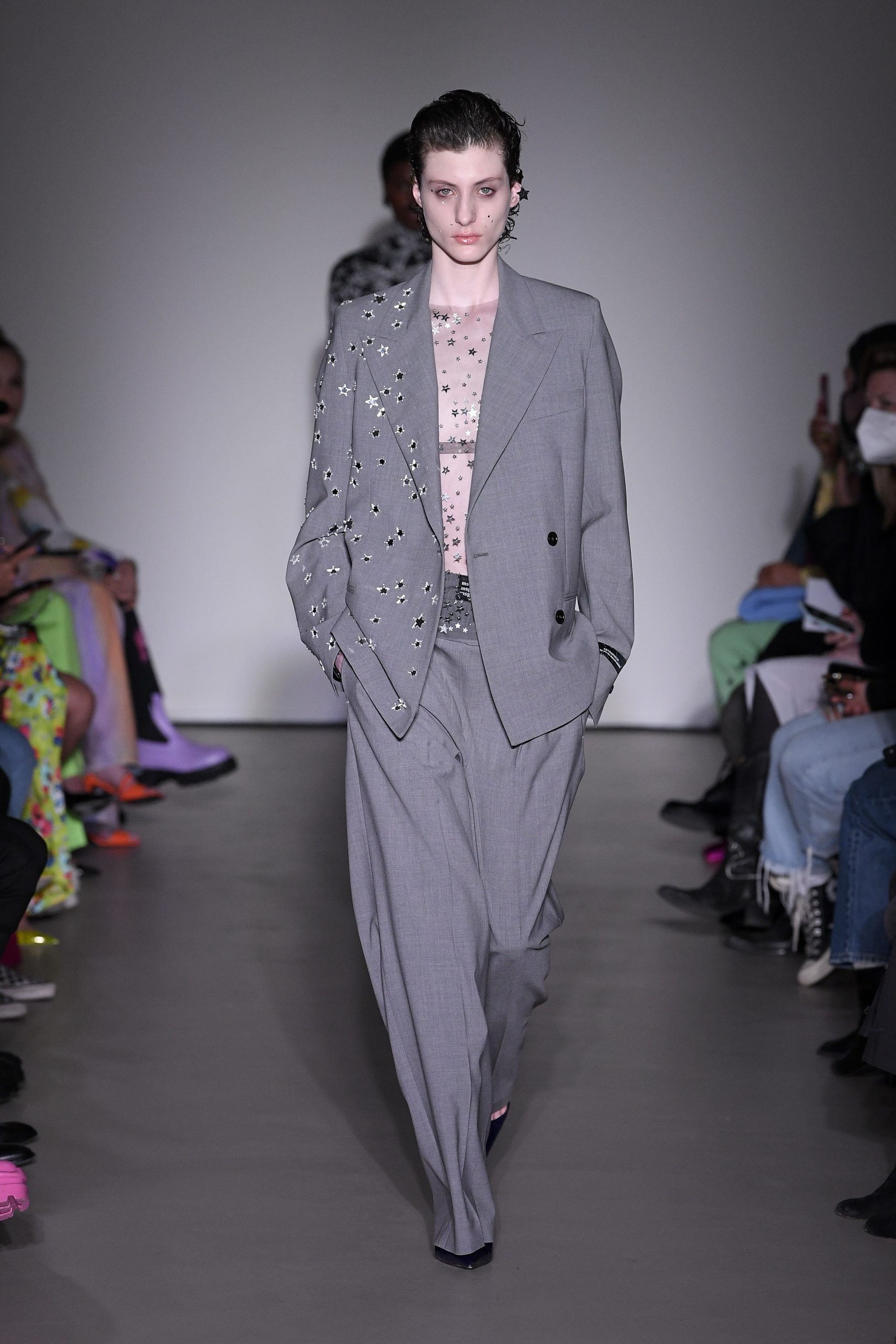 Gone was the frippery from the past season. Here was something much more profound and meaningful, and it showed". 
Smart tailoring was evident – from the fluid sartorial cuts of trouser suits to the classic outerwear coats – beautifully controlled and accomplished. But it was not a case of all that glitters; the mood was somber, which had some bearing on the color palette. There were greys and black, punctuated with colors such as pale pink, lilac, green – as if Giorgetti had lifted them from the celestial northern lights.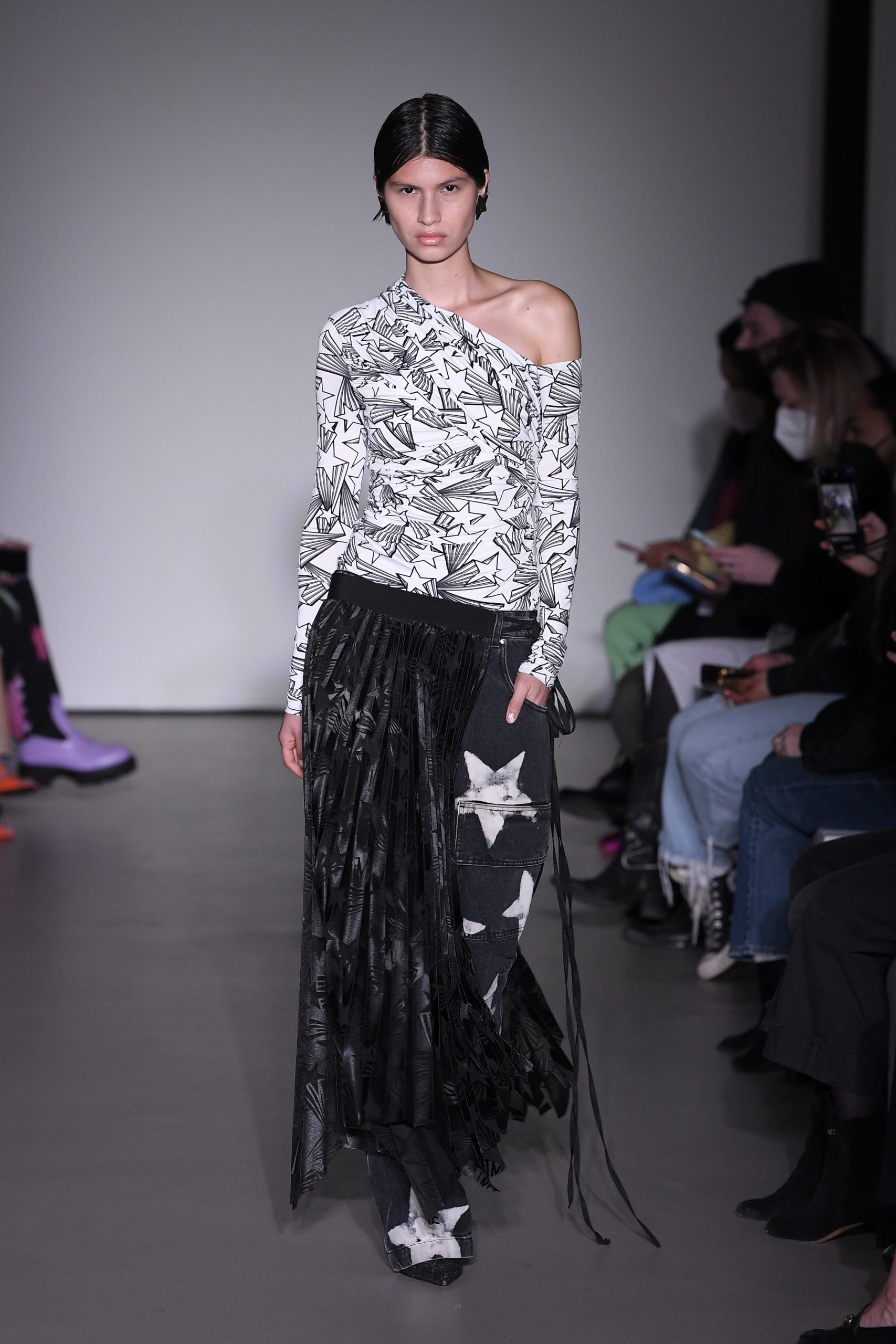 I could not help but look at the audience illuminated by fluorescent lights and wonder what they would make of this new sensibility? Judging from the many sartorial suits, albeit with their own touch of stardust, I think they would welcome this re-birth. They have grown up too.
---