---
Review of N°21 Spring 2023 Fashion Show
Risqué Refinement
By Mark Wittmer
While sex may be a difficult topic to to understand the place of in today's fashion landscape, Nº21 creative director Alessandro Dell'Acqua is certainly not afraid to share his vision of it, and his Spring 2023 women's collection put his penchant for rich, sensual fabrics and revealing silhouettes to work in serving this vision.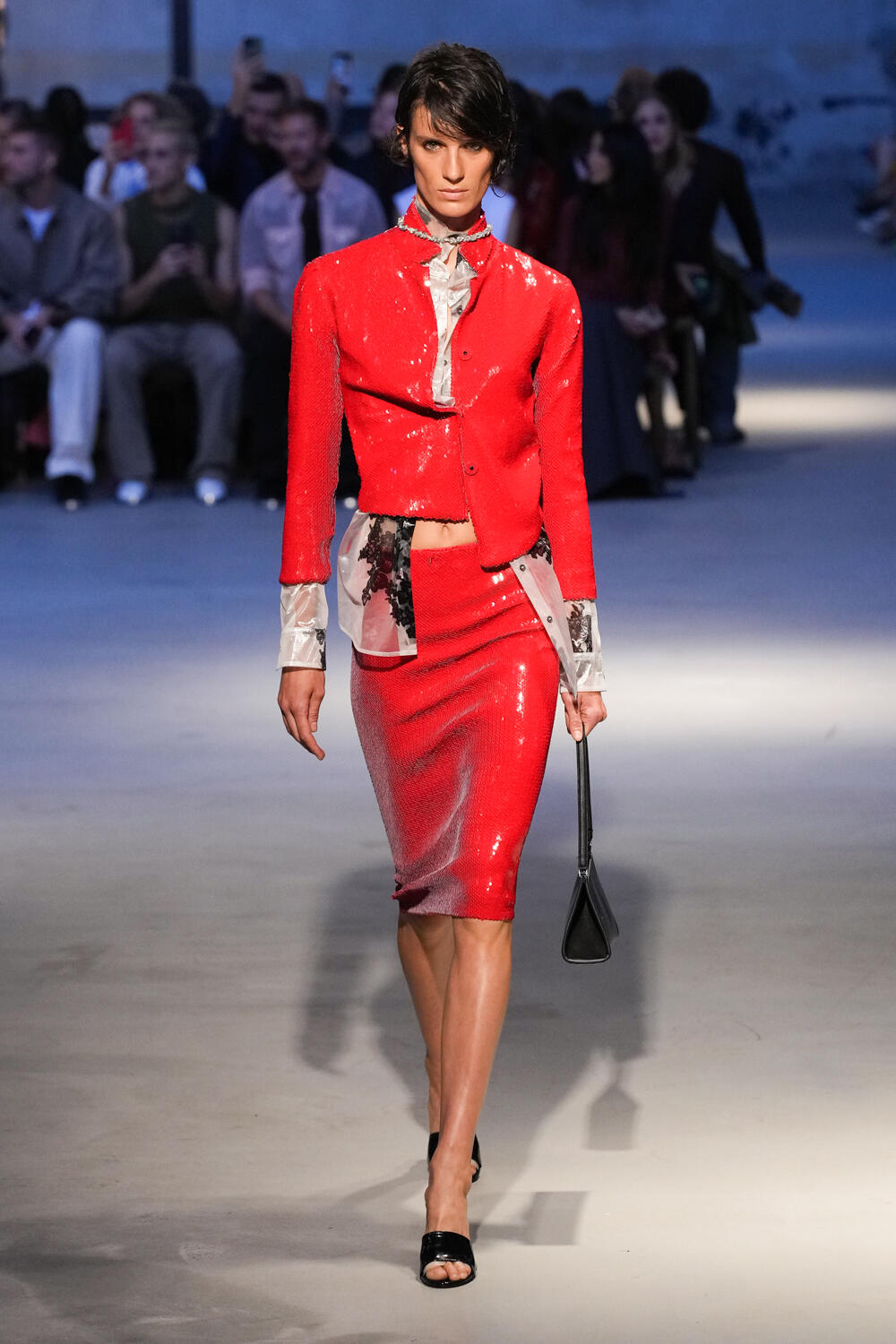 Impressively balancing risqué and refined, the sparkled as it indulged opulently in playful provocation.
The sense of sparkling ballroom elegance lent to the house's dedicated show space at its HQ by crystal chandeliers was offset by an eclectic soundtrack that wove together Florence + the Machine, Nat King Cole, Pat Benatar, and Rage Against the Machine. It was a fitting juxtaposition for a collection that infused opulent evening wear or business-minded power dressing with an unmistakable zest of sex.
Outer layers like sheer slip dresses or blazers could barely contain the va va voom of bright red silk underwear that poked out from underneath. As if their wearers have just returned to the cocktail party from a coat closet rendezvous, straps fall off the shoulders and shirts are completely misbuttoned. The latter's suggested of kinkily subverted office wear definitely reminds one of recent Miu Miu collections, but the motif is executed firmly in Dell'Acqua's own handwriting.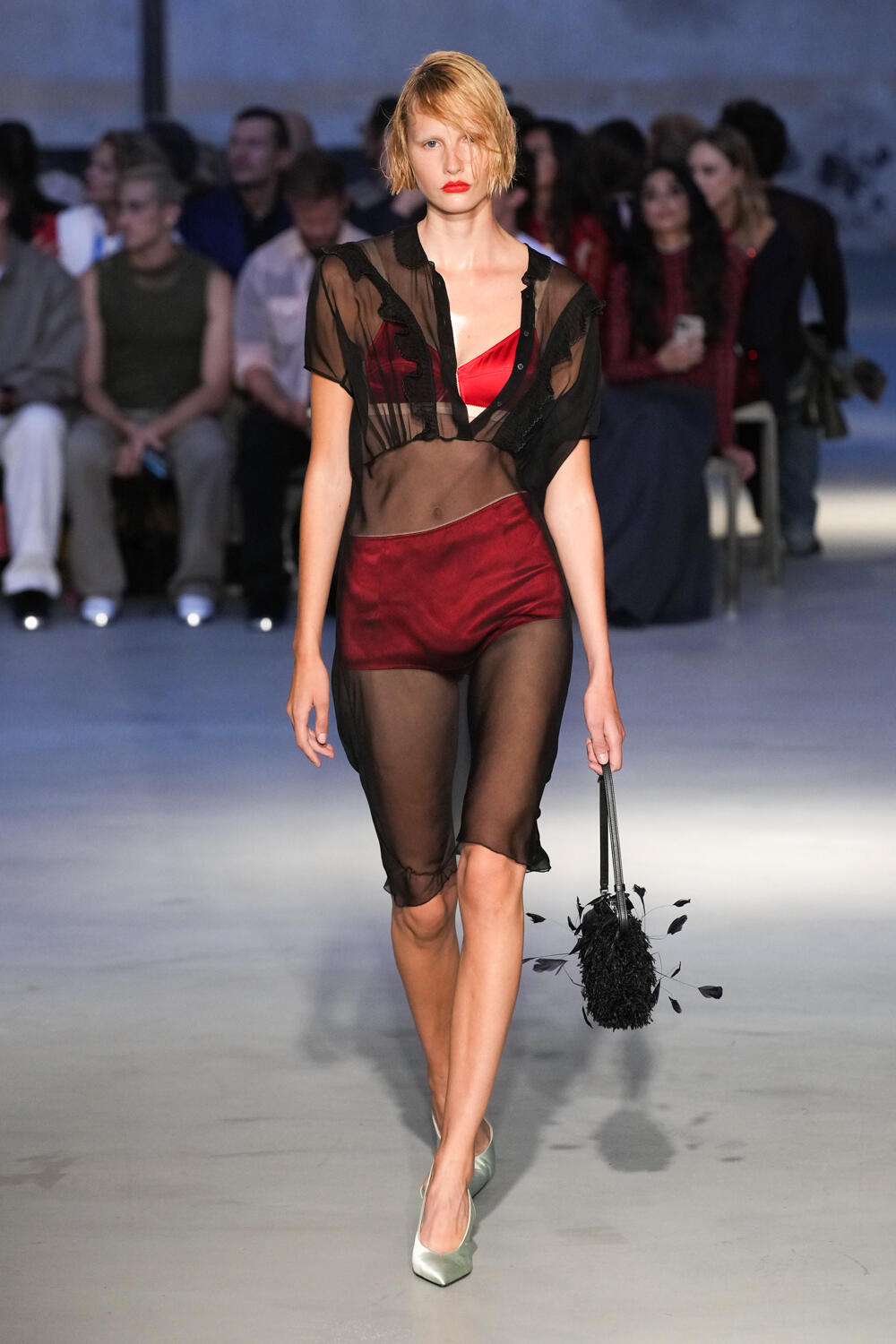 Rather than oppose this brash sexuality, the attention to refined craft actually supports it, and the two work together to suggest a sort of woman who is opulent and indulgent, but powerful (both in the sense of of wealth and of physicality), sensitive, and intellectual. Delicate floral lacework overflows and blurs the borders of silhouettes; sequins and embroidery charm the eye; chunky crystal necklaces exaggerate the sense of glamor in nearly every look.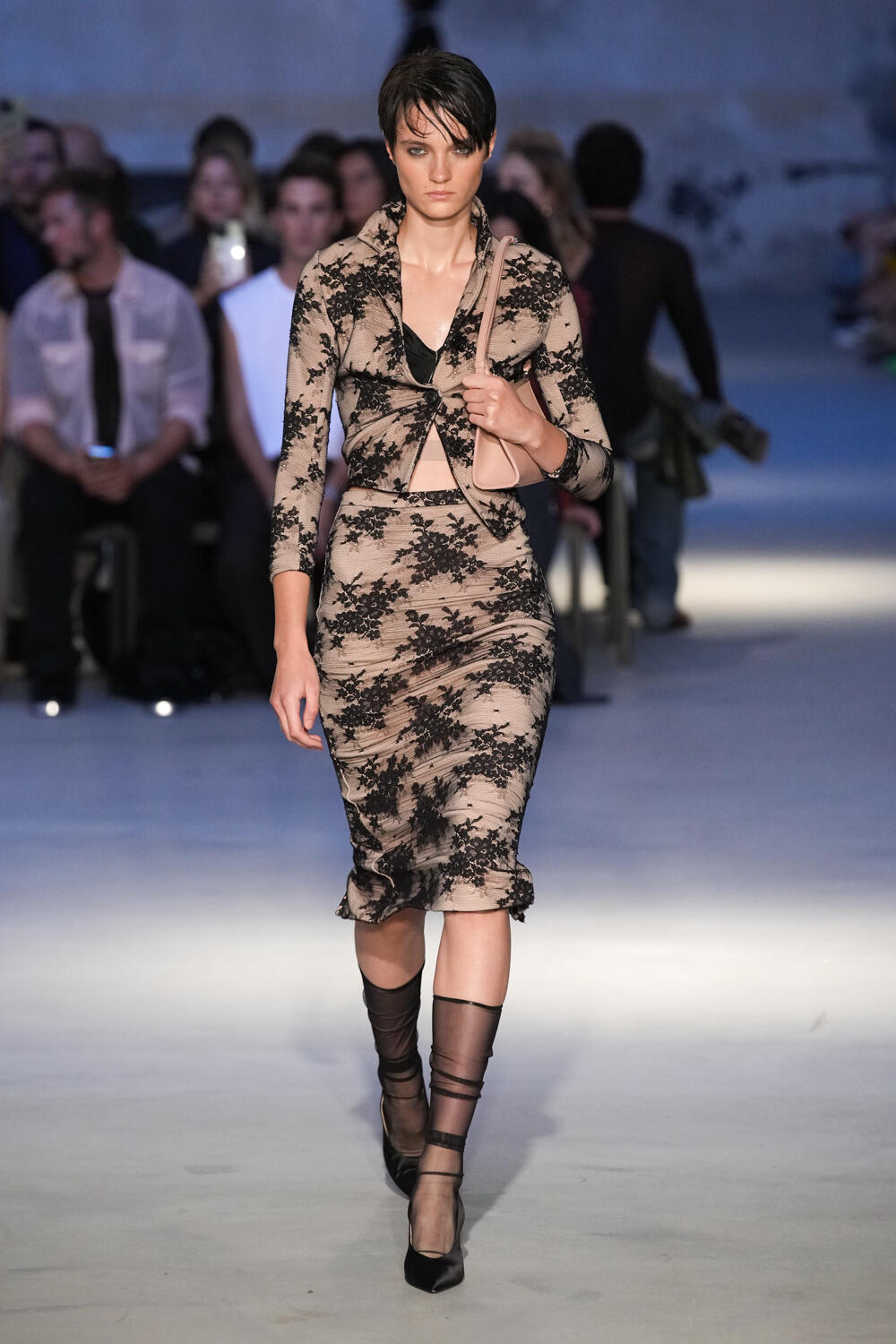 In many ways, it still feels like fashion is trying to relearn feminine sexuality: while thankfully most designers and labels have shifted away from portraying women's bodies as sex objects, many of them haven't been able to capture a similar spark while designing for a sexiness that is self-determined, that is more about how a woman feels than how she looks.
Not so with Alessandro Dell'Acqua: while these women certainly look good, their looks – though certainly not for the timid – are loaded with power and refinement. In this connection, the show also deserves commendation for the age range of its casting, challenging the idea that only pretty young things get to be playfully provocative. Too often being risqué is pinned as "trashy," but even as this aspect of the risqué is exaggerated here, so is that of refinement and tastefulness: a difficult balance that Nº21 has impressively captured.
---