Review of Net-a-Porter x Valentino Spring 2023 Ad Campaign by Creative Director Pierpaolo Piccioli with Photographer Hans Neumann with model Ilana Hansen 
Net-A-Porter welcomes new Valentino pieces for the Summer shopping season with an elegant and subtle campaign shot by photographer Hans Neumann.
Focusing on a tight edit of monochrome black or red pieces from Valentino's Spring 2023 collection, Neumann's portraits of model Ilana Hansen blend classic editorial elegance with a subtly off-kilter industrial edge. Behind peeking out from around the edges of his white portrait backdrops, we can see the structure and detailing of the former industrial location where the campaign is shot, creating a feeling of dunamis and an interpenetration of the artistically elevated and the everyday. A sensitivity to red, black, and white details also help to expand the visual world of the collection, while the images are finished off with both brands' recognizable logotypes in white or red.
The campaign follows up a similar Valentino-focused series from Net-A-Porter for the fall season, creating a strong rhythm among the runway-to-retail calendar. As online retail platforms continue to grow and occupy a greater share of sales and consumer reliance, relationships between brands and retailers are becoming increasingly symbiotic. As a wholesale retailer (though it has been beginning to explore concessions and hybrid models), Net-A-Porter is responsible for selling the pieces it purchases from Valentino, and thus for marketing them and itself. The retailer must strike a balance of remaining accessible and consistent to its own customers while capitalizing off and being true to the image of Valentino that Valentino's customers are drawn to.
Focused, elegant, and fresh, this campaign does a great job at executing that balance.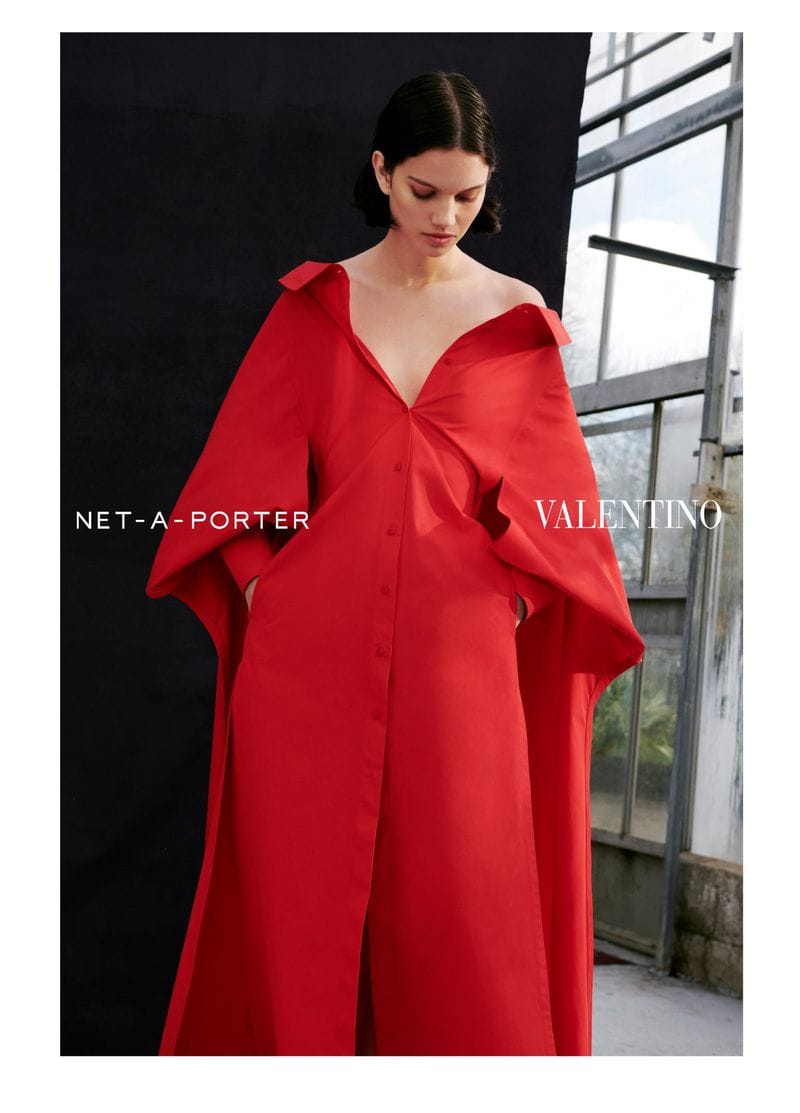 Valentino Creative Director | Pierpaolo Piccioli
Photographer | Hans Neumann 
Models | Ilana Hansen 
Hair | Alfie Sackett 
Makeup | Athena Paginton 
Manicurist | Sabrina Gayle 
Set Designer | King Owusu 

---