---
Karl Lagerfeld wasn't merely a designer, photographer, or creative director. He was a lion's lion. A master craftsperson and storyteller, whose larger-than-life persona coupled with quick wit thrust him beyond the insular notoriety of the fashion industry to become its leading ambassador on the global stage.
With his powdered white ponytail, oversized dark glasses and high-collared white shirts, Kaiser Karl, The Emperor of Fashion, transitioned from growing up in Hamburg with a German mother and Swedish father, who imported condensed milk, to leading not one but three design houses simultaneously for over 35 years each.
Lagerfeld's vocation struck him as a teen in post-war Germany at a Dior fashion show in Hamburg. After a bolt of inspiration, he moved to Paris where he won first prize for a sketch of a coat promoting Pierre Balmain to offer him a job as his assistant where he remained for four years.
A series of design roles soon followed including stints Jean Patou, Rome based Tiziani, and a member of Chloé's design team which eventually lead to the designer becoming the lead creative for the house in 1969.
It was in Rome in 1965 that the designer became the head of ready-to-wear for the house in which he had the longest relationship, Fendi, where he served as creative lead for 54 years.
In 1983, after his contract with Chloé ended, the designer picked up the lead role of Chanel and changed the course of fashion history going on to help the house build fashion's greatest luxury empire in the 36 years he was at the helm.

What I do Coco would have hated. The label has an image and it's up to me to update it. I do what she never did. I had to go from what Chanel was to what it should be, could be, what it had been to something else.

Karl Lagerfeld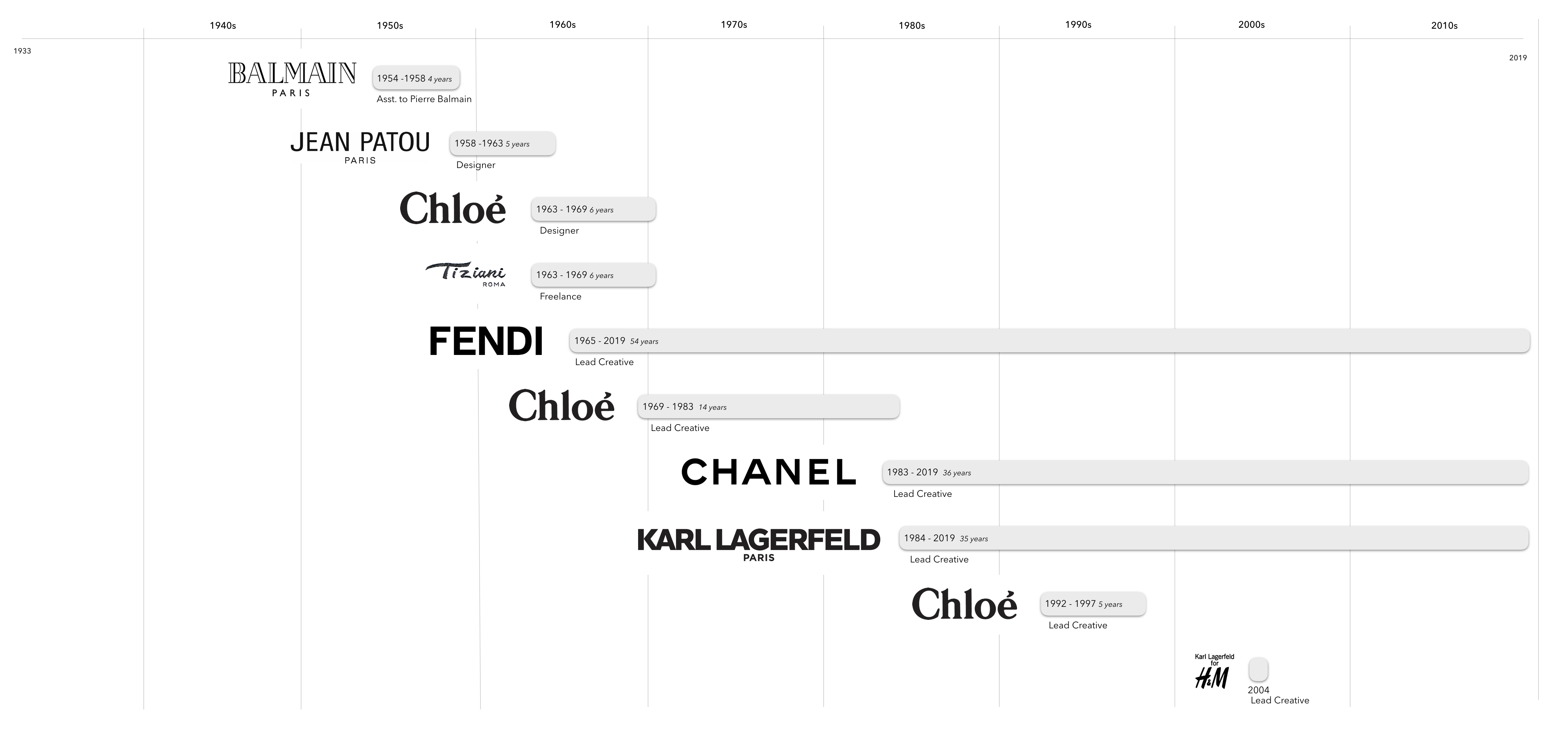 Known for his work ethic and curiosity the designer trail-blazed in a direction none of his peers had by photographing his own campaigns. Going on to lens editorial and campaigns for a broad range of clients and publications from Puma to Purple Magazine.
He never feared innovation and in 2004 became the first fashion designer to collaborate with high street clothes store H&M. When asked about the collaboration he wisely responded, "Chic is a kind of mayonnaise, either it tastes, or it doesn't."
The H&M X Karl Lagerfeld collection broke with fashion norms with the partnership proving to be successful, going on to usher in the golden age of brand collaborations we see today.
More collaborations followed including toys and designing three different bottles for his drink of choice Diet Coke.
Despite his advancing years, his pace of work did not slow up however the fashion industry was concerned when he missed his first Chanel couture show in January. However, The Impression would like to remember he was passionate about his role up to the end.
Why should I stop working? If I do, I'll die and it'll all be finished.

Karl Lagerfeld
But the truth is the legacy of Karl Lagerfeld isn't finished and will be passed down for generations for some currently unborn designer to pay tribute, later to go on and explain that what they do Karl may not approve of. We are sure he wouldn't want it any other way.
---