By Angela Baidoo
Decentraland's Inaugural Metaverse Fashion Week Begs the Question 'Will the Democratization of Fashion Week Create a Desire for Digital Fashion?'
The hierarchical structure of fashion week could be set to evolve with the incoming blockchain-based virtual world of Decentraland's inaugural Metaverse Fashion Week (MVFW), setting out its stall to become a contender in an already crowded fashion calendar. MVFW 2022 took place virtually between March 24-27, and as with any traditional fashion week it featured runway shows from luxury brands, namely Dolce and Gabbana, Etro, and Dundas, immersive experiences, after-show parties, and an exclusive performance from Claire Elise Boucher aka Grimes.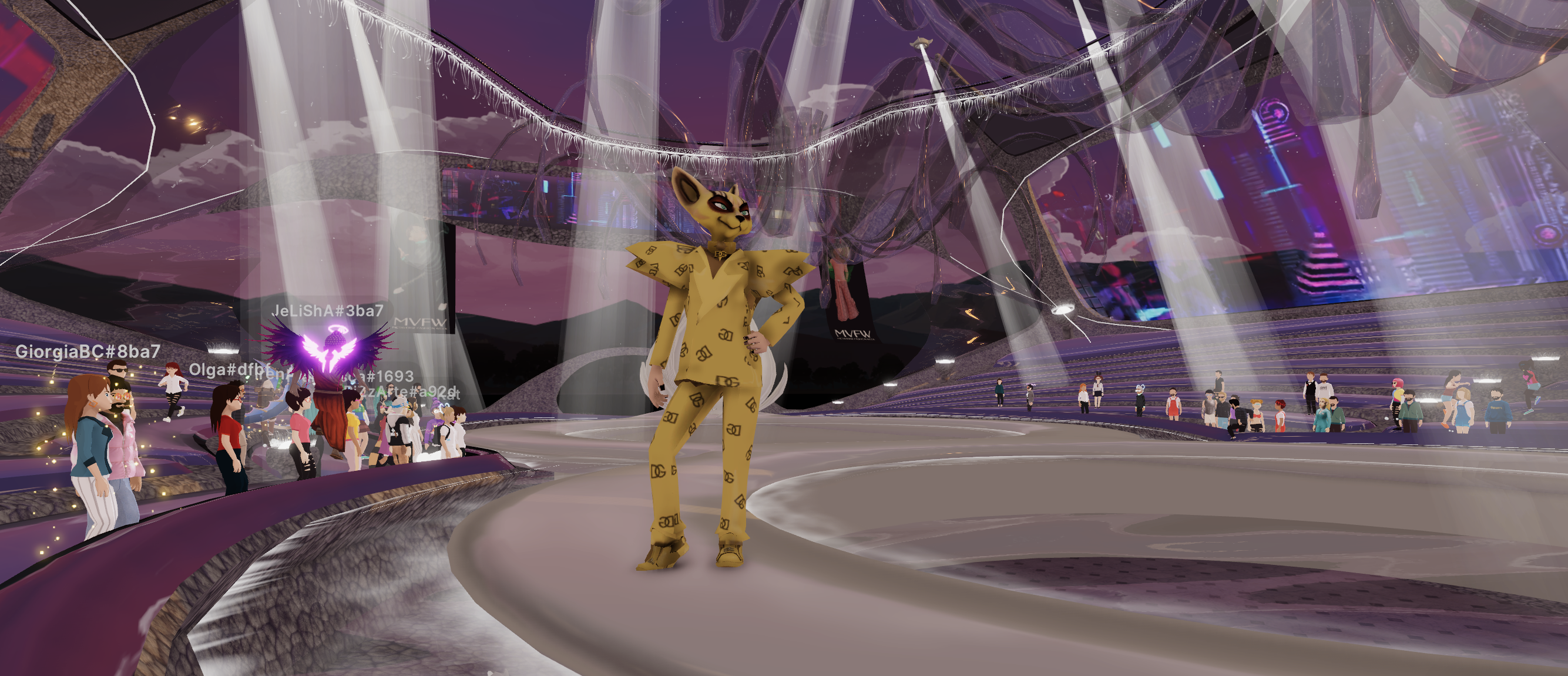 Throwing out more questions than it answered, having recruited notable names from across the fashion industry, expectations were high. And if the organisers aim was for it to be a hotbed of digital experimentation, it succeeded, as many lessons were learnt that will undoubtedly be applied to any future iterations of the event, from a comprehensive how-to on navigating the metaverse, to moving from cartoon-like avatars to life-like metahumans.
Before you even begin to get fully immersed in this new universe, it becomes evident that you will need to possess a powerful computer, and an updated browser to have any hope of a seamless glitch-free experience.
To start, simply entering Decentraland (one of the many digital platforms that have sprung up since the early 2000s, think The Sandbox, Roblox) is an arduous process, which may only serve to deter sceptics of the digitisation of fashion. Accessing the platform as a guest required a password and email verification for each entry, followed by avatar creation which resembled playing a game of dress-up, as you selected hair, clothing, and footwear from a standard menu of items, which could be re-upped with wearables from the likes of XR Couture once you entered this brave new world.
Once inside you could explore the many spaces, from Crypto Valley to the Luxury Fashion District, and Cash Labs Gallery, one of the more engaging spaces at the event. Cash Labs founder David Cash was instrumental in curating MVFW 2022, and moderated panels with speakers from Show Studio (Nick Knight), The Institute of Digital Fashion (Leanne Elliott Young), and The Fabricant (Kerry Murphy).
Of note were conversations around 'Consuming Fashion Virtually' and 'The History and Future of Virtual Fashion', beamed onto a video wall these zoom-esque panels formed a bridge to reality, a welcome relief for attendees who would have spent numerous hours staring at gamer-like graphics on a computer screen.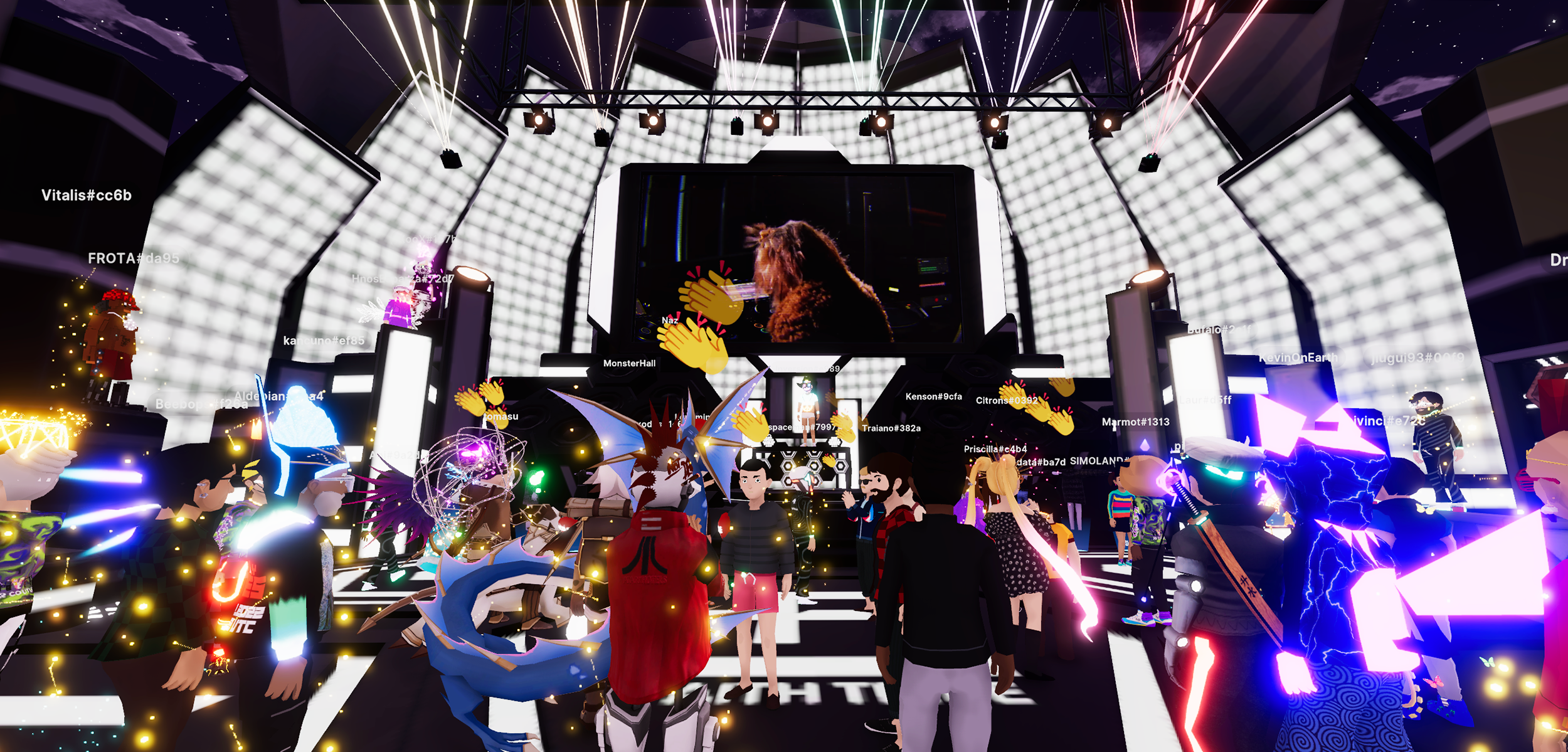 Recognizing the encroaching revenue potential, during a time of continued uncertainty, the landmark event attracted over 70 brands, designers, artists and DJs, either producing exclusive capsules or replicas from their physical runways shows, NFTs, wearables for avatars – one of Balenciaga's Fall couture hats was spotted in the crowd – or setting up shop in the Luxury Fashion District or the Threedium Mall.
Tommy Hilfiger, Estée Lauder, Elie Saab, DKNY, Perry Ellis America, Hogan, Philipp Plein, Forever 21, and Selfridges (Web3's "first meta department store" according to the retailers Instagram) were some of the familiar names who took the leap into the unknown with varying degrees of success. Hilfiger presented his Spring 2022 collection and offered a virtual shopping experience with floating digital fashion as NFTs, where the digital-to-physical items could also be purchased. Choosing to partner with an expert in the space, Hilfiger worked with Boson Portal (who are bridging the gap between physical and digital product ownership) to assist consumers with purchasing the limited-edition NFTs, that could also be redeemed for the physical version with delivery to an address in the real world. A much more promising prospect that will make the experience more tangible for the consumer.
The Shows
Held in a stadium-like space, the developers missed a trick in not expanding the realms of what was possible for a runway show, from a trip to Mars or an underwater seascape, instead it opted for the traditional catwalk format and row seating, despite avatars only being able to stand!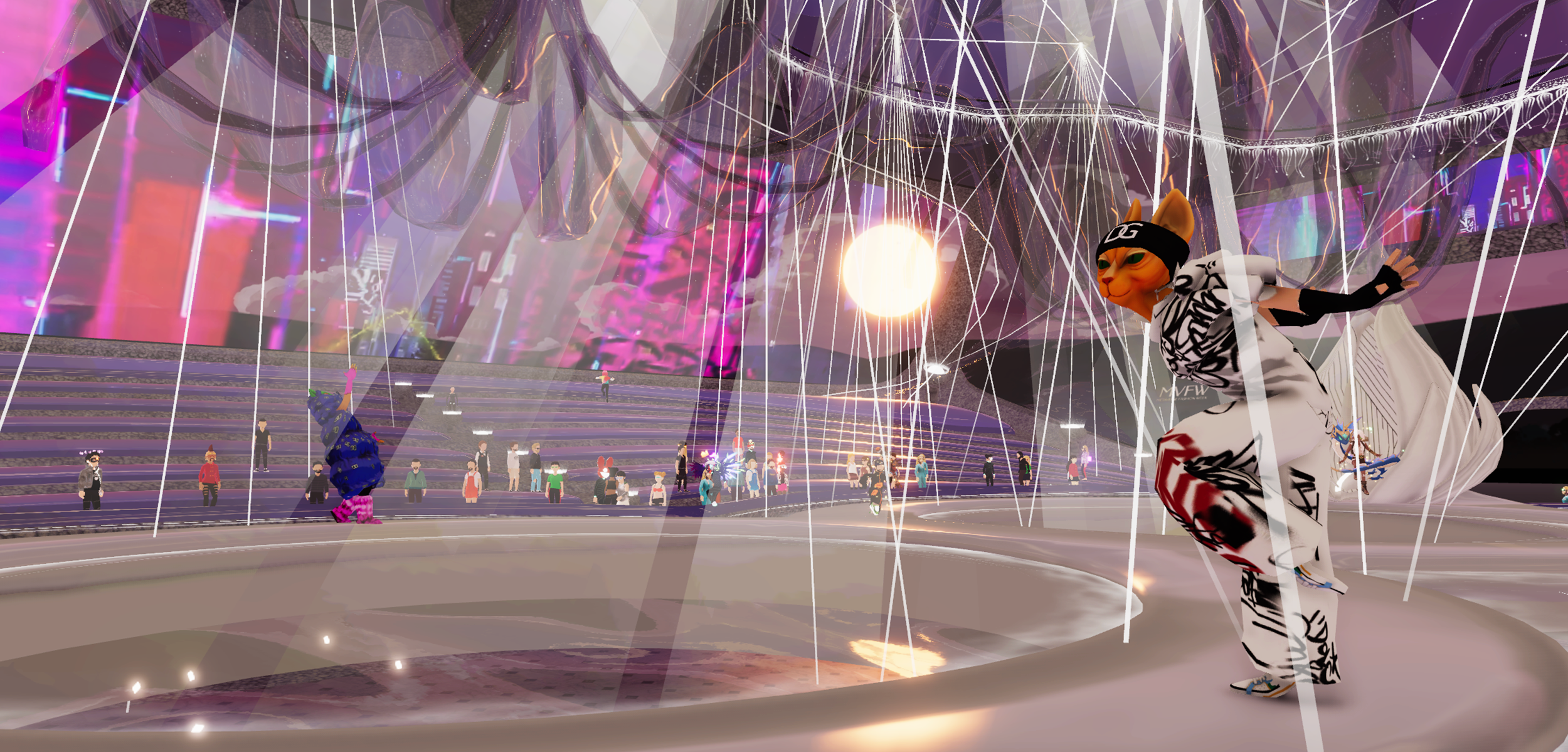 The notions of exclusivity that still exists around fashion week was upended at MVFW, you only needed to know the date, time, and co-ordinates and you could teleport to the front row as sims-style models emerged from giant lotus flowers and walked the runway for Dundas, Etro, and Dolce and Gabbana (who opted for furry animal alternatives).
Lasting no more than ten minutes the shows were a poor substitute for the atmosphere, energy, and detail that is experienced in real-life, but the general premise of creating a more democratic fashion show system is still an exciting prospect.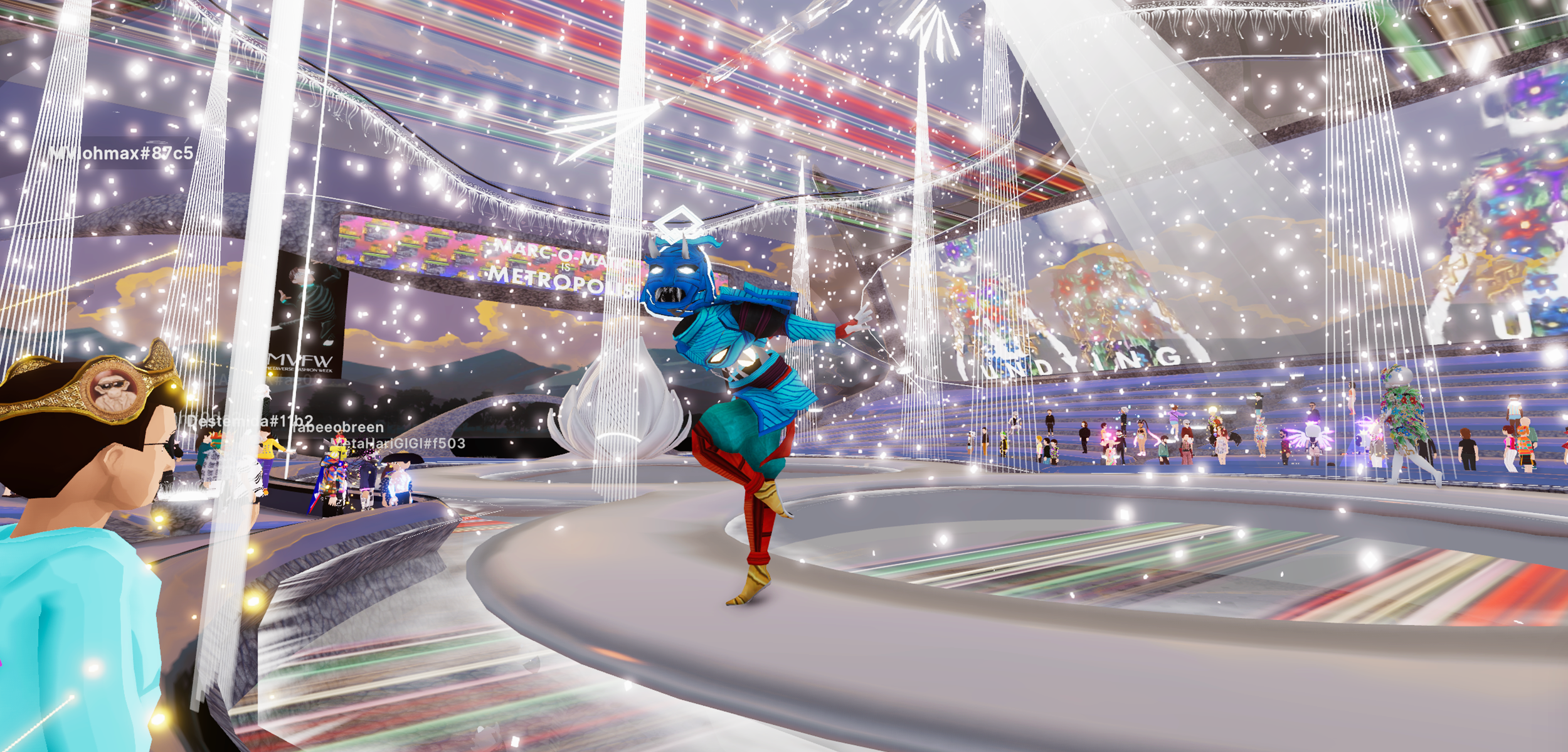 As an experiment it had to happen in order to start the conversation of what fashion shows could look like in the metaverse. Although a much more viable contender for the virtual fashion week crown would be Crypto Fashion Week, which took place a week before (18-22 March) Decentralands presentation, as the more promising of the two. Partnering with DressX, Project Ave, and Universe Contemporary who have produced 3D fashion experiences and Web3 auctions for the Met Gala, Crypto Fashion Week rendered 3D fashion onto metahumans creating digital doubles that gave a true sense of fluidity and movement. Replicating in bits and bytes a true likeness of volume, texture, fluidity, and silhouette, reminiscent of GCDS's 'Out of this World' Spring Summer 2021 VR runway show.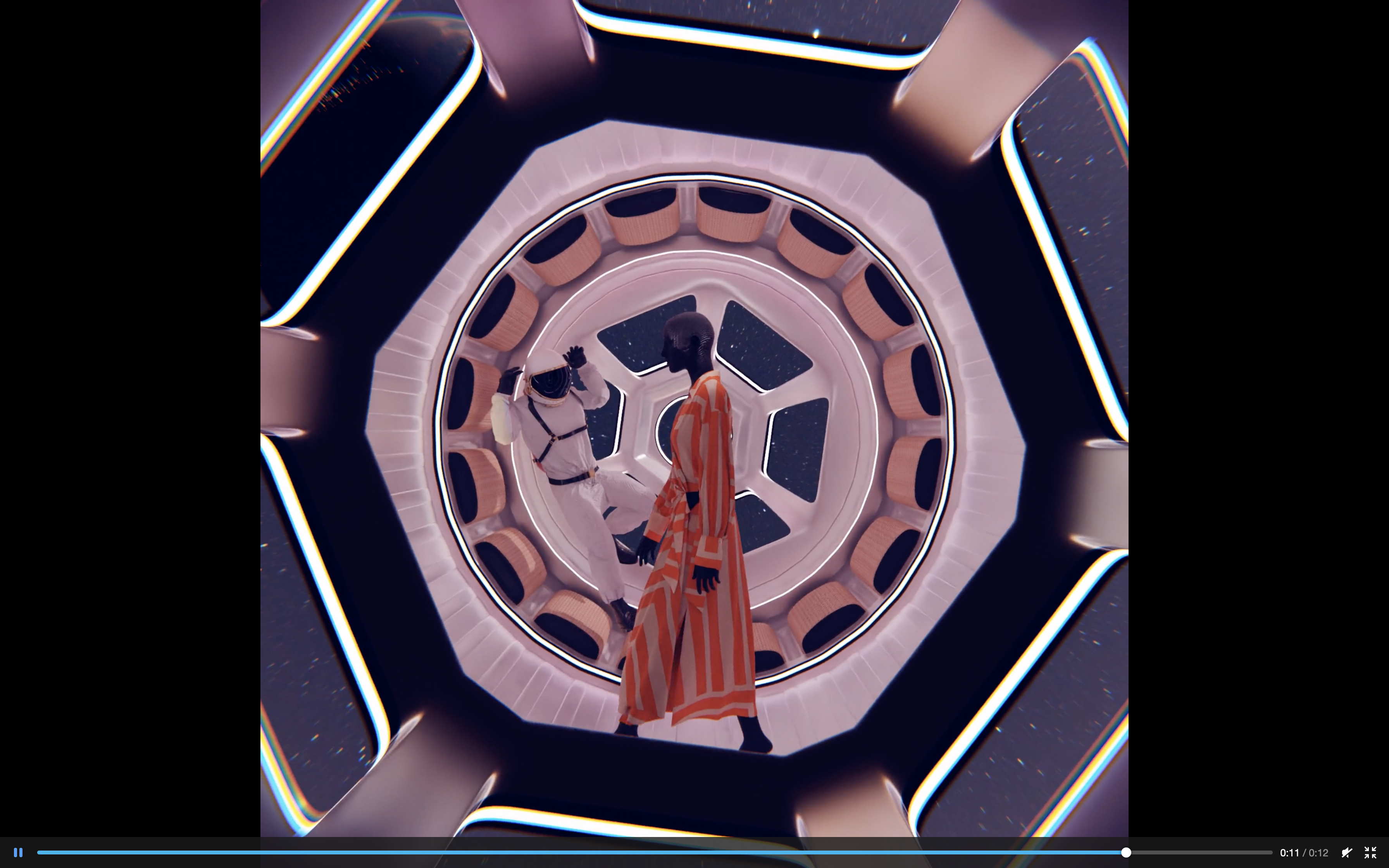 The Luxury Experience
Virtual stores from the key luxury players who participated, were also joined by Faith Connexion, Chufy, Nicholas Kirkwood, and celebrity jeweller Jacob & Co. Here digital designers experimented with floor-to-ceiling print explosions, which included trippy swirls or the splicing up of Hokusai's The Great Wave.
Whether it was due to the time constraints of rendering designs in 3D, but the actual clothing on display in these stores was very limited, and not in a uber-exclusive minimalist way.
Entering Etro's store (who only filled their space after their show had premiered) we again saw the sims-style models from their runway with looks that were available to buy via a direct link, the only downside being that it took you out of the metaverse experience and back into the real world to complete your purchase, which kind of defeated the purpose.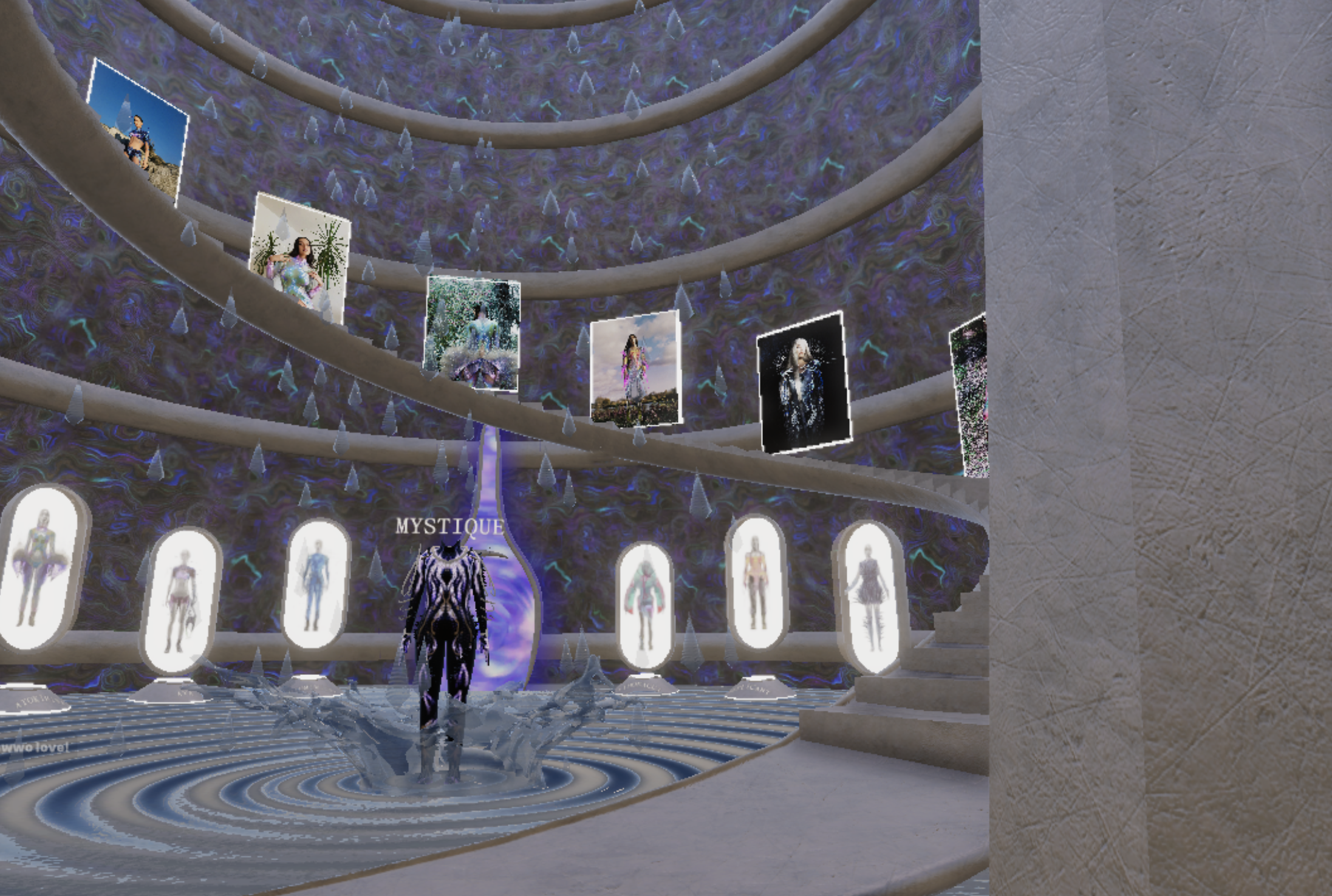 One thing that also stood out as a glaring omission in the 'Luxury District', was the lack of personal service in the form of virtual assistants, avatar ambassadors, or at the very least a video stream welcoming visitors to the space. Acting as a guide or source of information on the collections being displayed, this absence made each pop-up experience similar to that of a virtual gallery.
On Luxury Street East Road, the question of who regulates (Tokens.com currently own the majority stake of virtual real estate in the fashion district and are headquartered in Decentraland's Crypto Valley) what brands get to build on which plot of virtual land, that happen to be adjacent to luxury designers or retailers, became evident. As you explore this part of Decentraland there was the rare sighting of a Forever 21 store, directly adjacent to a Dundas store, who's dresses can sell for upwards of $2000.
In a world that is being built on the very idea of decentralisation and access-for-all over exclusivity, brands within the luxury arena will have to navigate this issue, which could result in their luxury status being affected by who decides to buy a plot of virtual land next door.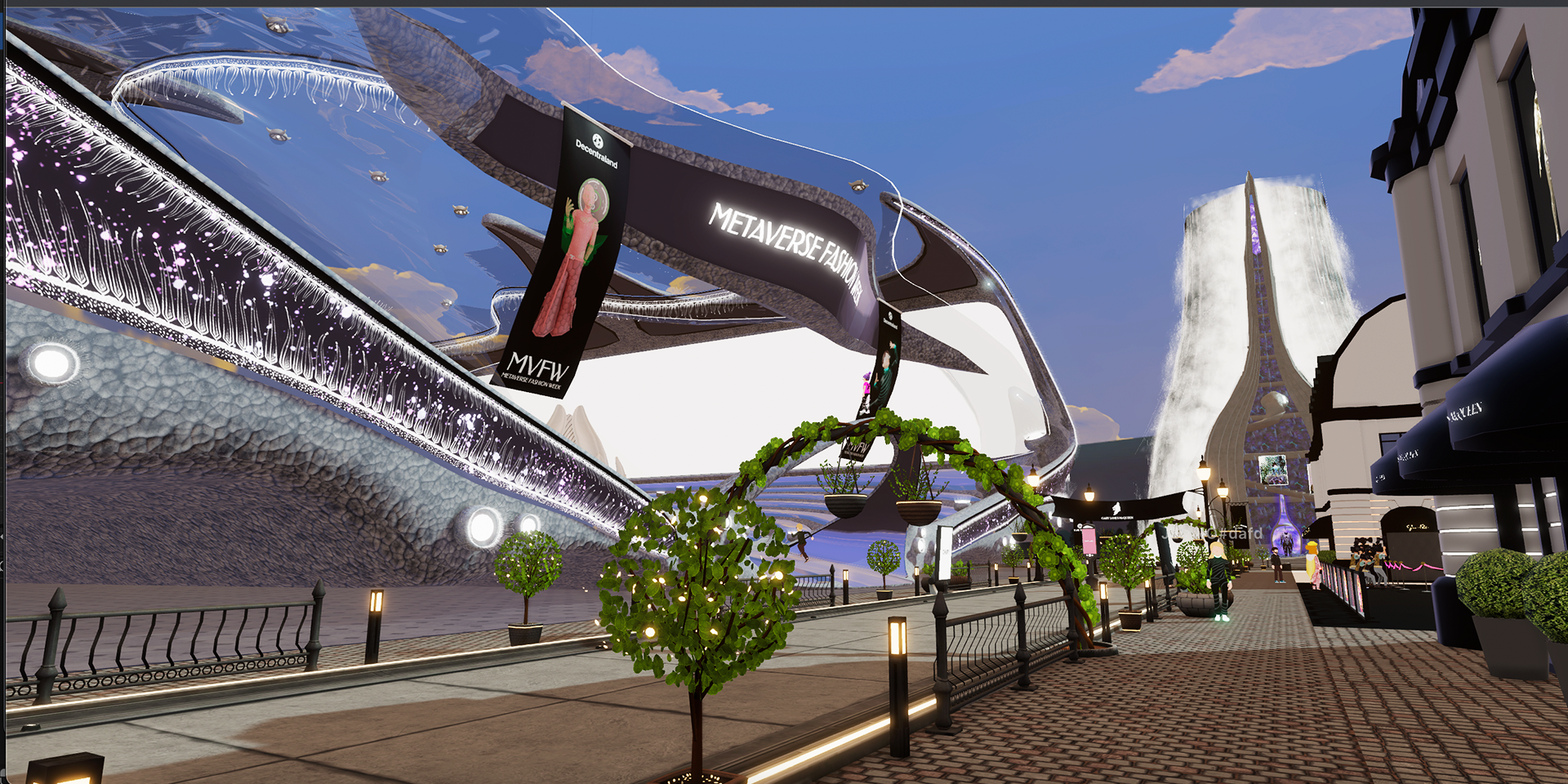 The Future of Fashion?
So, if they build it, will they come? While MVFW struggled to enhance the fashion show experience, it did manage to offer a (virtual) platform from which to build on. With many brands already beginning to anticipate the potential impact of this new digital world, investing in the upskilling of their teams, as well as developing new job roles, such as Metaverse Marketing Manager or Chief Metaverse Officer.
To fully unpack the revenue-driving potential of the metaverse is going to require a lot of handholding in the form of in-house coaches to on-board whole teams on the ways and opportunities of the metaverse.
It may not be for everyone, but Decentralands MVFW presented an additional layer of inclusive experience, and in a way, it is evolving the format to better align with how the next generation will want to experience it, from digital-native brands to brands who haven't even been established yet wanting to show only in the metaverse.
There is a lot of work to do if mass adoption of the format is to be accelerated over the next few years, as one of fashion weeks many draws is in its power of community. Attracting editors, buyers, photographers, and creatives to connect and build relationships during the lucrative four-week period in February, September, and all the events in-between.
We mustn't forget that fashion is about desire, and as it stands there isn't enough desire (or patience) for this type of format, even as an additional event, …… yet.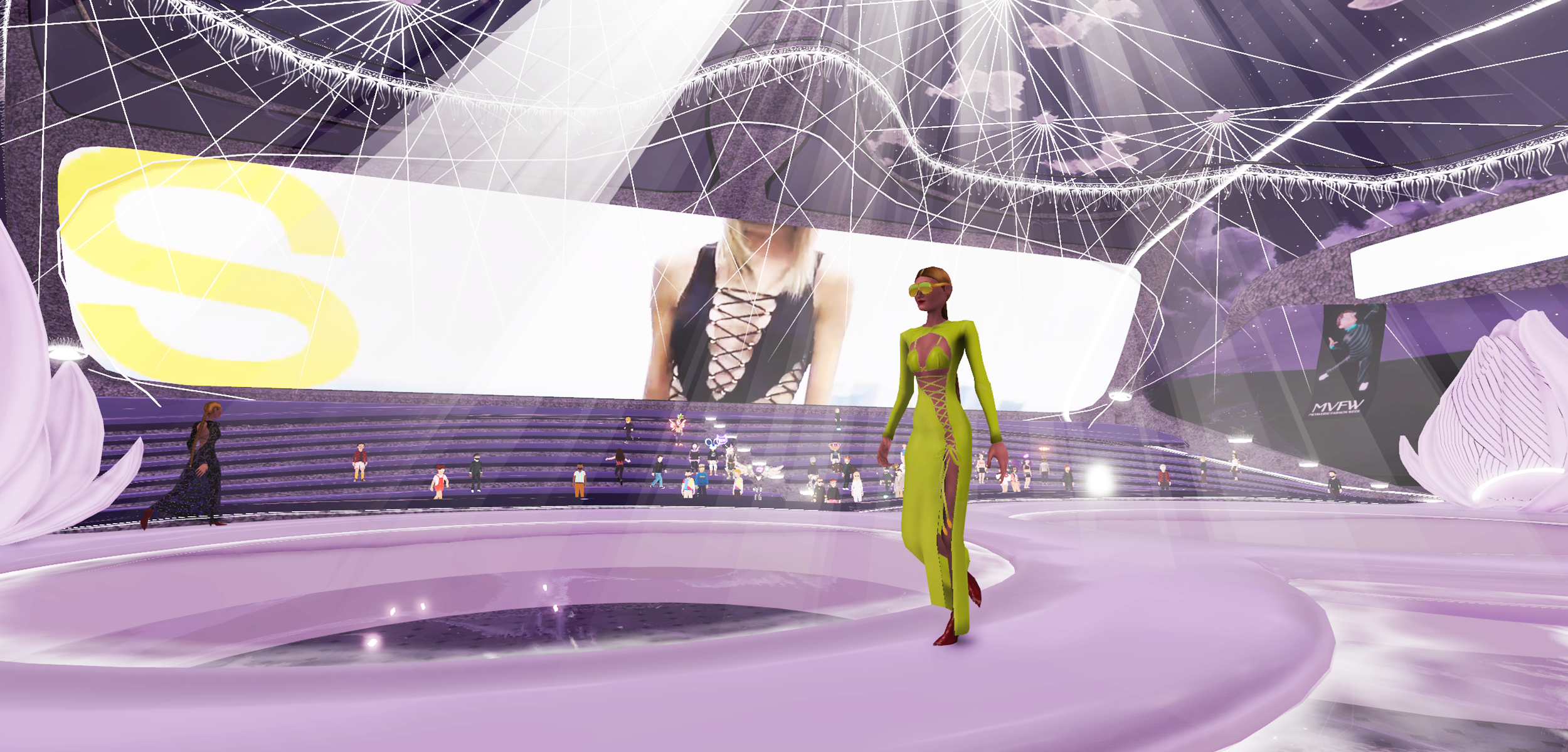 ---