---
Review of Balenciaga Summer 2021 Pre-Collection
The Strange Becomes the Homey
By Long Nguyen
How to make fashion that's looks a little bit strange so normal that people wouldn't even recognize it as a designer look is one of the charms that Balenciaga has achieved in the aesthetic reshuffling since the arrival of Demna Gvasalia as creative director in late 2015.
Since his start, Gvasalia has injected the heritage of the house's founder into creating his often weird looking and severely oversized clothes that on the outset look and feel little like what Balenciaga was know for in terms of a couture house.
But this is a complete misunderstanding of Gvasalia's design premises and how he has inherited the Balenciaga mantle and heritage. The house's founder was famous for his thorough deployment of couture methodology most rigorously to reshape clothes through altering their structural designs and by employing perfect tailoring techniques to create new silhouettes often with unusual volumes that surprised the eyes at first sight.
Gvasalia's design imprimatur is instead focusing on first changing the shapes of more basic garments like a parka, a military coat, a simple coat, a shirt, a simple dress, or a regular suit and has transformed them into 'giants' with all the glory of their sculptural shapes so visible in a challenging manner. He made a parka coat by piling 5 or 6 coats inside one another or extend the shoulder out or to lengthen the coats – stretching what we normally see as a parka to well something else that was still a parka but a parka that present a challenge to a normal viewer's understand and conception of a parka. That parka was shown with models walking at slow pace in front of a giant snow mountain with full of colorful graffitis style from the 1980's.
The designer's penchant for these gargantuan shapes confused fashion viewers the first few times but then our eyes adjusted to these new dimensions and volumes quickly until the shapes that were once weird gained familiarity. The ordinary became the extraordinary in the same way Cristóbal Balenciaga enlarged the volumes of his sleeves and of his skirts of his silk and taffetas ball gowns and cocktail dress. Same process and thinking, different garments.
I remembered seeing Gvasalia's debut show for Balenciaga in the sound proof basement of the cable station Canal+ in March 2015 and there in that first instance an approach was established and continued to the collections today. "Cristóbal Balenciaga's methodology was to create clothing engineered to transform how women felt, and therefore how they looked. The three-quarter sleeve the stand-away collar, the skirt running slightly ahead of one's walk. The rapport between body and clothes. A couture attitude. Balenciaga was built on the relationship between couturier, client, and cloth. A reimagining of the work of Cristóbal Balenciaga – a wardrobe of absolute contemporaneity and realism imbued with the attitude of haute couture. A translation, not a reiteration," read the small printed note left at the time on the chairs that I have kept in my archive of historical and mundane fashion moments over these many years on the circuit.
Today and now the Balenciaga Instagram account is loaded with these congenial images – a man in sunglass walking his dog, a long hair guy at the top of an escalator, a woman hanging on to a lamppost on the street, a woman standing in front a public park, a young woman sitting on a chair at a café, or a guy standing in his kitchen – images that masked the fact that the subjects of each photograph were wearing clothes are not necessarily of the ordinary type of garments.
The man walking his dog wore a black long coat with giant shoulder, the woman on the lamppost wore a multi folds long overhead coat with black pleated skirt, the woman in front of the public park wore a black long coat made with thick inflated fabric, and the guy in the kitchen had on a navy suit with broad shoulder and a black scarf over his head. Unusual clothes in such casual and familiar place setting that all of us can relate to and perhaps the brand would hope relate to in these particular clothes.
To the targeted Balenciaga audience and the younger consumer base the brand has cultivated in these short years, these images conveyed the sense of normalcy even if these clothes aren't of the conventional kind.
The new clothes presented as the summer 2021 pre-collection in a fast pace video directed by Walter Stern to the remixed by BFRND of the 1983 hit by Corey Hart Sunglasses at Night that opened with scenes of people running from a underground area lit by a spotted flashlight to the empty Paris streets at night did not reveal any new shapes although whiffs of those 1980's silhouettes were discernable from the moving images. Now to update the brand ethos with the younger generation primary concerns about pollution, climate change and sustainability but that isn't necessary as the focus is on sustainability where nearly 94% of the plain fabrics in this collection are either certified sustainable or upcycled and 100% of the print bases are also certified. All the garments are genderless thus diminishing the impact of two parallel production systems.
The leaner shape overall of the collection telegraphed a more restraint use of fabrics to avoid the waste in adherence to the brand new environmental policies and standards. The trims of coats are left frayed rather than properly sown saving time and energy; several old dresses are fused together making a patchwork long dress of purple print, black and sea blue silk; a black fuzzy turtleneck is made from recycled denim discards A silver long sheath made from basketball nettings recalled the 1967 fisherman net dress made by the founder.
Slim black single breast jacket with knee length sweatshirt and cigarette pants, lean red zippered tracksuit with lengthened sleeves or the black broad shoulder coat and suit all carry the signature look that Gvasalia has imprinted on Balenciaga.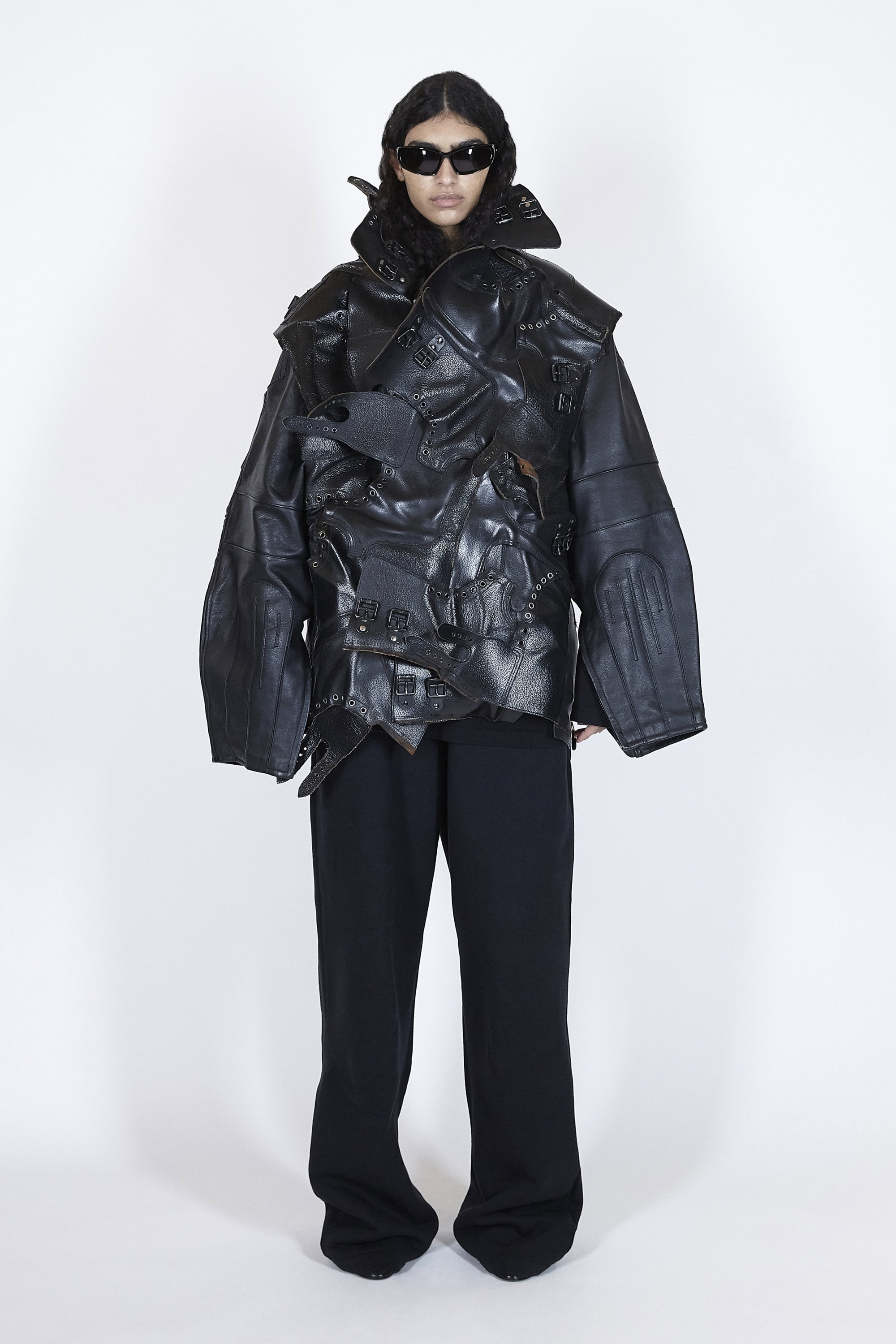 Elsewhere in this collection, past present and future came together in a high shoulder black and white fringe cape is actually made from strings of cotton shoe laces in a process that merged couture with upcycling with a touch of streetwear.
It may still take perhaps a few more seasons for our eyes to completely adjust to these shapes and proportions but surely they looked much less strange now than a year ago.
This is how high fashion ideas filtered down to pop culture. The hard water will eventually smooth out any rough rocks down stream as the strange becomes the familiar and perhaps now, the homey.
---