---
Reviews of GucciFest Day 1, Gucci Episode 1: At Home, Ahluwalia, and Collina Strada
Fashion In Films
Episode 1: At Home
By Long Nguyen
In deciding to eschew the regular fashion season and to reduce its yearly 'show' output to one per season after canceling their Cruise 2021 show in San Francisco, Alessandro Michele is charting a new course for Gucci in terms of addressing the brand's needs as to when and how to present new collections. The old ways of five-yearly shows on a regular circuit can no longer address the requirements of the brand to connect with its consumer year-round, instead of investing in a massive show, which is the preferred method for most luxury houses, even if the presentation is digital instead of a live event.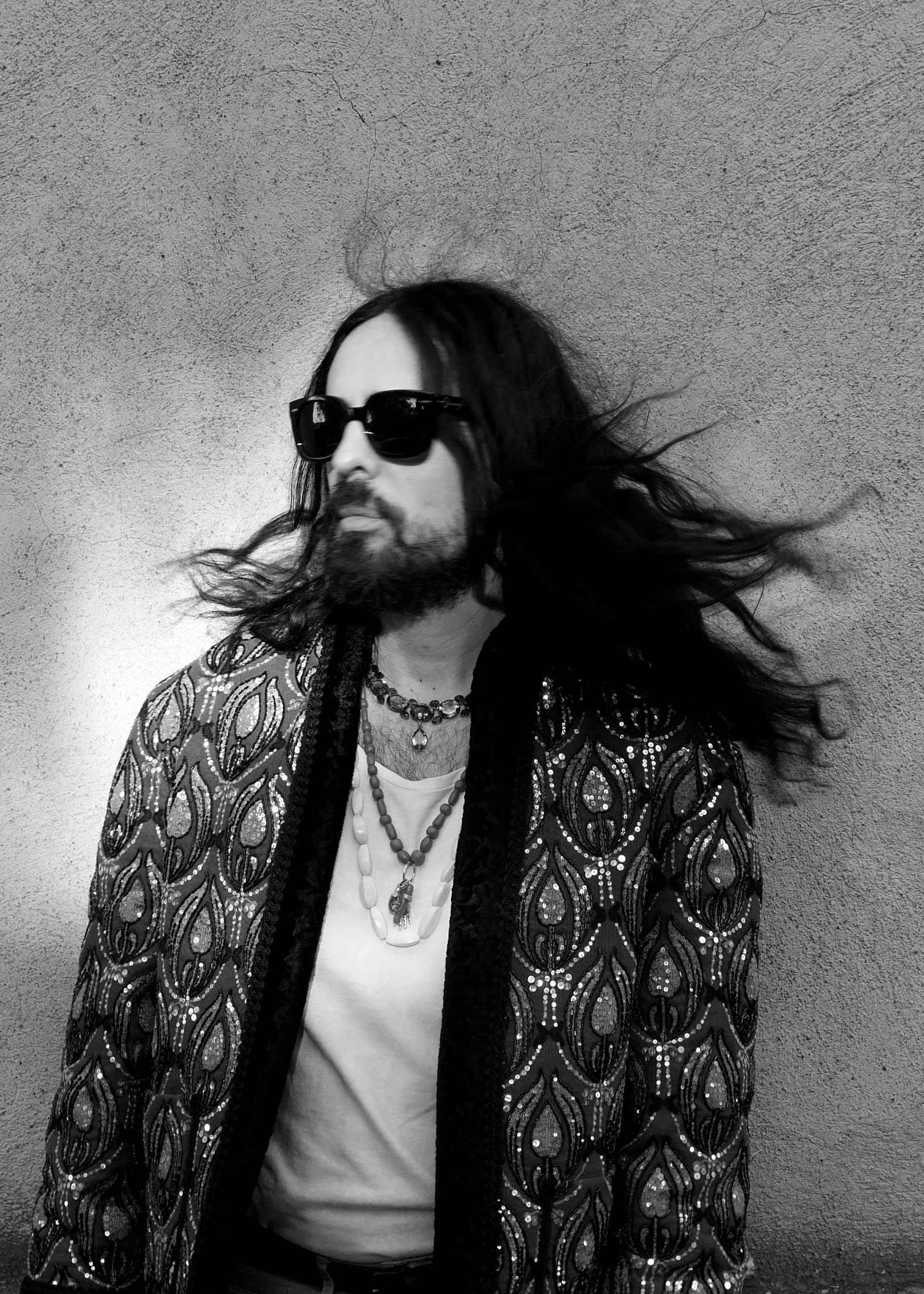 Which new horizons do arise when fashion leaves its comfort zone? What life do clothes get when they stop walking down the catwalk? What kind of stories can they draw in the space of existence? What happens to them when the runway spotlights fade out? These are the questions that come to my mind in an uncertain present but pregnant with premonitions. Precious and crucial questions urge me to reframe the creative horizons of my work and to reconfigure the meaning of my doing. Above all, they push me towards a radical experimentation able to pursue new languages and uncommon expressive platforms.

– Alessandro Michele on his decisions to create not just a film series but to present his spring collection as a platform for other young talents to partake
Today, Michele charts a new course for Gucci as he presented a film in seven episodes in collaboration with filmmaker Gus Van Sant who shot the entire production in Rome. Named 'Ouverture of Something that Never Ended,' this collaborative film is a seven-part series releasing over a week of Guccifest, which includes other films from a select group of fifteen young designers that Gucci supports in this vast project. Ahluwalia, Collina Strada, Rui, Gui Rosa, Bianca Saunders, Mowalola, Rave Review, Cormio, Stefan Cooke, Jordanluca, Shanel Campbell, Boramy Viguier, Yueqi Qi, Gareth Wrighton and Charles de Vilmorin are the selected brands that will present new films featuring their spring 2021 collections.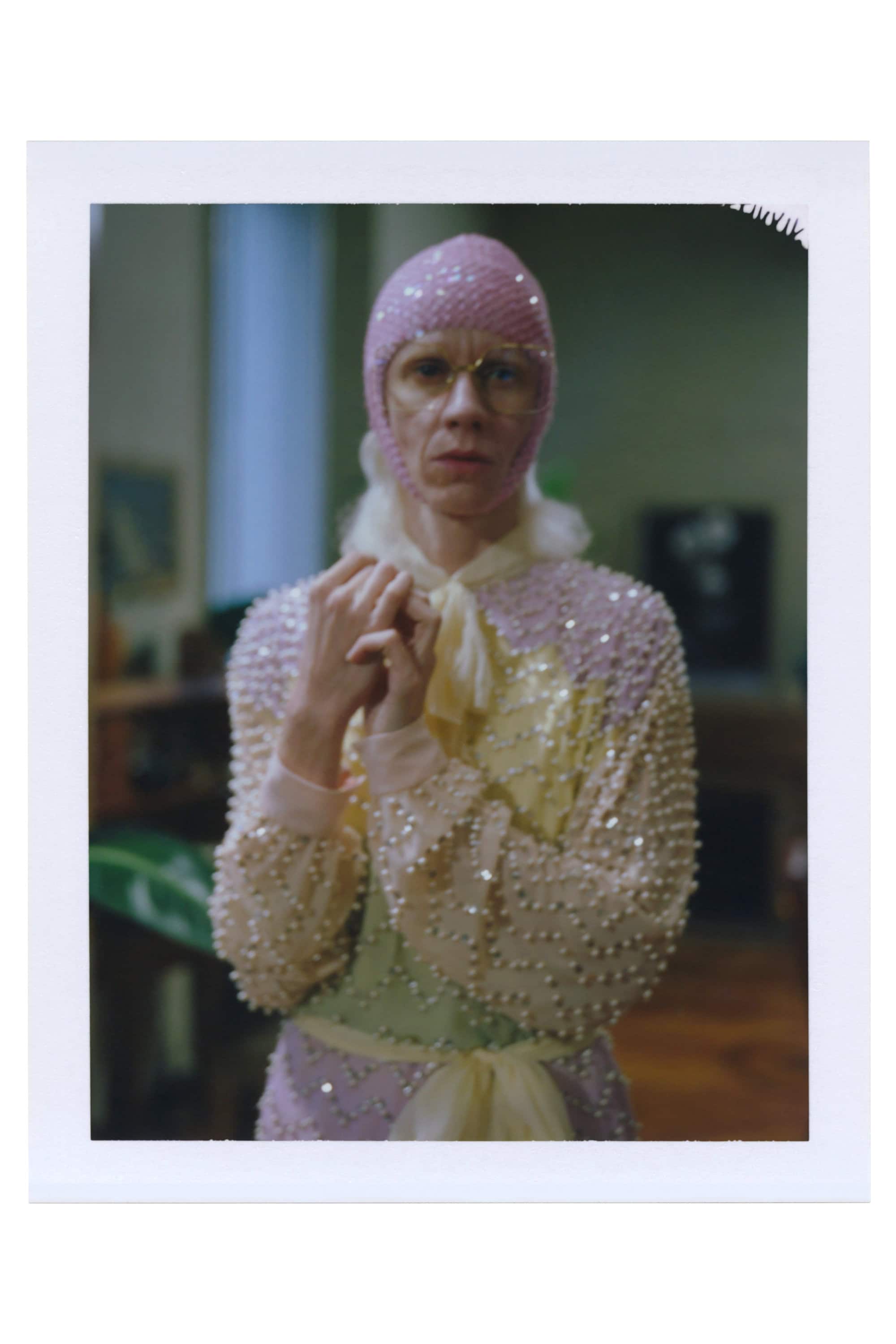 We each chose for the affinity of our gaze, for care, we both take in creating inclusive narrations. What I love about Gus is his rebel and brazen attitude, his ability to portray the road and the side, his transversal visionariness, and his delicacy,

– Alessandro Michele on Gus Van Sant
Episode 1 'At Home' is shown along with the films 'Joy' and 'Collina Land' from the London designer Priya Ahluwalia and the New Yorker Hillary Taymour for Collina Strada, who each used their ideas and values as a base for their products during the week of GucciFest aka Gucci Fashion Week.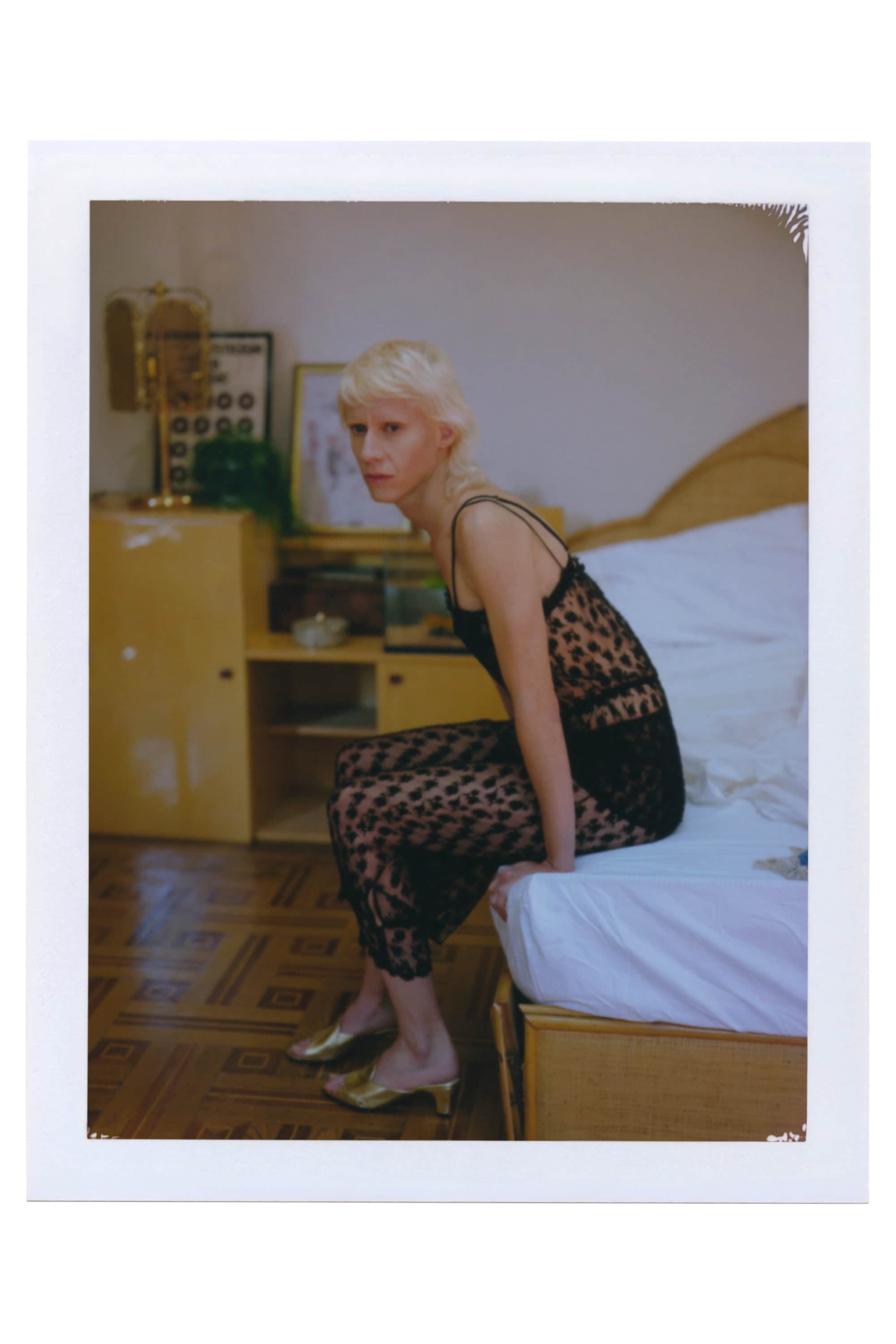 The different facets of this spring collection will be composed of 97 looks in total to be revealed over seven days. In the first episode 'At Home,' the Italian actress, performer, and thespian Silvia Calderoni started her morning around her shared apartment furnished with vintage decorations wearing a GG black bra and underwear with a sheer black tulle jumpsuit-dress and flat sandals. While still in bed, she fed the fishes in the bowl next to the bedside table. Then she went to pee in the bathroom while a rock band played live music by Jamison Baken in the next room. Members of the band wore a pink dotted blouse with faded jeans, a mustard wool oversize jacket with a white shirt and large necklace, and a satin long sleeve logo polo shirt.
Next Calderoni, still in her black lace jumpsuit, is seen in her living room performing exercises as Paul B. Preciado, the Spanish philosopher, writer and leading thinker in the study of gender, sexual and body politics, spoke with a serious tone about the artifice of the construction of sexual differences that originated in the 16th to 17th centuries. It's hard to imagine anyone can perform morning stretching while listening to a voice on television talking about being a dissident to gender norms. Alas, we were inside a Gus Van Sant – Alessandro Michele film, and all became possible.
Calderoni found a red print dress on the floor and went to the balcony. She threw the red Bloom floral dress out the terrace, and the dress floated in the air as it descended towards the street. The red silk plissé print dress in question was one of the first garment that Michele designed for his first womenswear show for fall-winter 2015-2016 and will be re-issued as part of this spring collection but with a unique red label 'Something that Never Ended.' In fact, this Bloom floral dress served as a symbolic gesture from Michele, signifying Gucci's openness to advance him to creative director in early 2015 and allowed him the 'Ouverture' to stage his creative visions on the brand.
Meanwhile, as the Bloom floral dress descended to the street below, a few pedestrians passed by going about their own business. One kid dribbled his basketball in an orange print long sleeve knee-length tunic over denim jeans, a student with a back pack wore a black floral shirt with light blue jeans, a stroller wore a slouchy black team jersey over a green turtleneck and camel pleated long skirt.
Even as the episode straddled between mixtures of real and surreal situations,like when the TV anchor Preciado spoke directly to Calderoni, or when a kid entered and rode a bicycle around the apartment wearing a red stripe polo and jean shorts, the clothes remained real throughout and these garments never really felt out of place within the narrative. Calderoni changed twice from her black tulle outfit to a crystal-embellished pastel dress with a matching sparkling bonnet and then a day look of light fuschia pink turtleneck, a khaki high waist short wool pants with the word 'Eschatology' embroidered at the ankle, and silver platform sandals.
One question that remains to be seen as the week progresses is if these kinds of films can provide a suitable environment – a more real-life and perhaps more editorial version of the collection rather than a formal runway setting where the designers have to construct a faux décor for the clothes rather than place them in these new situations. Will the audience be more receptive to seeing clothes in a film than on a fashion show runway? Will these episodes have the same impact, or are these kinds of metrics obsolete in a new, more experimental environment?
Although fashion films are not new, they have never before been used as a conduit for presenting a new collection in a serious manner. Here in the first episode, the clothes don't seem out of place with the storyline and the seven episodes' situation. The clothes as the main attraction never really stood out but are integral and intrinsic to the characters and their milieu.
Michele has chosen to support these young designers and their respective brands, specifically for their unique voice, which is lacking in the corporate fashion industry. Each of the designers' ethos and aesthetics is deeply rooted in their community, and their independent work is a testimony to how to navigate the new fashion environment where old ideas of branding and marketing are no longer practical and no longer serve in this rapidly changing territory.
Focusing on these young designers gives Gucci a foothold into these new ways of making fashion by a group of young designers working directly with their consumers and a group of young designers putting their shared values with their peers into their fashion platform collection.
Priya Ahluwalia launched her namesake menswear brand in 2018 upon graduation from the MA Menswear at the University of Westminster fashion program. With a combination of the rich and inherent story of her experience as a dual Indian-Nigerian growing up in West London, she redeploys existing textiles and dead stock clothing to fathom new menswear garments using traditional techniques.
For her fifth collection, spring 2021, Ahluwalia titled her presentation 'Liberation' as she worked during the lockdown with Dennis McInnes, a Lagos born graphic designer. Using his archival collection of old photographs of Nigerian political protests and engagement in the 1960s to make prints in her colorful collage collection of tee-shirts, jackets, denim pants, and blousons made from a patchwork of fabrics sourced from Re-Skinned, the London recycling company. Her denim prints jeans and jackets are made in a factory that used a closed-loop watering system to minimize waste.
Directed by the British-Nigerian content producer Samona Olanipekun, the short film 'Joy' represents Ahluwalia's thinking and visions put into a visual format. The film portrays the ordinary life and beauty of the black diaspora community in London and their history. That story is what the brand is about – with appearances of mothers and fathers, boxers and political activist, and with occasional Ahluwalia's spring clothes interspersed discreetly here and there like the tank tops on the two women boxers or the patchwork shirt on a man cooking in the kitchen. Ahluwalia's family culture and heritage are now seen in a new light in this short film.
Collina Strada is a 'platform for social issues and awareness' is the description the designer Hillary Taymour gave about her brand founded in 2008 as initially an accessory line with some clothing added four years later. She also added 'to encourage self-reflection through clothing' as another espoused brand value that includes climate awareness and sustainable practices wherever possible.
Taymour has worked with the American photographer Charlie Engman during the lockdown to make a film for her quarantine collection using fabric scraps to raise funds for charities. As well as her spring 2021 3-D eleven minutes long film titled 'Change is Cute' were models, cows, and frogs all danced inside a fantasy farm somewhere in upstate New York. Here again, with Engman, the duo created another 3D short film where 12 models assumed video-game avatars' role in a virtual world. In this virtual film, avatar game players planted trees, and all creatures lived together in harmony where the clothes are just as colorful as the plants, houses, and animals.
Building and nurturing a community is as much an intrinsic part of Ahluwalia and Collina Strada as their respective new collections of clothes produced with the utmost attention to the potential to avert creating more waste from the manufacturing processes and procurements.
The mega-brand Gucci and also Ahluwalia and Collina Strada are bringing new cultural and social values to their fashion at their scale and in a way that instilled these values in the clothes each brand makes.
---