---
Review of Max Mara, Etro, Sunnei, Emporio Armani, & GCDS Spring 2021 Fashion Shows
Onward to Tomorrow
By Long Nguyen
The second day in Milan saw the remarkable collaboration of Miuccia Prada's and Raf Simons' first collection which not only reset the tone of fashion but also provided the creative structure for many heritage brands with the imperative to make changes to move their companies to modern times. The Prada model is a novel way to approach design creativity now but is it a model unique to Prada? Can any other brand emulate this formula with two strong creative directors spearheading one brand?
The question of creativity is like a giant tsunami wave hitting fashion now simply because the pandemic has called into question, existential question that is, not only the mode of production and consumption but also in the mode of creativity. How do designers steer their brands amidst this seemingly endless chaos? Shows, no shows, physical appointments, films, and live-streams are just stuff boiling on the surface as the shows continued into the second day – with both live shows (sfilata) and digital activations.
MAX MARA
Sfilata
For any fashion brand that has been around for say the last more than half a century, the question of hiring a new designer to succeed the founder/designer has never been an easy task, albeit a flawless one.
At least at Max Mara, there is durability, stability, and the brand's ability to create not just wearable clothes but in recent seasons fashionable wearable clothes and that isn't an easy task. Ian Griffiths, Max Mara's creative director, has been with the brand for over 33 years, starting with winning a competition organized by the company when he was enrolled at London Royal College of Art and joined the brand as he graduated in 1987. Griffiths' mission in the past few seasons has been one of transporting the brand into the fashion limelight and not simply be known as the maker of fabulous luxury coats.
In a live show at the Pinacotecca di Brera, a public art gallery in Milan containing vast holdings of paintings among them Raphael's Sposalizio and Bellini's Pieta, Griffiths sent his models into the courtyard walking among the bronze replicas of the marble statues of Napoleon as Mars the Peacemaker by Antonio Canova, wearing loose and relaxed silhouettes of light summery fabrics in light beiges, whites, hues of blues, and black. For that extra light touch, sleeves of beige coats, white blousons, beige trenches, and even an ecru cashmere sweater were sliced open so the sleeves dangled on the sides as the models moved.
The clothes did not feel too dressed up or too dressed down but offered a middle ground where the consumers don't have to choose between day or night. This is also a territory that Max Mara has occupied over these decades building virtually an empire kind of in an out of sight way, but certainly not in the amount of coats sold.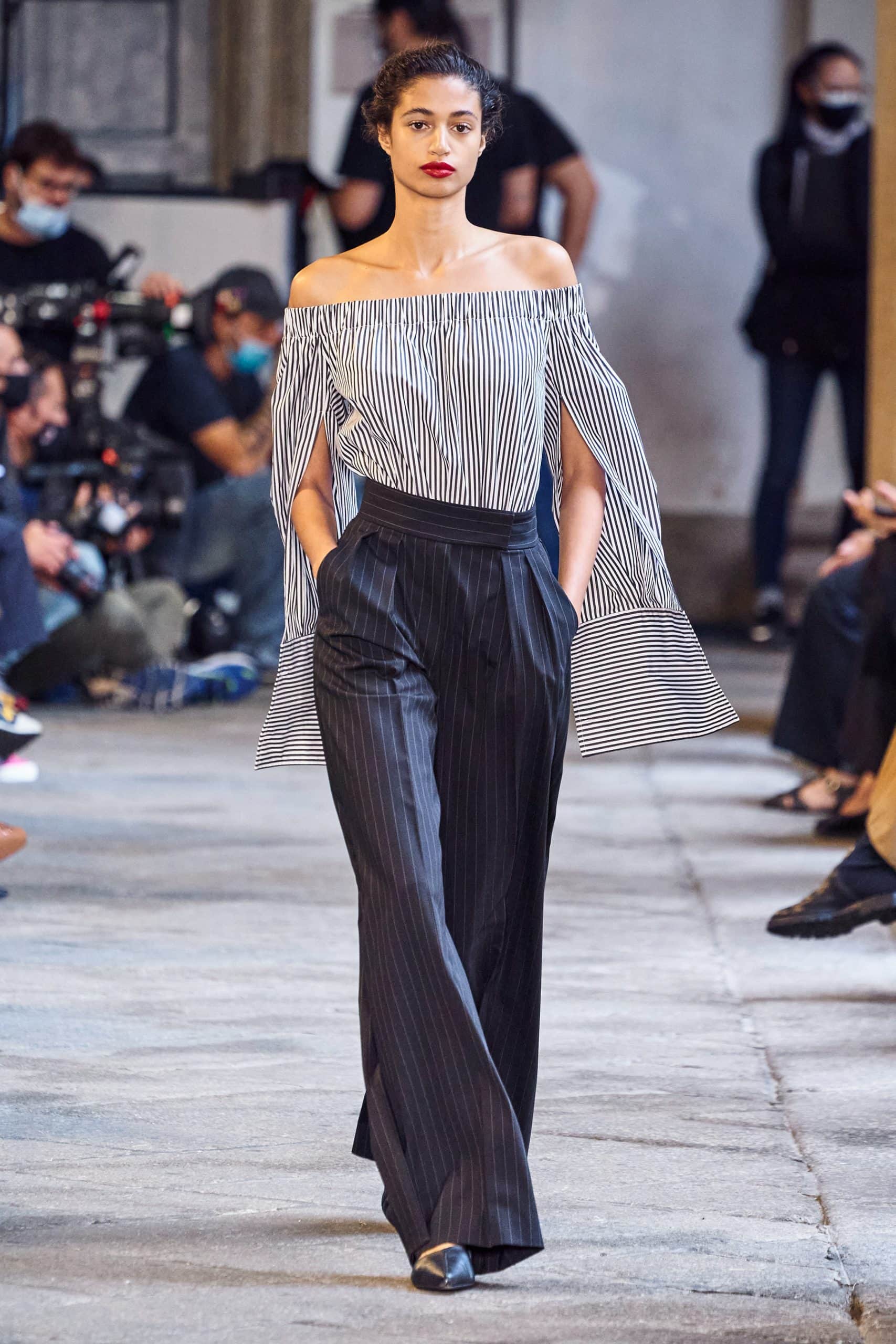 Even the spring coats did not have any lining and their generous cuts allowed the fabrics to slide easily in movement. As usual every look shown is store ready and dresses like the brown boat neck with sliced sleeves are sure bets for those summer dinner parties, with the hopefulness that they can happen.
The show felt lighter and less of a forceful push into a harder fashion look for Max Mara as it was last season.
SUNNEI
Sfilata
The good business news for Sunnei, the day before Loris Messina and Simone Rizzo came a day before their presentation at MFW – the Vanguard Group had purchased an investment in the brand to reinforce the business structure with the aim of global expansion ahead based on the principle of combining the "entrepreneurial mindset of the fund with Sunnei's creative point of view."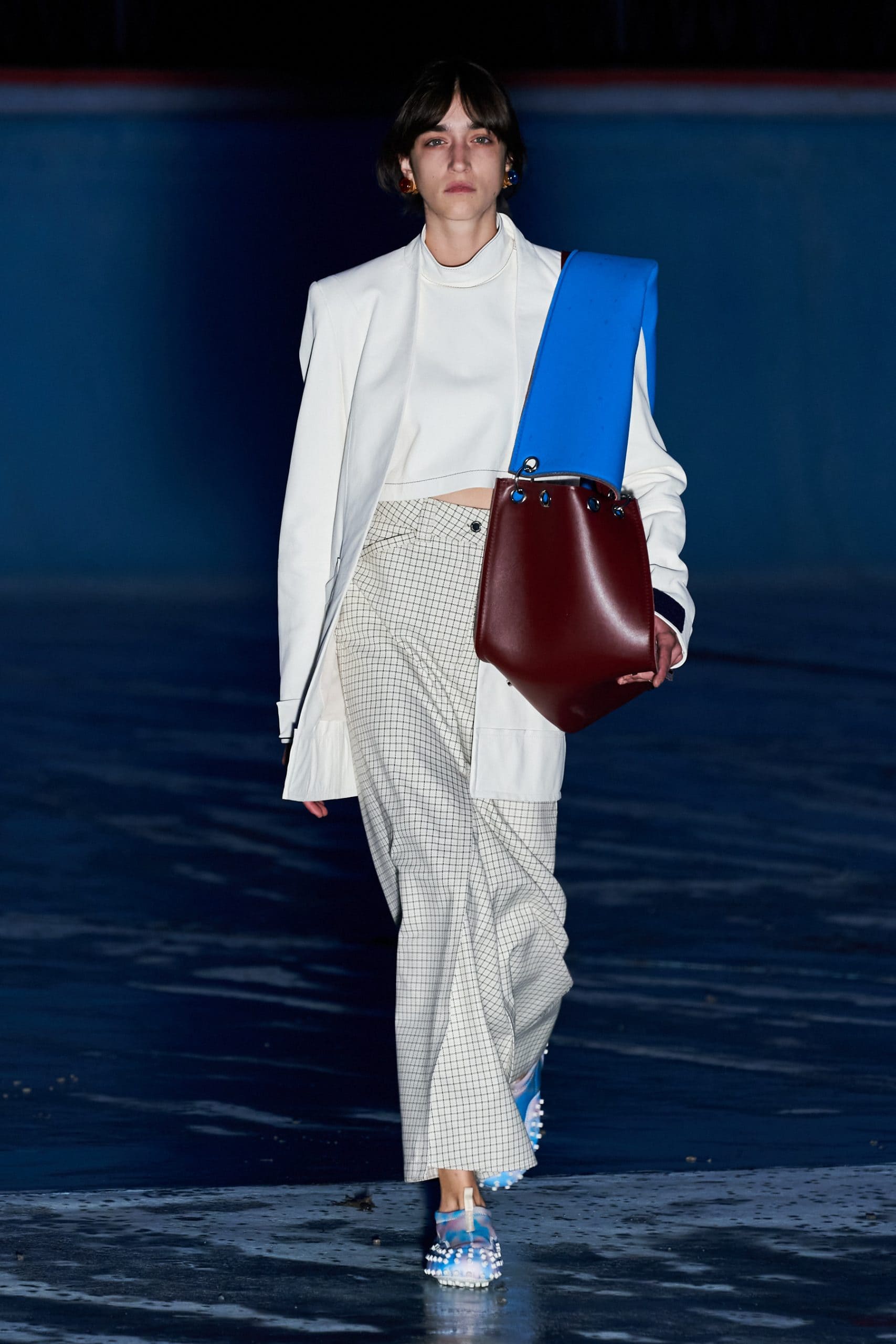 In July during the men's Milan digital week, Sunnei proposed a new show and commercial format 'Canvas' where they presented several basic models all in white, and consumers and stores can customize according to various choices. In this way, no clothing would be made in advance and only made upon specific order thus avoiding the problems of waste and also of finding ways to make the business of making and selling clothes more efficient.
Now their first show during MFW marks a return to the live format and their final show on their own as totally independent at the Lido di Milano – a place that mimics a seaside resort with symphony music composed specifically by Tocci; Sunnei turned their eyes back to the experimental works that started their fashion brand in 2015.
Here in this show, the white canvas proposal in July seemed a distant universe. Now the designers returned to their mixtures of hard solid colors with fluid, linear, and loose shaped clothes that strapped the street-luxury divide. The smartly edited show of 17 looks crystallized the duo's approach with clean architectural lines cutting like a sharp white tailored jacket with a precise slight angled front, cut to allow the jacket to swing slightly in movement, or the square-ness of the patchwork plaid patched pocket tunic. A blue raw denim mock neck, short-sleeve tunic and matching long skirt and a men's ecru collarless jacket, tee-shirt, and short pants were two strong looks from this show.
It remains to be seen how the capital input from Vanguard will help to drive the brand forward and in what formats their fashion proposals will take shape. The July 'Canvas' project was noteworthy for its innovative approach and thinking – in how to make and sell fashion not only in a sustainable way but in a new way of structuring the business.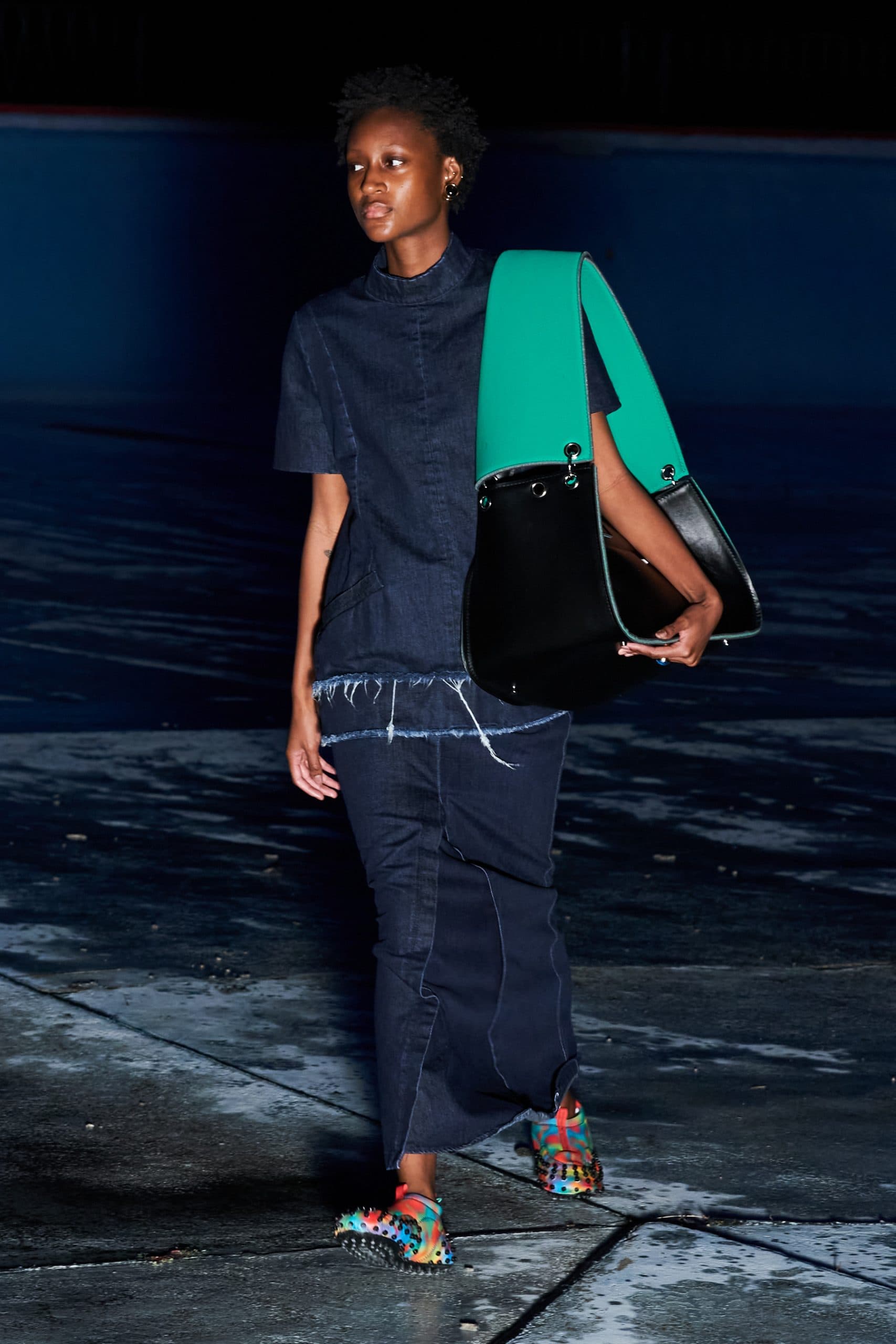 Hopefully, the capital infusion will not dim their creative output or scare them into excessive commercial ventures that can diminish the enthusiasm for the brand's ethos in the community.
Whatever shapes the Sunnei brand takes in the future, Messina and Rizzo should always remember the desires and the drives that drove them to create a fashion brand in their own vision, and remember that those desires and drives will always remain as the nerve center and the heartbeat of the brand. They must retain their raw energy in year 10 as in year 1.
GCDS
Digital
In lieu of a film or video or limited physical show, Giuliano Calza proposed a total virtual experience for his spring GCDS collection by lining up a sleuth of collaborators to create his own fashion virtual universe – Digital Fashion Arcade – among them Nonny de la Peña aka the Godmother of Virtual Reality and her tech firm Emblematic Group and the REACH Love platform, artist Thomas Webb, director Jeron Braxton, and animators Rick and Morty.
Creating this fashion show was truly out of this world. It is something that has never been done before. We had to marry multiple techniques to bring the catwalk characters to life.

— Nonny de la Peña, aka the Godmother of Virtual Reality
De la Peña was reffering to the construction of the model avatars representing Aweng Choul, Raisa Flowers, Jazzelle Zanaughti, Ottawa Kwami, and a cast of audience members like Chiara Ferragni, Gedex, Kemio, Nikita Dragun, and Amina Muaddi, who all acted as front row guests.
Calza approached the design of this 3 parts collection – hippy swim, patchwork and paisley, and high-shine – differently due to the lockdown where he had to send his initial sketches to make paper patterns and these patterns were digitalized into virtual construction forms that Calza could then make changes to such as color, fold, texture, and shaping the silhouettes. The physical clothes would then be made physically.
Although the format is new, it is not the best way to show 'real' clothes in a made-up environment. Obviously one can't get a sense of the actual clothes, but these moving images of imagined garments offered a brief glimpse into Calza's GCDS aesthetics ranging from patchwork print sweats and pants to red cowboys shirts and pants, or even a shiny pink one-piece bathing suit that appeared at the end.
Seeing and looking at clothes on screen is difficult enough, seeing and looking at these clothes on a screen of a screen is at best an arduous task. But it's understandable due to uncommon circumstances. It's a give and take situation all around.
Despite the concentrated efforts on the highest and latest tech available, GCDS' virtual show was an emotionless animation that did little to bring forth what Calza's fashion is all about. Those handmade and low tech runway cartoon film shows by Kid Super or Maison Mihara Yasuhiro during the Paris men's presentations in July fared far better in getting the audience to feel. Kid Super's and Yasuhiro's animations weren't totally devoid of emotion; in fact, they drew the audience to partake and even express laughter at what was going on in those make-believe-but-fantastically-humorous takes on the fashion show format. Many in the audience laughed because many of us have been there before seeing the real thing. What is missing in this high-tech adventure is the human touch – despite everything that is what fashion is about.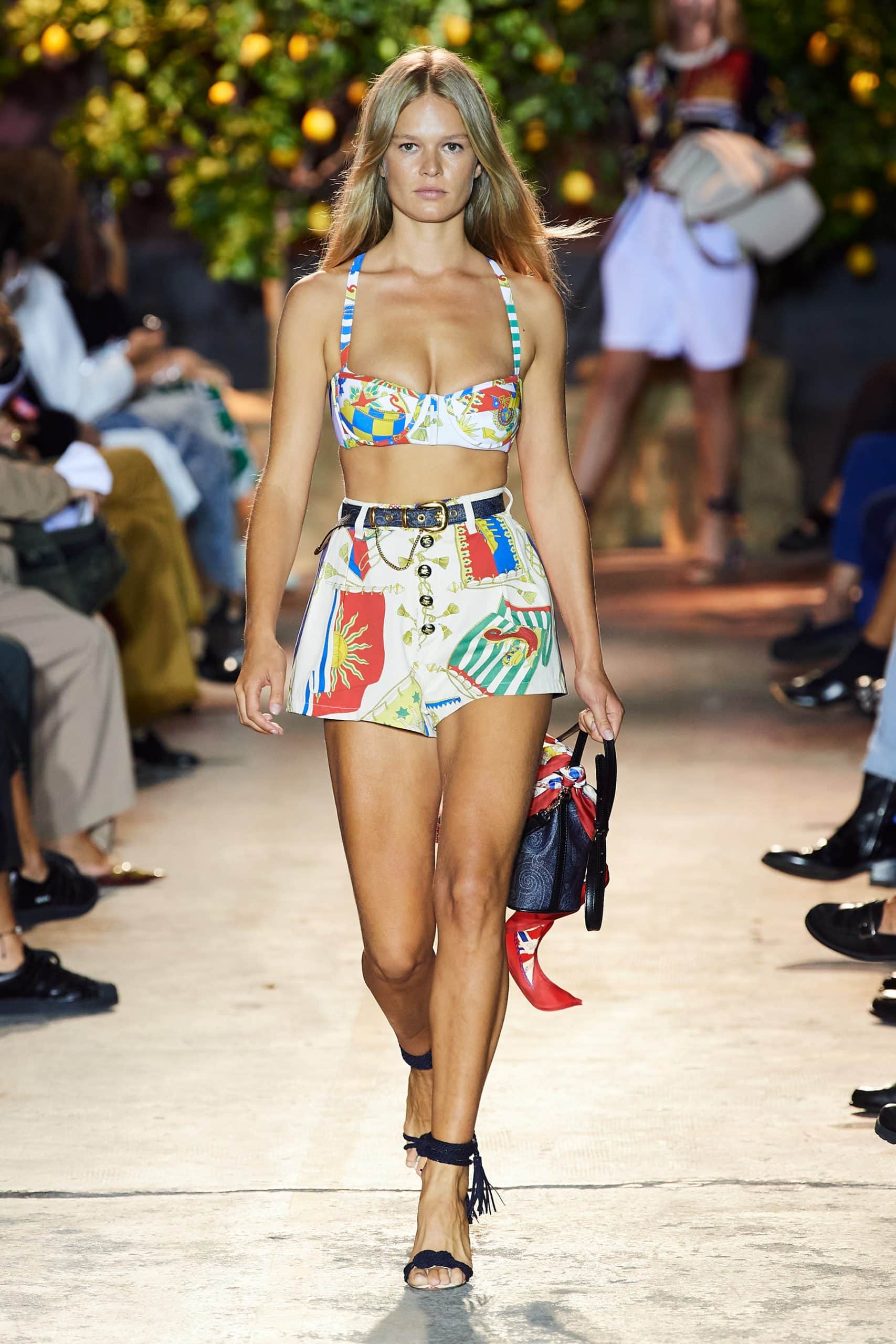 ETRO
Sfilata
Etro was the first brand in Milan that hosted the first live fashion show during the men's spring season with small breakfast gatherings inside the garden courtyard of the Four Seasons Hotel. Then Kean and Veronica Etro presented colorful men's and women resort collections that featured Etro's heritage craftsmanship in creative textiles and prints with looks familiar to the house's archives. It was about providing a familiar and homey product at a difficult time.
For the women's spring, Veronica Etro stayed true to the house's codes sending out models at a garage near the brand's Milan headquarter wearing a loose-shaped white suit, colorful print shirts and matching side split skirts, or in a red long cape dress and leather sandals. The many versions of multi-colored printed swimwear and beach looks steered the collection towards the mood of a summer weekend at the seaside resorts, hopefully places where global visitors can travel again next year. If not, these looks like a printed knit and white culottes, a cropped knit and long print skirt, or a foulard dress made from archival Etro prints can also make fine choices for clothes to just relax in at home.
For this Etro collection, you can always dream of being at the seaside resort or town celebrating from morning to night. But in any case, the nice clothes can be worn without actually being there.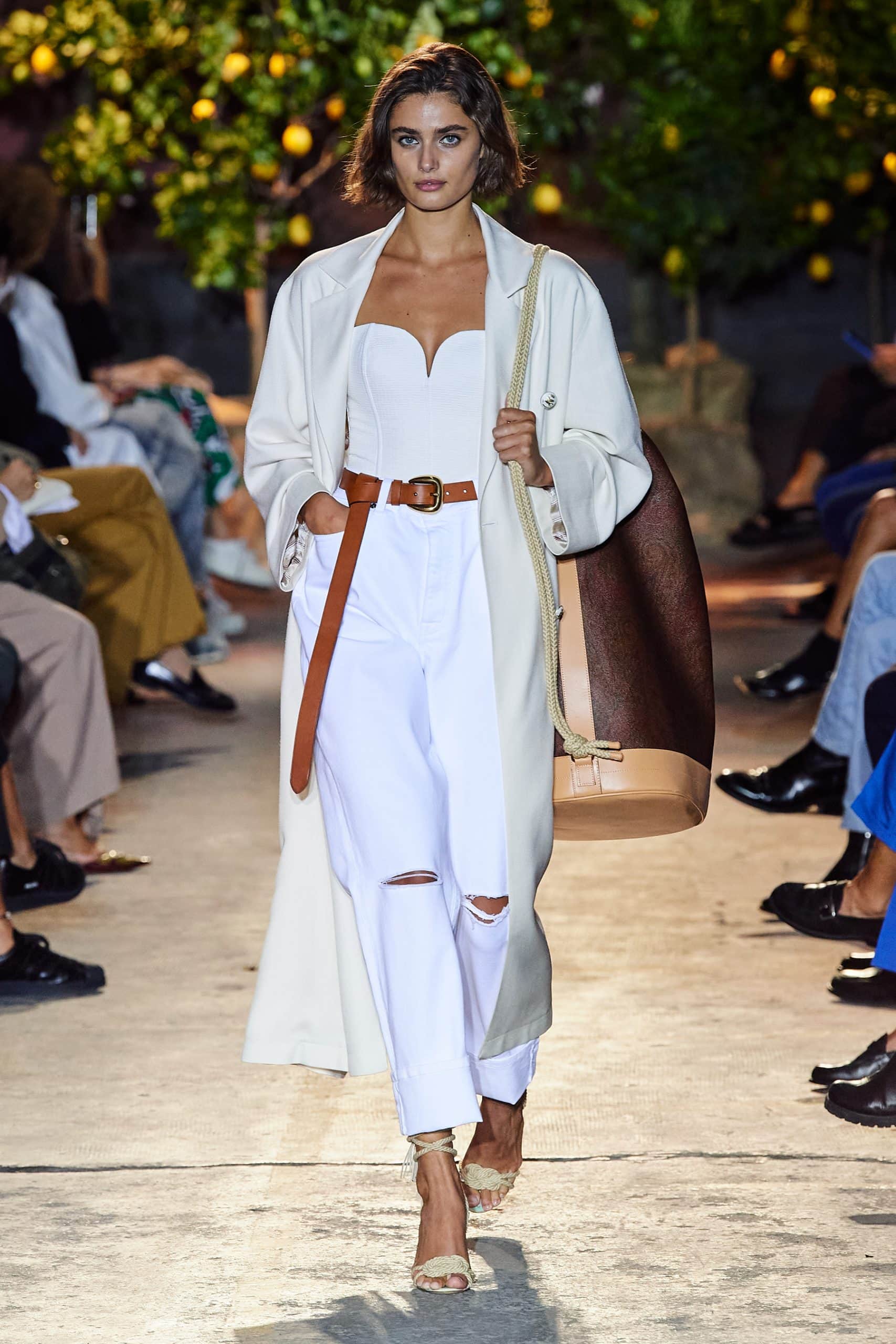 EMPORIO ARMANI
Digital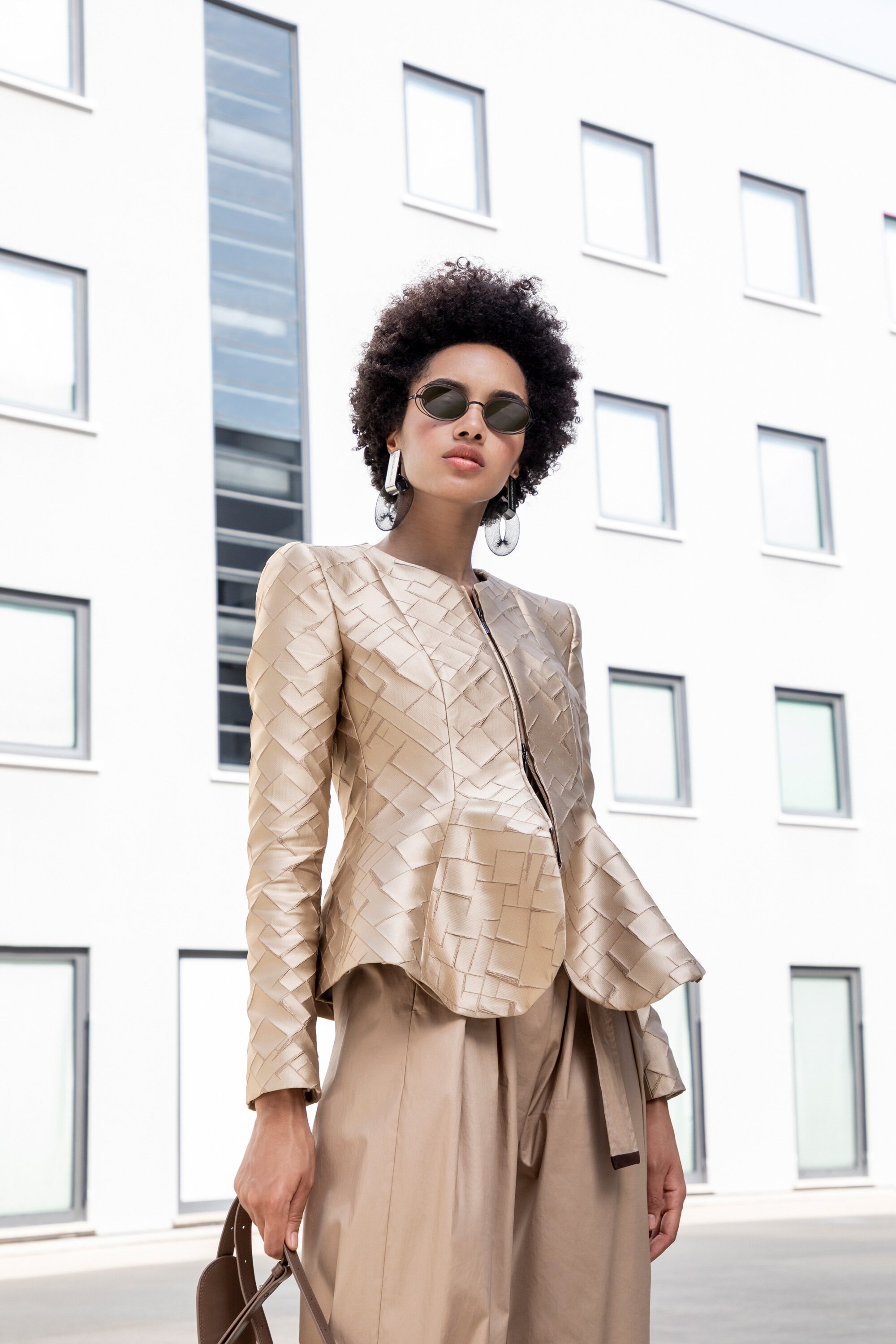 "In a real or imaginary city, groups of people walk in an orderly, alert but frenetic manner and their clothes, which are light in both cut and fabrics, blend perfectly into the urban landscape," was the message about 'Building Bridges' a short film featuring a group of men and women perched on top of a building, running inside vast buildings and scaling the different sections of an empty city around and inside the Armani headquarter at via Bergognone at the Instagram account of Emporio Armani. The sub-headline made a statement for unity and for hope – Nothing can stop the future. Nothing can stop us if we stand together.
At the end of the film a greenish 'sun' arrived and landed above their heads as they looked up, their eyes opening wide for some kind of catharsis moment to arrive. The actors Alice Pagani, Miguel Angel Silvestre, Lucas Lynggard Tennensen, Omar Ayuso and Rocco Fasano, the dancers Laurent and Larry Bourgeois, the singers Joan Thiele and Nahaze were the cast of this film.
The clothes worn by these talented actors, singers, and dancers are all the kind of clothes expected from Emporio Armani. The women's clothes had plenty of light brown scallop jackets, oversize trenches, great linen suiting in light greys, and a range of great light ice blue one button pantsuits, organza short dresses, and even a pajama for out of home wear. For men the silhouette was long and lean such as the mandarin collared striped linen jacket and linen loose pants worn by Silvestre in the film, or brown long jackets worn by the dancer twins Bourgeois.
It would be wrong to classify EA as a diffusion line and doing so may miss the point. EA is catered to a younger customer and as such this range of consumers may have a different taste level from the main collection's audience.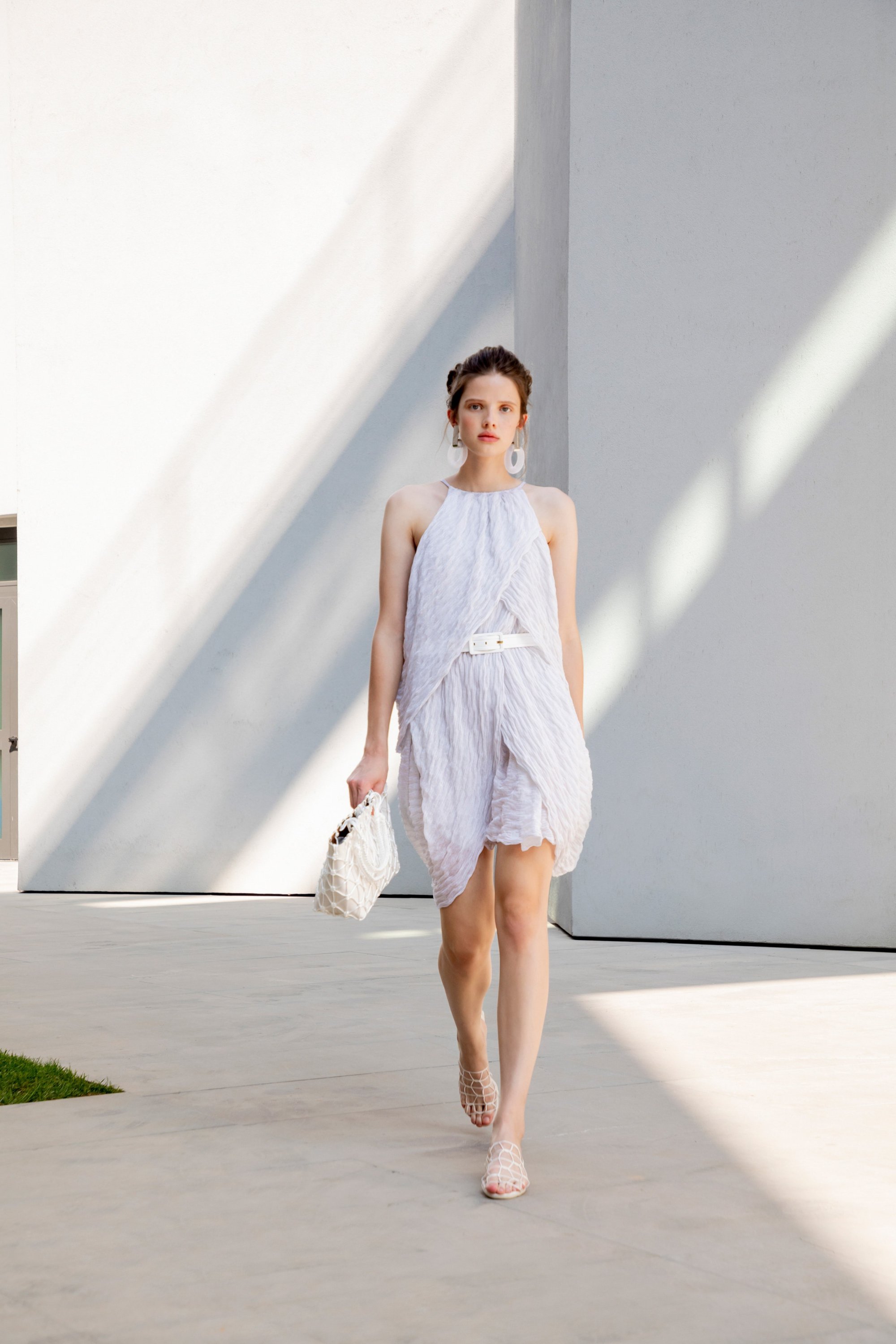 For EA, Mr. Armani conceived the cuts, the chosen fabrics and the shapes and thus the clothes clearly reflect the designer's aesthetic sensibilities.
---