---
Reviews of GucciFest : Gucci Episodes 6 & 7, Boramy Viquier, Yueqi Qi, Gareth Wrighton, & Charles de Vimorin
Episode 6 & 7 of Gus Vant Sant & Alessandro Michele's Spring 2021 Gucci Film
By Long Nguyen
Episodes 6: At the Vintage Shop
Episode 6 'At the Vintage Shop' is perhaps the fashion moment in this entire spring 2021 film series. Calderoni stumbled upon this Gucci vintage shop in her walk to somewhere else wearing a green '25' print tee-shirt over a black turtleneck, torn denim shorts, light brown low heel slingback pumps, and brown Bamboo leather tote. The shop is not just an ordinary vintage store by any means. However, more than a physical store, it is a metaphysical symbol – a village perhaps – for how the creative director Alessandro Michele situates what Gucci is all about today.
Two mannequins dressed in two looks from the fall-winter 2015-2016 collections and set in full hair and makeup – one with a pink and red zig-zag faux fur coat and the other with a trim embroidered light purple long sleeve button knit cardigan and knit long pleat skirt with a metal neck broach -guarded the glass door into this new world. Within the store, Calderoni saw many treasures alongside the other people shopping. For them, time was suspended – past and present mixes this an arcade – on the portable and wall clothing racks, on the wall displays, and inside the glass are merchandises that fused different collections inspired by different eras.
This episode represents the core of the new concept for fashion at Gucci, one that transcends time and gender borderlines into a new blend of past/present in a forward momentum.
In fact, this vintage shop is the new world of Gucci – it is the Gucci idea, aesthetics, and world view going forward that encompasses more than just seasonal collections.
At the center of this idea of reissuing vintage Gucci collections among the new offerings is embracing of the values of sustainability and of responsible consumption. It is one of the cornerstone of Gucci's future business practice and brand value. Sustainability, however, has to start from the top, from the creativity level of the collections and drifts downstream to the manufacturing and the distribution. The new 'eco' green paper shopping bag or Econyl for sneakers, crossbody bags, and backpacks or eco-cotton for denim jeans for example, are just the end products of a creative process that started at the top of this chain.
Back inside the vintage store, Calderoni tried on a few pairs of extra large sunglasses from the new eyewear collection. Meanwhile, other shoppers came in and out of the dressing rooms, exchanging different looks from spring 2021.
One customer changed from a red wool plaid short coat, yellow shirt, and reversed cuff denim pants into a long light yellow windowpane spread collar coat, red silk shirt, and wool camel pants; another customer looked at herself in the mirror in a black sequined dress with a heart corset front and high waist skirt as she left her white sweater and long blue skirt inside the dressing room, and; another customer exchanged a cropped single breast shirt jacket for a white lace shirt.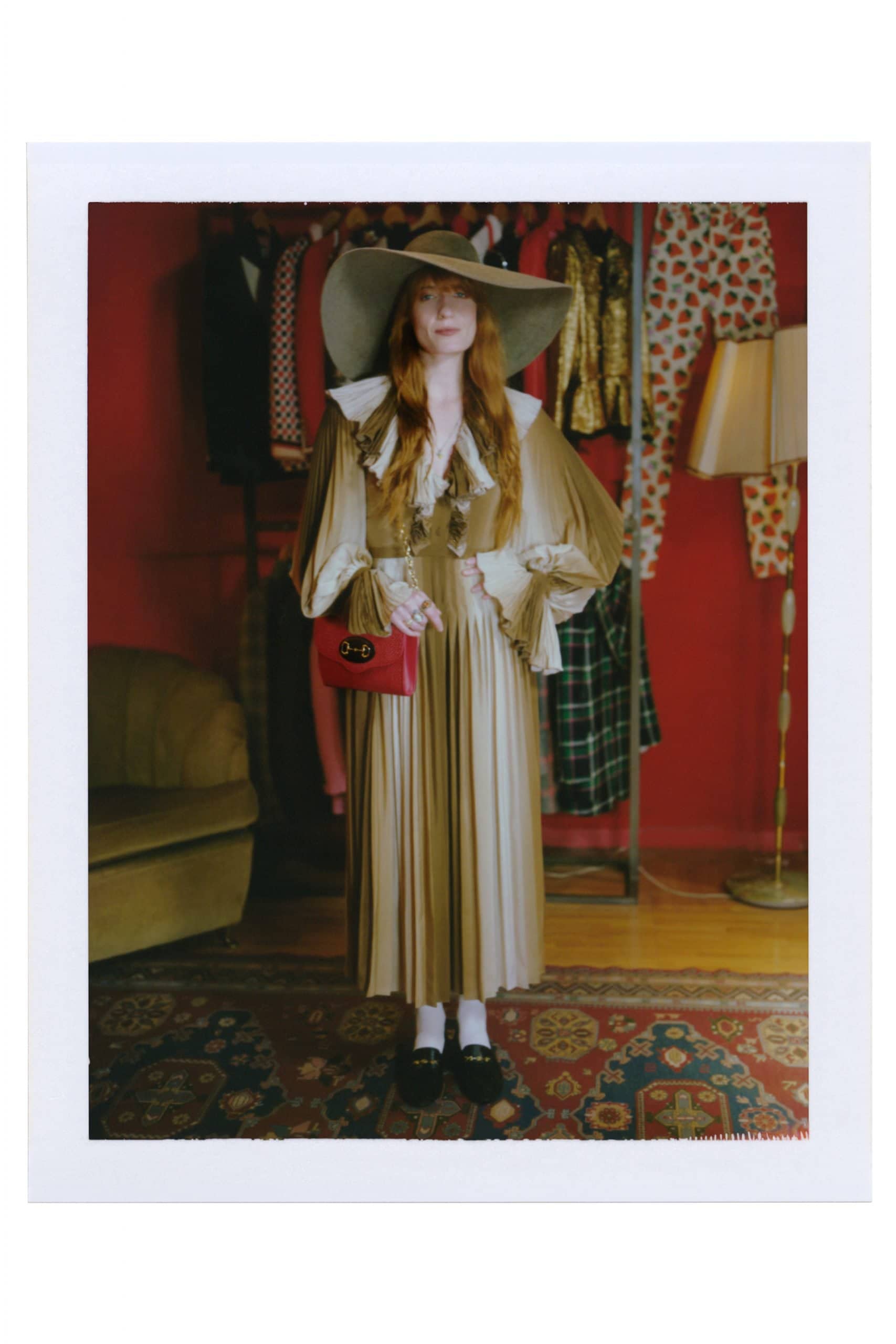 Meanwhile, the singer-songwriter Florence Welch, dressed in a light brown pleated ruffle dress with flounced collar and a felt brim hat, walked around the store with a small leather notebook and scribbled verses poetry on white papers that she then folded and left inside different garments for future customers to discover. 'Tomorrow could be different', 'With the rain come the secrets', and 'Honey in the street' were among the handwritten verses, the last one found by Calderoni inside a pair of faded jeans. Welch had published her own book of poetry 'Useless Magic' and some of her lyrics and drawings in 2018.
"Touring has meant I've been to vintage stores all over the world. It has informed my style so much and really shaped how I found my personal style. When I first started touring, we would get money for lunch, but I would always go to the nearby store and spend it all on stage outfits," Welch said of her high enthusiasm for vintage clothes and on being in this episode where the store contained many items from past Michele collections inside the vast shop where past merchandises including accessories hung along with new spring clothes that customers were trying on.
Meanwhile, the white flyer did not make an appearance in the last two episodes. Its mystery is still unknown.
Episode 7″ A Nightly Walk
The final episode of this mini-series Ouverture is very much like all of its precedent chapters – a partial suspension of one reality to continue into another reality that's just as real.
Dressed in a men's collection wool camel three-piece single breast pantsuit with button deep v-drop lapel gilet, pink silk shirt, and brown silk tie, Calderoni stopped in front of an apartment building and rang the doorbell. Upstairs, the Chinese singer-actor Lu Han in a light pink shirt and blue drawstring pants was ironing a red silk dress from the fall 2015 collection. While waiting for an answer from the intercom, Calderoni saw a bunch of guests leaving the building apparently from a party inside the building in red tulip floral long dress, black sequined chiffon dress, a camel pattern jacket and pants separate, and a beige jacket, ecru shirt, and navy pants.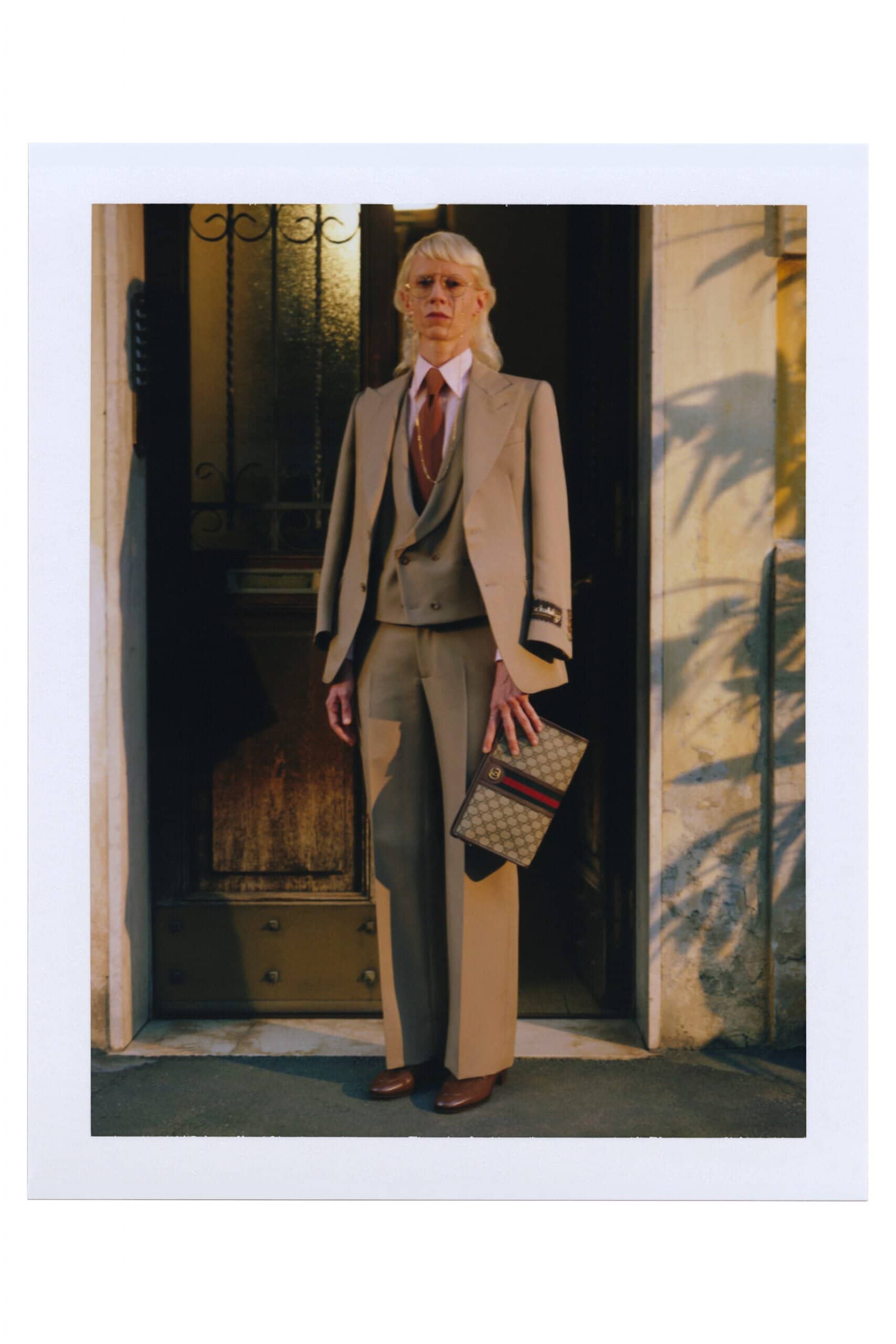 Finally, Lu Han answered the doorbell. "Who are you looking for?" he asked.
"Pink, I love you, Pink. Pink City, pink night. It may be nothing will be allright. But, Pink, I love you Pink. I want you Pink. Pink," Calderoni said into the microphone.
"Night, never-ending," Lu Han said.
"The flowers call your name. I know nothing will ever be the same. But … Pink, I want you, Pink," Calderoni continued.
"Your body is like a pearl," Lu Han said back.
"Pink, be mine, be pink. Pink dreams, pink moon, somehow we will be together soon, so pink be mine be pink," she said exasperatedly.
"I am willing to be wrapped around your finger, pink night, never-ending. It is going to be another world," Lu Han said as Calderoni began to walk away from the building and hailed a vespa taxi that took her around Rome at night, passing the Piazza Venezia, Piazza della Repubblica and the Corso Vittorio Emanuele.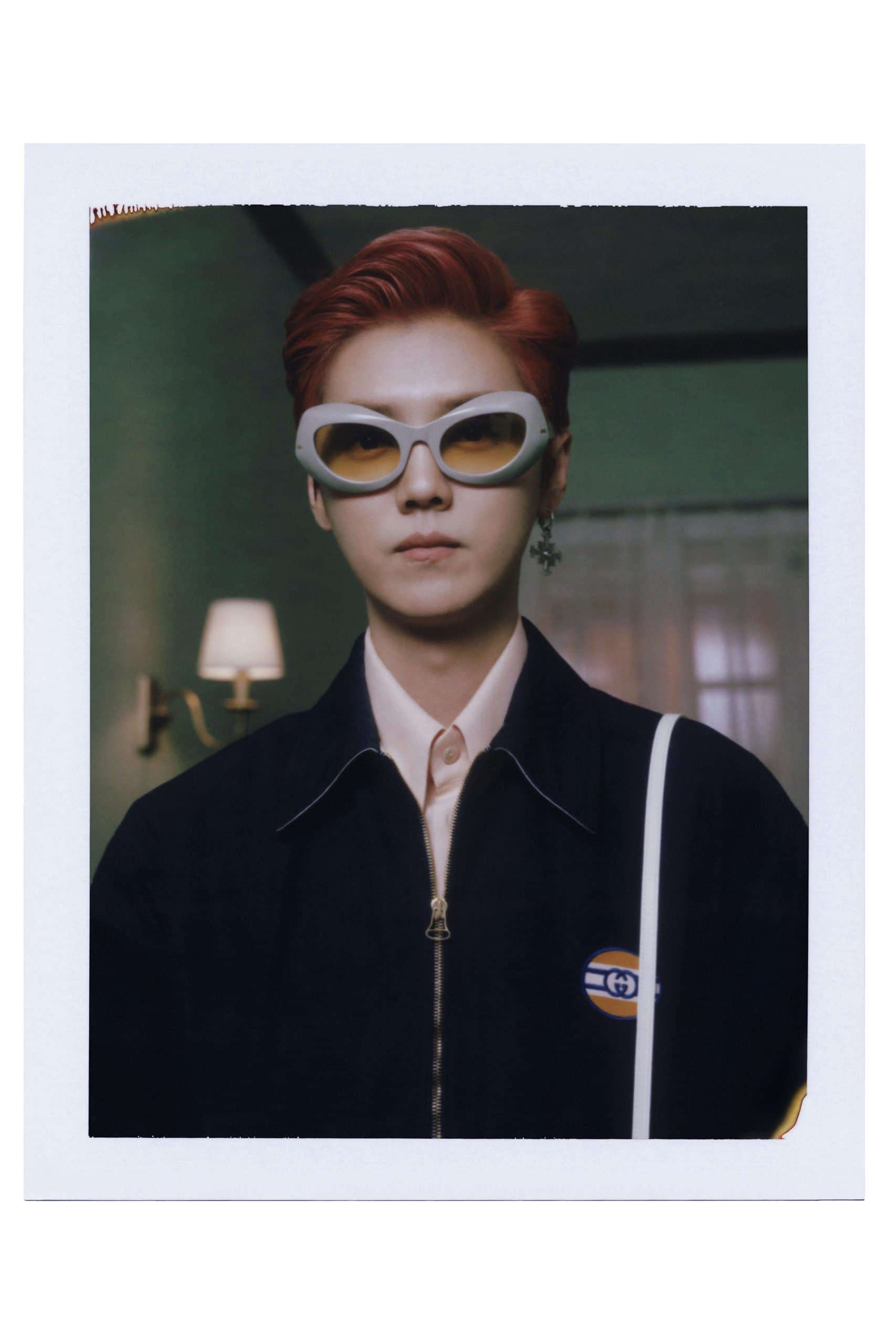 This is far from a usual way of answering a doorbell intercom. While implausible, it is not so weird that two people recited poems in English and Mandarin through the intercom. It is not any more bizarre than, say, doing morning sketching to the sound of a lecture in gender dissidence. It is not any weirder than Lu Han cutting off the bottom section of a red dress.
"I have a lot of interaction with a red dress in the episode, and to my surprise, the dress was from fall 2015. Here I am in 2020, carefully ironing and dancing with the dress that was created in 2015. It is just connecting the past and the present. The idea that the contemporary is untimely gave me lots of inspiration to play the role," Lu Han said of his role and his interactions with the dress from the past. "Pink is the hope for a better life. Pink is a color of curiosity, and hard to define just like art and fashion," he said by way of offering his view of what Calderoni meant with pink.
Everything in the film's narrative is circular as is the way fashion should be – the Kim Gordon song Fifty Shades of Green – heard partially in the first episode is now played at the end of the series. That flyer appeared then disappeared into thin air.
At the end of her Vespa ride, Calderoni stumbled on a white paper flyer on the stone street. That flyer with black letters that Calderoni found inside a white enveloped mailed to her, on the floor of the café at the start, then found again on the stamp at the post office, then resurfaced once more inside one of the lockers at the dance theater dressing room has finally revealed itself at last. The words are from the song In a Manner of Speaking by the group Tuxedomoon, an experimental post-punk, new wave band from San Francisco in the late 1970s: 'In a manner of Speaking/I just want to say/That I could never forget the way/You told me everything/By saying nothing'.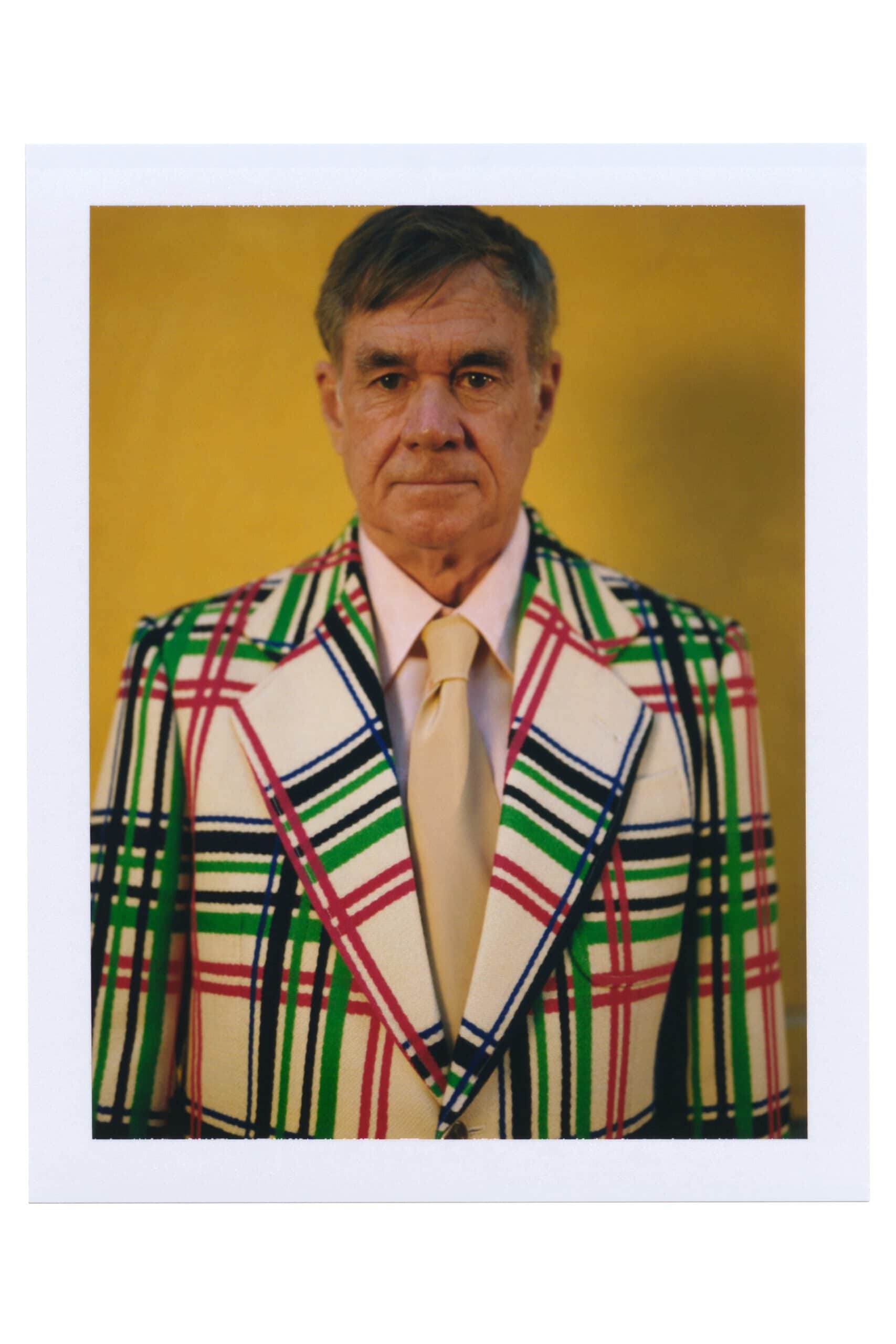 Now Calderoni found herself standing in front of the empty theater when she opened the door to exit the bathroom at the café in episode 2.
The act of opening doors or windows can be a symbolic one. It is one of the acts that permeated throughout the major events in each episode. Calderoni opened the window in the balcony to throw away a floral dress, she opened the bathroom door into a theater, she opened the windows to look at the neighbor, and she opened the door and entered the vintage store.
Herewith this mini-series, Gucci is opening the doors and the windows into its next chapter – one where creativity is supreme and pervasive throughout its entire enterprise. A new idea of a perpetual Gucci aesthetics is coming into concrete view first inside a vintage store within an art film then onto real stores in the brand global network.
GUCCIFEST EMERGING DESIGNER FASHION FILM
Boramy Viguier: Lord Sky Dungeon
The idea came together. To deny reality a little and immerse yourself in a fantastic, magical world … like a kind of therapy.

– Boramy Viguier
"It's related to my fashion because I worked on this film as a collection. I like to put no limits on my references. I'm not too concerned about whether this will go together. But I make it work. It's not always the case, but I like to work like this," the designer Boramy Viguier said in French via Instagram direct when asked about how the film he made with the French director Samuel Rixon correlated to his fashion collections.
The film Lord Sky Dungeon is a playful play of heroic historical mythology with contemporary calling for action against 'evil' manifestations with a certain notion of a spiritual bond between all the characters struggling together against external threats. It's a moving image of how Viguier utilized historical references and symbols as a testament to their ingrained ideals that are missing in today's culture.
Paris based and raised in the suburbs of Gennevilliers Viguier, a French-Cambodian origin, launched on his own in 2018 after spending four years working in menswear with Lucas Ossendrijver, the head of Lanvin men at the time, after leaving his studies at Central Saint Martins.
Viguier presented for the first time at Paris in January 2018 with a fall 'Reconstruct' collection that fused today's utilitarian garments – parkas, anoraks, work vests, snapped pants, cargo pants – with classical menswear traditional codes – tailored patch pockets suits, elegant shirtings, pleated dress pants – with innovative technical details – plackets, zippers, metal hardware – and selections of fabrics – nylon, wool, cashmere, tech cotton – that have already become a central tenet of his fashion vocabulary that allowed him to then expanded his iconography by including more esoteric symbols like Tarots cards and even taking inspirations from the wordless films of Godfrey Reggio. "It's a very complicated amount of work," Viguier said of the actual production of the clothes, all of which are made in small factories in France. "I have factories partners that I spent over 80% of my time. My work is really at the factories," he said.
"That I don't want to explain anything to him. This is kind of what I also like in the creations they are. The funny thing is letting people make up their own minds. What are they feeling? Anyway, I never need an explanation. It even annoys me to have too much. I like the paintings by Francis Bacon. I don't want to be explained. And when I don't like something. It's the same," he said about how he would rather let the consumer interprets his collections than giving out explanations that don't really serve any real purposes. People should be able to look and form their proper opinions without too much pontification from the designer.
Yueqi Qi: Taro Buddha
"My name is Yueqi Qi. This film is based on real memories of my childhood in my hometown, Kaiping, China," said the Guangzhou based designer at the opening of the film Taro Buddha made with the photographer-director Jeremy Ziming Qin.
The film told the story of a young girl going home to her small village town for the lunar new year, and after receiving her red envelope from her relative, she got dressed to go out with her friends. But it rained, and she and her friend missed the boys who were to come and take them in their motorbikes. They walked through the rain in the fields and made it to the party and left with the boys after to go to an empty field area for dancing. The clothes wore pretty sexy short dresses with embellishments like a multicolor beads strap short dress, a purple fringe short dress or a light yellow floral dress with feather plumes.
If the narrative of the film feels auto-biographical, it is because telling her personal story and also the vast story of China and Chinese culture is the heartbeat and the essence of her fashion aesthetics and foundations. "We present and celebrate Chinese romance and traditional craftsmanship," was the headline message at her website portal.
Yueqi Qi began her fashion career after graduating from Central Saint Martins BA Fashion in 2018 knitwear working at Chanel in Paris specializing in embroideries. Then at Dior and Balenciaga in textile design before starting on her own in 2019 at Shanghai Fashion Week for Spring 2020 with the showroom/store Labelhood that supports Chinese designer talent.
She based her debut collection on the tragic story of Butterfly Love about ancient folklore about a Chinese ghost marriage ritual that ended with both of the not meant to be lovers were dead. Then, their spirits were transformed into butterflies. In the following season for fall 2020, Qi upped the ante with a collection titled 'The Town of Silver and Jade' where jade beads adorned the accessories and decorated or plaid dress or trims on a white ruffle dress.
The silver represents the skyscrapers and modern cities that were built upon the farmland. The jade represents old China and the countryside where they hold onto fast river jade-like it was the lifeline to a golden age they never witnessed. The collection is an homage to Chinese craftsmanship and a time when the country valued quality and precision over speed and volume.

– Yueqi Qi, explaining the thinking behind her work
Gareth Wrighton: The Maul
Gareth Wrighton works in a multi-faceted manner that included his expertise in knitwear, tailoring, photography, and especially computer modeling and gaming, which allowed him to work in the digital age where fashion can be like avatars inside a gaming device.
Wrighton is an image-maker turned fashion designer for this new era, weaving current narratives into garments to tell stories with cultural or political references important to him and his vision.
His clothes keep the conversation current, and their currencies are precisely the kind of pivotal events that the younger generation is deeply interested in.
For his debut at London Fashion Week in February 2019 as part of the Fashion East show program, the Hertfordshire born and Watford based designer Gareth Wrighton – a recent Central Saint Martins graduate – showed a collection entitked 'In the Pines: the Ballads of Meredith Hunter.' Based on the Altamont Free Concert in California in 1969 where Hunter was killed, and the subsequent failure of the free love movements with the accompanying clothes that offered a sense of storytelling weaved deeply into his garments like a sweater with the prints of the landscape of burning Colorado mountains and prints from the images of the Iraq war atrocities leaked by Chelsea Manning. He titled his spring 2020 show 'I'm slowly turning into you: A virtual unreality,' taking as inspiration the Youtube vlogger Jessi Slaughter about cyberbullying with one model wearing a tee-shirt with the scribble 'My other T-shirt's a cum-rag'.
Wrighton transforms his garments into a vocabulary and his collections into seasonal short stories – all done within the basic Wrighton signature look – a long-sleeve fitted sweater and high waist pants as a kind of blank canvas to paint a new season's narrative.
Working with the photographer-director Zach Beech, Wrighton conjured the short film as a 3D trailer to a video game that does not even exist as avatars gathered inside an abandoned shopping mall overtaken by growths of trees. A man in a yellow floral long knit dress and blue butterfly wings attached to his back stood in the middle of this new fauna observing the on-goings around him. Someone in a white top and blue skirt dived from the upper floor next to the GARETH WRIGHTON store – an imaginary boutique – with several naked mannequins inside.
Wrighton's fashion sensibilities are linked to his passion for the realm of virtual reality as a video game designer and how fashion can be used in this new frontier, which is the next boom for fashion brands.
Charles de Vilmorin: Repugnantam
The young French designer Charles de Vilmorin defied the pandemic and launched his new brand as a small coat collection during the lockdown late this spring, barely a year after he graduated from the École de la Chambre Syndical de la Couture Parisienne.
Going against the grain of a tough and uncertain business environment, de Vilmorin created a focused, exuberant, and vibrant collection that seemed to defy the conventional wisdom of budget cut backs and the wait-and-see attitude in the retail luxury sector.
Launched primarily on Instagram, where he had exhibited his sketches before making any prototypes, his debut fall collection comprised of principally oversized zippered coats drawn directly from his art sketches consisted of extreme mixtures of colors and hand-painted design and patterns of faces, eyes, flowers, and heart shapes on genderless quilted coats and matching fitted legging trousers. The explosion of color and graphics reminisced the fantastic cosmos of the Japanese designer Kansai Yamamoto in the early 1980s. Early this fall, de Vilmorin added printed blouses, shirts, jackets, long shorts, and pants as capsule pieces to add to the outerwear already on sale at his brand's website.
Charles de Vilmorin made the short film Repugnantam to tell the stories of monsters in his offbeat and colorful sketches he had drawn coming to life and eventually consume him in his sleep on the couch. In this film, de Vilmorin offered a compelling meditation on the excess of fashion and consumption in this cautionary tale inspired by the 1980's horror films. "When art outgrows its artist, his triumph leaves a heavy shadow, and his attempt to escape it is marred by stagnation, until it's his success itself that consumes him," one of the monsters said to the designer. Here the monsters represent the fashion system and how easily young designers can get gobbled up fast.
Hopefully, de Vilmorin's colors and optimism can offer relief and a direction for a fashion world still mired in struggling to overcome the adverse effects of the pandemic and the changing attitudes of consumers. If clothing reflects the current times, then de Vilmorin clothes are portraits of the very near future where his explosions of colors can be celebrated whole-heartedly in a new wonderland.
Hopefully too, he can also evolve his design and his thinking.
---