---
Review of Maison Margiela Spring 2021 Fashion Show
The Fantasist and the Clothesmaker
By Long Nguyen
In lieu of his usual podcast to explain the thinking behind each of his collection, John Galliano turned to the photographer-filmmaker Nick Knight to created a documentary short film nearly one hour long that showed the process of creation in meticulous detail from the ease of the lockdown, to how each of the Artisanal looks were actually made from Zoom meetings to the fabric selections and cutting the garments. That Artisanal film was a precursor settling the template now with the release of the second installment featuring the co-ed spring collections in a narrative film, also shot by Knight, that verged on a mediation on human connectivity through the rigorous dance of the tango.
Galliano is a true couturier, a rare master of craftsmanship as well as a dreamer who can coalesce mythologies and grand histories to envelope his physical clothes with metaphysical properties, a process that have alluded many fashion designers working today.
Galliano and Knight surely create a marvel of a film that confirmed the true power of fashion, especially to evoke emotion and to transform people. Surely this second film installment did more justice to the clothes shown, by elevating the garments to the level of artistic creations rather than just a material or a physical jacket or coat or dress. Surely this second film did more justice to Galliano's sense of aesthetics and affinity for wrapping poetry and epic narrative with his clothes through dramatic and erotic tango dance movements in a narrative of self-observation and memories and of course great tailoring.
The genesis and the construction of the new wet look from Artisanal in July, a look based on an original Martin Margiela white t-shirt stuffed and slightly crushed under a sheet tank for the spring 1990 show, had now been transformed into wearable clothes rather than a prototype for conceptual discourses and observations of processes. In the film that was the second part of the series, Galliano created an unusual stunning collection of clothes – unisex and co-ed – that not only transcend the boundary of gender but also pierced through the process of how to create in this time of crisis.
Descriptions of the clothes can hardly do them any justice – a black double-breasted jacket with flaps over shoulders from cut-out sleeves, a white cotton gauze single-breasted jacket with circular cuts from the front and the sleeves, a cropped layered one-button jacket with falling sleeves and long black skirt, a black trench with pieces cut off from shoulders, a red with black rectangle printed long dress, a double-breasted tailored tuxedo, or a red long dress with elevated cut-out shoulders. Each garment combined the work of controlled craft with a consistent design thought process that included 'recicla' – reworked vintage pieces – and 'replica' – recreated of vintage products.
This is a beautiful Galliano collection full of the poetry, and with clothes that surpassed any other collections seen in Paris this spring season. Invoking the Martin Margiela justifications takes away the juice and the real contribution of a master designer and, just as important, a dream maker.
But here is the thing at Maison Margiela in the Galliano era – the push for overly and overtly intellectual justifications – all these fashion practices inherited and reformulated from the Belgian designer Martin Margiela's groundbreaking work in questioning the fashion system and his ingeniously innovative work in upsetting the premises of fashion design itself.
But here is a thought worth exploring – are any of these justifications to Margiela's heritage even necessary at this point?
For just a moment, forget about all this stuff about tango, about the anonymity of the lining, about recicla, about print with a purpose (? are there prints that aren't, and why are these with purpose?) or couture gesture or work in progress or for that matter ancestral hand-me-downs. There is also an explanation for how to appropriate the inappropriate. Just look closely at the clothes without bothering with any of these hyperboles, that at times seemed blinding at best and at worst seemed to really underestimate the audience's intelligence and there, right there are the most perfectly tailored and biased-cut clothes unrivaled anywhere in this spring season.
A careful dissection of this period in the history of Margiela can be seen in the recent documentary Martin Margiela In his Own Words now on-demand on cable services and there in that past history, Margiela let his fashions speak for themselves without the need for any intervention. That part of the Margiela tradition surely is not continuing now. Instead, there are an overwhelming amount of explanations, sometimes stretching the limits of logical reasoning, that often make it more difficult to understand and appreciate the products being made and sold currently. This surely needs not to be the case and anyone who has spent and endured over 54 minutes in watching the July film that dissected and justified these processes in public can understand a little of restraint.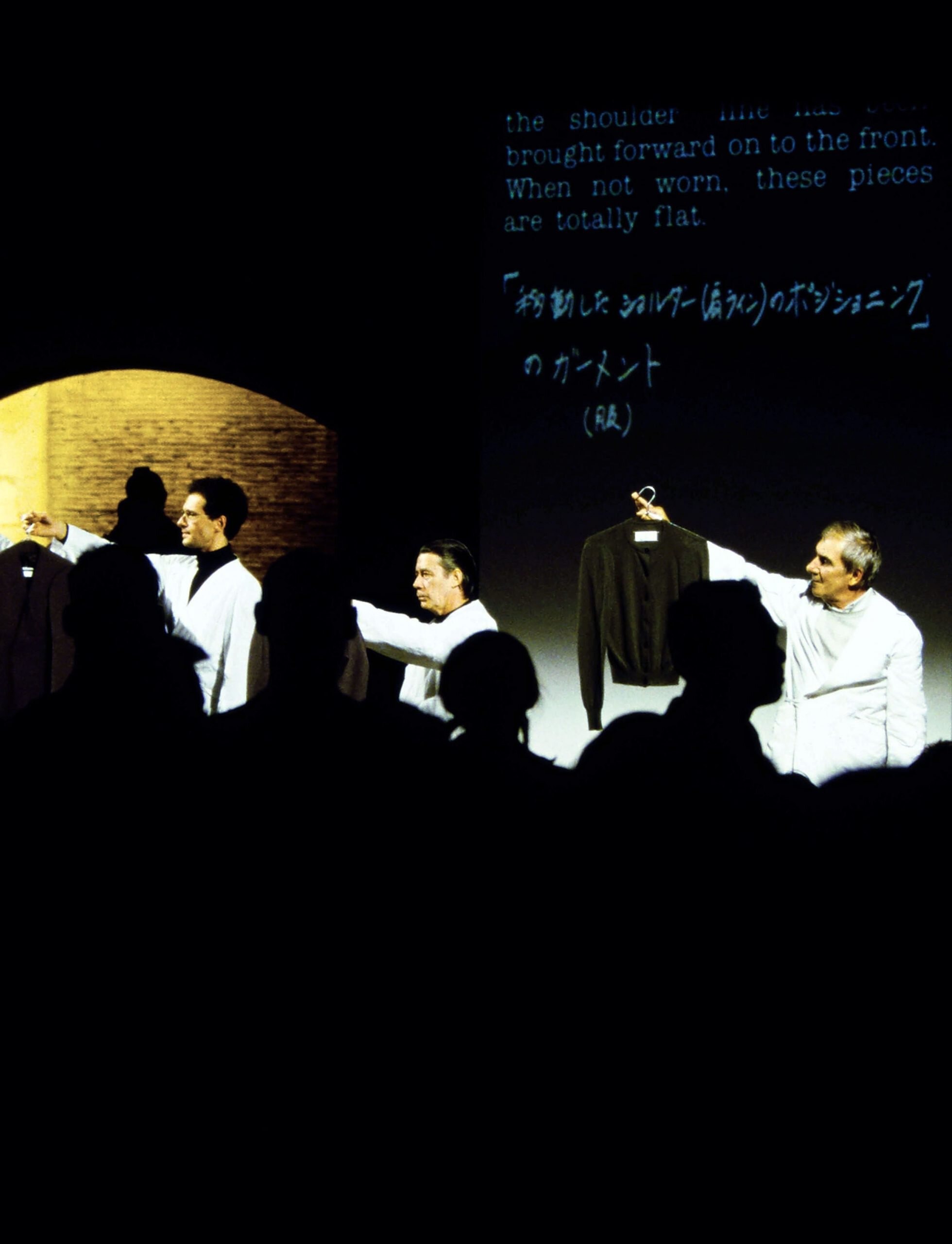 I remember seeing all Martin Margiela's shows in Paris from 1993 until his retirement show on the eve of his 20th anniversary in September 2008, and at no time in that period did anyone at the house try to explain the designer's work, but let the audience judge the results of the designer's thinking in terms of the clothes. But then again who really needed an explanation after seeing a bunch of middle-aged men standing still in the white lab coats with one hand extended outward holding a hanger with a completely flat jacket – yes a near-total two-dimensional sleeveless jacket at nearly eleven o'clock in the evening after a long day at shows inside an old castle.
That said, the artistic film that replaced the live fashion show is no doubt amazingly artistic and uplifting that backed up the fact that Galliano has done much in his time at Margiela to inject innovation into the house. There is also an imperative now to incorporate high technology that has changed modern life into how his fashion is created and lived on with the customers, along with practicing all those old sartorial techniques and handiwork. Without all the referencing to Martin Margiela, the clothes look very much like those Galliano collections particularly his menswear collection particularly from the 2003-2010 period, that I thought in their creativity were stronger than his women's shows at the time.
Stripped away of all the Martin Margiela associations, this is a quintessential John Galliano collection with stunning and spectacularly crafted clothes employing the traditional techniques and pumped with a strong whiff of his energy from more than a decade and a half ago.
At this moment the question should be whether it is still necessary that Galliano still work under the confines of 'heritage' instead of taking the house in his own direction, after demonstrating with clarity how deeply he understands Margiela's work in these few years. He should be able now to do his own Margiela collection now instead of justifying his work by stating, again and again, the founder's thesis. He should be able to define Maison Margiela as he sees fit. To make a comparison to the distant past, this collection was comparable to that show – that 'moment' in Paris at the Schlumberger's hotel in particular.
John Galliano should now step out of the shadow of Martin Margiela and shine on his own again. He has earned this with this masterful spring collection.
---