---
Review of Roberto Cavalli Spring 2023 Fashion Show
I did it my way! Puglisi's Hollywood Rennaissance.
By Lizzy Bowring
A specific type of woman is perfect for Cavalli's clothes, and all were sitting in the front row this evening when Fausto Puglisi presented his S/S 23 collection. These women exude a feminine strength, albeit an imitable grandeur. They are comfortable with themselves and exude a natural sexiness.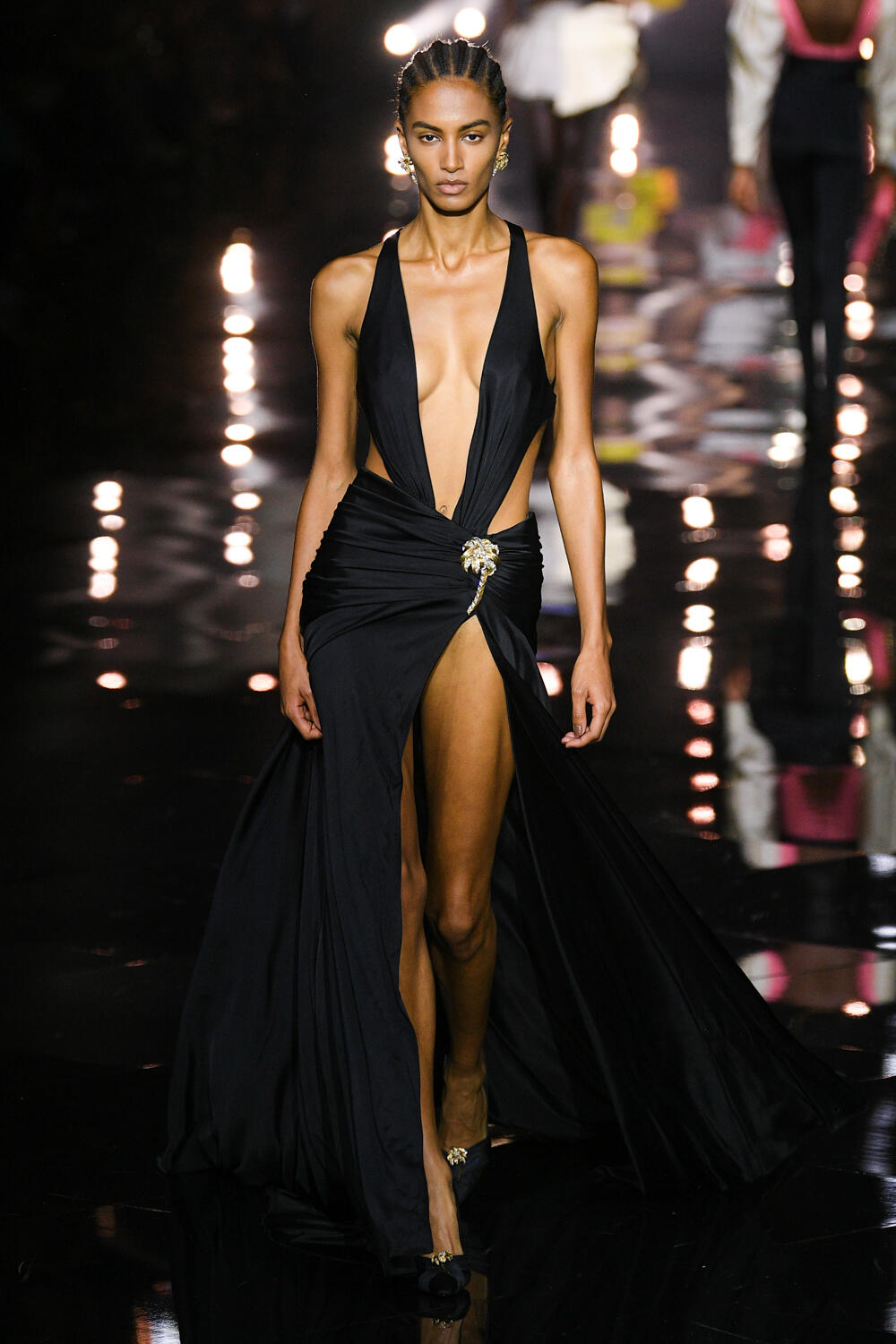 Puglisi's seductive 'Italian', Hollywood Renaissance designs are perfect clothes to showcase and enhance his woman's natural curves.
The invitation to the show bore a single gold pineapple. Lest we forget, where is the animal print for which the brand is known? Not too far away, but the pineapple? On speaking with the designer post-show, (who incidentally was wearing a black t-shirt bearing an image of the late Queen Elizabeth 11, "a childhood obsession"), his exuberance bubbling over, one could not help but smile when asked, "the pineapple"? Hollywood! The designer looked to Hollywood in the 30s and 40s and tried translating it into the Italian way. Puglisi is afraid of the forthcoming elections – the violence and the ugliness, so he also looked at Marnie from Hitchcock and then at the beautiful jewellery from Toni Duquette. For those unaware, Duquette was an American artist and renowned jewellery designer from the early 30s. His jewellery was extravagant, visually striking, dramatic, and over the top, fitting enough for Puglisi's collection. Such as the pineapple, which came as extravagant clasps worn..or even as a dress, provocatively short, but it did the trick of exuding over-the-top glamour.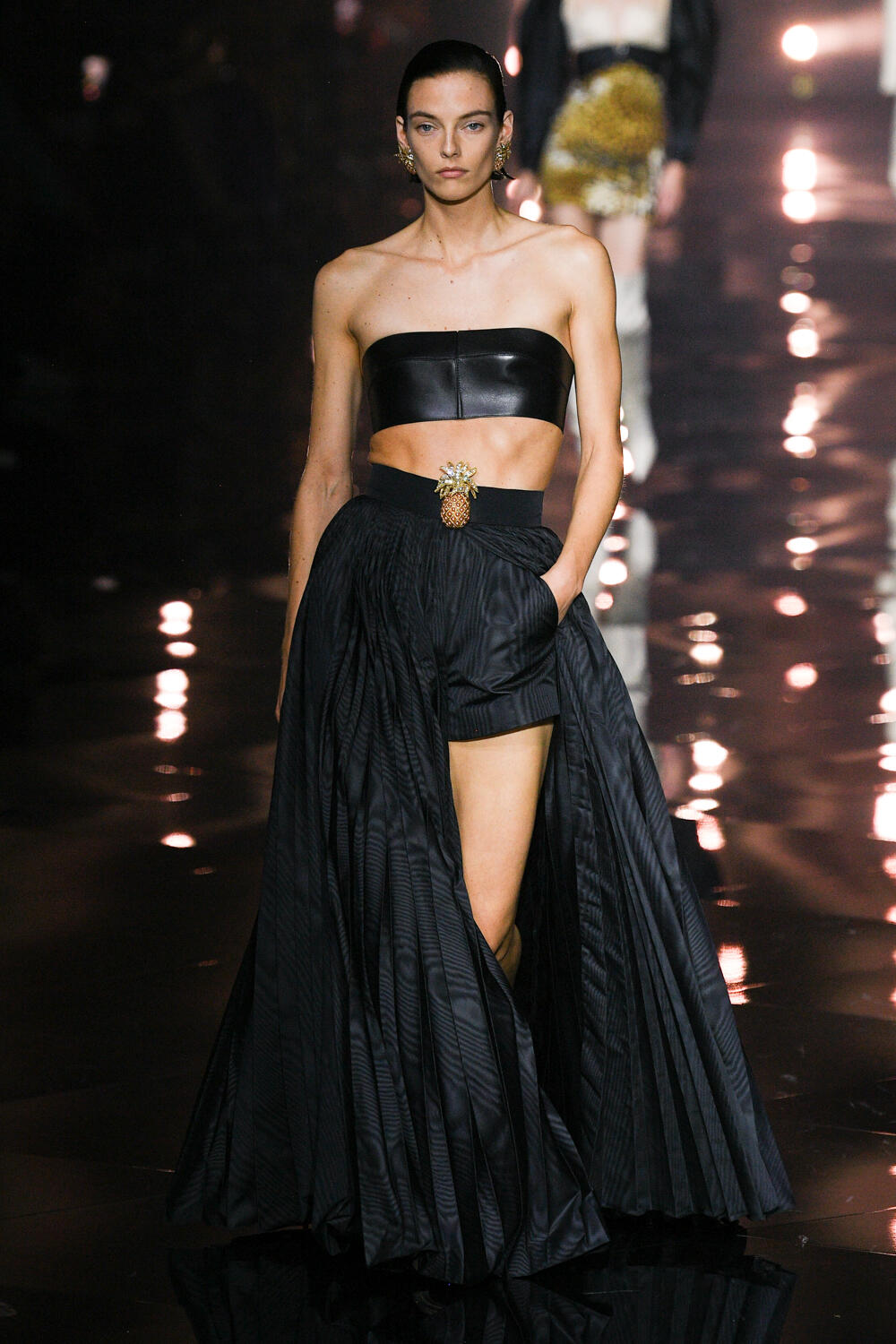 Puglisi's Hollywood Rennaissance began with a freshness that was quite disarming, particularly with Ave Maria playing loudly in the background but not for long did this pristine attire last. Music gave way to a reverberating, chest-pulsating rhythm. And then came those silhouettes!
Each bore a Hollywood aesthetic but reinterpreted in Puglisi's traditional Italian way – glamour, seduction, and a certain amount of playfulness.
Puglisi also played a lot with colour, infusing delicious hues into classic fabrics, such as Moire from Como, that exuded a kind of freshness. The Puglisi S/S 23 collection aims to empower women by allowing them to find their own identity with silhouettes ranging from impeccable lady-like proportions to absolute body-conscious forms, all without sacrificing the powerful extravagance of the Cavalli DNA that women find irresistible.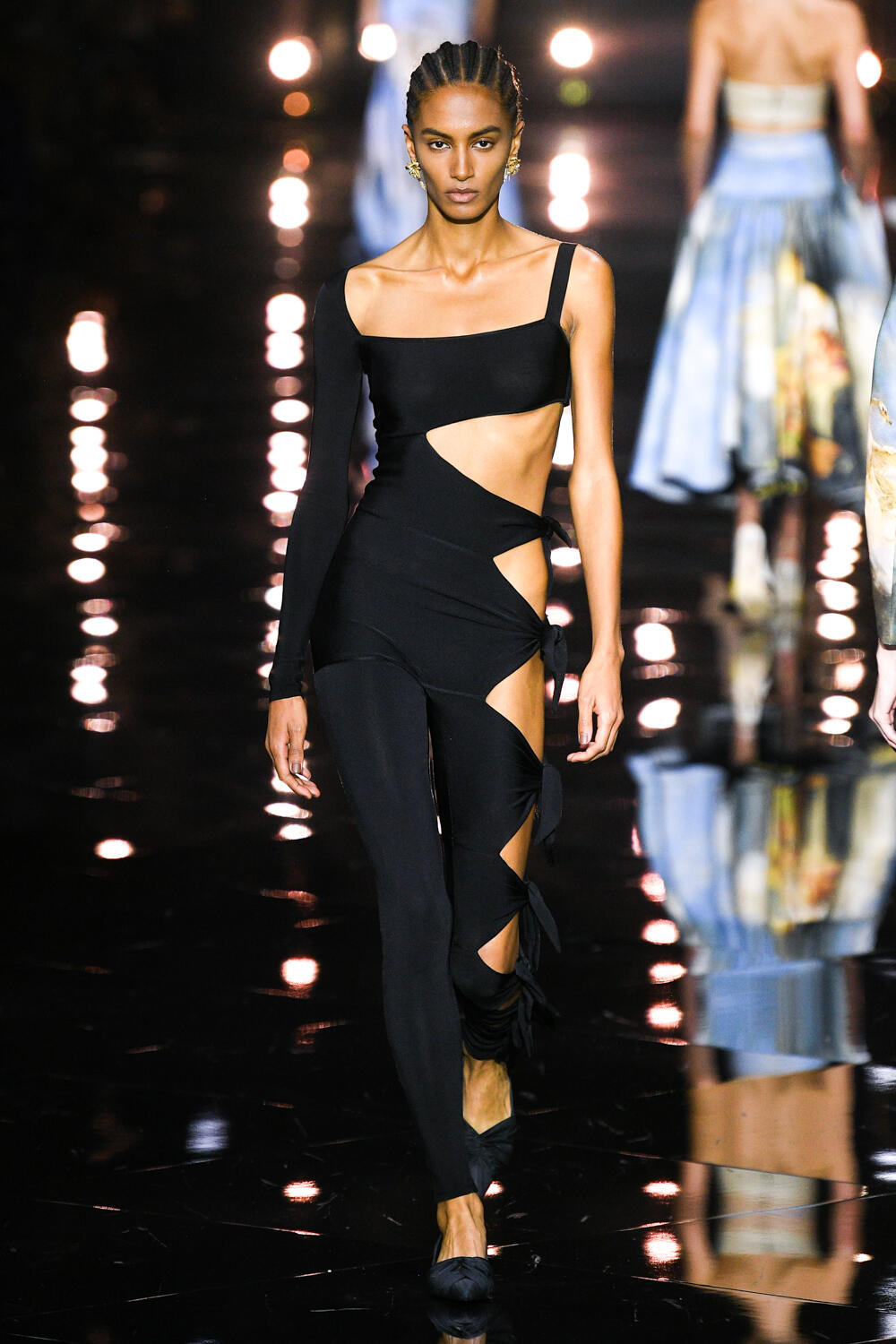 The designer also mixed it up a little this evening. Those quintessential body-conscious silhouettes were there but look at outfits such as look 2. Indeed, a Tipi Hedren attire – a glamourous two-piece with a loose coat opened just so to reveal the infamous animal print on the inside. Or look 4, complete in black, a bandeau top is worn with a glamorous pleated full skirt ( with that pineapple secured at the waist) flowing over a Puglisi short – but these are not just any shorts. These are designed to be seductive without being brazen! Next ensued a trio of little abbreviated outfits; they were visually striking with a swathe of fabric that fell from the waist and secured by, yes, you have it, either a palm tree or an exotic jewelled flower. It was refreshing to see another print joining Puglisi's repertoire in a colourful rendition of exotic florals. Fashion, Art, and history are high on the agenda this season, and Puglisi was another Creative who employed some beautiful versions of Rennaissance old masters in his silhouettes. Why not? This is Italy.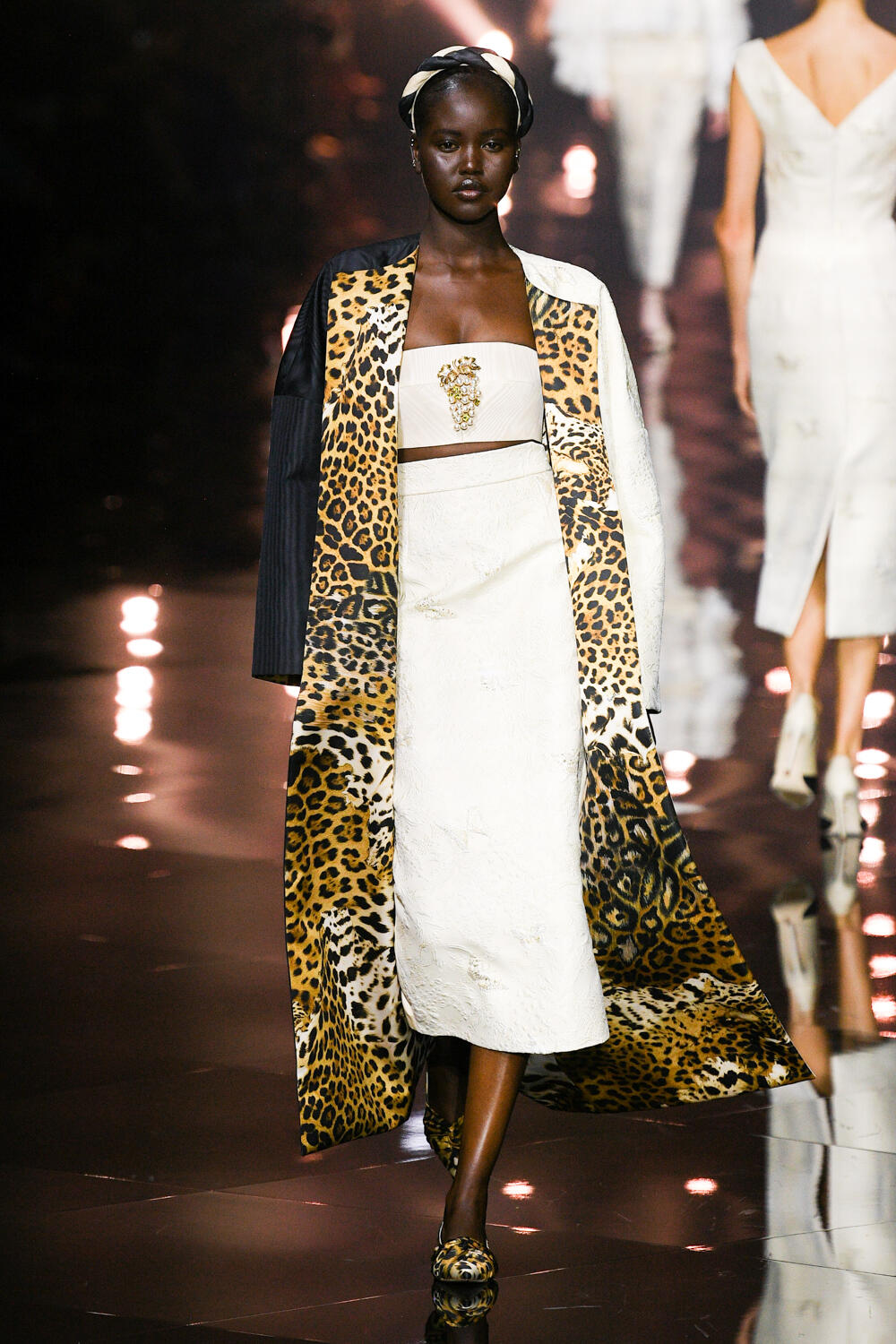 Those animal prints were there too in body-hugging all in one's, sharply cut blazers, and thigh-high boots, enough to satisfy animal print die-hards.
As for the play of color, there was a luscious combination of chartreuse and pink, enriched in pleated silks wrapped and twisted around a definitive torso, exposing just the right amount of flesh.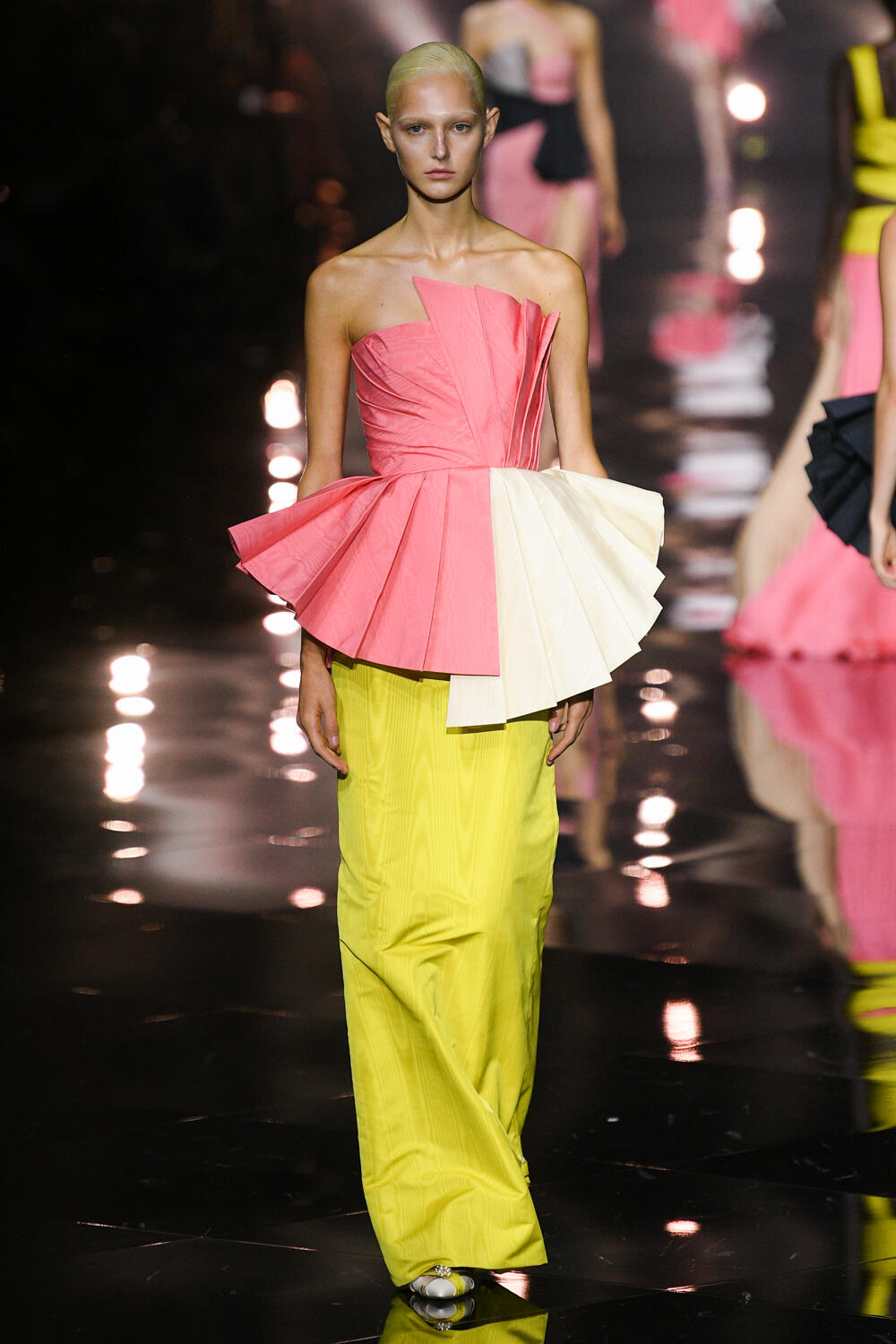 There was no end to the creative pieces that flowed from Puglisi's hand.
Sex is a powerful world in today's language, and as we have witnessed recently in other shows, it can traverse several interpretations. From overt to the provocative, in-your-face stuff, but in the hands of Puglisi, it becomes an image of beauty and pure Italian seduction.
---