---
Review of Shuting Qiu, Dsquared2, MM6 Maison Margiela, Emilio Pucci, & Philipp Plein Fall 2021 Fashion Shows
Amidst the Palimpsests of Commerce, a Newcomer Emerges with Vision
By Long Nguyen
On the penultimate day of Milano fall digital fashion week, Sunday in Milano means more commercial fashion taking space on the calendar. But fashion is always full of surprises, and here in Milano, that saying is not an exception, but a rare exception.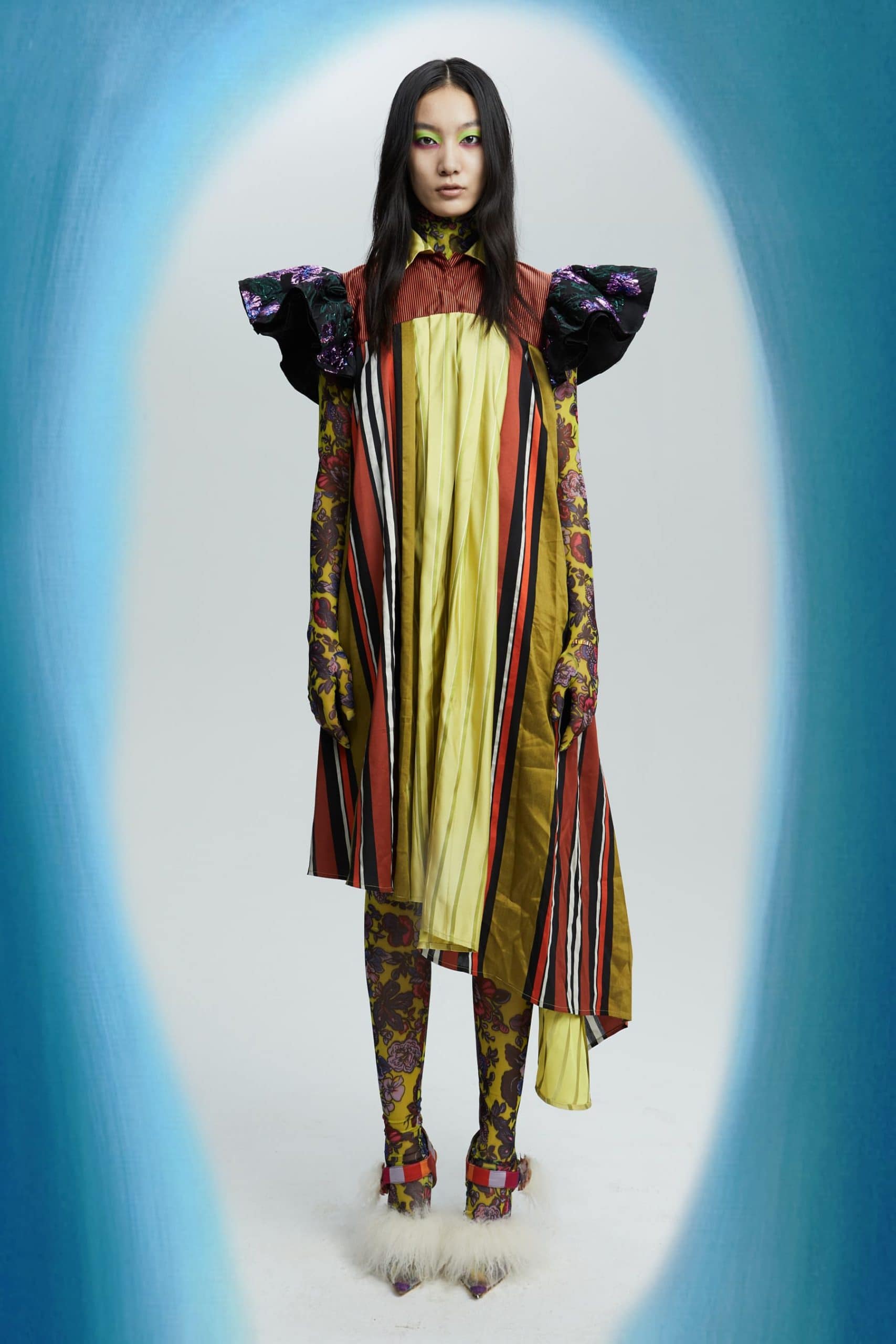 There is undoubtedly something about the two girls by the water in scenes from dawn to dusk.
'Water Ripples' is the short film directed by Fan Qing in collaboration with Nowness in Hangzhou made for Shuting Qiu's fall collection with two young women in different settings in front of a lake's waters, a river, or a sand seashore interacting in a day.
A graduate of the Royal Academy of Fine Arts in Antwerp in 2017, Shuting Qiu launched her label soon after and presented in Milano for the first time in September 2019 at the Camera's invitation. Qiu has not been back to Milano since that debut but has now revealed this four-act short film made during this lunar New Year two weeks prior in her hometown. Her BA fashion collection titled 'She Lives in A Wonderland' remains the source of her continue fashion work that pioneers the mishmash of strong pattern fabrics and experimental cutting. She recently completed her MA Fashion in June 2019.
"Shuting's daring, modern romantic signature work shines in similar contrasts, which, when inspired by Cahn's compositions, explode into a palette of fluorescent colors – bold shades of yellow, fuchsia, and electric blue" said the brand's Instagram describing this season's direction. By Cahn, Qiu means the Swiss painter Miriam Cahn, known for her intimate and haunting pastel and charcoal painting with a bend on feminist rituals, landscapes, and human figures often portrayed with color high-lighted lips, eyes, or genitals.
The designer juxtaposes these colors in her blending of fabrics and shapes and mixes different fabric materials on one garment with a particular aesthetic. For fall, Qiu refashions her now-signature asymmetrical frocks as in these short dresses, this time made from jerseys of orange side stripes, purple floral print, and red and blue plaid stripes or in a strappy red plaid and light orange jacquard paired with a white print floral mock turtleneck. Her tailored jackets are boxy shapes with folds at the bottom in red and white windowpane stripes or brown stripes single breast pantsuit with floral flap pockets. Bright eco-furs add to the collar of jacquard bomber puffer jackets.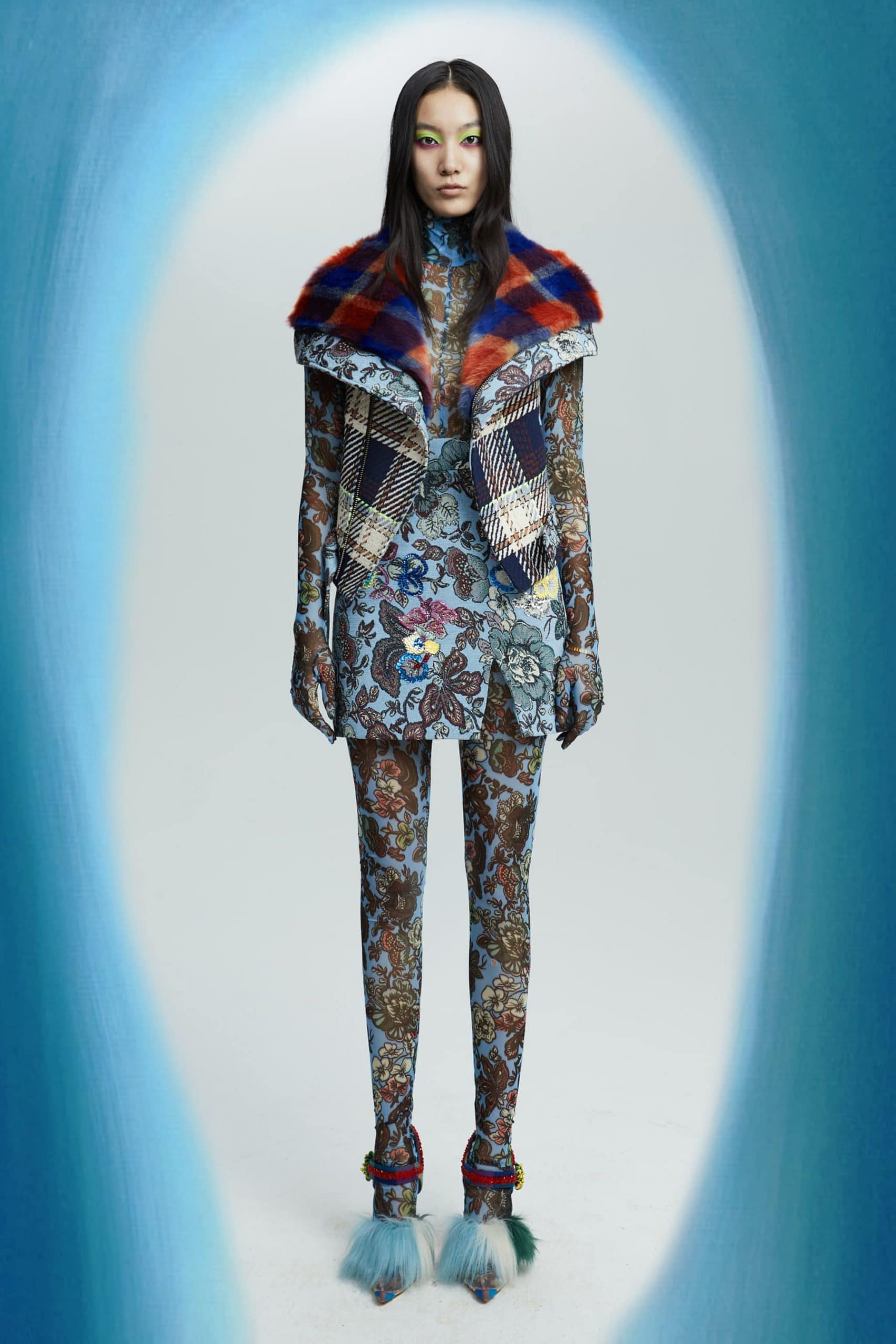 The pop star Jolin Tsai wore her clothes on the Ugly Beauty album cover and music video in early 2019, propelling Qiu to new fans in China. This July, Qiu released a capsule collection using her deadstock materials for Labelhood, the Beijing small boutique that stock only Chinese designers who have now transformed and changed the game for China's local designer market.
Shuting Qiu has time in front of her to further expand on her point of departure, with an already strong sense of the kind of fashion she is making and want to make soon.
Looking at the massive collection at Dsquared2, it becomes crystal clear that Dsquared2 isn't much of a designer fashion anymore. The brand reflects the commercial strategies and needs instead of furthering design initiatives of any kind. Again for this fall, the brand is still using the same formula with more or less the exact wordings of triple threads – "the Canadian outdoors, the metropolitan lifestyle and impeccable Italian tailoring" – in the creation of this "new-age storyline."
In recent years, the Dsquared2 brand deploys the same narrative seasons after seasons as a backing for their successful commercial formula, lacking anything else to say about fashion at this juncture.
Each season's clothing is more or less a repeat, perhaps in a slightly different colorway and a slight difference in fabrics but not much else.
This new fall collection for men and women contains cross-references of nearly every imaginable permutations of trends out there.
There are camel leather jackets with leather ruffle skirt, green pattern print short dress, camel jacket with painted jeans, silver sequins dress in yellow lace trims and floral puffer coat, bear motif wool cardigan, or an ice blue lace shirt dress and a brown leather coat. For men, there are shearling bikers with patchwork jeans, ice blue satin puffer coats with khaki pants, layered fox collar down short coat, slim black pantsuit, or an orange camo print parka with brown hiking pants.
Although marketed as such, these clothes are not exactly the kind of designer high fashion clothes. These clothes are the opposite.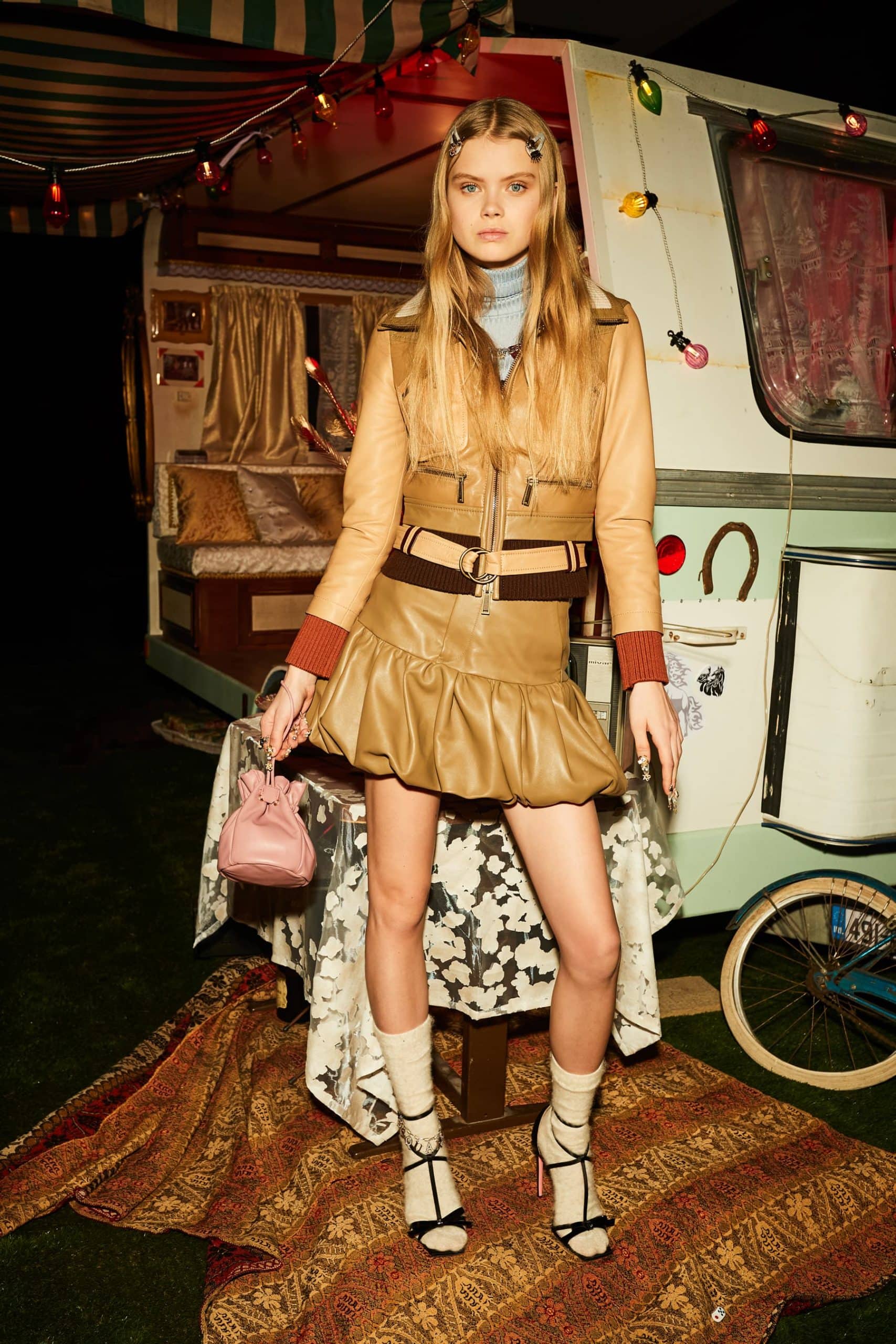 I remembered seeing Dean and Dan Caten shows when they first started in the late 1990s in Milano. Then, the twins' shows were excited as they brought a hyper-masculine point of view to their clothes with their tendencies to exaggerate the manliness attitude in their shows then. Today, the message they crafted for their well-made clothes no longer has any real points of view. Instead, each season, the clothes feel like another derivative of the same iterations. These clothes are far from the forefront of fashion designs or with any transgressive viewpoints.
"Revolved inside out, upside down, and back-to-front, traditional pieces reveal new design dimensions for a reborn wardrobe," was the statement from the design team at MM6 Collective for the film reveal of the house MM6 fall collection.
The film staged as in a Parisian cabaret, follows the dictates of the design team's thinking by starting with the finale with silver confetti falling from the ceiling. Shot at the Maison des Métallos in Paris, the short film begins with models walking backward, with one carrying a FIN sign as they restart the show with a pianist playing in the background.
In a literal way, the clothes themselves also follow this theme that binds the back-to-the-front idea to its logical conclusion. A black pinstripe pantsuit has the jacket only with backside and vent in the front and the back (a pullover jacket), a wool plaid coat is an inside out of the actual coat with the black lining as now the main fabric and a denim jacket and jeans are, yes, inside out showing the knowledge as the outside. The design team also turned a black felt wool dress inside out. Even the EastPak backpacks have double-sided 'back' straps.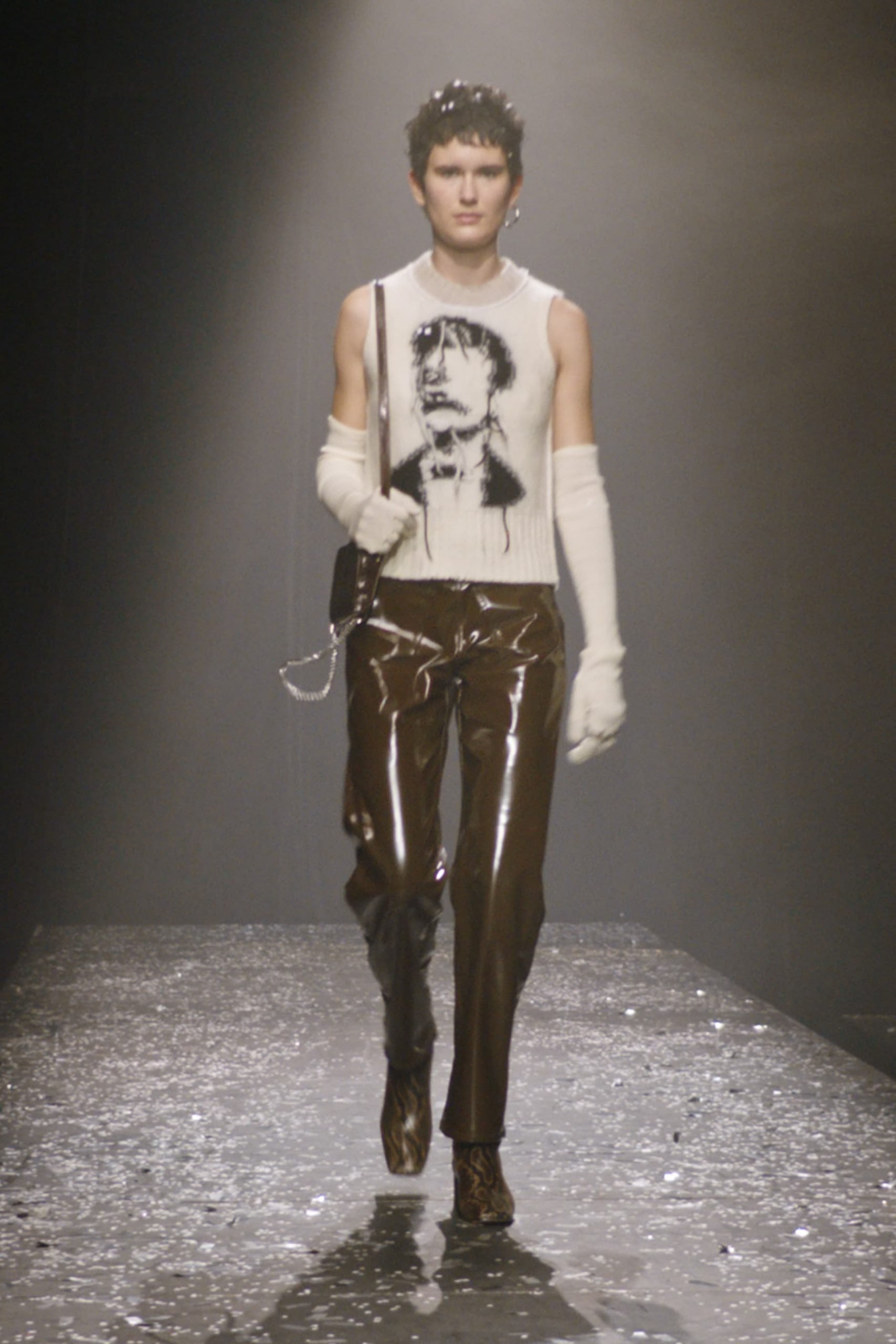 This theme of this MM6 film and the clothes tread on the familiar design territories laid out long ago by Martin Margiela with the deconstruction of actual garments to reveal their inner structures with the first show for Spring 1989.
While paying homage to Martin Margiela's work, this film show and the clothes lack the rawness that makes the founder's collection during his times revolutionary and served then as counterpoints to traditional couture. The design team merely replicates the past and past ideas with an array of new clothes but fails to add new ideas to these new clothes.
Worse, there are no suggestions of how Martin Margiela's ideas can be evolved and change differently, more than just another set of commercial garments made for another season.
Emilio Pucci opened his first boutique in Capri, the sea and sun destination, for his bright and colorful design that started when he launched his company in 1947.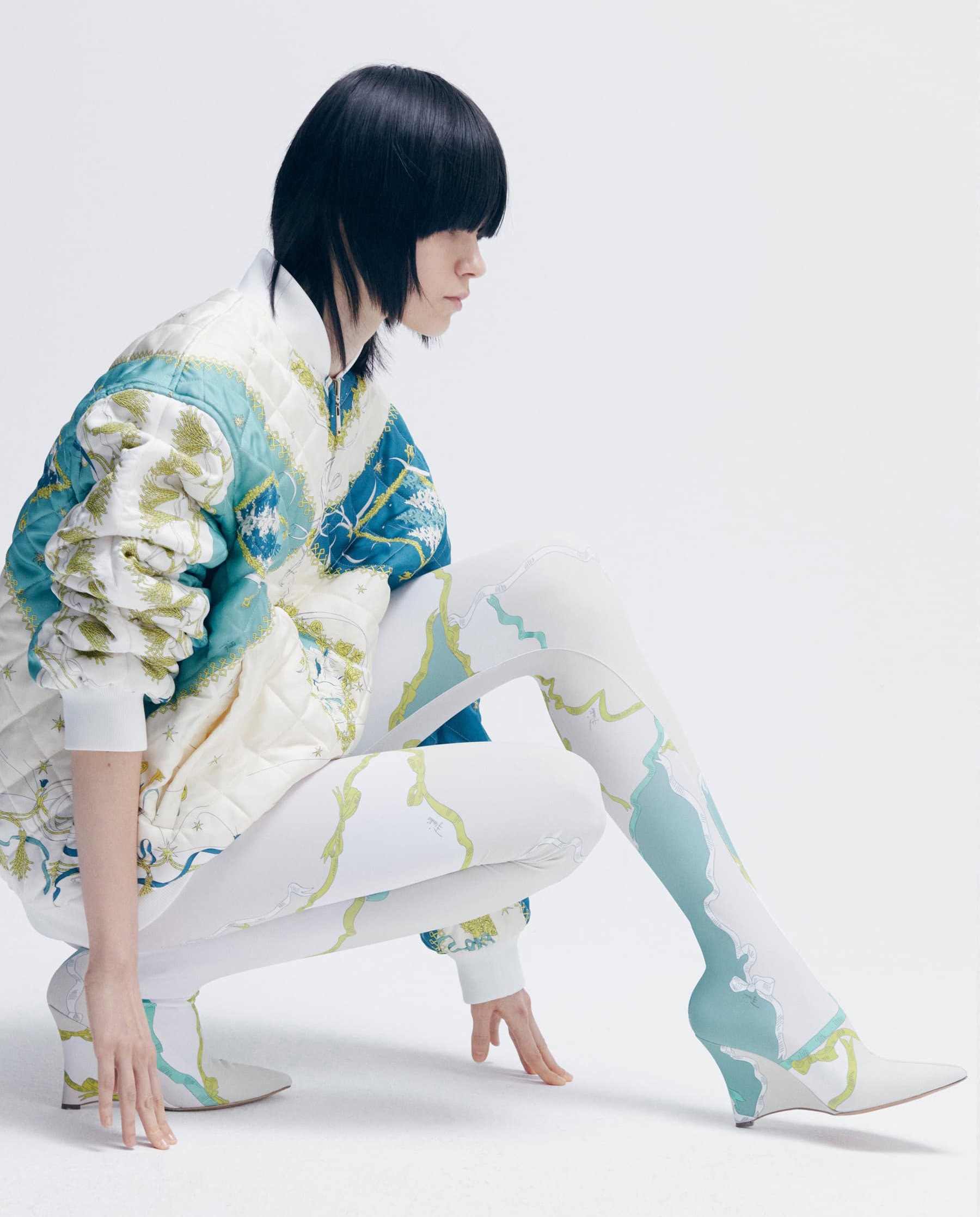 Now, the current design team carried on this tradition. The idea is of the lights of summer for a winter resort collections of tunics, quilted bomber jackets, pleated dresses, chiffon shifts, knitted mohair jacquard polo, and bodysuits made again in the hues of the original Cervinia, Specchi, Clessidra, Nuages, and Nappine heritage prints of the house. This commercial collection features a bright yellow wool coat paired with a light print tight jumpsuit.
Once the masters of grandiose mega shows, the designer Philipp Plein has indeed scaled down everything about his business. This new virtual reality presentation is another accommodation to this new reality.
Or now a virtual reality short film for the fall season has replaced those long gone mega shows. The new format is an inventive use of new technology in the service of fashion in a time of change. Antoni Tudisco is the mastermind behind this futuristic animation. The rapper Snoop Dogg featured in the video and made the soundtrack music with a special remix of 'Drop it Like it's Hot.' Think a few metallic skeletons to show off the new eyewear or the new Mega Star sneakers or Phantom Kicks handbags in place of a slate of supermodels.
Meanwhile, the reality of the clothes that Plein offers for fall isn't bad. They are full of merchandise types that Plein has always pushed for his collection regardless of locations or seasons of shows.
This time the puffer coats, the slim short dress, the fitted suits, the hoodies, the parkas, the tracksuits, the bikers, the faux furs coats, the evening dresses all came in the colorful mixtures of psychedelic prints, black and white tie-dyed, tartans, gold, and pink sequins, gold metallic and prints fabrics. There is even a black leather biker with Bugs Bunny embroidered in the back.
Plein's fashion is very particular and for a specific audience. But like it or not, it's hard to dismiss the designer's optimism despite difficulties. That is what fashion should be able to achieve.
---