---
Review of Sportmax Spring 2022 Fashion Show
The anatomy of music and dance.
By Lizzy Bowring


White space. The term does not mean a space with a blank background; it could be the space found inside and surrounding the other design elements. It's the background that holds the pieces together, enabling them to stand out. At Sportmax today, the white space was an open canvas for a quite lovely choreographed collection.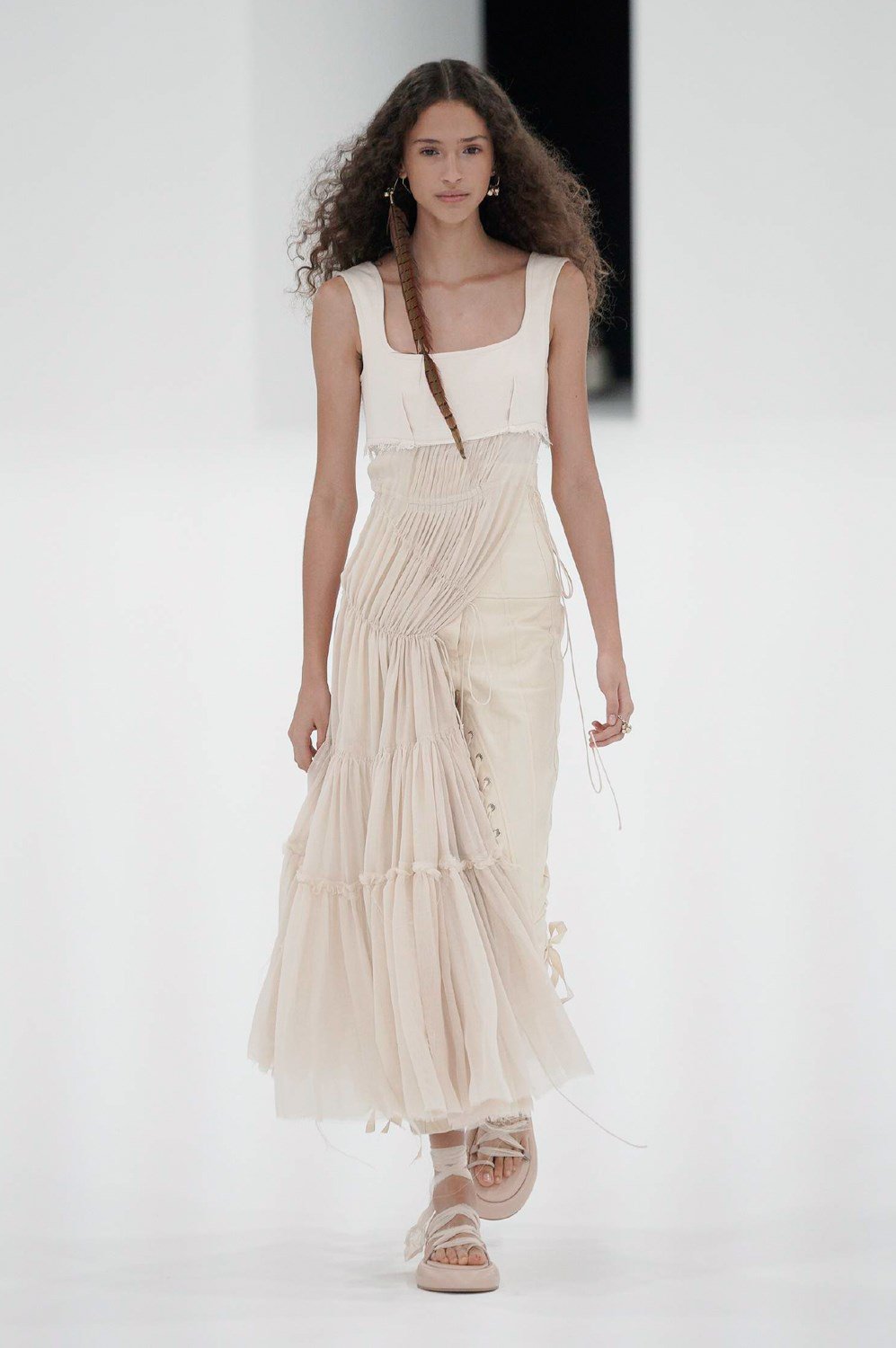 So let's put this into context, Malagoli (the Creative Director) looked to the musical legacies of John Cage, a leading American figure of the post-war avant-garde and the choreographer, Merce Cunningham. To this, Malagoli demonstrated a sense of escape within the realm of dance and music.
Against this pure backdrop, silhouettes came to life. The first shape in the most pristine virginal white was a showcase for the immeasurable craftsmanship of her collection.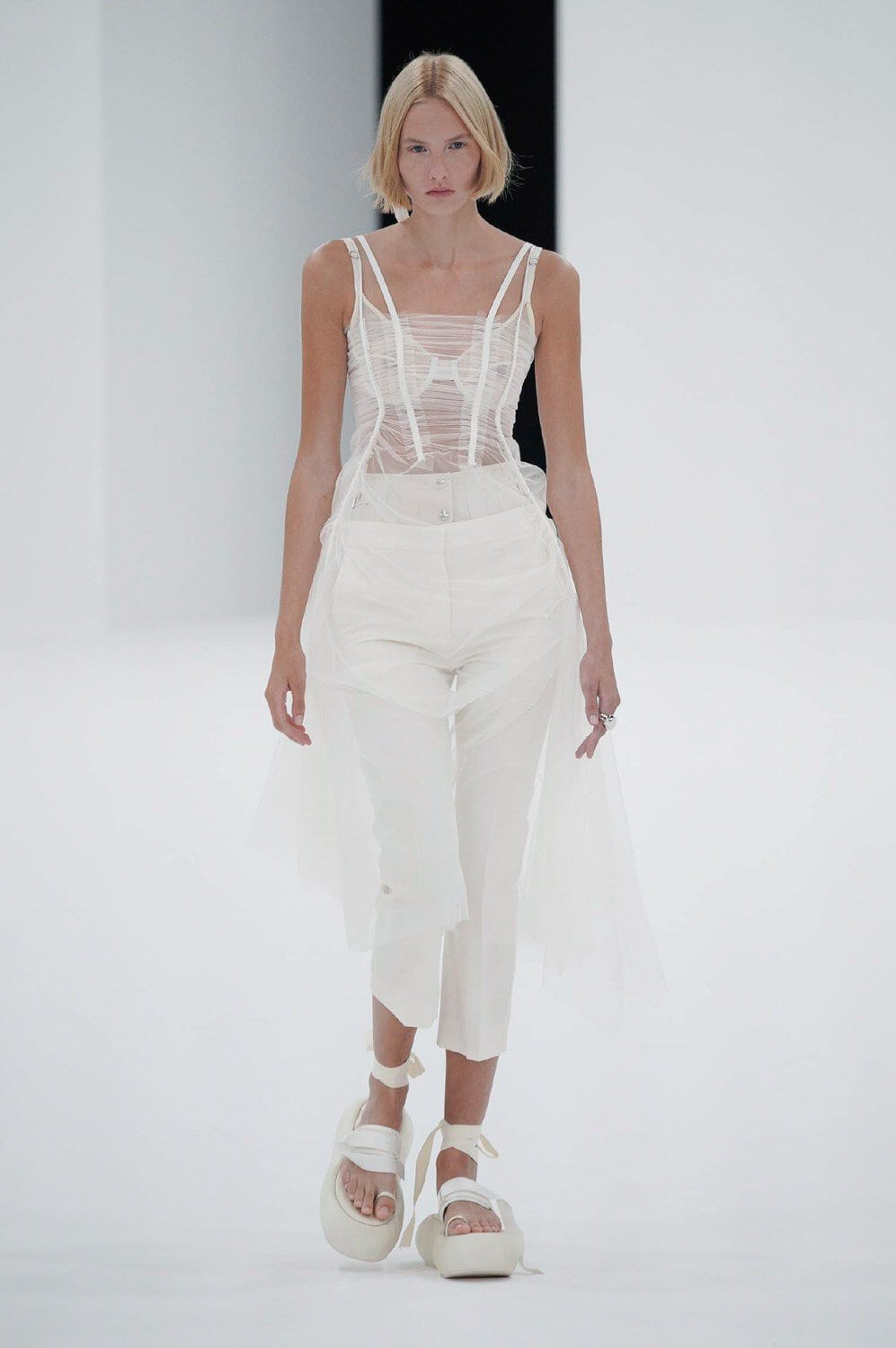 Where volume was controlled, shapes embraced the body, whether through delicate corsetry details or a drawstring pull. Materials were fine, allowing the manipulation of shape to come to the fore.
Here, the designer used featherweight gauze, georgette, and tulle in luxurious contrast to the down to earth consistency of leather, satin, and cotton. Knitwear underscored the influence of music and dance – from solid colour to sweet florals in body-shaped leggings and asymmetrical off-kilter tops. The contrasts were infinitely choreographed. The solid colour against sweet florals. Rigid construction against soft, ethereal manipulation.

These rigid complexes were seen in the jackets, where the confines of darts and seaming held shapes together and exaggerated the full volume in the sleeves and shoulders.
Once again, showcasing the exquisite bespoke architecture of Malagoli's masculine tailoring. There were no buttons to these jackets, just a ribbon tied in a feminine bow.
There was a note of controlled abandon in the sheer dresses – point in case, look three, rigid cotton used in complete contrast to the gathered skirt, cleverly manipulated with strategically placed drawcord.
Yet, underneath this layer, corsetry-laced trousers came in their most original form. The footwear was equally diverse with that underlying reference to dance – flatform shoes laced with ribbon –a modern but not so practical form of the ballet flat.
And to add to this idea of dance, the colour palette of ballet nudes, whites and ecru was a beautiful and compelling contrast against the shades of orange, fuchsia, light blue, yellow and lilac.
Before the show, we found ourselves discussing the merits of the Max Mara brands and what sets them apart in the landscape of Italian crafted brands. Attention to detail, quality craftsmanship, adhering to the brand DNA, knowing who the customer is. Sportmax was born to satisfy those specific needs and, in particular, those of the new generation. Grazia Malagoli understands how to choreograph the brand with those needs.
---