---
Review of Thom Browne Spring 2023 Men's Fashion Show
Playful Provocation
By Mark Wittmer
Spring 2023 saw Thom Browne add another, particularly playful chapter onto his signature questioning of formal menswear traditions, injecting flirtations with campiness and punk into his familiar tailoring wardrobe.
The runway show began with a sort of practical joke as a woman dressed head-to-toe in Thom Browne (not an unusual sight at one of his runway shows, as his many fans are quite committed – it seems that if you wear Thom Browne, you wear Thom Browne) made her way down the runway, loudly apologizing for being so late and looking for her seat. A fashion faux pas to be sure, until this event repeated itself five times.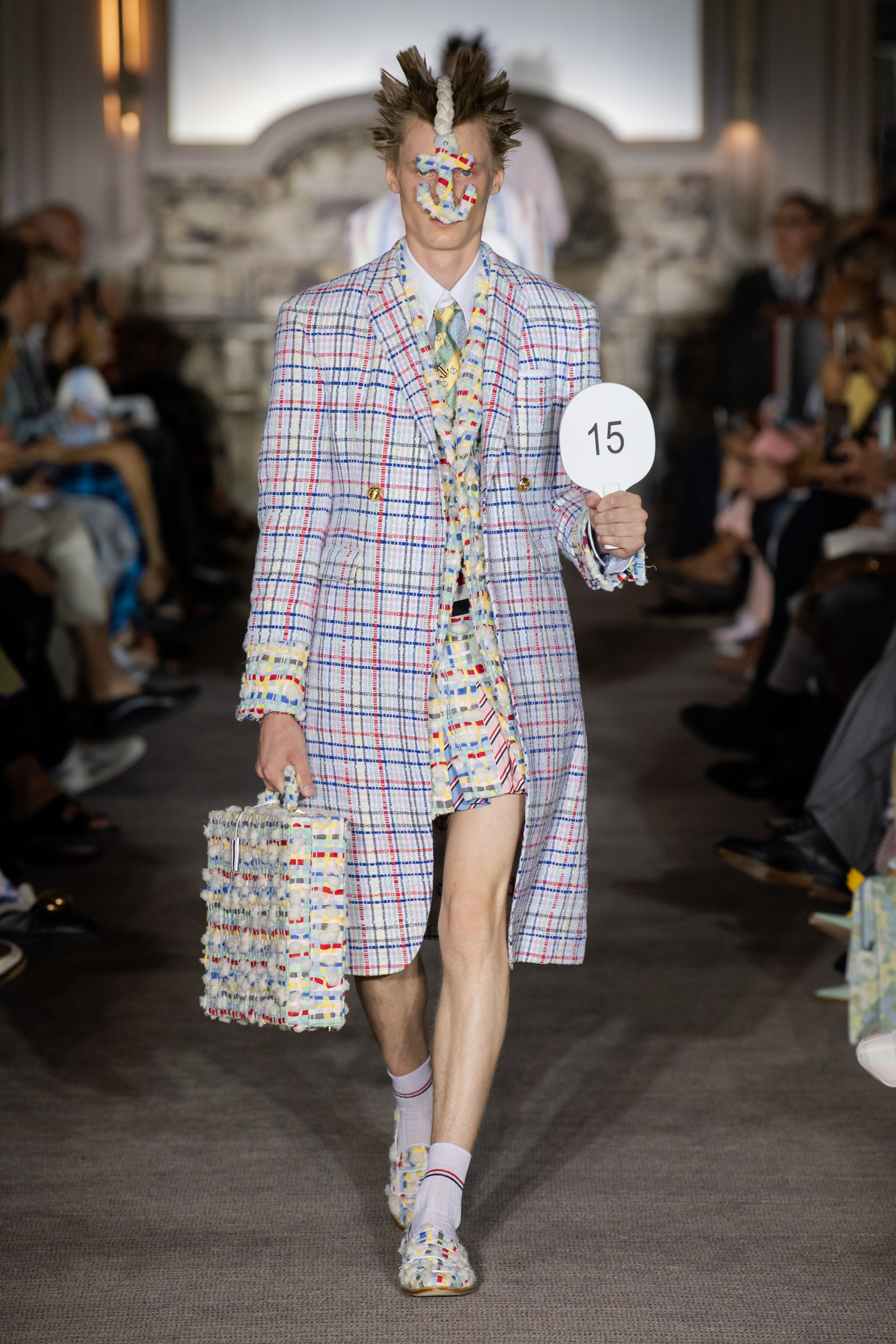 This wryly self-aware act of fourth wall breaking set the tone for a collection that gleefully infused the provocative into what is perhaps the least provocative thing in dressing: classic men's suiting.
Coarsely woven tweed (a nod to or sendup of Chanel, perhaps?) in gaudy Easter-egg colors (in addition to the more expected white, red, and blue) was the characteristic fabric of the collection, taking shape across overcoats and too-small TB blazers often with unfinished hems and edges or loose threads – a notable departure from his typical crispness. The colors felt deliberately camp, throwing our expectations of the designer's austere signature gray, particularly combined with the rawer nature of the finish. Gender fluidity isn't new for Thom Browne, and this season in particular saw a number of skirts, dresses, and even a bikini top.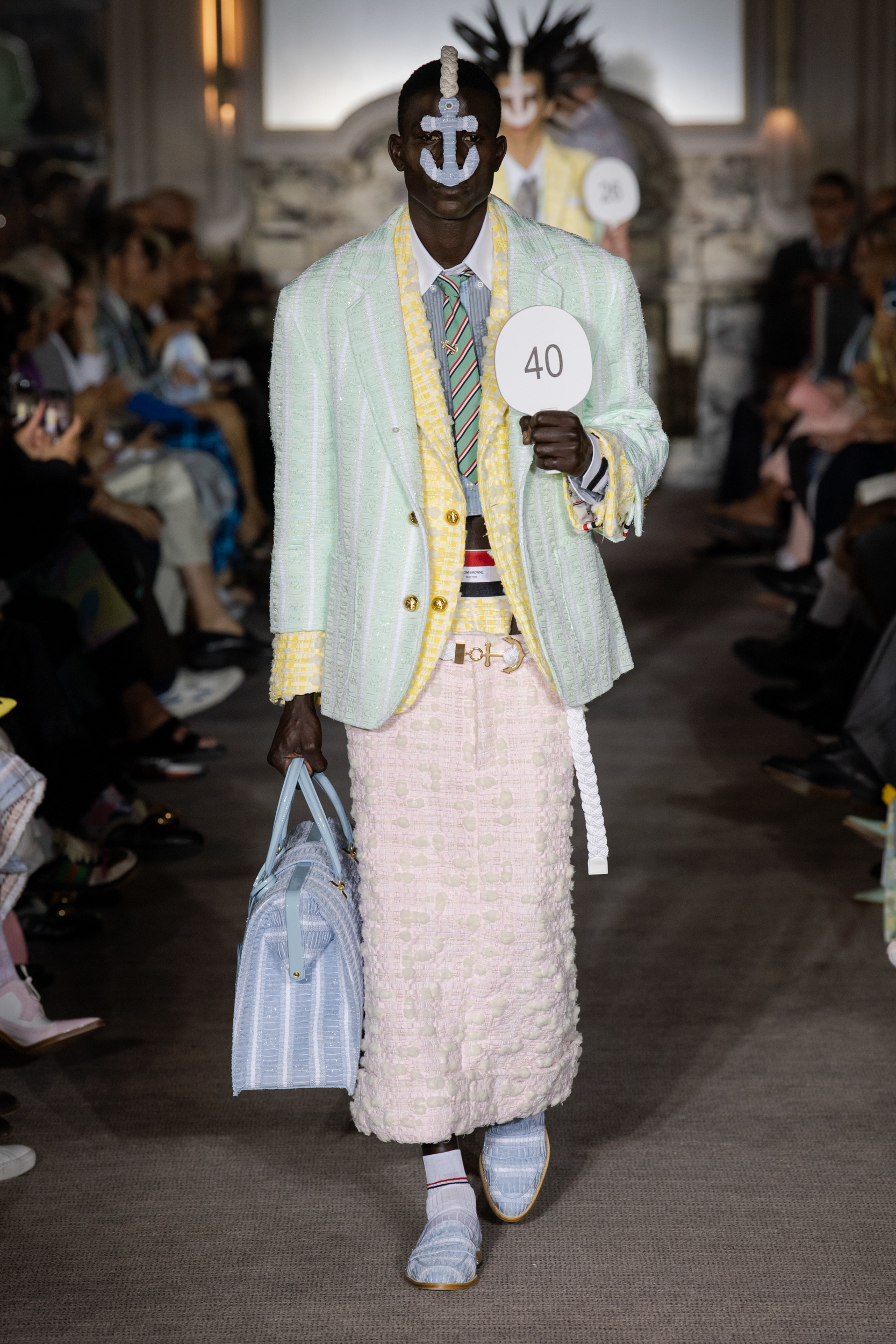 But certainly the most provocative aspect of the collection was its sense of exposure. What felt like the key design idea of the collection was its bottoms: pants, shorts, and skirts with low-slung waistlines held up by built-in jockstraps that offered a tantalizing window to some male butt cleavage – even some of the most diehard Thom Browne fans in the audience seemed scandalized. Perhaps the men's suiting revolution is accelerating too quickly for them?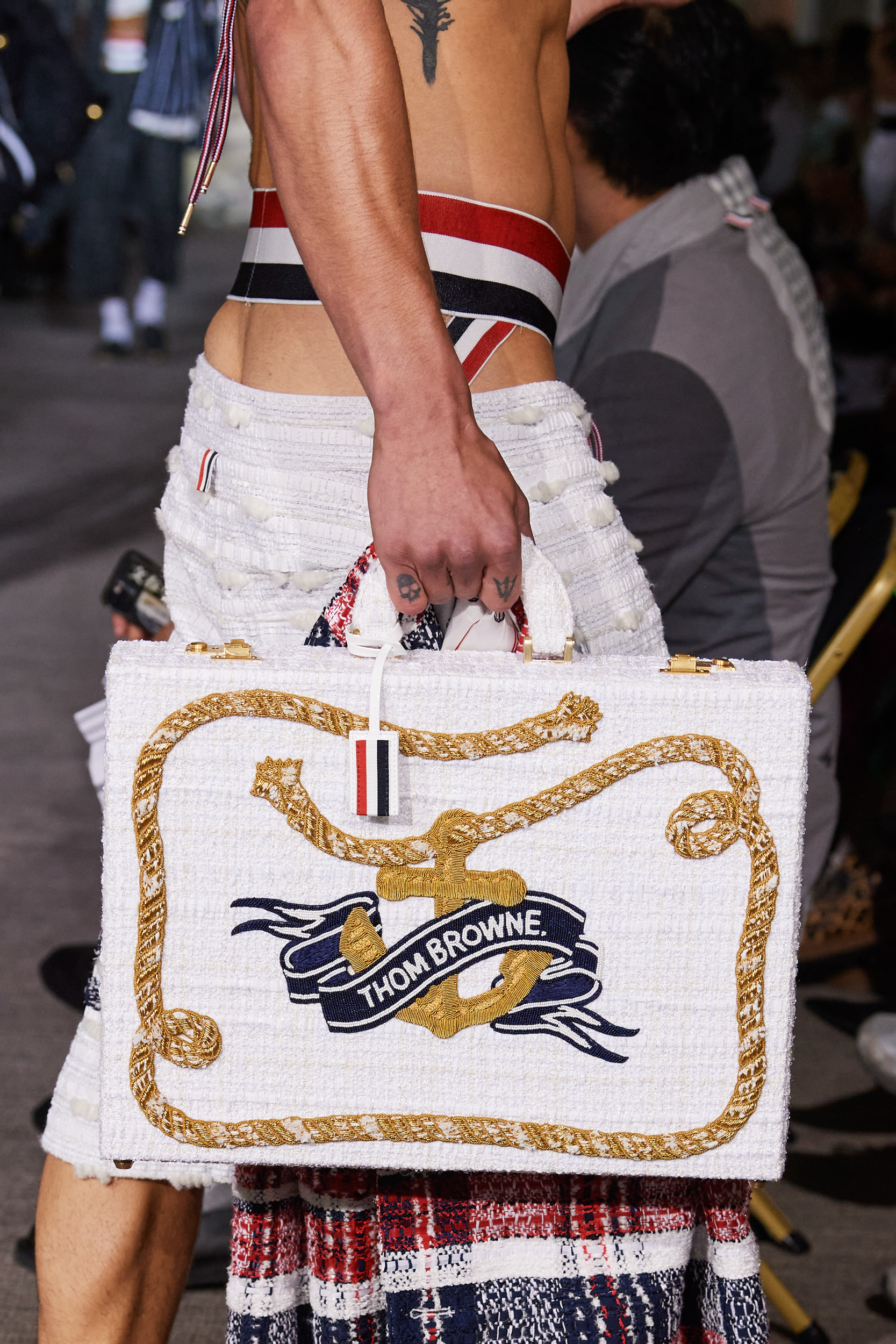 Though punk and luxury will always be at odds (while its values may be morally demanding, punk is inherently economically inclusive, anyone can be a punk, and luxury is inherently exclusive), the aggressively spiky hair styling drove home the point that this collection was channeling a confrontational, punk-adjacent spirit. Almost moving into the territory of self-parody, Thom Browne celebrates the craft and tradition of bourgeois menswear while mirthfully taking it down a few notches, interrogating it through the avenues of kitsch, rebellion, and body-positive sexuality.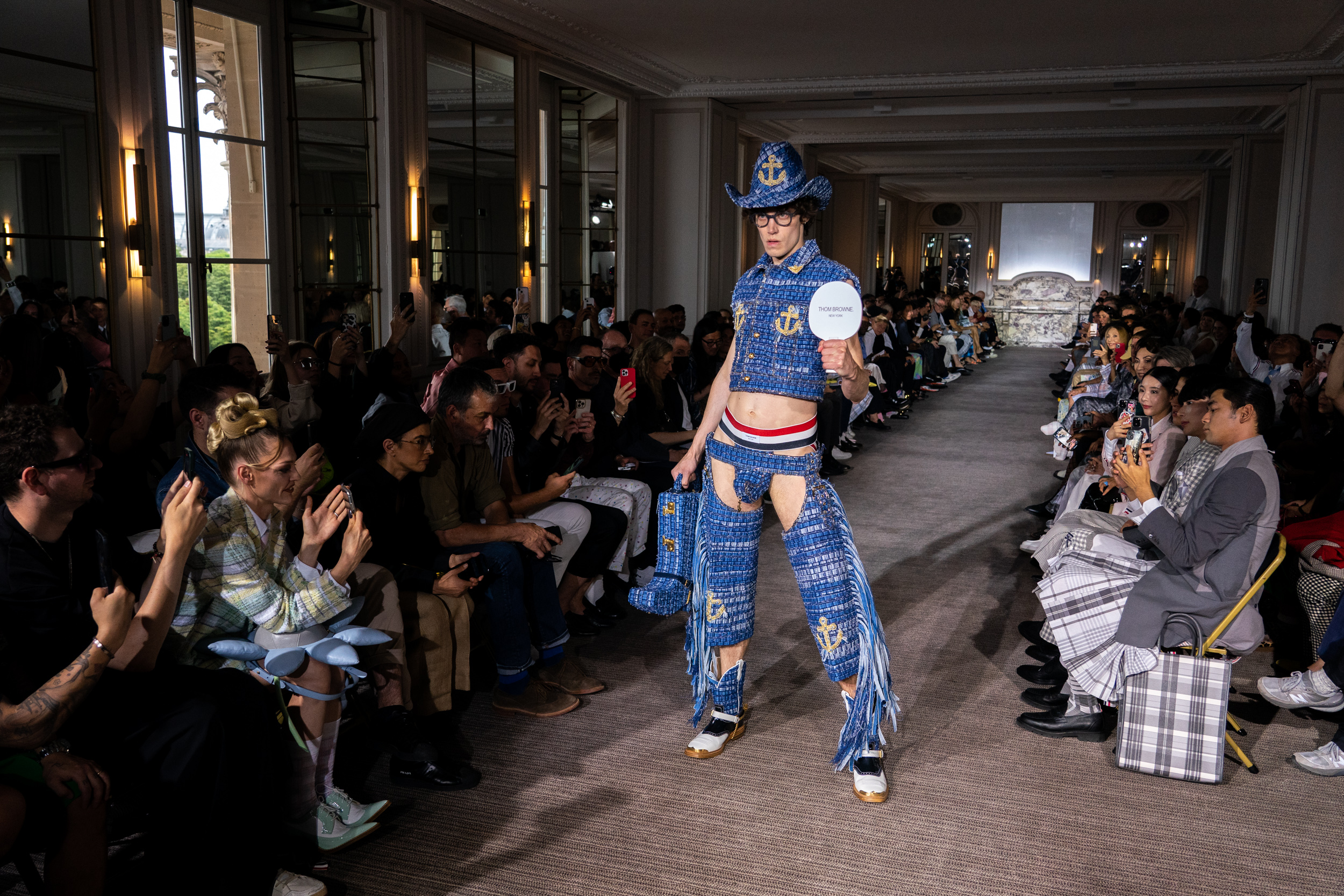 While the menswear mainstream may be slow to catch up to such audacity, it's great to see a designer with such a keen understanding of craft and tradition work to move the needle in a more fun, inclusive, and imaginative direction.
---