---
Review of Undercover Fall 2021 Fashion Show
Conflicts, Emotions & Exuberant Beauty on the Surfaces of Pajamas and Ruffle Roses
By Long Nguyen
When the Japanese designer Jun Takahashi enrolled at the Bunka Academy of Fashion in Tokyo in 1988, he spent some of his spare time as the lead vocalist for the local punk band The Tokyo Sex Pistols.
While still in school, Takahashi launched his brand Undercover and continued the label after his graduation in 1991. Two years later, he opened the influential store Nowhere in the Harajuku district, working together with the record producer/entrepreneur Nigo. Takahashi sold his hand at the store-made 'punk' tee shirts while immersed in the Tokyo youth culture scene. 
Undercover started showing in Tokyo in 1994 and then onto Paris in 2002, taking Rei Kawakubo's advice. In Paris, the Undercover brand garnered niche followers for its unconventional approach to fashion with collections themed around taxidermy ideas, Stanley Kubrick's Clockwork Orange, twins, and manga. In 2018, Undercover announced the brand would stop the official showing of its women collection from focusing on menswear, regulating the women's showroom presentation in place of a live format.
The punk spirit and its aesthetics have always been at the center of Takahashi's fashion universe. It has always been an authentic affinity before there was a translation into making clothes. Many other designers have passed through the punk route more as a transit to different destinations than a more ingrained and deeply felt personal attribute. 
Takahashi's early collections primarily showcased the prominent and recognized accouterments of a known punk ethos, like deconstructed and partially ripped up clothes that included shredded and patched leather jackets and tee shirts. For his 30th anniversary this year, Takahashi revisited the leather sleeve down biker jacket in collaboration with other brands Kolor, Sacai, N. Hoolywood, Takahiromiyashita The Soloist, Frgmt, and Valentino that included a partnership for their Spring 2020 Paris men's shows.
Takahashi's affinity to punk aesthetics isn't just a mere proctological examination of the fashion-culture movement's sartorial practices.
Embracing punk's habitual destruction of established ideas allowed the designer to reexamine the fashion process and ideology to give his clothes meanings deriving from a unique and fantastic vision unfettered by commercialism. 
In a stellar narrative of lost innocence told in vignettes for the Spring 2015 show in Paris, Takahashi was at once a masterpiece of storytelling via the precise crafting of clothes like a light camel-like biker jacket with blue fringe plume short sleeves and layered blue tulle tutu skirt. 
Championing fashion design working in total freedom and absolute respect for creation coupled with a rebellious sensibility against norms are the Takahashi principles replacing the ripe clothes of yesteryears. Designers must be able to foster the pursuit of the aggressive freedom to create in fashion. 
Jun Takahashi said the following in an email note about his fall show titled 'Creep Very.' 
It is the hope we have for what lies ahead of our daily worries and anxieties. It is a worldview for individuals in today's society who live each day with constant conflicting emotions. It's a different perspective from that of clothing design, but it would be an honor to have you feel and understand this.

— Jun Takahashi, Creative Director of Undercover
To be clear, the question to ponder here is precisely what the designer is asking and what he is trying to accomplish with this spectacular collection that has its powerful gravitational pull resting on each of the looks as the model came out. The spotlight shone on each for a brief moment, then they disappear again into the darkness inside a concrete warehouse Terada in Tokyo. 
Translating emotion into clothes or making the kind of clothes that provoke an emotional reaction is, in my estimation, one of the most challenging tasks for any designer to accomplish at any time. Meeting all these tangencies all at once is often elusive.
These fall clothes suggest an answer to the designer's quest. The vestments act like interconnected verses of a longer poem here in two separate but related sections. 
The first segment, a men's show portion with music mixed by Mars89, opened with a vignette of the image of comfortable at-home dressing – simple home-bound looks of cardigan and pajamas worn by models without shoes, just thick wool socks as they meandered around the circular spotlights.
The clothes display the uncertainty – is it a cardigan worn over the red polka dots or light green print pajama or a trompe l'oeil cardigan built into the pajama top, reflecting the anxiety of the past year. The merged cardigan-pajama as if clothes themselves have absorbed the person wearing them, then separated into long hand-knit light pink cardigans over the pajamas.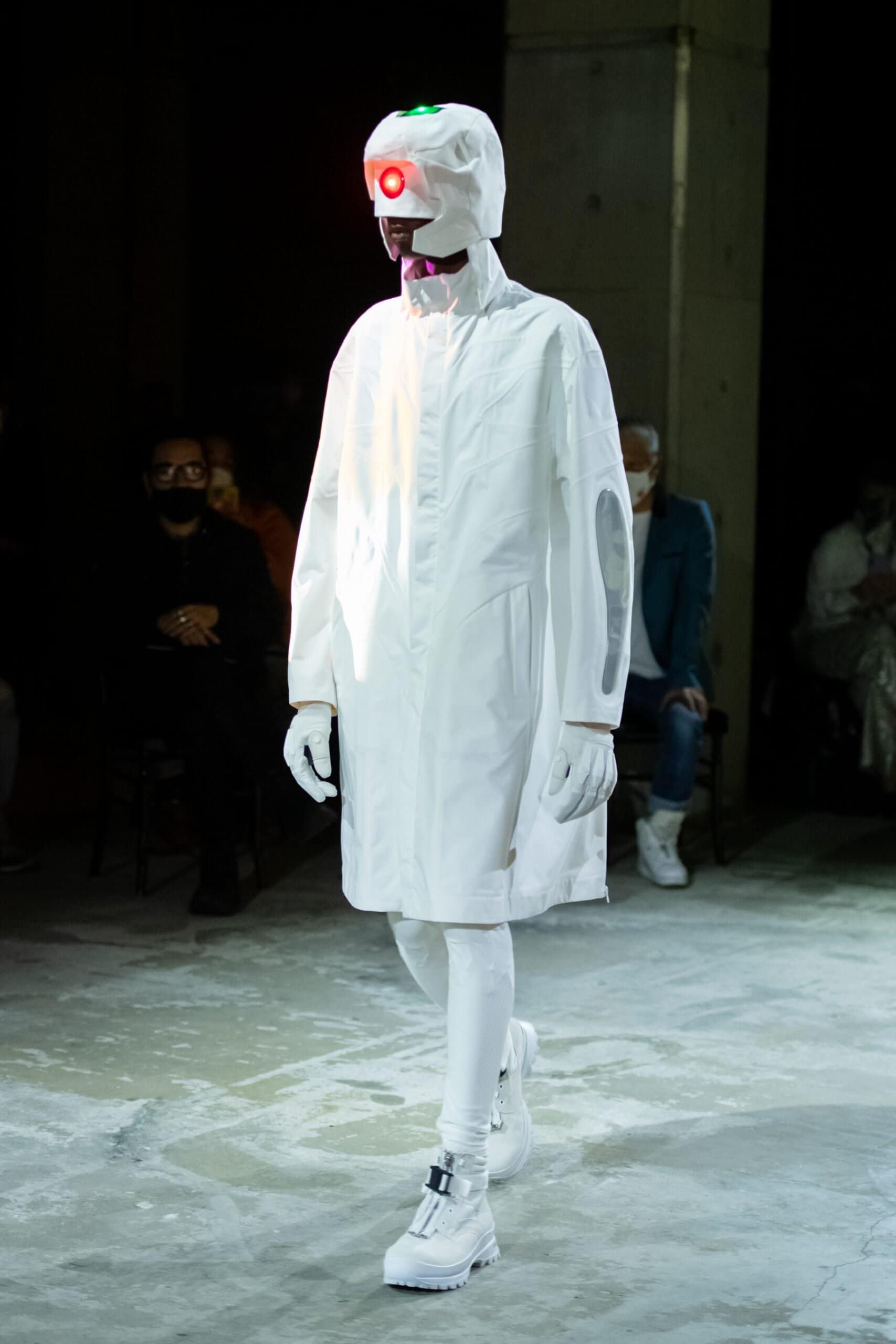 Behind the models are the projections against the images' concrete walls from the Japanese mecha anime series Shinseiki Evangelion (New Century Gospel/Neon Genesis Evangelion) broadcasted on TV Tokyo in fall 1995. This mecha anime series told a young boy named Shinji Ikari in a fortified Tokyo post-world apocalypse. He became a recruit to pilot the giant bio-machines 'Evangelion' to combat the evil beings.
Protection in Takahashi's hands called for black or white wool nylon knee-length coats with matching headdress mimicking the mechas' heads with attached small automatic lights. Then came a series of 'Evangelion' pattern puffer coats and ended with black tailored coats, a few with anime graphics like a black flare coat with the white hand-drawn figure. 
It is as if Takahashi is saying with this final look with the anime character incorporated onto the black flare coat that a few may have succeeded in combatting 'evils' as they were in the cartoon series from more than a quarter of a century ago.
Pajamas attached to the body became detached as a separate humble homespun knit long cardigan, perhaps the designer way of indicating a first step in the wearer's movement towards greater self-control. Yet this image of pajamas and cardigan offers at best the embodiment of innocence and fragility as well. The world in front of us is constantly changing and changing fast. In this show, the world behind the models is as threatening.
After a very brief intermission in the dark, the women's collection show was a relatively straightforward affair that resembled the men's look book presentation in late January. Then, Takahashi showed a more commercial men's collection that featured the artwork of the Swedish figurative artist Markus Åkesson whose paintings straddle the intersection of symbolism and magical realism.
The artist's 2015 painting The Mask (girl with veil) appeared as photo prints on parkas and anoraks. Takahashi first worked with Åkesson for fall 2014 womenswear that featured the photo print of the painting The Woods (Insomia, 2013) on the back of a giant black scarf close with a large bow top of a black coat.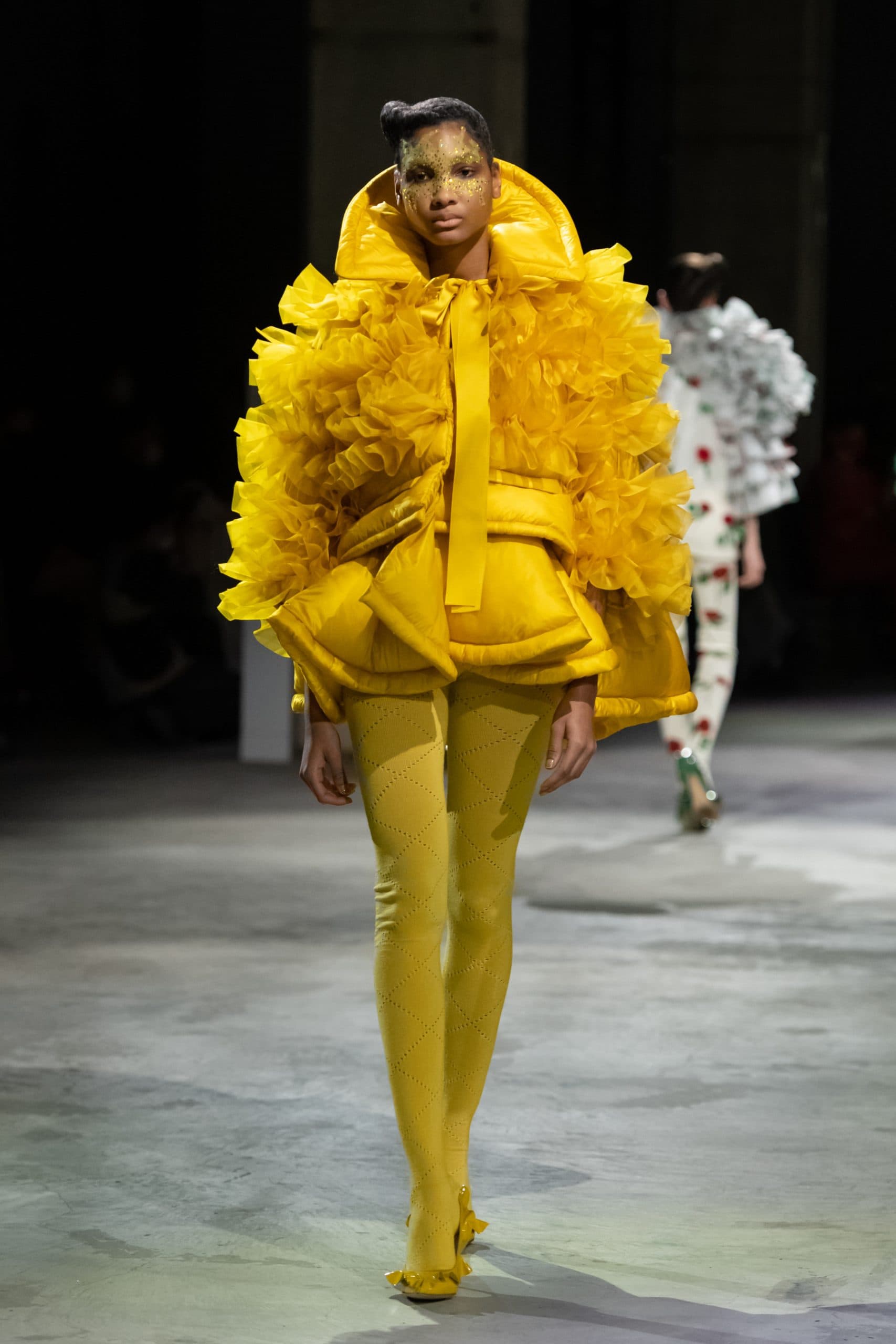 Takahashi is a master at rendering the plainest garments into elegant clothes. A white wool varsity jacket and the pant has a long forest green silk bow attached to the side pocket, or a red puffer has only its sleeve now sewn in with a half of a cropped jacket with a silk fabric pressed into floral pattern neckline. Or a bright yellow down parka coat has yellow tulle ruffles. 
The Åkesson paintings with butterflies become the print motifs on the range of outerwear and even a dark green double-breasted coat pantsuit. A simple white nylon zippered anorak with short stem roses sewn onto the coat with ruffle rose print sleeves and neckline worn with a white knit rose legging pant closed the show begging the audience for an emotional response. If not, the white rose anorak is a fine addition to any woman's wardrobe. And for the guys, what's not to like about a pale pink hand-knit cardigan coat paired with a light green flannel pajama pantsuit. 
While the show provided fodder for thoughts, Takahashi's Undercover is grounded in the reality of making and selling clothes to young people, clothes that come with a concept. 
Besides Undercover, Takahashi has an on-going relationship with Nike since 2010 under the Gyakusou performance running collection and the UU label with Uniqlo, extending his aesthetics to a bigger audience.
---