Review of Versace 'Dylan Purple' Fragrance 2022 Ad Campaign by Kevin Tekinel & Charles Levai, Film Director Gordon Von Steiner, and Photographer Carlijn Jacobs with models Iris Law and Kit Butler
Versace floats among purple haze in a new campaign for its Dylan Purple fragrance. The campaign featrues creative direction from Kevin Tekinel & Charles Levai, film direction by Gordon Von Steiner, and photography by Carlijn Jacobs.
One of the latest additions to the Versace family, Iris Law first appeared in the brand's "La Vacanza" summer campaign, and here follows it up with a new outing that checks all the boxes of a Versace fragrance campaign: beaches, bikinis, bare skin, dreamy club beats.
I love Iris. She has carved her own path. She has an amazing spirit. She is gorgeous, smart and a little bit wild…. A true Versace girl. For me she is the perfect face for our fragrance. She brings it to life with great personal style, energy and fun."

– Donatella Versace, Versace Creative Director
While the film follows a familiar narrative of summertime seduction threaded with typical fragrance campaign techniques like a husky voiceover and closeup shots of bare necks, Von Steiner also includes some vertiginous, swirling shots where his camera does impressively agile moves, turning upside down or twirling along the ground, creating a more energetic rhythm than we're used to from this kind of campaign. Meanwhile, the styling and set design serve as subtle yet constant reminders that we are in a world entirely Versace.
Jacobs' accompanying still photographs push the omnipresent purple carried over from the film and the fragrance packaging itself, finding in Law's glistening skin and heavy eyelids an emphasis on bodily sensuality while enshrouding us in a purple haze.
Another heady entry in the Versaceverse, the campaign successfully hits all the beats of a subliminally intoxicating fragrance ad while putting them to work for a very Versace – and very purple – vision.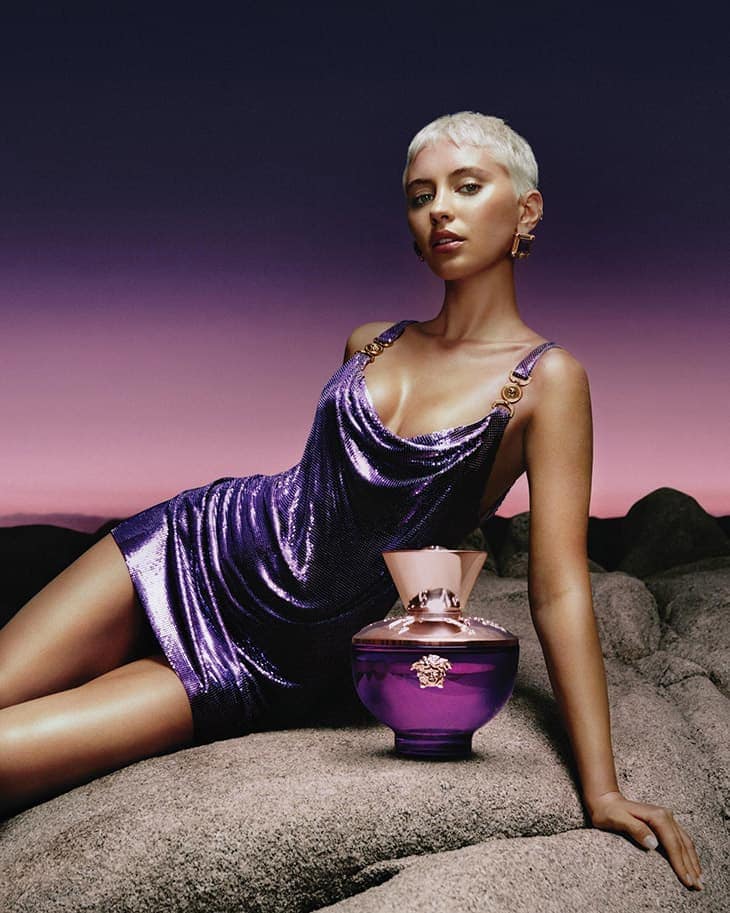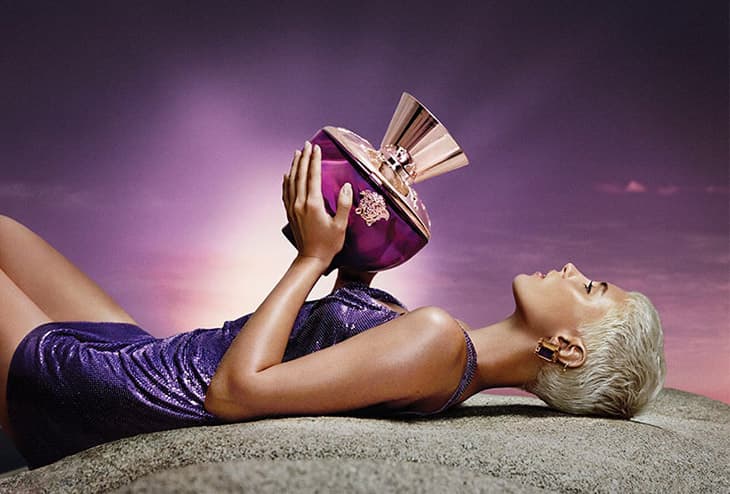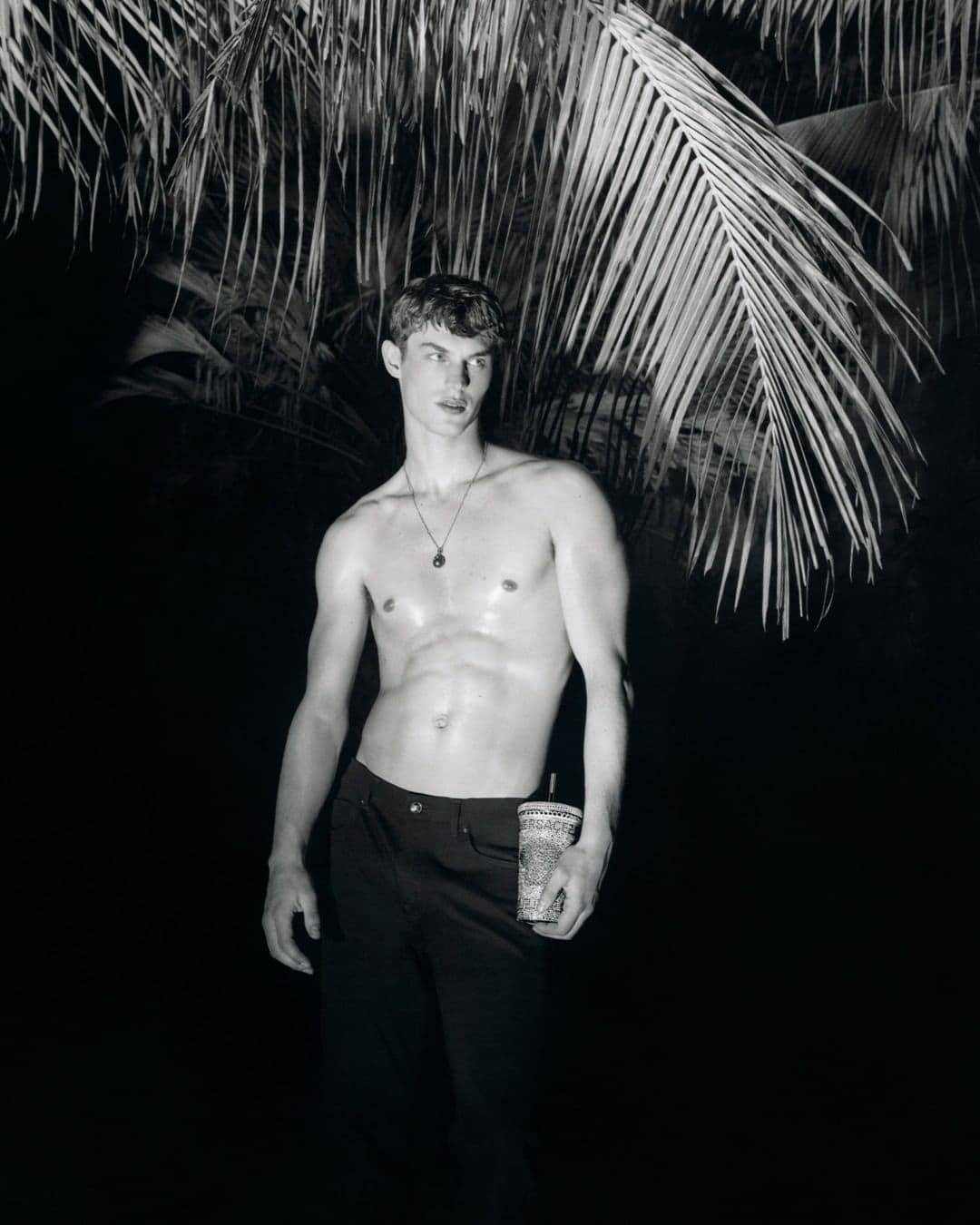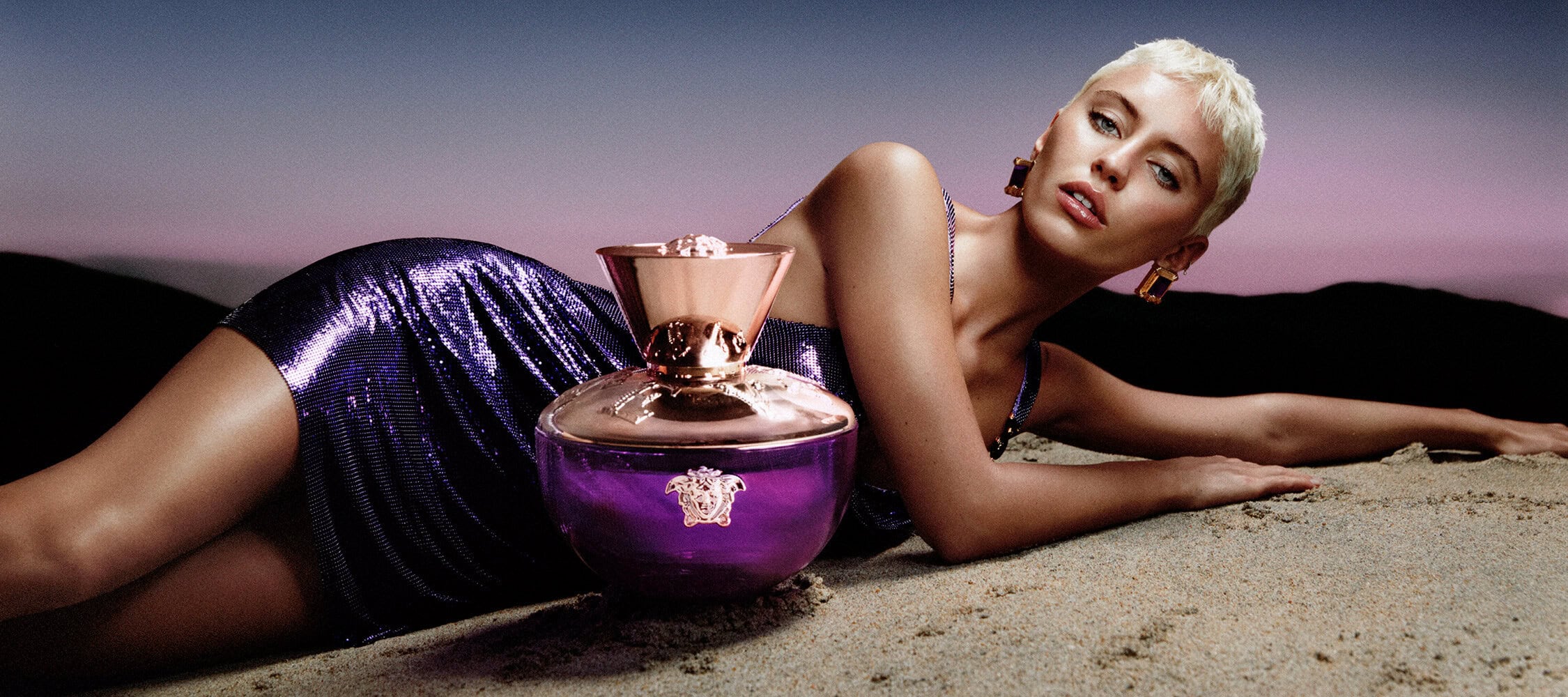 Versace Creative Director | Donatella Versace
Creative Directors | Kevin Tekinel & Charles Levai
Film Director | Gordon Von Steiner
Photographer | Carlijn Jacobs
Models | Iris Law, Kit Butler, Alex Consani, Oscar Davila, Allan Estrada, Sergine Lam, Kenia Martinez, De'laney Ortiz, Fernanda Vega
Stylist | Allegra Beck
Hair | Karim Belghiran
Makeup | Porsche Poon
---