---
TikTok: every brand wants to be on it; not many understand it. Here are our insider tips…
First, the bit you already know: TikTok, the video-sharing social network owned by the Beijing-based ByteDance, has been one of the hits of the global lockdown. Thanks to a bored and captive audience – and its emphasis on short, simple, video-based creativity – figures have skyrocketed. The most current stats from Omnicore (dated from February 2020, just as the effects of Covid-19 were having an impact) reveal 800 million monthly active users, with 1 billion video views per day. Having dominated the Chinese market, the demographics are increasingly shifting towards the West: it is the most downloaded app on the Apple's App Store active, with users in the US surpassing the 30million mark.
With an engagement rate of 39%, and daily dwell time of almost an hour, there is clearly an opportunity here – and, naturally, marketers want a piece of those numbers. But, with its focus on dance routines, lip-syncing and comedy skits, it's not obvious where fashion brands fit in – or even if they should.
Looking at some recent case studies, however, it's clear that some high-end luxury labels have hit the right tone for the TikTok community. The need to engage directly with one's audience has never been more vital, and with fashion shows canceled or postponed (and restrictions meaning fewer people get to see billboard campaigns), social platforms like TikTok allow brands to both showcase themselves and communicate with their customer base.
Broadly speaking, there are two ways a brand can connect with their on TikTok: organically, by starting and running their own TikTok account; or via a number of paid-for ad formats.
It's worth first exploring a few brands who seem to be doing things right:
Dolce & Gabbana (138k followers); Moncler (34k followers) and Ralph Lauren (190k followers) have all embraced the format, utilizing popular memes and filters in entertaining and accessible ways. One particularly popular post from Gucci (349k followers) is informative in how it embraces the humour and playfulness of the platform without compromising on their brand values: their 'two grannies' video resulting, using the hashtag #AccidentalInfluencer, delivering 350k 'Hearts'.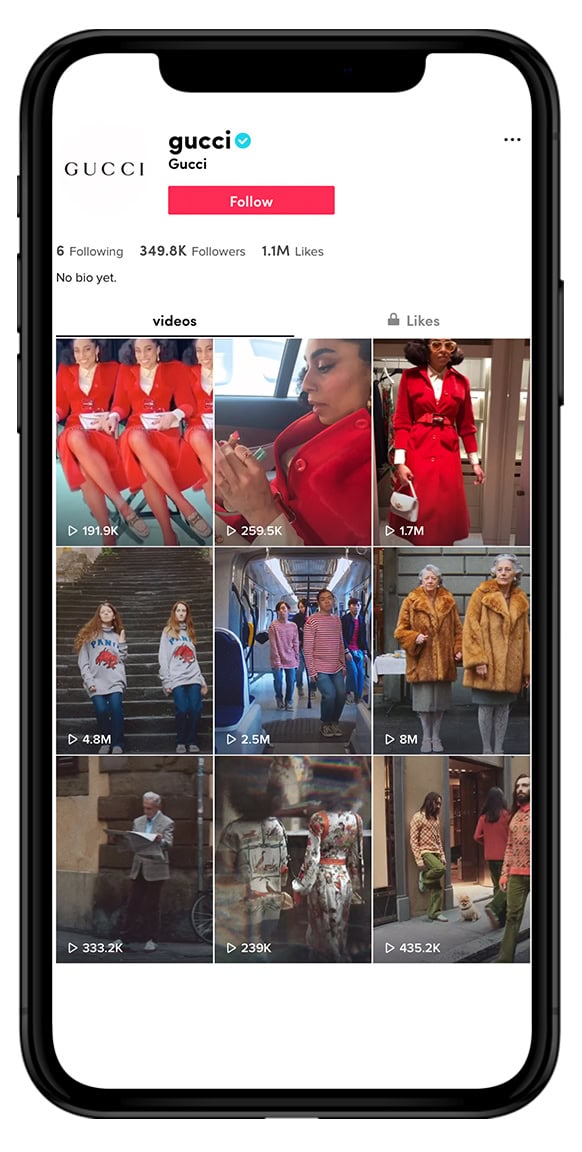 Many cosmetic brands have also taken advantage of the ability to create short, user-friendly makeup tutorials, tips and demonstrations: Sephora (85k followers), TooFaced (152k followers), My Clarins (60k followers), and – most notably – e.l.f. Cosmetics (16k followers but with over 40 million views of the #elfcosmetics hashtag) are all worth taking notes on: not least for their celebration of individuality and diversity. This is something that TikTok is keen to highlight. Asked to detail what they feel makes a successful brand account or partnership, one senior figure at the company (who, in keeping with the democratising spirit of the company, asked to remain nameless), told us, 'The brands we work with are excited about the opportunity to connect with today's generation by embracing the native, natural, and creative form of content on TikTok, while remaining authentic to themselves.' And, while they are actively exploring opportunities for brand partners, the emphasis is squarely on not diluting the experience for the regular user. 'The power of our algorithm, along with the high quality of content that creators produce on TikTok, means anyone can go viral – it all comes down to the creativity and the power of their content. That means there is huge diversity in our creator community – everyone can be a creator and grow a huge following on our platform.'
Furthermore, they stress that the brands who have the most success are those that embrace the creativity and authenticity of the TikTok community, engaging with the platform's interactive trends and challenges encouraging involvement and participation. 'By letting users create their own content for a campaign, brands can give users a sense of being part of the brand, turning them into authentic and powerful brand ambassadors and loyal customers,' they explain.
For more practical advice on how to successfully launch a sponsored marketing campaign with TikTok, there are a number of options:
Hashtag Challenge
The most popular route is to create a video with a sponsored hashtag, inviting users to generate their own content around your branded theme. For instance, the #InMyDenim Hashtag Challenge from Guess used easy to imitate videos to highlight how to transform your look using denim. In addition, Hashtag Challenge Plus allows brands to extend their engagement to in-app purchasing.
Branded Effect
This allows brands to utilize a range of visual effects and editing tools, including augmented reality technology (25% of the TikTok audience make use of these tools every day).
Top View
This premium placement ad format ensures your brand will be the first video a user sees when opening the app, occupying the whole screen for up to a minute. Balenciaga used TopView to launch a shoppable campaign over the Christmas period in the UK and France, driving viewers to its shopping pages. The creative was then reused for two subsequent Brand Takeovers. The result was a combined total of over 25 million video views and over 4.5 million clicks to Balenciaga's landing page.
Brand Takeover
This full-screen takeover is perhaps the closest equivalent to a banner ad – but reimagined for the media-savvy, ad-wary generation Z audience, enabling high impact and broad reach.
In-feed native video
This allows brands to place their videos within a user's personalized 'For You' feed, so they appear natively alongside user-generated content, along with a call to action to click-through.
Custom Influencer
Influencers (or 'creators') are big news in TikTok, with a loyal and organic following. Prada invited Charlie D'Amelio (currently the most followed creator on TikTok with 52 million followers) to their fashion show in February 2020, while TikTok themselves brought a group of creators to NYFW for the first time to provide fashion fans with a first-hand look at the shows from their unique POV.
Business Privilege
Advertisers that reach a minimum ad spend threshold are awarded Business Privilege status, which verifies branded accounts with a certified blue 'V' badge, allowing them to bring together all branded content on their page while customizing it with a purchase link and pin-to-top videos. They can also analyse follower distribution and monitor content performance on a data-management platform.
Still unsure of where to start? We asked our insider to suggest a few bullet-pointed 'Do's and Don't' to help you to shape your TikTok campaigns:
Quality over quantity
Videos are free from posting schedules or cadences: one amazing video per day beats multiple average attempts.
Experiment Regularly
You never know which types of content will resonate with your audience, so be sure to experiment with a mix of concepts, trends, challenges, and sounds.
Think Diversity
Give the TikTok community the flexibility to repackage your content through their own unique lens.
Embrace the Platform
Use the app as an individual, explore what resonates with the community, and build from there.
Get Creative
TikTok's variety of creative tools is where the magic happens. Have fun with the editing features, effects, filters, stickers and sounds.
Go Vertical
All videos should be shot for vertical viewing for a full-screen experience.
Experiment with Hashtags
Combine corporate hashtags with trending hashtags to take part in community challenges. Burberry invited TikTok users to take part in the #TBChallenge, where one would recreate the Thomas Burberry monogram by interlocking their hands. In just one week there were 30,000 videos from users and 57 million views.
---