---
Review of Balenciaga Fall 2021 'Afterworld The Age of Tomorrow' Fashion Show Video Game
Fashion's Brave New World
By Long Nguyen
With a science fiction on screen black backdrop with white luminous dots resembling the opening frames of the Star Wars movies, Balenciaga launched its fall 2021 'show' titled Afterworld The Age of Tomorrow as a digitally interactive video game with the entire collection of fifty looks featured on various players avatars set in the year 2031 that premiered on an early Sunday morning in a sunny but cold morning in the East Coast of the U.S.
Balenciaga first experimented with the digital film with the pre-spring presentation of night time around Paris to the loud beats of Corey Hart's 'Sunglasses at Night,' a huge new wave and hard rock pop hit in the mid-1980s. Now for this offseason presentation ahead for the fall season, the creative director Demna Gvasalia took Balenciaga further into the digital world of gaming, creating a video game with new techniques of photogrammetry whereby the different avatars are first photographed in the studio with these fall looks, then transformed into virtual characters working in conjunction with Unreal Engine, the pioneer multi-platform gaming developer with current games like Chivalry 2, Comanche, Boundary, Bleeding Edge, and Crossfire.
With this gaming video, Gvasalia is delivering a fresh perspective on the way to experience fashion tomorrow.
It isn't far-fetching to say that even without the pandemic forcing different live fashion alternatives shows that this small screen gaming format is an ideal choice for Balenciaga. That's where the brand's younger consumers live their personal and their shared lives. This video gaming format is the right pitch and platform for the Balenciaga consumers rather than the giant fashion shows staged at television studios on Paris's outskirts.
The interactive quality of the Afterworld game offered an instant where the digital format conjures real-life experiences for users – something that has been really missing in this season shift to digital or hybrids ways of showing clothes. Fashion brands do a great job of talking about connectivity to audiences. Still, most luxury brands do so haphazardly without a serious commitment as if doing anything beyond the real fashion show was only a temporary matter and that soon, it's back to the same business again.
Well, it can't really be back to the old days when habits and desires may have shifted in more permanent ways than many of these fashion brands assumed. Once Balenciaga has paved this road to a new future, it would be difficult to revert to the old ways of doing things, but habits died hard. The physical shows will live on and even grow into hybrid formats, but the shows won't provide sufficient brand content throughout the year.
In this game, each player goes on an allegorical journey in the future, at least n the year 2031, that started at a dark grey cement wall store with glass front windows as a white sign flashes on the concrete floor to follow out the street, then onward in the direction of a forest where there is some get-together event then descend to some kind of cavern and finally the ultimate destination on some kind of mountain area with a rising sun in the background. But getting to that mountaintop requires a little bit of work and patience and a lot of interactions.
Somehow at the end, I received a note from the virtual world saying that I have achieved digital enlightenment – at last nirvana albeit digitally.
Afterworld is the timbre of fashion's future where technology meets creativity meets the audience players who are also, in a way, the protagonists inside the game. These players are the most sought after youth audience – the kids – and the future of the luxury industry.
The inside world of Afterworld – from the concrete store to the street to the warehouse with plenty of nylon oversized parka, the little rave-ish party, the dark cave with an encounter with the artist Eliza Douglas dressed in steel armor like a medieval knight in the image of Joan of Arc, the mountain top and the rising sun – reflects this outside world not just metaphorically but more like a mirror of the now where hope is conquering the pervasive pessimism that seemed to have enveloped the current times.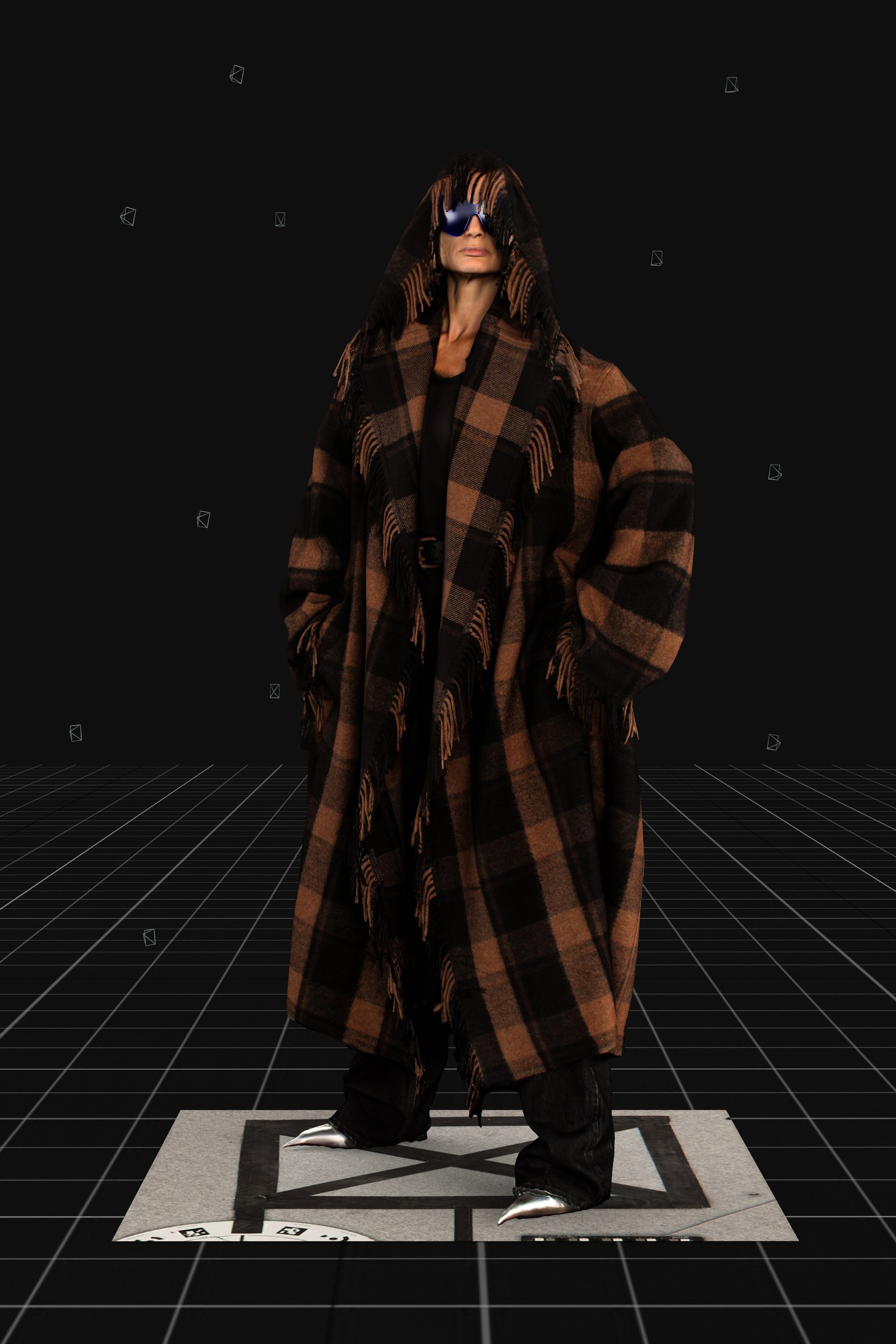 Great fashion 'shows' always have the intimate capacity to deliver us somewhere else, even for brief moments.
Along with the journey, the player 'hero' encounters many characters wearing great signature Balenciaga clothes, instantly recognizable clothes, and clothes that are envisioned to be worn for a long time, not just seasonally. "The world may appear to be decaying at first, but it is far from a dystopian view, showing instead of the slow return to a healthier balance of nature and industry," said the brand's intention not only in creating a virtual world but a new idea how clothes should be worn and made in the future.
The Gvasalia's fashion vocabulary seen in this virtual world is pervasive, powerful, and above all, familiar to the brand's targeted audience. The clothes are new to the extent that many have points of departure in the different ranges of black suits, for example, that feature tailored single-breasted jacket with lengthened sleeves or fitted double breast with broad dropped shoulders – a now-classic Balenciaga cut – paired with loose pants slightly flared at the ankle, all made with soft jersey used to fabricate tee-shirts. These jersey fabrics are stonewashed and pre-stretched, and pre-crinkled to foster that old worn effect and wearable for many occasions now.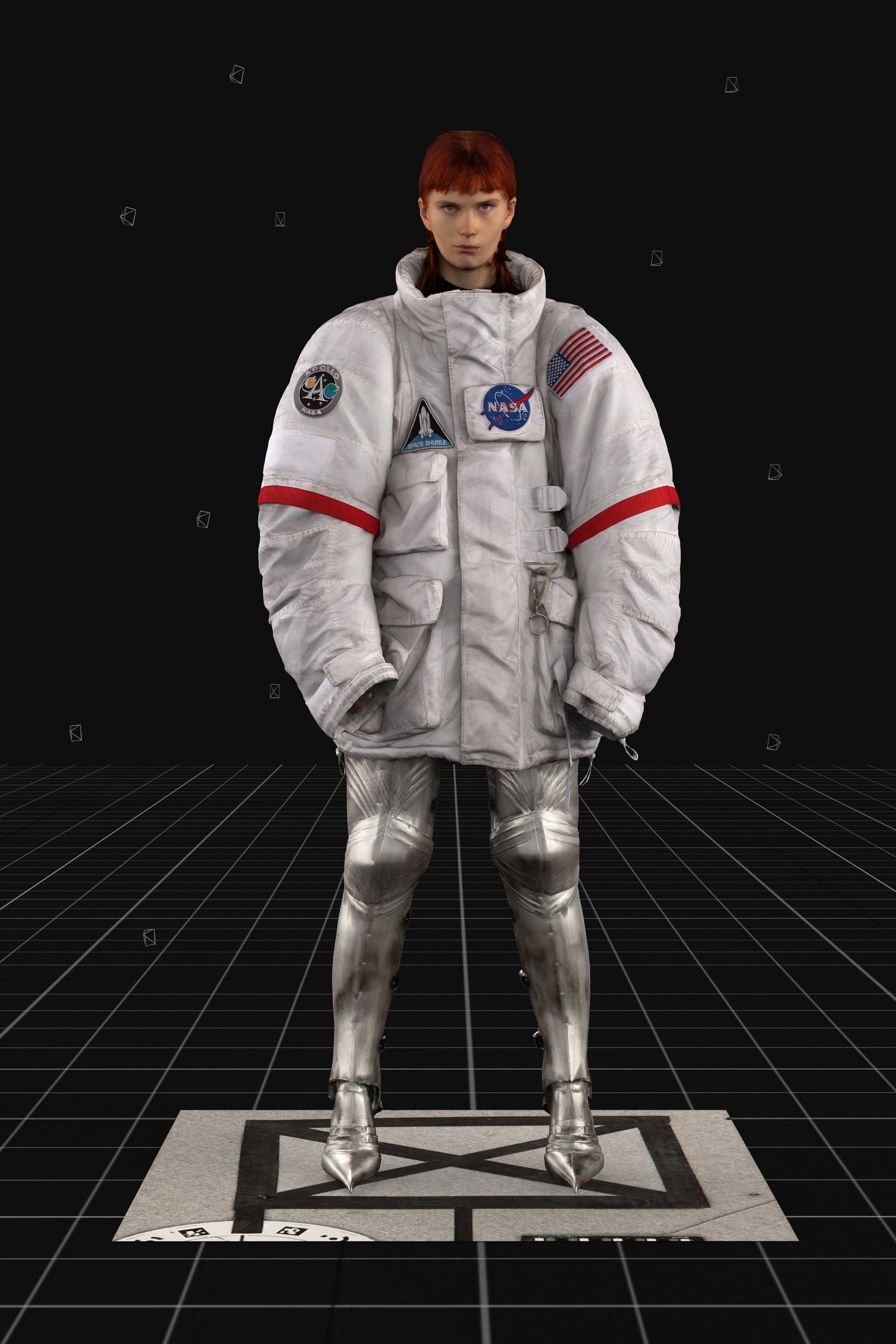 The idea of circular fashion and sustainability has been such marketing words used by the industry to lure young consumers. Behind the products hyped as sustainable, there are much fewer than meet the eyes.
Here, the idea of circular and the concept of waste reduction start with a simple notion – that of wearing the clothes until they are near destroyed before buying replacements. Destroyed jeans are re-sown with camouflage military pants inside or with khaki cargo shorts outside to make a new pair of pants. An aqua blue overall is cut into a sleeveless dress. Layers of shirts, dresses, and pants are piled on top of each other – a faded jeans skirt on top of denim pants. And that bright blue A-1 bomber jacket with a NASA logo and flag treatment or a version in white nylon should be on the most wanted list outerwear item next fall.
The collection – "clothing is meant to transform over many years" – accentuate the idea of the aging of clothes and that garments should be worn for decades and/or repurpose one item to make another like a red and black wool blanket becoming a hooded cape and a similar one in brown and black now turning into an oversize coat. A brown puffer jacket is made from laser-cut recycled fabrics to mimic a fur jacket's movement since Balenciaga has stopped using real furs. This is an homage to Balenciaga's heritage. The house founder had experimented with textiles and used a material called Papacha, mohair developed in the 1960s to make a black coat knotted by hand in the fall 1965 collection that emulated the look and feel of real fur.
The designer managed to take his wares and create a new storyline around the clothes he has made into Balenciaga signature silhouettes and styles that range from precise tailoring on suits, parkas, coats, and even a tee-shirt like that yellow logo cotton version with a dropped sleeve effect. Strict tailoring suits and coats get a street wash, and street clothes get a couture design upgrade. Puffer coats slip off one shoulder, imitating an haute couture pose.
Connecting aesthetics and feelings on a gaming console aren't obvious, but it's a huge step forward for Balenciaga and the fashion industry, so keen on finding ways forward.
---