---
Review of Bottega Veneta Fall 2022 Fashion Show
A Timeless Craft – a Brand Renewed
By Lizzy Bowring
Finally, Bottega Veneta is back. The brand's codes are reinstated, the air of familiarity returns, and there was a refreshing and spell-binding modernistic appeal throughout. Showcased tonite was a clean green slate; the windows of the Piazza San Fedele were closed out in green, the invitation was green, but there was very little green in sight in this fabulous debut outing for the new Creative Director, Belgian Matthieu Blazy. Blazy has had a remarkable career thus far. As a graduate of Belgium's La Cambre, he worked for Raf Simons, Margiela, Celine, and Calvin Klein. With that pedigree and such solid aesthetics – I don't doubt that he has learned a great deal about working within a brand such as Bottega Venetta. His star was ready to shine.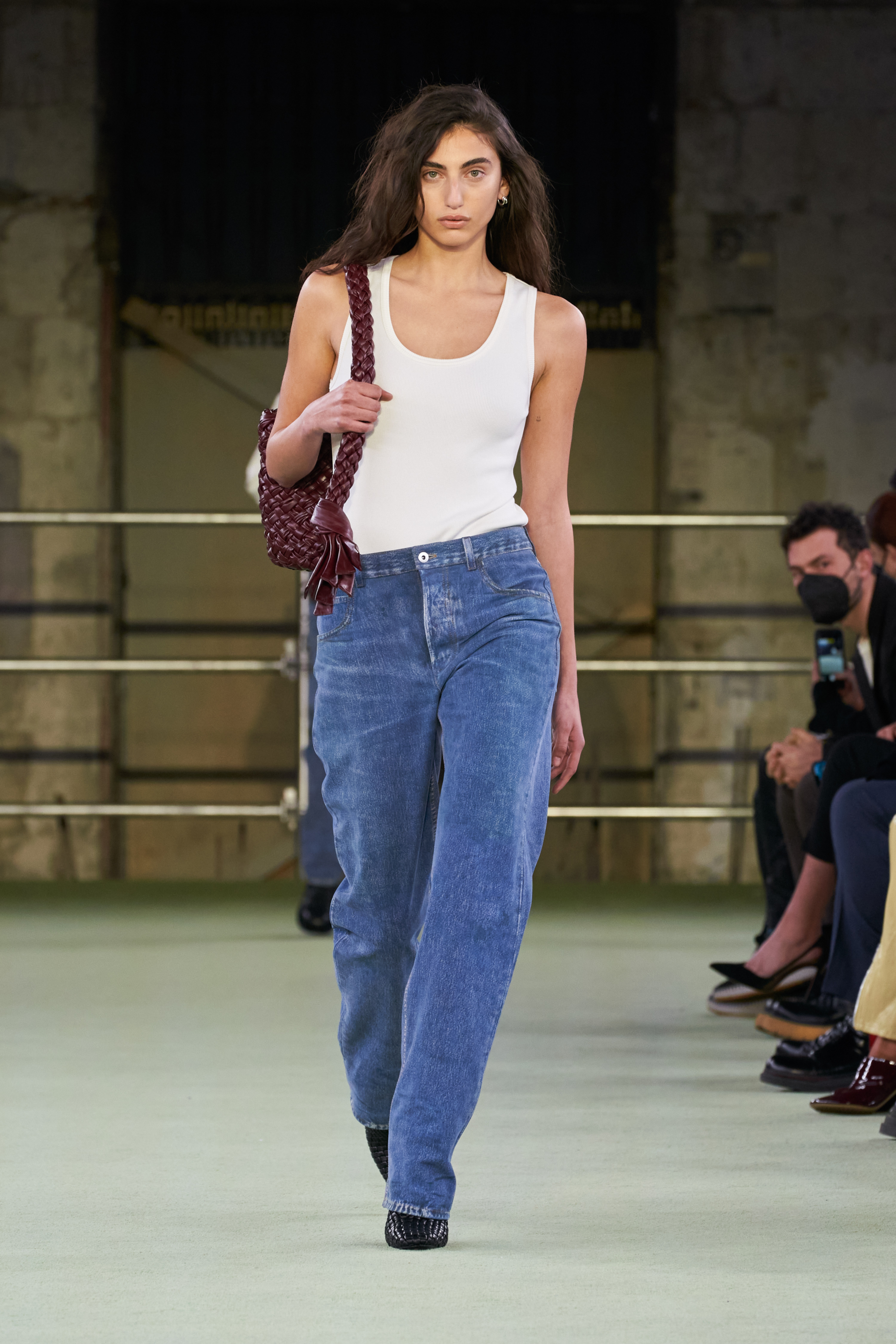 This evening we witnessed a reconnection to the original brand aesthetics – perhaps a reincarnation of Tomas Maier, if you will, but I believe that they share a similar sensibility. Blazy is a true creative who appreciates the artisanal heritage of an Italian brand and understands how important it is to work in such an innovative, artisanal environment. As in several brand's personae recently,
Building on the past to realize the present and evoke the future has realized a new path for the tomorrow and is equivalent to their success.

This was a story of clothing and character as explored by maker and wearer, an exchange that involves a sense of motion and emotion.
And one that defines what Bottega Veneta truly stands for – "investment in objects for life" – in both senses of the term – longevity.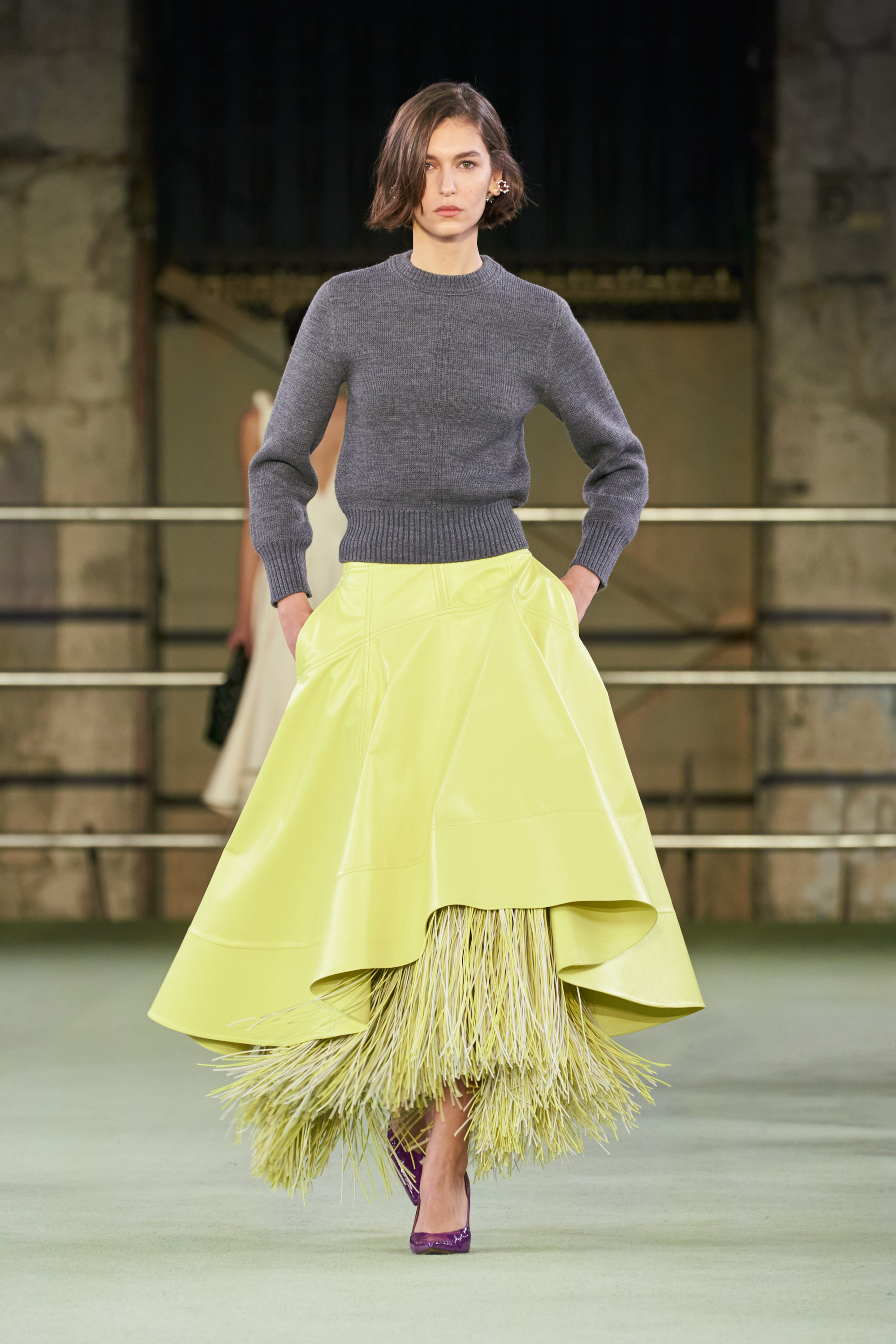 The collection itself was permeated with a true sense of the everyday peppered with poignant materials and techniques, things that could only be realized through the traditional craft of Italian artisans."
The first silhouette, a simple top worn with denim jeans, was printed nu-buck – so incredibly easy-to-wear, but the cut made the shape new and highly covetable.
Silhouettes were cut in rigid materials that were given ultra-lightness, fullness, movement and texture.
Take the peacoat, for instance, crafted with a voluminous shape at the back but at the front of the garment, it came streamlined to provide a perfect sensual form that was neither bulky nor obtuse"
I could not help notice the attention to detail, the basted seams, the perfect collars, everything cut in ideal proportion: no frivolity here, just pure Italian craftsmanship at its very best. Wool flannels and color flecked herringbones, through to printed textural pieces or finely pleated pieces were worn with knitted items reminiscent of cherished childhood (vintage) items. The patched and pieced knitted dresses, although at first sight, reminded me of some early Etro shapes, provided a lovely diversion in a sea of monochromatic silhouettes.
Oversized shirts in stripes were beautiful, cut and executed, and worn with thigh-high leather boots – how I wish I were young again!"
The leather skirts and dresses, the sway of multi strands of leather at the hemline was as provocative as they were beautiful and provided a stunning textural addition to the feminine shapes – focus to the waist exaggerated by the fullness in the skirt. Utterly modern and utterly feminine. And then there was that evening wear – gorgeous slips, sparkling and liquid and worn with thigh-high metallic boots.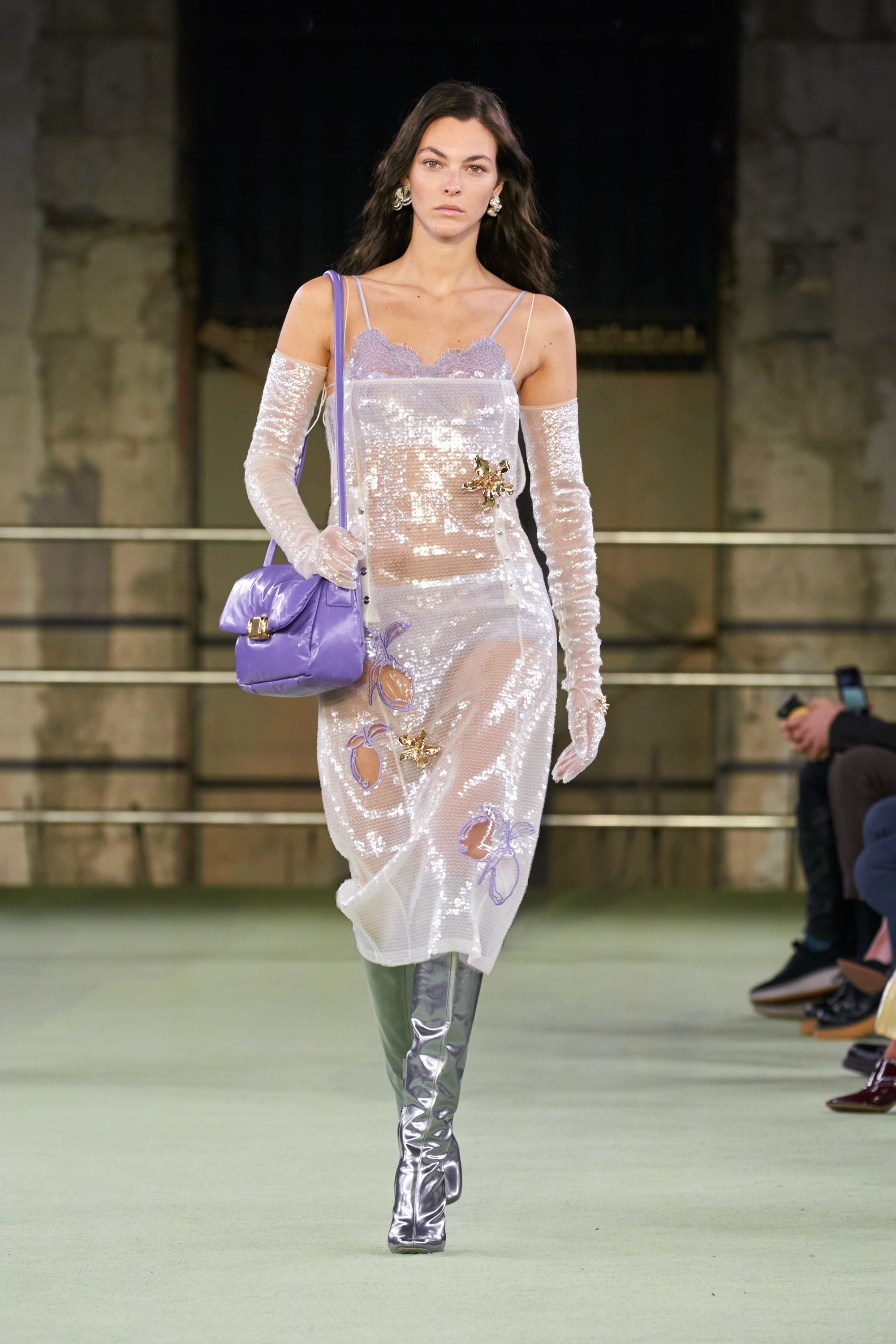 As for the accessories, The house codes were realised in each bag and every shoe and boot.
Each one was a unique work of art, whether they came handwoven in delicate strips of fine leather or cut in shining metallics. One way or another, these will be the new IT bags and shoes of 2022!"
I know I have one at home somewhere, hidden for prosperity:) a woven clutch from a time when I coveted a tiny piece of Bottega Veneta.
Tonite, a brand, was renewed with timeless authenticity. The textures, the sophisticated shapes, and the juxtaposition of vintage semblances – it was all there. Congratulations, Matthieu Blazy – your star is shining.
---