From the genesis of the brand, Daniel Arsham has set the premise that Objects IV Life is a uniform for a creative life.
Merging Arsham's own monochromatic art universe with that of fashion, Objects IV Life combines the two parallel realms through an ever-evolving collection of elevated workwear.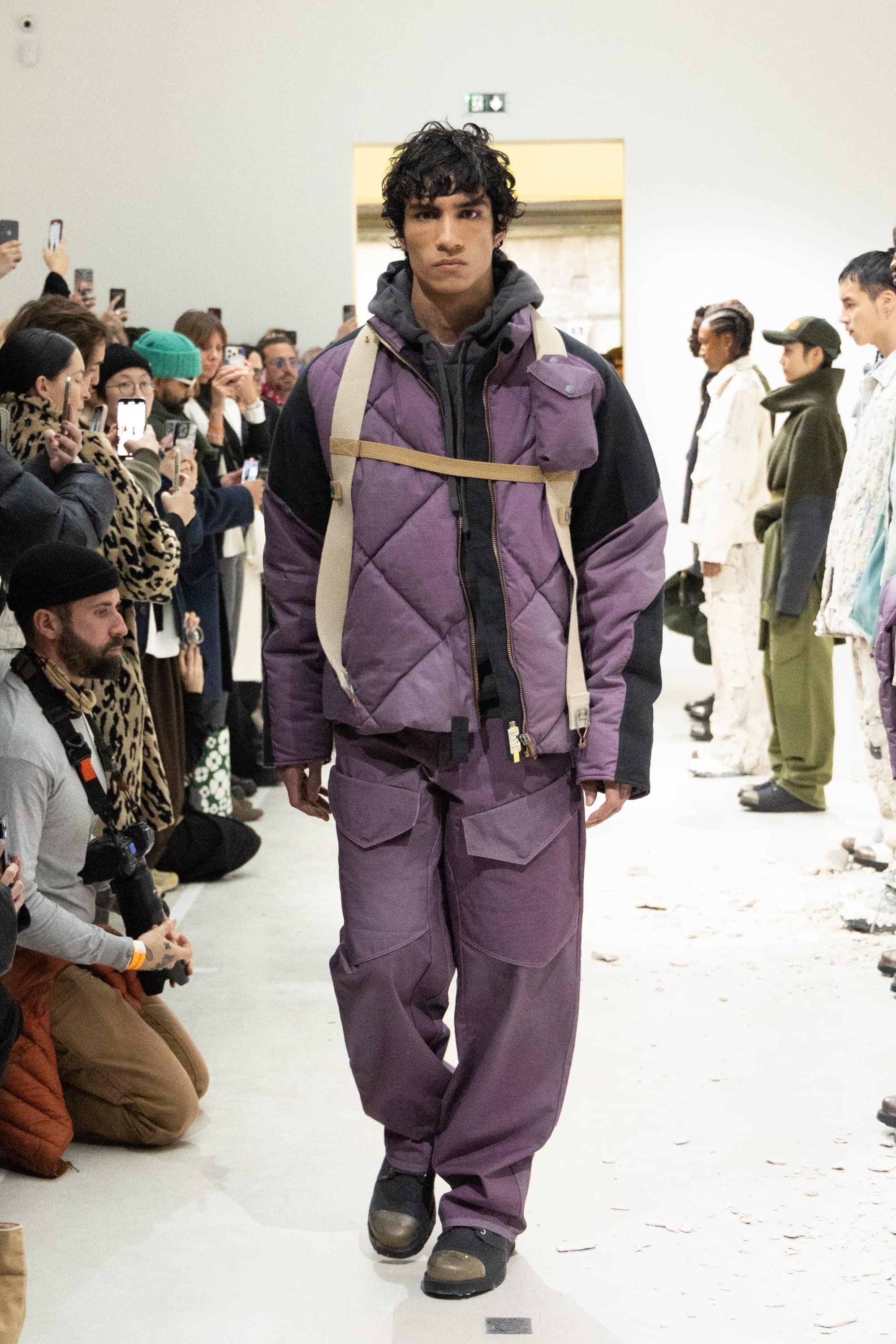 For the presentation of the brand's third collection at Galerie Perrotin during Men's AW23 Paris Fashion Week, Arsham has conceived a performative installation which creates a link to his own cast- objects universe – seemingly solid works, sculpted in the form of Objects IV Life denim workwear, are broken open to reveal hidden jackets within.
This presentation uncovers the inspiration for Objects IV Life Chapter 003 – the working life and "uniform" needs of an Artist. The collection offers a finely crafted workwear wardrobe designed to be fit for function – with the intention to age beautifully.
Arsham's design process continues from Ch.001 and Ch.002, with the strong focus on repurposing workwear archetypes and adapting them for a contemporary workwear wardrobe for creatives and creators of today.
Building on past collections, this collection focuses on heavy cotton twill, denim jackets, and baggy leg jeans – all core pillars of the brand. New fabrications include the thermal properties of Casentino wool, presented in a twin-zip jacket, oversized funnel neck and polar gilet vest. Crisp-washed, hand-finished cotton takes the form of a coverall twinset (shell shirt-jacket and drawstring over-pants) as well as technical outerwear, realized as cotton- shelled recycled down jackets and coats.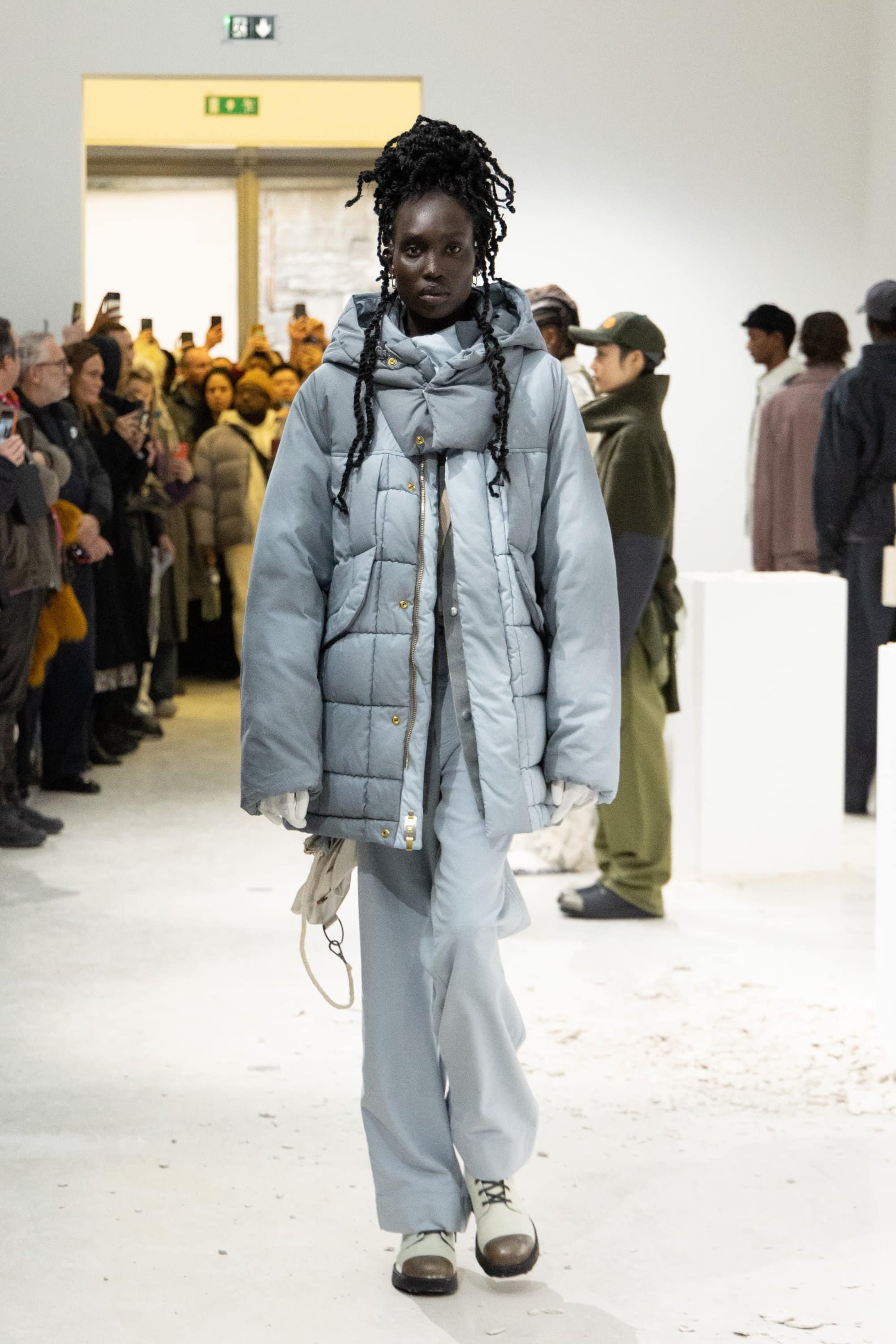 Ch.003 features a new bold print design (in T-shirt and hoodie) inspired by land-art and outdoor art installation. In a nod to early artistic designs ofdisruptive camouflage patterns, waffle jerseys and Casentino wool fabrics are treated with an all-over print.
New bag archetypes are introduced with this chapter – a carry-all weekender, a mini tote bag (the brand's classic tote rendered in micro size) and a satchel which features an oversized version of the brand's signature 'dungaree clip'.
A key charm, designed to hang off the bags, is made of recycled Zamac alloy and features an inlay of either bicolor canvas or linen composite textile – both derived from the collection. A new category for the brand is silk scarves – available in 55cm and 70cm sizes, with the larger size supplied with a ring closure "woggle" made in the brand's signature hardware of various raw-state metals.
The moleskin and Casentino fabrics are further utilized in the iconic Objects work boot, featuring the uncoated metal toe cap intended to patinate and change color as it ages. The core concept of patination is extended with these new fabrics. Through continued use, the outer layer of fabric is intended to wear through to expose a darker canvas under-layer.
This premise of celebrating the beauty of the construction and the timeless quality of the materials is a central tenet of Objects IV Life – each piece from the collection is further completed by wear, personalizing itself as it adapts to the use and wear of its owner.
Creative Director – Daniel Arsham
Design Director – Matthew Grant
Show Director – Karlmond Tang
Stylist – Karlmond Tang
Casting – Conan Laurendot
Hair Stylist – Nicolas Philippon
Make-Up – Stephanie Kunz
Production – Daniel Hettmann
Lighting – Hydra Design
Sound Design – Daniel Arsham
Sound Production – Russ "Crooklin" Scott-Wood
Chief Brand Officer – Tim Ryan, Tomorrow
Executive Producer – Thomas Prees, Tomorrow
Head of Special Projects – Karl Cyprien, Arsham Studio Art Direction – Austin Snyder, Arsham Studio Fabrication Manager – Natalia Blanco, Arsham Studio Designer – Conor Utri
Special thanks to the team at Perrotin Paris – Caroline Verhalle, Joy de Shorts, Camille Dusoulier, Emmanuel Perrotin
Special mentions – Stefano Martinetto, Giancarlo Simiri, Julie Gilhart, Marco Vianello, Giorgia Trematerra, David Farrell, Liam Markwell
All music created with teenage engineering OP-1
---