---
Review of Dsquared2 Spring 2023 Fashion Show
Beach Break
By Mark Wittmer
For their Spring 2023 Women's collection, Dsquared2 used beachside surf style as a jumping off point to explore nuanced layering, bodycon summertime sensuality, and a rich textural interplay – all of which was elegantly buoyed by a first-time fashion location.
The designers give classic summer sportswear both a sexy edge and a feeling of lightness and delicacy through masterful layering, transparency, and iridescence.
While the surfer theme is carried over from the men's collection (Dsquared2 designs all their collections in conversation with each other, and see the men's and women's as siblings), its maxed-out reggae and 70s references are for the most part dropped in favor of a sophisticated urban edge, as if the character of this collection is a cosmopolitan cool girl who has escaped from the city for a beachy weekend. This duality is carried across textures and materials, which put sporty technical fabrics in conversation with earthy craft techniques. Expanding the feeling of free-spirited, liberated self expression, modular styling possibilities come together to reveal or conceal, adding further dimension to the collection's layered, see-through, and peekaboo moments.
Pointy pumps infuse a hint of razor-sharp 80s power dressing into most of the looks. Meanwhile, the edge is softened through transparent and translucent fabrics and sequins that suggest the sparkle and clarity of water. A sense of summer vibrancy runs throughout in graphic bursts of color, painterly stripes, and psychedelic surf prints.
The final three shimmering dresses brilliantly synthesized the design themes of technical modularity, skin exposure, and see-me chic, with bold, asymmetrically placed scuba zips allowing the wearer to unzip and show some thigh, some cleavage, or even take most of the skirt off and transform it into a train.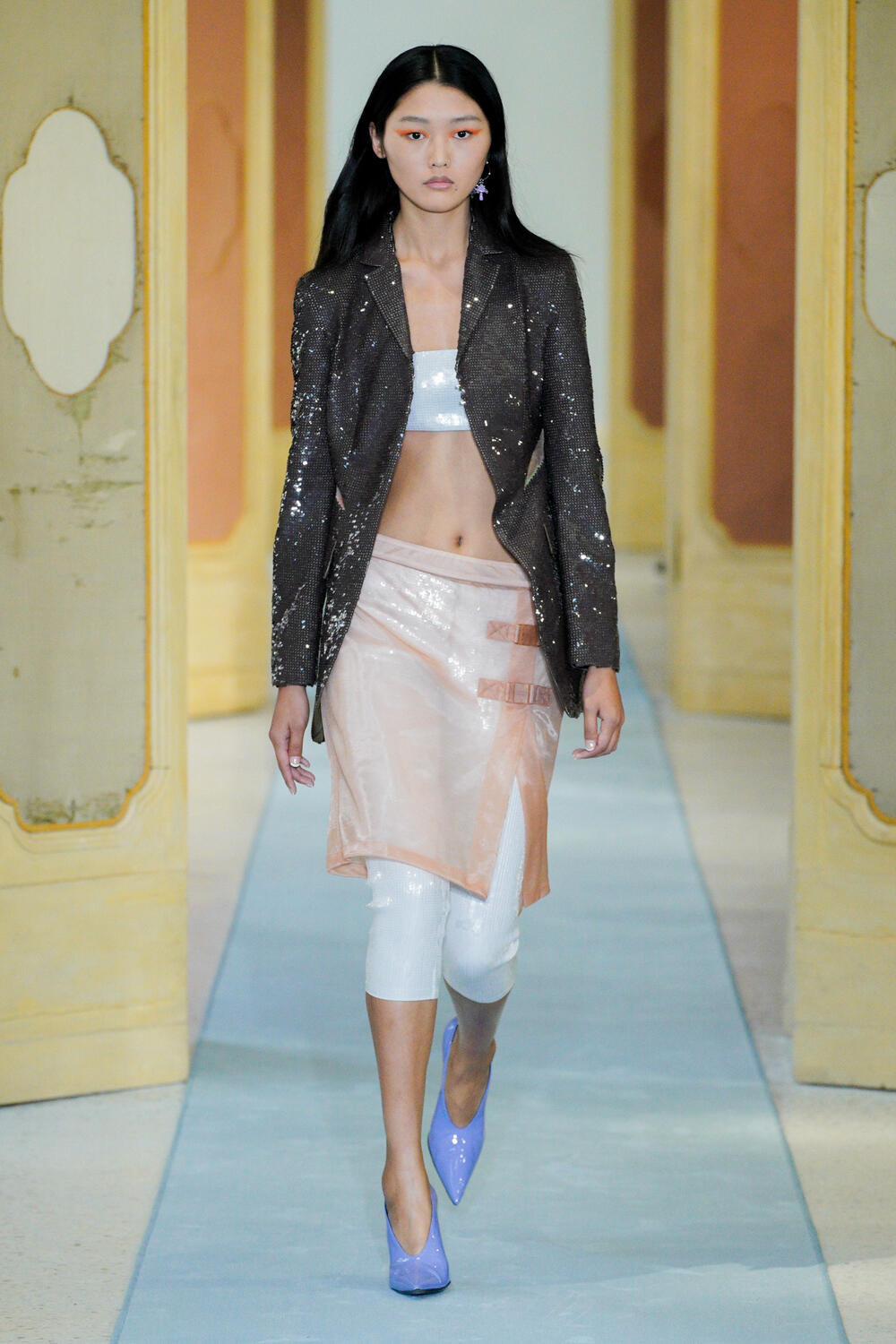 Held at the Palazzo Citterio in Milan, the show itself marked an exciting moment in Milan's fashion history: it's the first time a fashion show has been held at the historic location. Dating back to 1764, altered throughout the centuries, and freshly restored in 2019 after on-and-off renovation since the 1970's, the palazzo is a unique architectural gem that embodies both the city's cultural history and its current place at the forefront of contemporary design. Set to the energetic twang of cinematic surf rock, the runway show was an unexpected yet fittingly epic fashion inauguration for the space.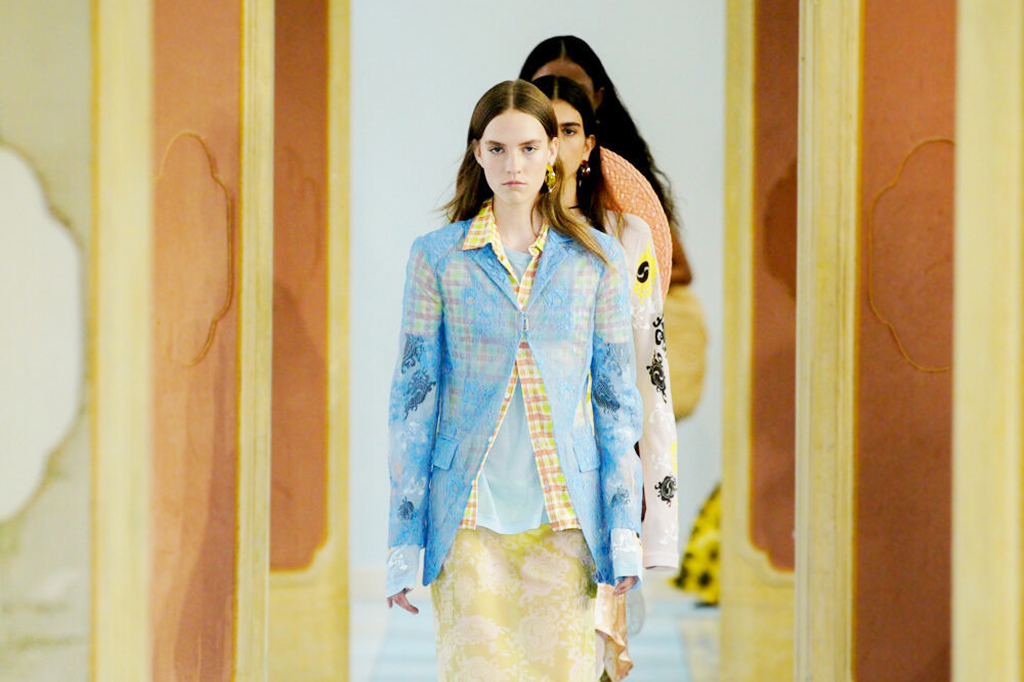 This location also helped to draw out the refined, intentionally composed character of the pieces, which many might not associate as strongly with Dsquared2, but that have always been there. With mashup and maximalism at the forefront of their practice, the twins' artisanal eye can sometimes go unnoticed. In this collection, however, it really came to the fore.
Relatively pared back by Dsquared2 standards, the collection was a forceful yet fluid statement of the brand's mastery of building up expressive layers and dressing idiosyncratic personalities.
Blowing over our senses like a refreshing and ephemeral ocean breeze, Dsquared2 has us craving the wave, waiting eagerly for summer.
---