Management+Artists Group ("M+A Group") announced the launch of its newest brand, MA+Creative, a modern talent consultancy with the ability to provide full project management capabilities and connect clients with the best creatives in the industry. The Impression's Kenneth Richard sat to talk with Massimiliano Di Battista about the newly formed agency, why it was created and its relevance in today's creative environment.
Kenneth Richard: Mao, congrats on the recent launches of Art+Yard and the newly formed MA+Creative. Let's start with the former, what made you want to take a risk on new talent and how is this operation different from your traditional one?
Massimiliano Di Battista: In our early days, we broke into the talent representation business by developing young photographers and stylists. Over the years, we've obviously expanded our talent base and now represent a broader array of talent – both in age and experience.We wanted to develop a protected space to focus specifically on developing the next generation of young talents — a generation of talents whose visual work is based on emotions, personal experiences, intimacy and intuition.
For decades, the art of photography and moving image was accessible only to professional or enlightened amateurs. Nowadays, photography is embedded in our lives, so most of the work of this new emerging generation, both in pictures and video format, is created for personal work and distributed on social media rather than through the traditional channels of editorial commissioning.
The new generations have a complete familiarity documenting themselves and their surroundings in ways we just didn't. They create their own scenarios and independently self-produce their images; there is a full confidence in the whole process; they use the images as their language.
This freedom of expression allows them to interpret fashion and portray people with a spirit that is connected to a message. This is a very different way to look at fashion and lifestyle that deserves its own voice and area of representation.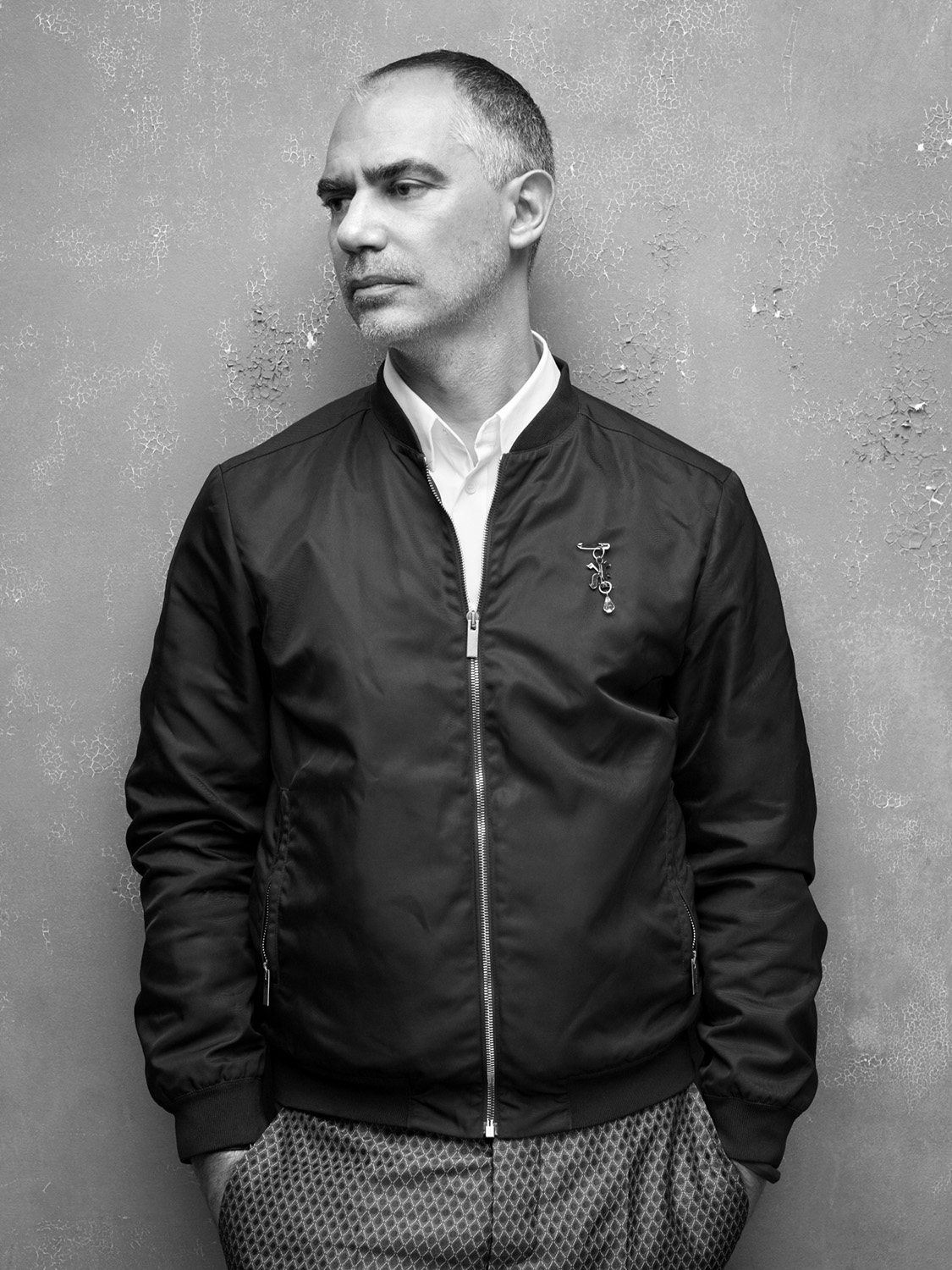 Kenneth Richard: We've noticed that several modeling agencies have branched into 'life-coaching' their younger talent. Is any of that built into the model of Art+Yard?
Massimiliano Di Battista: Yes, absolutely – and frankly, it's always been incorporated into our approach to representation.
When we founded Management+Artists Agency back in 1999, its purpose was to pioneer an entirely new concept of representation in the creative world.
Beginning with a focus on photographers, we believed it was important to expand the role of representation beyond purely business and contractual obligations, and provide talent with the support and guidance needed to foster greater creativity and success in the industry.
At the time, this evolved approach to representation was wholly absent across the industry and incredibly innovative. This approach and perspective, which called for a deeper investment in the careers of our talent, set us apart from competitors and earned us a reputation in the industry that attracted a multitude of artists, directors, designers and creatives looking for a different type of agency partner.
Art+Yard is an extension of this philosophy, a development section for new and visionary talent, where we take a keen eye to nurturing artistic creativity and the next generation of creatives. It is a way to guide young talents and ensure they don't lose their sense of 'pure' creativity and individuality in a fast-paced, commercialized world.
Kenneth Richard: Big news on launching MA+Creative. What were the key factors that drove you to launch this new initiative?
Massimiliano Di Battista: We saw a need in the industry for a conduit to creativity like MA+Creative. In today's highly competitive market, brands are defined not only by their product, but also by their communications. They need to reinforce their individuality, cultural awareness, values, high aesthetic and innovation through all customer channels.
To do this successfully requires a broad range of skills, from strategic and creative direction, to customer behavior analysis, e-commerce, technical innovation and experience design – and MA+Creative serves as the conduit to all of the best creatives in the fashion and luxury industry in these varied fields.
MA+Creative's roster of experts can help solve our client's most pressing challenges, addressing the fundamental need of aspirational brands to bring greater meaning and purpose to their companies. The talent at MA+Creative were chosen not only for their skills and expertise, but also for their understanding that brands need to engage with the world in new and interesting ways if they want to be seen and remain relevant.
It's easy nowadays to connect to people, but it's difficult to connect with people; to engage them, and to create a conversation and be relevant at multiple levels. Ideas, creativity, disruptive concepts, taste are necessary tools for relevance, growth and innovation for every brand in luxury, whether it is fashion or lifestyle.
Kenneth Richard: With the agency, you have an entire series of creative buckets if you would from strategy to digital. Can you talk more about those segments and what you hope they will be able to collectively bring to clients?
Massimiliano Di Battista: Innovation and a purpose to find solutions to tomorrow's challenges has always been at the core of Management+Artists.
Recently recognizing the rapidly shifting dynamics across the industry, we decided to take a deep look at the company, our business model and our offering. We surveyed our suite of products and determined to develop a more diversified business approach that would position the company at the forefront of the industry and ensure continued future growth.
We decided to evolve Management+Artists into a collection of multi-national brands, under the umbrella name: the M+A Group. In addition to MA+Creative and Art+Yard, we recently launched 360 PM, a production company which offers our clients production, creative services for still photography and film and extending to social media production, location, casting, creative offline editing and post production supervision. 360PM is a joint venture with Picture Farm, an integrated film production house, which has been important in developing our expertise well beyond the realm of just fashion.
Kenneth Richard: How do you think these new brands will affect your relationships with your partners across the industry who engage your talent?
Massimiliano Di Battista: By diversifying our business model through MA+Creative, Art+Yard, and 360PM, we are better able to serve our partners and work even more efficiently alongside them.
MA+Creative is home to a diverse array of creatives, from curators to creative directors, from technology innovators and strategists. Many of these skills have not been supported by agencies in the past, but modern brands now need a different type of talent and it can be hard for them to source true experts with strong track records.
For specific projects, we curate a team of creatives and specialists who are top in their field, to collaborate together in order to bring a project from concept through to reality in a cohesive way.
Kenneth Richard: What do you hope to change in the fashion and beauty industry by bringing MA+Creative and Art+Yard into the space?
Massimiliano Di Battista: By introducing MA+Creative and Art+Yard and diversifying our portfolio, we are ensuring that we modernize to keep pace with the demands of the industry and the needs of our clients. This evolution aligns with our vision to provide integrated business capabilities at the intersection of art, creativity and technology.
Since the company was founded in 1999, we have constantly evolved, but driving innovation and creativity has always been our central mission – and will continue to be moving forward.
Kenneth Richard: Who are some key talent currently associated with both brands and how are you hoping to expand this talent base?
Massimiliano Di Battista: Within MA+Creative, we represent a number of top talents across the industry including: innovation studio, Holition; strategists, Phil Chang, Azelle Rose Harris and Vadim Grigoryan; digital and e-commerce designers, DVTK and International Magic; interactive designers, Bureau Cool and Whitevoid; creative directors and brand consultants, Thomas Persson, Ben Kelway, Jacobs + Talbourdet Napoleone and Babak Radboy; renegade artists, Hey Reilly, Ezra Miller, Peter De Potter and Tal Rosner; multimedia designers and curators, Kinmonth + Monfreda; and fashion, culture and event consultants, Sarah Mower and Lucy Kumara Moore + Claire de Rouen, among others.
Within Art+Yard, we have already enlisted a group of talents who have a very strong personal aesthetic, which we believe is very hard to find today. Our roster includes: directors, Akinola Davies Jr & Jordan Hemingway; photographers, Arielle Bobb-Willis, Hui Li, Joshua Gordon & Valentin Herfray; creative director & filmmaker, Clare Arnold; and casting director & stylist, Danielle Emerson.
We believe that the rosters of MA+Creative and Art+Yard will be in constant evolution as we will want to always sign the most interesting and creative talents in these new fields. We live in a world of constant change, where technology is creativity. I am sure that we will soon have new talents coming from generation Z who will surprise us with new languages and ideas.
Kenneth Richard: How does your evolution as a company better position you to meet the needs of both talent and brands in today's industry?
Massimiliano Di Battista: Brands need to constantly engage with customers and innovate their product. Our success is directly linked with satisfying these needs by providing quality, creativity, innovation and business growth.
We believe that the expansion of M+A Group through the MA+Creative and Art+Yard brands will create more opportunities for our talent, teams and clients. Evolution is important for everyone. We all want to keep growing and learning.
By developing a more diversified business model, we're better able to cater to the end-to-end needs of creative and brands in today's world and better positioned to ensure continued growth for M+A.
Portrait Photo | Mark Seliger
---