LVMH Invites The Public To Become Experts And Vote For Their Favorite Candidate For The 2021 Prize
The 8th edition of the LVMH Prize for Young Fashion Designers attracted over 1,900 candidates worldwide. Among the many applications, 20 young brands and their designers were selected for the semi-final. With a new digital platform, and for the first time ever, the public is invited to vote for their favorite candidates. This covid-induced adaption has activated the public to become Committee Experts of the LVMH Prize.
The public can make its voice heard from April 6 – 11, as the 20 semi-finalists competing this year for the final of the LVMH Prize will be showcased on their website, lvmhprize.com. The site features the jury, the experts, and of course, this year's competing designers. Extensive information can be found on each of the designers, including videos to learn about their collections, their creative world, and their personalities. Each designer also has a gallery of their bodies of work.
I am very grateful to all the candidates from more than 110 countries for taking part in this year's competition, and I would like to congratulate the semi-finalists. This semi-final will be entirely digital, and we wanted to open it to the greatest number of people. For the first time, the LVMH Prize will allow the public to discover the twenty semi-finalists on the lvmhprize.com website and to vote for the candidate of their choice.

– Delphine Arnault
Arnault also delights in welcoming tennis champion Naomi Osaka as the ambassador of the 8th edition. Additionally, five new personalities have joined the prestigious Committee of Experts this year: Bella Hadid, model; Samira Nasr, editor-in-chief of Harper's Bazaar US; Léa Seydoux, actress; Aleksandra Woroniecka, fashion director of Vogue Paris; and Margaret Zhang, editor-in-chief of Vogue China.
The 20 design houses selected for the 2021 semi-final include: AGR by Alicia Robinson, womenswear and menswear, British designer based in London BIANCA SAUNDERS by Bianca Saunders, menswear, British designer based in London CHARLES DE VILMORIN by Charles de Vilmorin, genderless collections, French designer based in Paris CHRISTOPHER JOHN ROGERS by Christopher John Rogers, womenswear, American designer based in New York CONNER IVES by Conner Ives, womenswear, American designer based in London FEDERICO CINA by Federico Cina, genderless collections, designer italian based in Sarsina KIDSUPER by Colm Dillane, menswear, American designer based in New York KIKA VARGAS by Kika Vargas, womenswear, Colombian designer based in Bogota LAGOS SPACE PROGRAMME by Adeju Thompson, genderless collections, Nigerian designer based in Lagos LUKHANYO MDINGI by Lukhanyo Mdingi, womenswear and menswear, South African designer based in Cape Town MIDORIKAWA by Taku Midorikawa, genderless collections, Japanese designer based in Tokyo NENSI DOJAKA by Nensi Dojaka, womenswear, Albanian designer based in London POST ARCHIVE FACTION (PAF) by Dongjoon Lim, menswear, South Korean designer based in Seoul RENAISSANCE RENAISSANCE by Cynthia Merhej, womenswear, Lebanese designer based in Beyrouth RIER by Andreas Steiner, genderless collections, Italian designer based in Paris RUI by Rui Zhou, genderless collections, Chinese designer based in Shanghai SAUL NASH by Saul Nash, menswear, British designer based in London SHUTING QIU by Shuting Qiu, womenswear, Chinese designer based in Shanghai TAAKK by Takuya Morikawa, menswear, Japanese designer based in Tokyo WED by Amy Trinh and Evan Phillips, womenswear, British designers based in London LVMH 
Arnault also notes that "All the semi-finalists have incorporated a responsible stance in their creative vision: use of innovative or traditional materials, upcycling, recycled fibres, artisanal and local approaches. These initiatives echo the shift in the fashion and luxury industries."
The winner of the LVMH Prize for Young Fashion Designers receives a €300,000 endowment and benefits from a one-year bespoke mentorship program provided by a dedicated LVMH team. The Karl Lagerfeld/Special Jury Prize rewards a young designer with €150,000 and a mentorship program. In addition, the Prize distinguishes three young fashion-school graduates who have completed their studies in 2020 or 2021 by allocating them, as well as their school, a €10,000 grant. The prize-winning graduates will join the creative studio of an LVMH Group House for one year.
There was no official winner of the 2020 LVMH Prize. In light of the pandemic, the prize finale that was due to take place at the Foundation Louis Vuitton in Paris, was cancelled. Instead, the prize money of €300,000, was shared equally among each of the final eight candidates. The luxury brand also offered additional grants in 2020 to previous winners of the Grand Prize and the Karl Lagerfeld Award for Innovation, to continually support burgeoning fashion designers.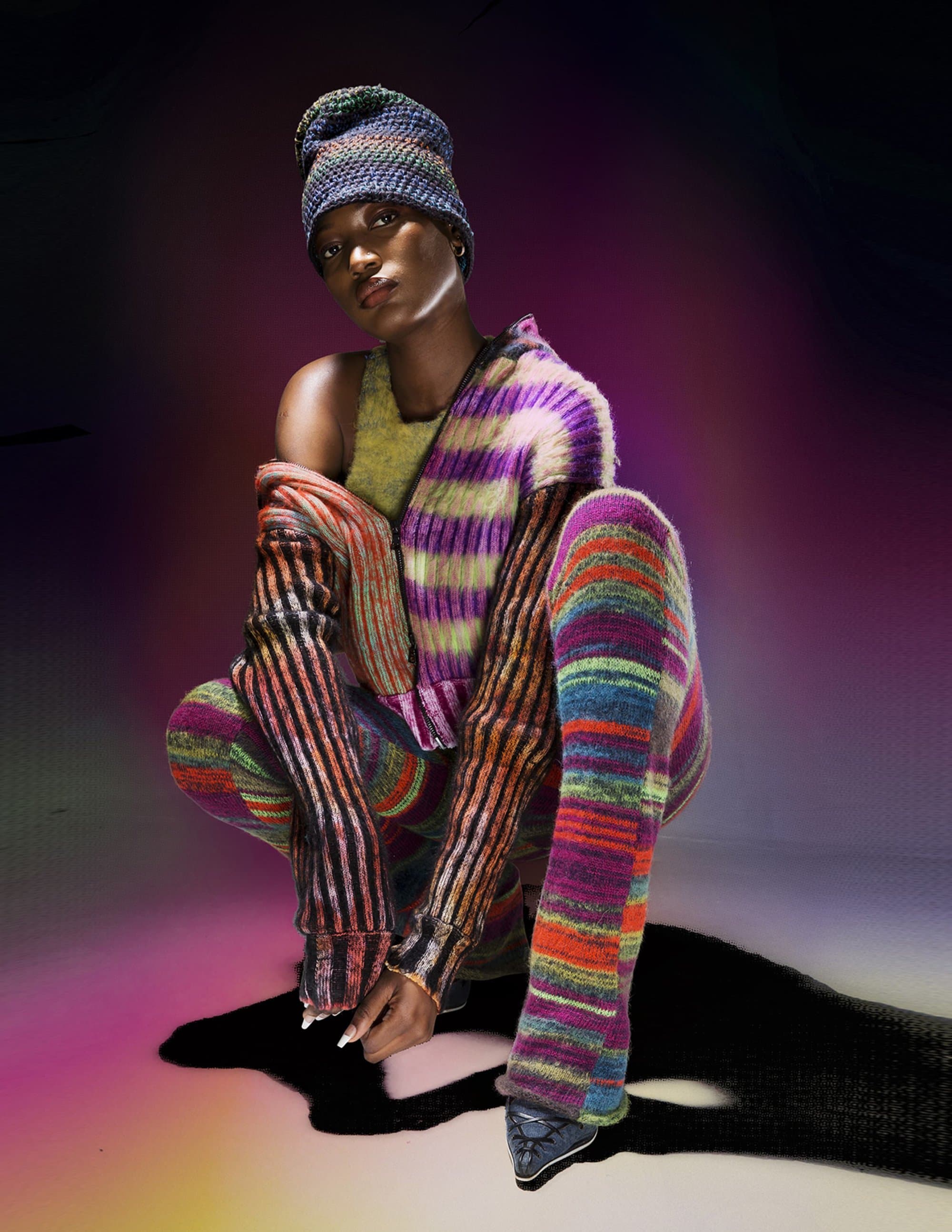 ---