Just over a decade since fashion's favorite sisters landed in NYC toting their celebrated homespun 10-piece collection, Laura and Kate Mulleavy have been manifesting their vivid imaginations into conceptual pieces while maintaining their hallmark hand as artisans.
The Impression talks with these storytelling sisters about their evolution from Pasadena to Paris and their next artistic venture directing Woodshock, their first feature film.
BY KENNETH RICHARD
Let's talk about this grand adventure you two are on. With such a broad portfolio of work ranging from artistic partnerships, gallery exhibits, runway shows, costuming, and now film, how would you describe what you do to a stranger?

KATE MULLEAVY It's funny as I'm still never quite sure how to answer that, but now we say we're fashion designers and film directors.
So how did you get started on the path to all of this goodness?
KATE MULLEAVY Well, it's all been organic and instinctual. We both went to UC Berkeley, Laura was studying English Literature while I was an Art History major. We both have so many different interests and would go to a lot of film festivals and just follow our creative spirits. So our creative involvement turned into a lot of different ideas and translated into different mediums.
When we got out of school we just decided to try to make some clothes. When we started, we didn't know a thing about it. We had no understanding of having a fashion brand. We didn't even know what New York Fashion Week was. We knew there were shows in New York, but we didn't understand how they worked. So we just started making clothes and one day someone in LA said, "You guys have to go to New York." So we got on a plane, not knowing anyone. We sent out little letters, made phone calls, and no sooner than that Bridget Foley from WWD called us in for a meeting. At the time, we didn't even know why.
At this point we were thinking, "Why should we go to New York? We don't know what we're doing." Then, at the beginning of NYFW, Bridget put our clothes on the cover of WWD. It was right then that we got discovered. A few weeks later, we met Anna Wintour. She saw our ten pieces of clothes and said that she could see how personal they were, and that we should always keep what we do that way. It all evolved organically from that point. When I look back on it, it's been very magical. I can't believe how it happened, considering that we were coming from such an outside place. We didn't really have an inside understanding of any this, so meeting someone like Anna so early on in our careers was unbelievable.
Our very first time in New York City was with that small, ten-piece collection. We were both so overwhelmed. It felt like falling from the middle of nowhere. New York seemed so big then. Now it almost feels like a second home. I had never been in a city like that before so it was exciting and terrifying and it took a real leap of faith to make the trip.
But my sister and I have always been making things. I have one early memory where we decided that for my birthday party we were going to write a play, and that our friends had to join the cast. Every day at recess we would rehearse the play. Then they came to my house for the party and we had all these costumes prepared, so we could perform. I remember that distinctly because I felt, in a sense, we were always like that. It was always about making something together. We grew up in a creative family. I remember my mom would tell us, "Why don't you take the week off from school? We're going to watch all these Hitchcock films." Although we were young kids, we were fascinated not only by the language of the film but also by the garments and the stories that they had to tell through those costumes.

Photo | Spring 2018, Autumn de Wilde
That first trip from California to New York took quite some courage. Where does that bravery come from?
KATE MULLEAVY Our parents have been very supportive since we were children. They taught us to go after the things we wanted to achieve. I remember being a little girl and our dad saying to us, "The one thing I need you to do is to go to college, and have an education so you can choose your path in life and can determine what you want to do." Both of our parents always said that we could achieve and do anything we set our minds to. Our grandfather's last name is Rodarte, and he left Mexico during the Revolution to set up in Pasadena. He was a self-taught aeronautical engineer. There's a very free-spirited sensibility that runs in our whole family.

Let's talk about the development of a collection. Do you cast a character? Are you "writing" the story first and then creating the clothes for it?
LAURA MULLEAVY It depends on the collection. We've had collections where we know the story, and there's a narrative that develops from it. So we choose textiles and colors that tell that story, or at least what our understanding of that idea is. Sometimes we've had collections where we're drawn to textiles and colors, and then we ask, "What story is this?" So we begin development both ways. We do two collections a year, and when we're designing those collections we don't know what the mood is going to be or what we'll be influenced by. Some things that inspired us are where we've traveled, or what art shows we've been to. Those things all start to accumulate into some type of personal zeitgeist for us, and since Kate and I are together all the time, it's shared. We have a very innate shorthand language with each other and I feel the collection's just a reflection of us in those moments.
Why do you wake up in the morning? It's to make something that doesn't exist, that's not even tangible, then you turn it into something material. That leap of faith that you take, which for us was going to New York, is a necessary element of creative drive. If I breathe in, I have to do it. When you have something that you want to say or share with people, you're compelled to make that happen and I think that's part of the creative process.
[quote text_size="small" author="Laura Mulleavy"]
It's hard to put your finger on why you make things. I'll look at things that we've done and say, "I wonder why." The inspiration, or the head space you're in at the moment, I really believe it's primal.
You mentioned that you two are always together. Do you have separate roles in the development process?
LAURA MULLEAVY There are a few things that one of us will do a little bit more than the other in terms of office things, but I honestly think that we keep it pretty interconnected during the creative process. I don't think either of us take ownership of an idea after it's been talked about. It's just an inception point that grows, like a little molecule that's accumulating things to it. Our function as a duo is very symbiotic and neither of us can do the job alone. The beginning of the work is the discovery of an idea, and that discovery involves a lot of dialogue even about things that have nothing to do with our collection.
We see a lot of friends who work alone, and it's very isolating to be in a creative field where everything's on your shoulders and you don't have someone to share that with. So here, it's a completely equal relationship. In that sense, you feel so free to have an idea, to have a bad idea, to go follow through on a bad idea or to make a great idea come to life. There's no judgment there, and I think that freedom is so liberating because then you're just always willing to try.
KATE MULLEAVY I also think there's strength in each of us that comes out along with differences. Sometimes I notice with Laura, she's so strong-willed and strong-minded that she can take people on a journey and make it happen. She's very good in the moment at just saying, "Yeah, this is what needs to happen," and she's able to be very free and change course when she needs to.
We are different but in terms of us working together, it is almost like one person. It's still intertwined and that's why Laura would say, "Well we don't know who said what, who does what." I feel like there's a part of her that fills me and vice versa. There's a freedom there to not be afraid. If it's a terrible idea, I'm not really embarrassed.

You've really had to reverse-engineer a business. I would love to hear a bit about what you learned along the way.
LAURA MULLEAVY We definitely learned along the way. We started something before we even knew the business or structure of the industry. We had our own standards of what we wanted to be as Rodarte and what we should be over the years, so we had to define how we could work within the industry. We're 100% independent and have been since the beginning. At times that has presented obstacles but being independent also gave us so many freedoms. It allowed us to focus on discovering what would make us happy as fashion designers because the job is creative and also demanding. We know that our main goal is to have integrity as a brand and to create clothing that someone could really understand is Rodarte just by seeing it.
We learned that business is about trusting your gut, following instincts, and not being afraid to make smaller mistakes along the way because that is the way to start understanding and learning the language of the business.
People have not always understood that about us, and I think it's so strange because I always want to say, "Don't you understand that we do this on our own because we are intelligent women?" We utilize all the ways that we learned, whether it was in college or from our parents or just from experience to create a company. I feel very proud of being able to do that and for Rodarte being the success it is, so for me that's a very big deal.
At the end of the day, our company is about being artistic. That's what we care about. My hope is that when someone buys something from us, they feel like they're going to hold onto it and maybe even pass it down. Something they couldn't throw away after a season. That's what's important to us and as we're evolving, we are keeping in mind how quickly luxury moves now. That's an important feature of what we do and I think that we're committed to trying to make those lasting pieces and have our business reflect that.
[quote text_size="small" author="Laura Mulleavy"]
Often people want to say that a designer isn't aware of business but actually, there's nothing more business-like than having to run an independent company.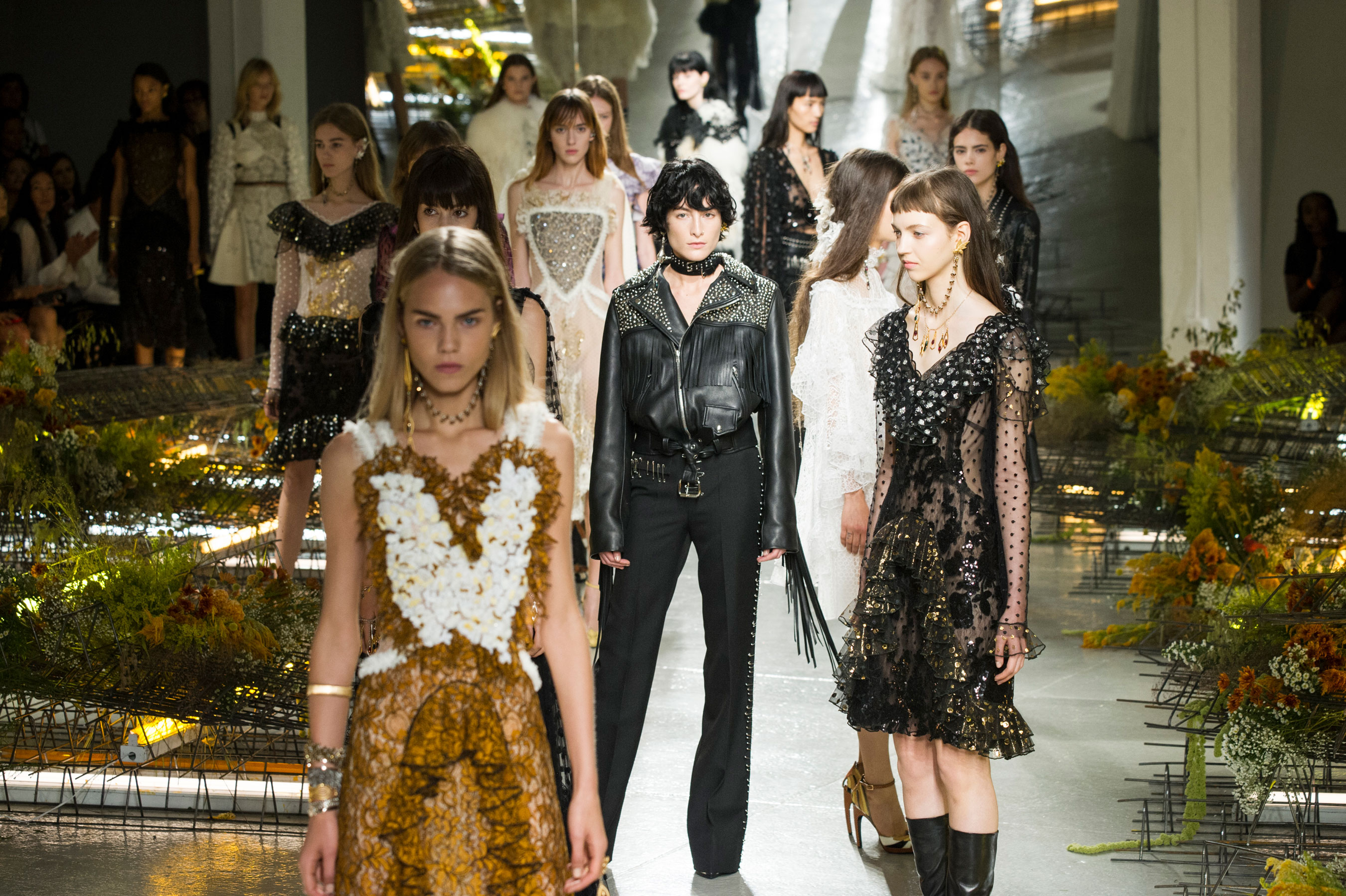 Your work has crossed thresholds to museums and unique partnerships like Coach, how did those links come about?
LAURA MULLEAVY Caring about a certain form of artistic expression linked us to certain worlds. I think that it started happening as we were accepted into the art community. Our reverence for the art world and our process is very artistic, which translates to our intentions being artistic. It's fashion, so I think that we could only do it if we felt artistic about it. So for me, the highest honors we have had in our experience as designers were having a gown within the Metropolitan Museum of Art, and doing shows at MOCA and The Cooper Hewitt. We have a show coming up at the National Museum for Women and the Arts in Washington, D.C., and that's a huge honor because it's the first fashion exhibit in Washington outside of things in relation to the first lady.
We really care about the integrity of what we do and what we make and why we make it. It's amazing to be able to cross over and to do projects like we did with Coach. Stuart [Vevers] is so lovely and wonderful. That was really exciting to do because those projects allow you to learn as a designer. Kate and I had never made a handbag at that point so we learned about this whole new world, and a different method of making something. That just makes you better at what you do.
We did costumes for an opera with conductor Gustavo Dudamel and Frank Gehry did the sets. That was just the most powerful experience – being able to work with Frank and to understand someone that is in a career where it takes tens of years just to make a building. All of these opportunities to explore communities outside of our own make us more connected to what is inherently in us and decide this is what we believe in. We're always here to learn, and over time hopefully we're better at what we do because we're learning from the people that are around us.

On the opportunity front, how did Black Swan come about?
KATE MULLEAVY You know, it was like a twist of fate. Natalie Portman at the time said, "Hey, I'm about to do this movie. I think you guys would do amazing costumes for it," So we went in and we met with Darren [Aronofsky], and I remember we had prepared so much research. We had read the script before that meeting and while reading it, we knew what a tremendous opportunity this was. The film inspired a world to get locked in to, the Swan Lake of Black Swan that is pretty unique to the film. After that meeting, Darren asked us to be a part of the movie. It was an incredible journey. I felt like we helped create something, especially for an actress like Natalie who needed to so dramatically transform not only in her character's role but also as an actor. She took on a tremendous amount of physical preparation for the role as well and I think having costumes that helped her dig deeper into character were important to have.
LAURA MULLEAVY It was kind of kismet, too, because in the past we have done collections about ballet and classic films, so I think our hand was just meant to be a part of Black Swan. If you look at the costumes, you could see that there are elements of our work that are there and are very strong and it just so happened that we could connect to that material in such a strong way.
We went down to New Orleans for Halloween afterwards, and I remember it being one year after Black Swan came out, there were so many people dressed up as Natalie's character. We tried to document each one of them and at the time and we were like, "Can you believe this? What is happening?"
Did that experience spark the next step in your path towards film?
LAURA MULLEAVY It did. I think our love of film started when we were children, and continued to be strong where we even studied film at college; but that was our first experience being on the set of a film.
KATE MULLEAVY It's interesting because I think one of the central things that both Laura and I have always had was the inspiration of film. It's a huge part of how we understand the world. I think it's the art form that communicates the most with people on a broader level. When you're growing up, you don't always think about it. What's so great about the experience on Black Swan, like Laura said, is that it was our first real interactive experience on set and interacting with film in a very different way. Before we were interacting from afar, as a viewer.
LAURA MULLEAVY Even in that phase of someone working in the costume department, it's still removed from the actual functions of the film set. It still seemed more like a dream than the reality of it, because you're in one little area of the whole film.
Was the dream of making a film in place before this venture into Black Swan?
KATE MULLEAVY I think we always knew we wanted to, however, I don't think we fully understood what that meant. Working on Black Swan was what made it seem possible.
[quote text_size="small" author="Kate Mulleavy"]
The desire was there, but Black Swan lifted the veil a bit in the sense that it made us feel more empowered. It empowered us to feel that something was possible.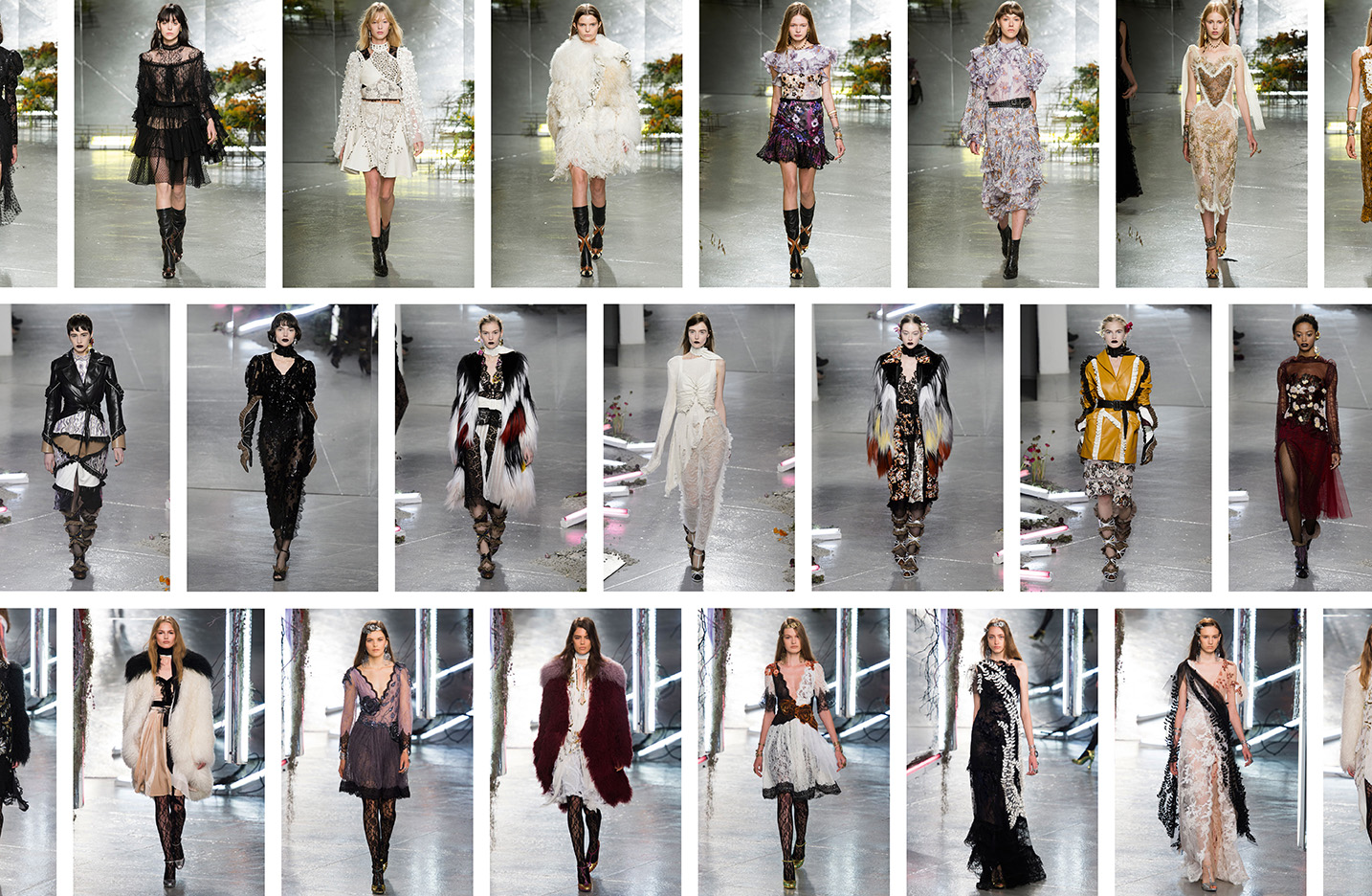 Tell me about the film genres that you are attracted to and that influence your work. Is horror a genre you've always been interested in?
LAURA MULLEAVY Well, I think at some point, yes. You go through periods of your life where you have discoveries, like hearing punk music for the first time, or finding different ways of listening to it. My mother raised us watching things like Hitchcock and classic Hollywood cinema. So when we got to high school, we started to go outside the realm of the ways our parents influenced us. We started discovering things from friends, getting into foreign cinema… even stuff from the 70's. After college we realized that we didn't know anything about the horror genre. It was weird because it's such a beautiful genre in terms of the cinematography. Some of the films we love are masterpieces and yet we didn't know much about them, so back then they had Blockbusters where you would go rent movies. Kate and I would go to the different sections and be like, "Okay, well we've seen a lot of these movies." The horror section we didn't know anything about, so we started renting those films, like Suspiria. We loved the contrast within horror films – that something could be very beautiful and at the same time very scary – and I think that lent itself to us being designers.
KATE MULLEAVY In an interesting way, the horror genre still functions almost like an outsider's world. I think it's a genre where everything has to be on such a delicate balance to work. In terms of visuals, cinematography, the score, or the storytelling… When it works, everything is in sync.
How did the idea for your film Woodshock come about?
KATE MULLEAVY The two of us started writing, mostly of what we knew. It was all very organic. The film was shot in Humboldt County, CA. Laura and I grew up in Santa Cruz and my parents lived in Humboldt for years before my dad went to Berkeley for his doctorate. We had been very connected to the Redwoods, so that was the beginning point. We started with a place that was very special to us, and that's where the story started to build from. We both decided, "Well this is all very important for us to understand that psychological layer of the film that's more subliminal." But we're going to leave it there.
Previously you hopped on a plane and went to New York with this brazen plan. Now you walk next door to Hollywood, kind of with the same thing. How did you make it happen?
LAURA MULLEAVY We've had so many people on the way that supported us. I would say what happened was, we worked on the script and the script evolved. With amazing people giving us advice along the way, we decided to connect with producers. People read the script, and they said, "Let's make this movie." So then we went from there.
You synced up with A-24 pretty early?
KATE & LAURA MULLEAVY Yeah we did!
LAURA MULLEAVY Before we shot the film, we partnered with them and knew that they were the right voice for this film, and the type of content we wanted to make. They were so creative and passionate about wanting people to have new experiences in cinema. Kate and I felt that we had a new story to tell. They have been so supportive of the project, as well as everyone working on the film. You want the people that are alongside you to feel passion about what they're making. That's always important for Kate and I when we're building something from start to finish.
What's your hope and goals with being filmmakers?
KATE MULLEAVY I think the hope that I always had, was to be able to make things where I just trust myself, and can take that leap to make a film that has a lot of things to say. Kirsten [Dunst] who plays the lead character in the film is so amazing, and plays the role with such nuance. The performance is so incredible that the more you watch it, the more you adore it because this film has so many layers of meaning. But I think for me, it was just about the idea of, you know, you do it and you immediately think, "Okay now I want to make another one."
LAURA MULLEAVY It's amazing the emotions that were brought out of me along the way. They were so invigorating. Like, I didn't even know I could feel things to that extent, and was all this a part of me? That was exciting to experience because I was so used to the adrenaline of getting something completed, and going to do a show. This was more of a long distance running job and I accessed a different part of myself. It was so powerful, and you do become addicted to that feeling.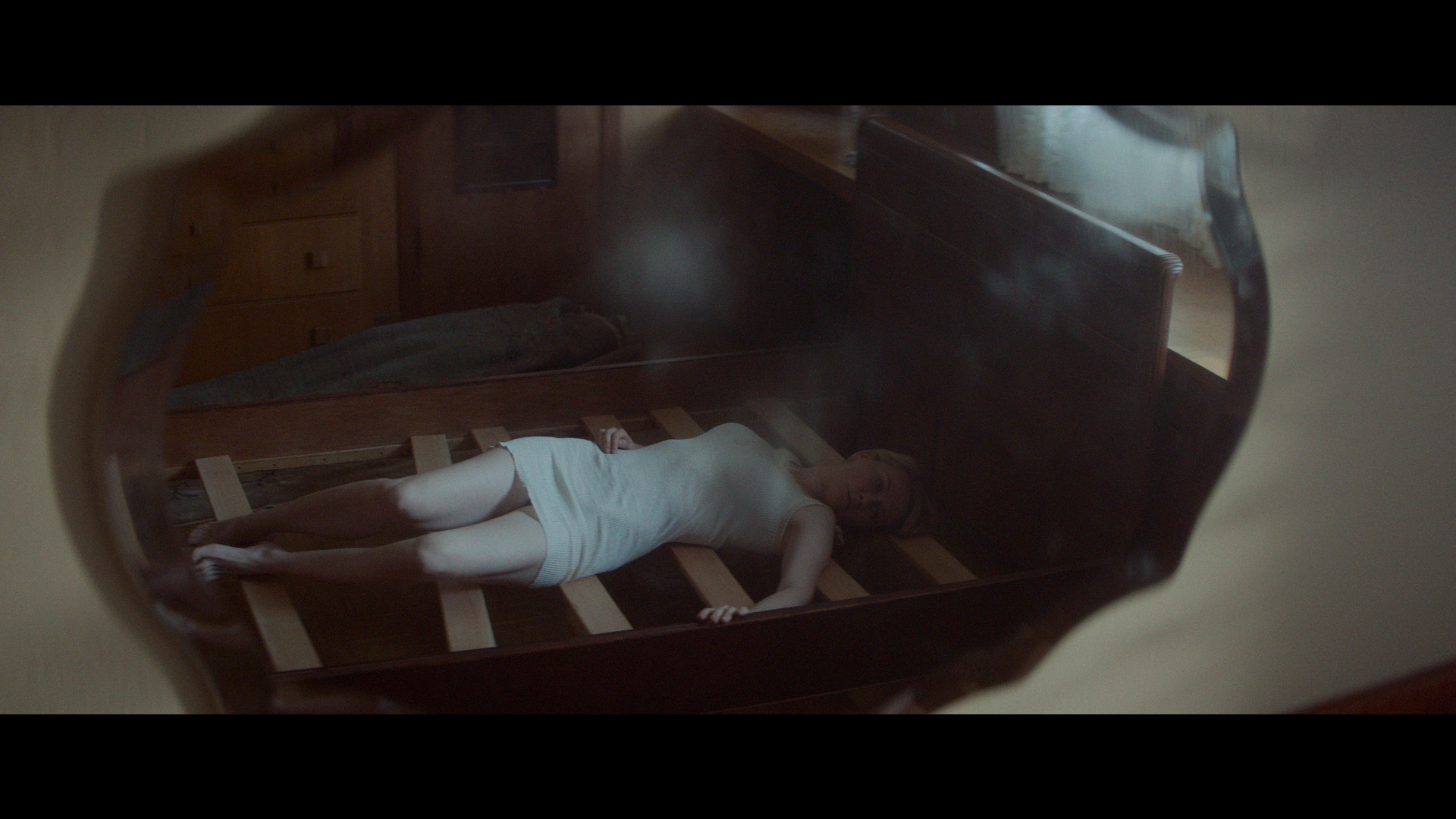 It sounds like you both had pleasant surprises along the way. What other surprises did you find?
KATE MULLEAVY Sometimes I would observe Laura and think, "Wow," about the things Laura could just remember. Once when we were in the editing room, Laura was recalling every take and the days we shot. Even our editor was just like, "I can't believe Laura's brain." She has such a catalog for that. I was just amazed how natural the process was for us, but the other side of it was how new it was for us. I think it's always difficult to get into something that you've never done before. Especially at the end of the day we're women doing it, and that brings its own set of complications. I really think that it's important to have people with different perspectives on telling stories in different mediums. I think that's kind of critical to where we are as a culture.
LAURA MULLEAVY You feel like you have to say it. There's no other option. The reason why you make something is that you feel like you have to. If you didn't do it, you would be doing a disservice to yourself. Who knows? It's a self-reflection. It's important to have that ability to believe in yourself.
What was the hardest part about making the movie?
KATE MULLEAVY We shot the majority of the film at night, so we were on a totally different schedule. The rest of our lives including our business, friends, and family were on a different schedule than we were. It was physically exhausting but at the same time, one of the craziest times I've ever had in my life. By the time we were done shooting, it was so hard for me to transition back into the life that I had. It was like a wave of sadness. I missed that family that I was shooting with, I missed the characters, you know?
LAURA MULLEAVY Because you're doing something very emotional in the story, in order to do it completely, you have to give yourself over to it and become emotional in your execution. Everyone working was emotional about it.
KATE MULLEAVY I think this film just feels different, in all honesty it's hard to let go. Up until a moment ago, I still wondered: even though it's done, is it really done? I feel more of that feeling working on the film than I've ever felt working on a show.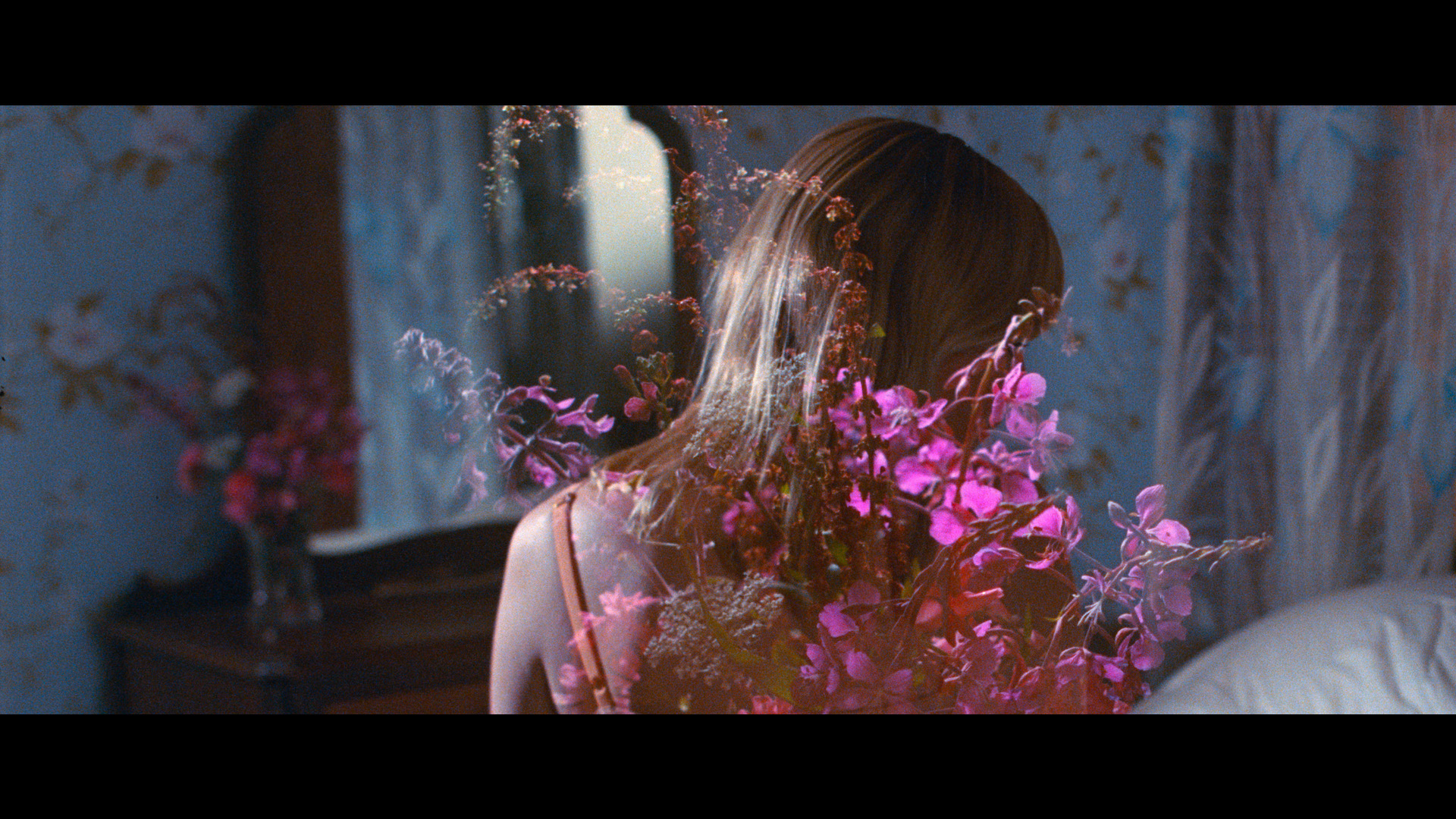 Does film offer a sense of family that fashion doesn't have the propensity to offer?
KATE MULLEAVY Well, we're a small company and we work so closely together. So many of our good friends have worked on the shows over the years. So in a sense, we have our own mini family with that, but I think there's a difference when you're creating a film and you're working on telling a story in that format.
LAURA MULLEAVY It's different, like a self-discovery that I underwent, and I was like, "Wow, I didn't even know I was this person." Then you go back to the routine in fashion and think, "Where's the family?" I was reading through some of your pre-interview questions and I love that you're like, "Who are the people that made, you know, Rodarte pop?" Like yeah, it's a family that you know. We worked with the same show producer, Alex de Betak and Barbara, for years.
Alex is phenomenal.
LAURA MULLEAVY He has always believed in us more than anything. And then our PR person, Brian Phillips, has been instrumental in believing in the idea that we could do something that was so different than other designers. Then you have all the people like our friends who have come on board, Shirley and Ashley work at styling, and Autumn our friend who photographs and documents everything we do. Our hair and makeup team has been the same. So all these people are a family that you go to every six months and it's like a giant reunion. They create what Rodarte is because of our charisma together and so we work with each other out of friendship and loyalty and love and that's a beautiful experience. It's why I like doing a fashion show. You really enjoy being with your friends and family in those moments and celebrating the hard work that goes into it.

It's welcoming to hear how much you appreciate them.
LAURA MULLEAVY You can't say thank you enough because think of all the things we have to do in fashion daily. You're like, "God, I hope I'm expressing it enough and that I'm grateful," because we all work from the same angle and it's a real beautiful thing. When I think of my favorite moment of the show, backstage after the models have lined up, I usually am like, "Oh this is what I do," because I feel so overwhelmed by just the beauty of that moment. Everyone's getting these models on stage and you're there and the key players are right there with you. You begin to realize you have an extreme bond with everyone around you because they're all thinking the same thing in that moment.
And now Paris.
LAURA MULLEAVY It's so exciting. You know it was a big, huge complicated move.
But you two are brave already… Complicated moves are not a problem for you. [Laughter]
KATE MULLEAVY Right. We're always on the move, we go from LA to New York, so at least we are used to having to relocate for the show.
LAURA MULLEAVY We were strategically talking with Alex from Bureau Betak and he was like, "No, your clothes belong in Paris." He would say that to us for years. I don't know if Kate and I felt that we were ready as designers. The way that fashion is viewed in France is like a national art. I was like, "We have to be ready if we're going to do that" and Kate and I decided, "You know what, I think this show is something we both want to do, so it is the right time to do this." Having someone believe in you and help you in any way they can really means a lot. So on some level, having this godfather to the Parisian fashion world was so instrumental. And we were working with Brian from Black Frame, figuring out what it means to have a change like that and to feel confident in our team. With the current state of things, you have to take risks and changes because the industry needs to shift. Fashion is always needing to shift because of technology. None of us know where it's going to go, so this is a perfect time to try new things and to see what happens.
[column size=two_third position=first ]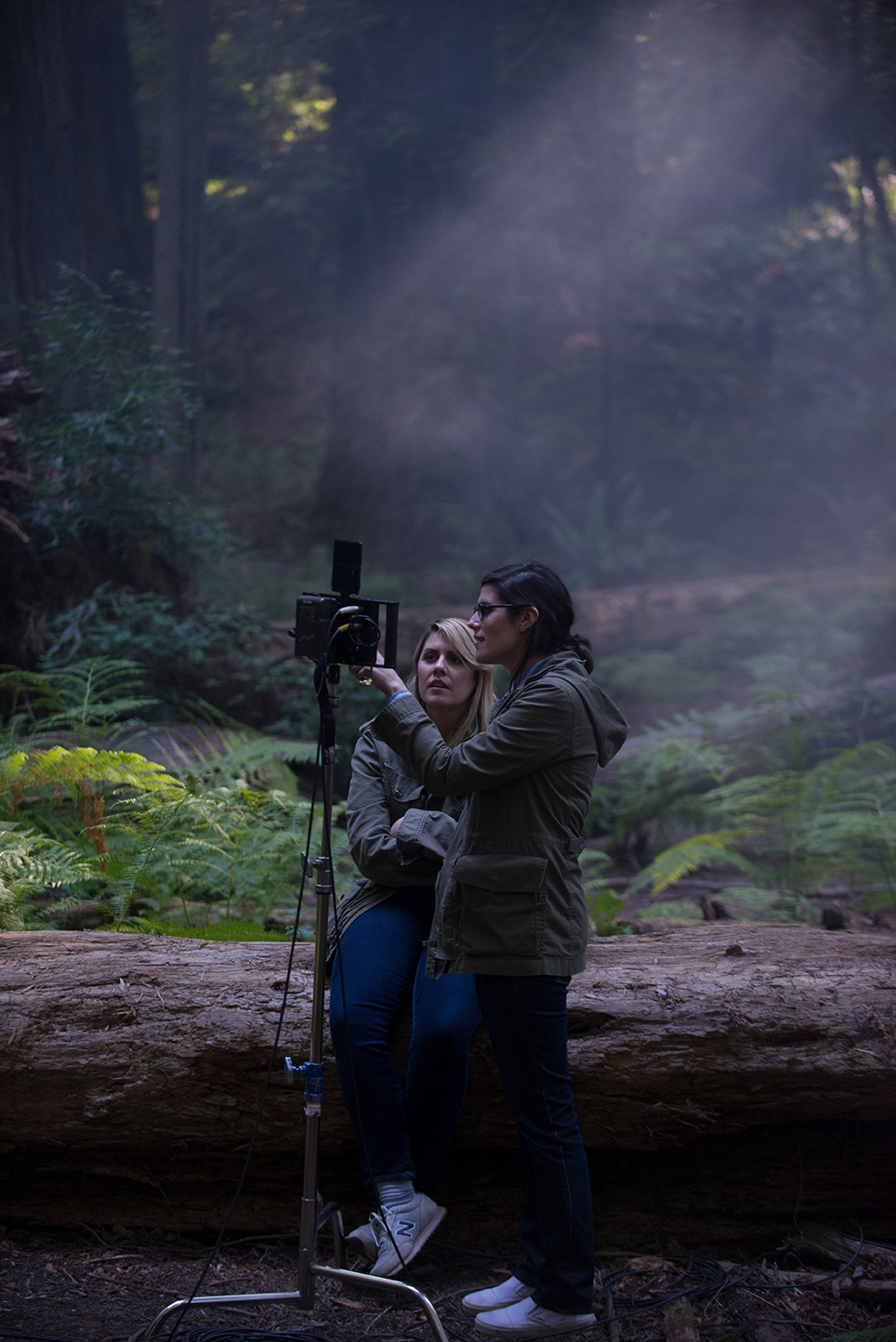 [column size=one_third position=last ]
So after this whirlwind of Paris and the film launch, have you had a moment to think of what you are going to do?
LAURA MULLEAVY I know we need a vacation but we don't know what to do. We keep changing our minds and we can't settle on something. I think it's because we're making so many decisions, it just seems so annoying to make another one. But we do need to take a vacation, and I think it will be really exciting.
KATE MULLEAVY I remember really early on when we started, it was a really big thing to have your show backstage and someone would ask what the idea for the next show is, and Laura and I would always be like, "Are those people crazy?" We barely know what this show is. We were never the ones that knew what was going to happen. In fact, we would take as much time as we could, and it affected our deadlines because we poured as much time as we could into our ideas. That goes back to being organic about it which we are, we really are. Now we will see where the next step takes us when we let ourselves relax.
The best thing that we are going to try to do is to stay in front of the cage and just let our brains open up.
Runway Images | ImaxTree
Additional Images | Autumn de Wilde
Film Stills | Kirsten Dunst in Woodshock Courtesy of A24