---
Review of Tory Burch Spring 2022 Fashion Show
A Personal Vision Fuels a Powerful Creative Focus
By Long Nguyen
I want to come back to the New York shows but to really do in our own ways," Tory Burch said inside her new flagship store on Mercer Street after her Spring 2022 collection show outside. Burch mentioned the legacy of the American designer Claire McCardell's invention of sportswear, the highly focused collection of joyful lean shape dresses mixing different fabrics and design elements. For that daily easiness in clothes that address how many young women live today and not how high fashion they want them to live.
Shown on a much smaller scale than in previous pre-pandemic seasons, this collection complements the entirety of the brand's creative and business plans. It is a way forward to a new era at the brand in the cusp of embarking on a growth path post-pandemic with a firm foothold both in brick and mortar retail to the quintessential e-commerce.
She discarded rules of what women should wear instead of problem-solving for the reality of their lives. Her designs instill a sense of freedom, encouraging self-expression, and empowered women with a casual elegance that is relevant today as it was in the late 1940s," Burch said about McCardell, who provided new ways of dressing for women in the rapidly changing post-war era.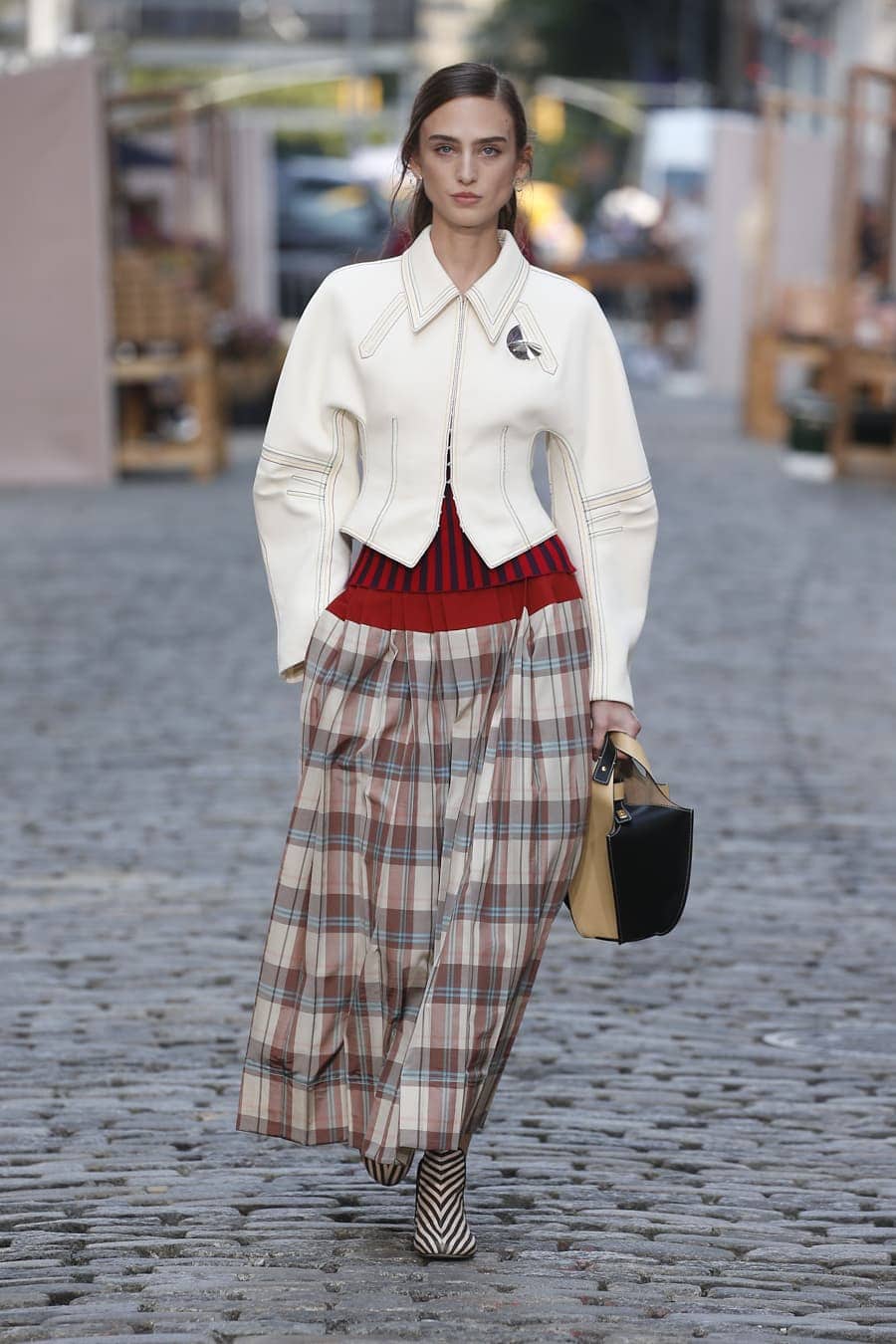 Late in August, the brand opened a 6000 square feet flagship store on Mercer Street deep in the retail heart of Soho, listed as a multilevel flagship decorated with folk art, vintage furniture, and pottery reminisce of Burch own home aesthetics. The new flagship isn't far from a few blocks north on Elizabeth Street, where the designer opened her first shop in 2004, at the start of her brand. On the ceiling are handwoven baskets arranged in patterns like three-dimensional sculptures.
The 'at home' feel approach is intentional to drive immersive experiences at the store for the younger consumers yearning to spend time at brick and mortars retail spaces anew. Decorated in tones of oak and brass, Burch hand-picked the furnishings – tables, pottery, ceramic, and art pieces – in the arts and craft style that she would have gotten for her own home. The artist Miranda Brooks made a garden space just behind the store for that outdoor feel, reflecting the vast greenery of Valley Forge, PA, where the designer grew up.
Ready-to-wear, footwear, accessories, and home products offer a varied range fulfilling the total lifestyle concept approach, but Tory Sport won't be available here. But there are plenty of clothes from the fall collection themed as a love letter to New York City. This Mercer store will also become a hub supporting local business with scheduled events throughout this fall season with projects to benefit the Henry Street Settlement and The New School Parsons School of Design.
"It's great to be able to work together with the different local businesses that have struggled so much," Burch said.
Burch's approach to her fashion remains apolitical despite all the well-earth-shaking rebellion in society, especially highlighted in unprecedented ways during this ongoing pandemic. This new approach to providing a personal touch isn't a new approach except that now it is a broad concept permeating the entire company's ethos. It's a fashion approach viewed from Burch's lens rather than one taking on the day's intricate social-political divides. Sometimes, fashion provides other comforts and reassurances than attachments to social and political activism.
There was a time decades ago in the mid and late 1990s when fashion was all about the personal rather than the more detached feel today. Now, so many brands latched onto projects and causes to make themselves feel more relevant because the fashion they make speaks less and less to their audiences. It's the new way of working the spin. Here is a minimal quantity of sneakers whose soles are remade from recycled sneakers, and over there are the much-touted virtues of the new 'mushroom' lab-grown leather bags in the name of responsible consumption.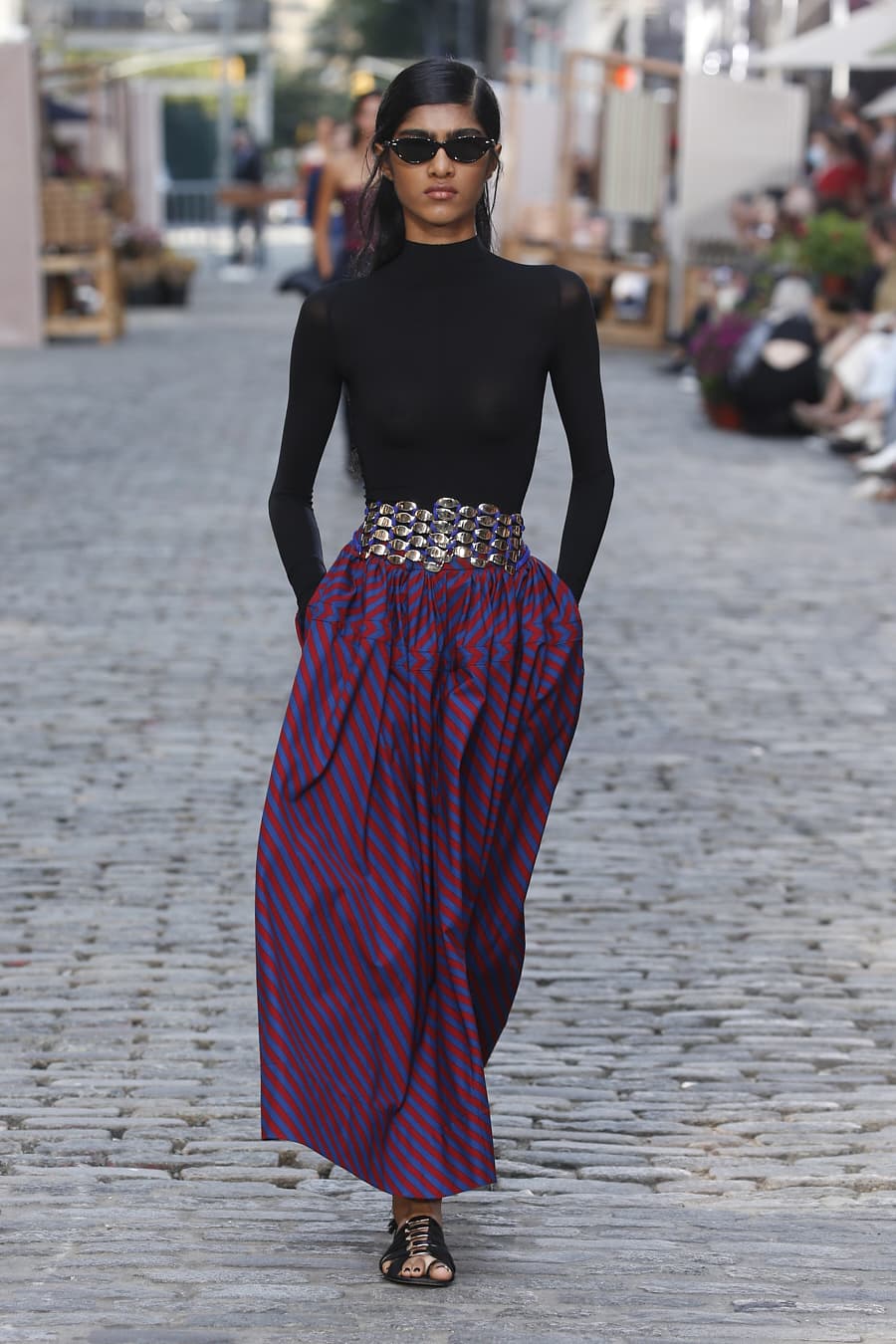 I think there is a lot of new and interesting designers, and it has allowed so many people with dreams to come forward and accomplish their work in fashion. Look at me. I mean, I don't have any design experience, and I have learned everything on the job. It's a tough industry, and it also takes a lot of time," Burch said when I asked her thoughts on the changes in fashion since she opened that first store on Elizabeth Street in 2004.
What do clothes mean anymore today?
It is notable that Tory Burch never really strays far from her territory and that on its own is worthy in the era where the personal vision is at best, well, how to put it, not precisely lucid. She used her parents' old summer travel pictures and the clothes they wore, then taken on cruise ships to Italy, Greece, and Morocco as the starting point for the Spring 2019 collection three years ago as a starter point of this broader homecoming endeavor. That spring season, clothes recalled e kind of clothes her parents would pack and wear for these far away journeys on their months-long boat trips.
It is much more personal. I have a lot more time now to spend on the creative and the design than before, as I no longer had to run the business three years ago. So I have the time to spend on just the design aspect and have the time to focus on creativity. And a lot of creativity comes from personal experiences. For me, it has been transformative," Burch said of the recent turn in her brand creative direction, making collections from a more personal perspective.
The idea is to have a feel of a Sunday local market in the neighborhood with families get together and enjoying the different offerings made from scratch by hands.

– Alexander de Betak, Bureau Betak, who teamed with Tory Burch for the first time for her show production
The creative stage designer stood in front of a cart full of freshly wrapped flowers, next to a wooden stand serving hot coffee and brownies. It can be any small market throughout America on any given weekend selling home-grown goods. This particular setting serves the all-around narrative of handicraft and the different heritages of Americana.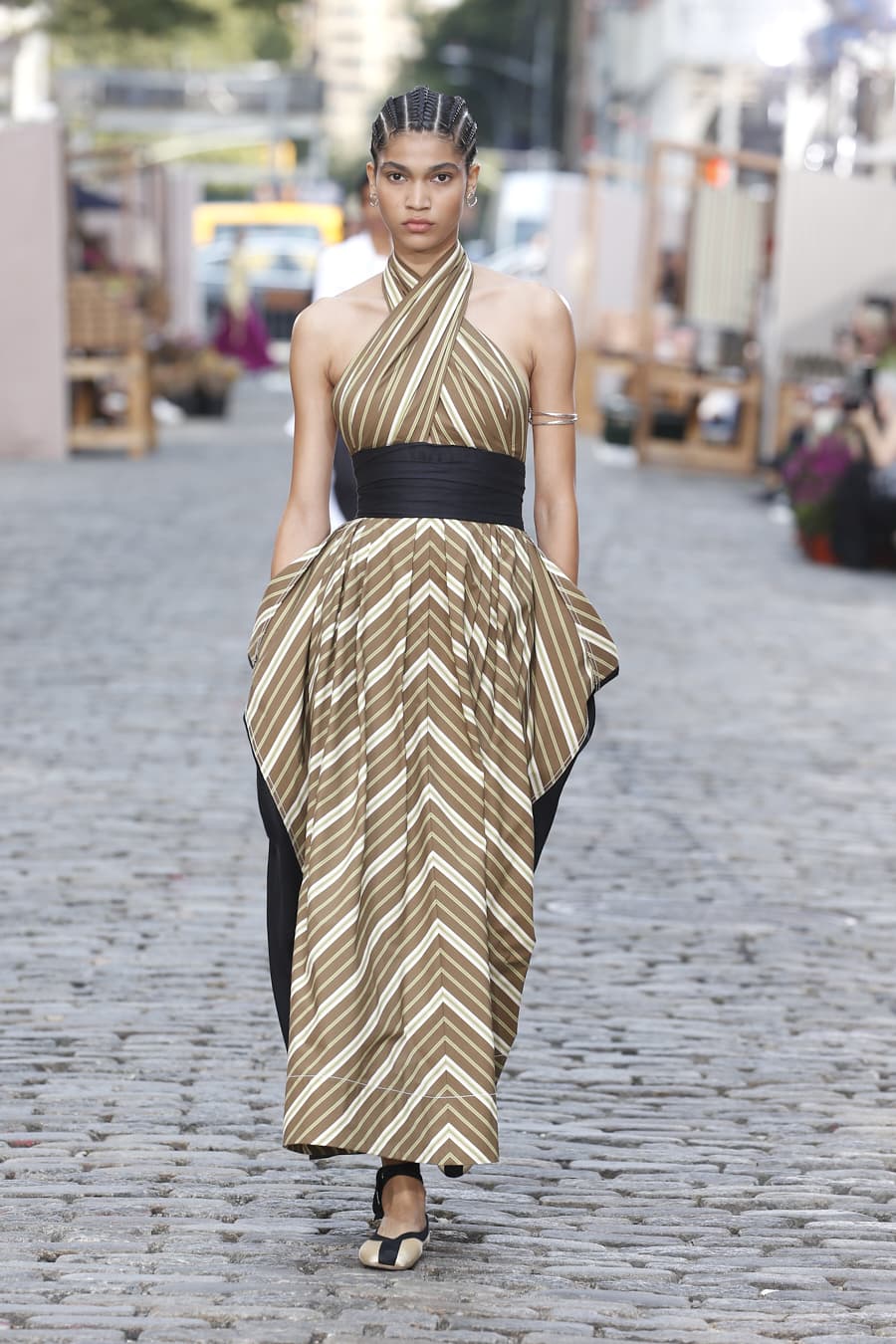 This Spring 2022 show staged on stone paved Soho street just outside her new store meant to be for the customers and visitors an extension of the designer's own home. Burch brought home the products she is known for, namely streamlined no-nonsense clothes and functional accessories like her best-selling ballet slippers or the new Lampshade bucket bag as an inverse of the 1950s inspired lampshade hat.
Now, she also has the heritage backing of Claire McCardell. "I think there is a casual side that women want to embrace in clothes. One thing about Claire McCardell is her confidence, her irreverence, and her not sticking to the norms. I want to make a woman feel this confidence," Burch said.
The opening looks – a white cotton shirt cropped jacket, a duo fabric jersey, Madras long skirt, and a burgundy puffy short sleeves top and ecru pants – set the tone for this no-nonsense collection. The attention is on how these different garments can be worn together or mixed with others in women's daily lives across all ages that are the brand's consumer base.
The clothes mixed the idea of versatility and function.
A long ecru button shirt collar coat belted at the waist paired with a marigold shirt, or one can easily wear black cigarette pants with a burgundy sailor coat long sleeve blouse light beige flat front pants. The primary silhouette is the lean straight line of a blue knit elbow sleeve t-shirt with a high waist blue and white checker print long pleat skirt. Plaid Madras print mixes with red cotton in one long dress offers the contrast of color and texture, so the fluid brown and light yellow color block jersey blouse over Fuschia pajama pants.
Burch also spoke about the use of the double TT logo. "In the beginning, when we design the logo, we always want it to be a design element rather than something separate. Things happen." A new version of the T monogram in raffia on oversized totes, hobos, and cross-body bags in the show. Oh, and yes, the double T is also on pendants and mules.
I want this brand to be the most inspiring company, not necessarily one of the largest companies."

– Tory Burch
---