---
Review of Akris Fall 2021 Fashion Show
A WALK IN THE PARK
Akris Reveals Its FW21 Collection In A Video By Anton Corbijn Set In Its Picturesque Hometown In The Swiss Alps
By Dao Tran
On our traditional chat before the show, The Impression's Dao Tran spoke to Akris Creative Director Albert Kriemler about the inspiration for this season, Swiss poet Robert Walser's daily constitutionals, the prophetic vision of Wiborada, the first female saint, and the investment pieces women will want to buy next.
We have probably never gone on as many walks as in last year. It kept us sane during lockdown; it was the safe meet-up of choice between friends, the new first date for many dating app matches, and the inspiration for Albert Kriemler's FW21 collection for Akris. Kindred spirit Robert Walser, one of the most important poets of the last century in Switzerland, took daily walks and was convinced that he wouldn't have been able to write, let alone live, without it. Not only was the "daily constitutional" believed to be integral to overall well-being, the promenade also provided the ideal opportunity for preening and display.
When it became clear in November that the next fashion week would still be digital, Kriemler decided to forego the catwalk in Paris for a walk in St. Gallen, his hometown in Switzerland. In fact, the print this season comes from three maps of St. Gallen, and "every piece of the collection with the print shows the atelier on the map, where I've designed my collections over the last 40 years. I still design my collections in that house which my grandmother bought in 1944." This return to home and family, the emphasis on local, will resonate with many because of our universal shared reality this past year.
Between having his best thoughts during his morning jaunt through the woods the last fifteen, twenty years, and thinking about the way people have been living and moving through cities during the pandemic, Kriemler built the collection around the idea of the clothes you need for a walk.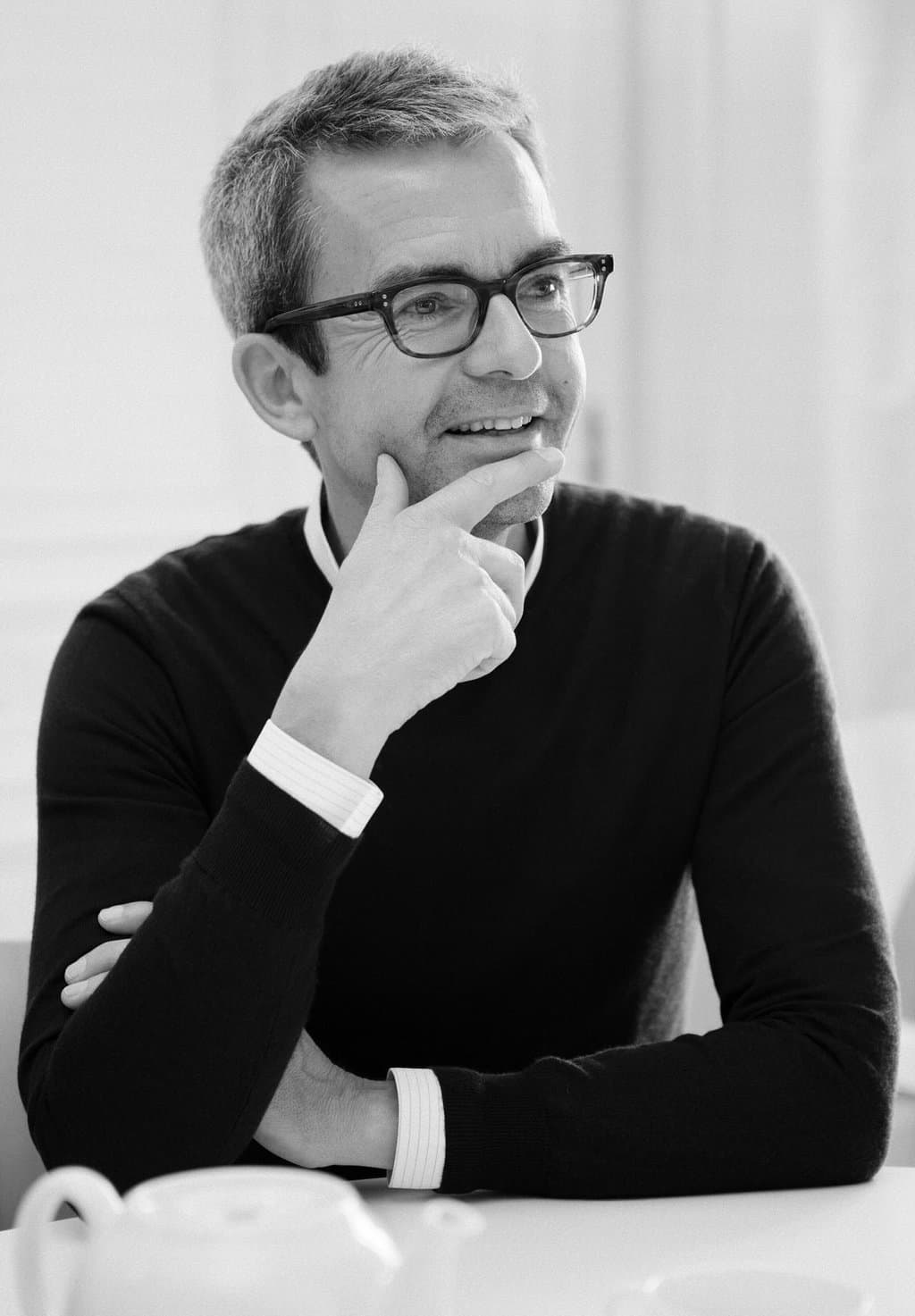 This is the time now for thinking of a complete new wardrobe of investment pieces. It's exactly what women will be looking for – that next piece to add to their wardrobe in pure cashmere or in beautiful double-face.


– Albert Kriemler, Akris Creative Director
Kriemler further added, "I kept in mind the woman on a walk, that she wears layers – she can put on more layers or take them off, depending on the weather, she can dress it up or down, depending on the occasion. So I had a total new approach to the collection."
Versatility is the name of the game, for example, two-in-one coats and jackets such as a rainproof silk parka or wool silk embroidery coat with a quilted layer underneath which has a new proportion – it's shorter and has a volume sleeve to fit over your oversize sweaters. "You can take one, you can take the other, you can take both, and you're dressed for a rainy, windy weekend, or you can also just wear the coat to go out for dinner. This is where I think functionality is part of my creativity always." Coats can also be worn as dresses – a feat of impeccable patternmaking and tailoring – as in the double-face wool button-down coat dress or my favorite, the double-face cashmere double-breasted coat. It's a super elegant, perfectly tailored, beautifully proportioned piece.
I find utmost strength in utmost simplicity, the utmost feminine in sensual minimalism.

– Albert Kriemler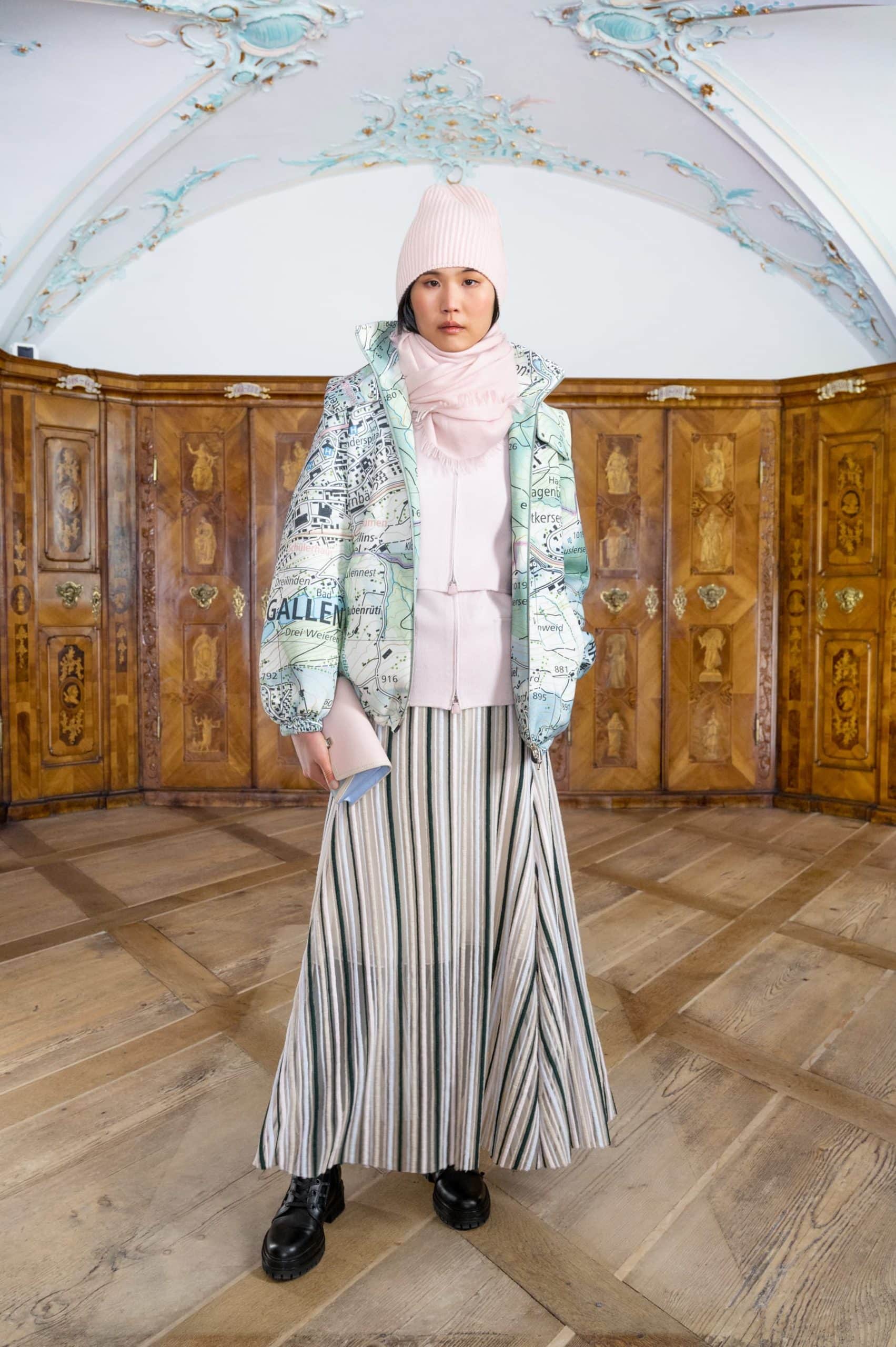 Not only does the layering make for smart winter dressing, but the collection also has an infusion of a younger, more casual vibe. I can see my teenage goddaughter in the techno neoprene parka, and that all over fit looks almost street. "It's ageless. Today, we don't think about age anymore. I think every woman can look amazing. It's super cool, young, it's modern for a customer who just wants a casual piece to take a walk, it's great for travel." Not to mention, it's the first time Kriemler has ever done a jean jacket – in no less than a covetable double-face cashmere that you could dress up or down and that would go with everything. Same could be said about the jersey robe coat in cashmere felt.
It's pure cashmere, looks very modern and feels amazing. I think it's important for all of us to think about what the new needs are, what makes us want to start buying clothes again. They need to make sense.

– Albert Kriemler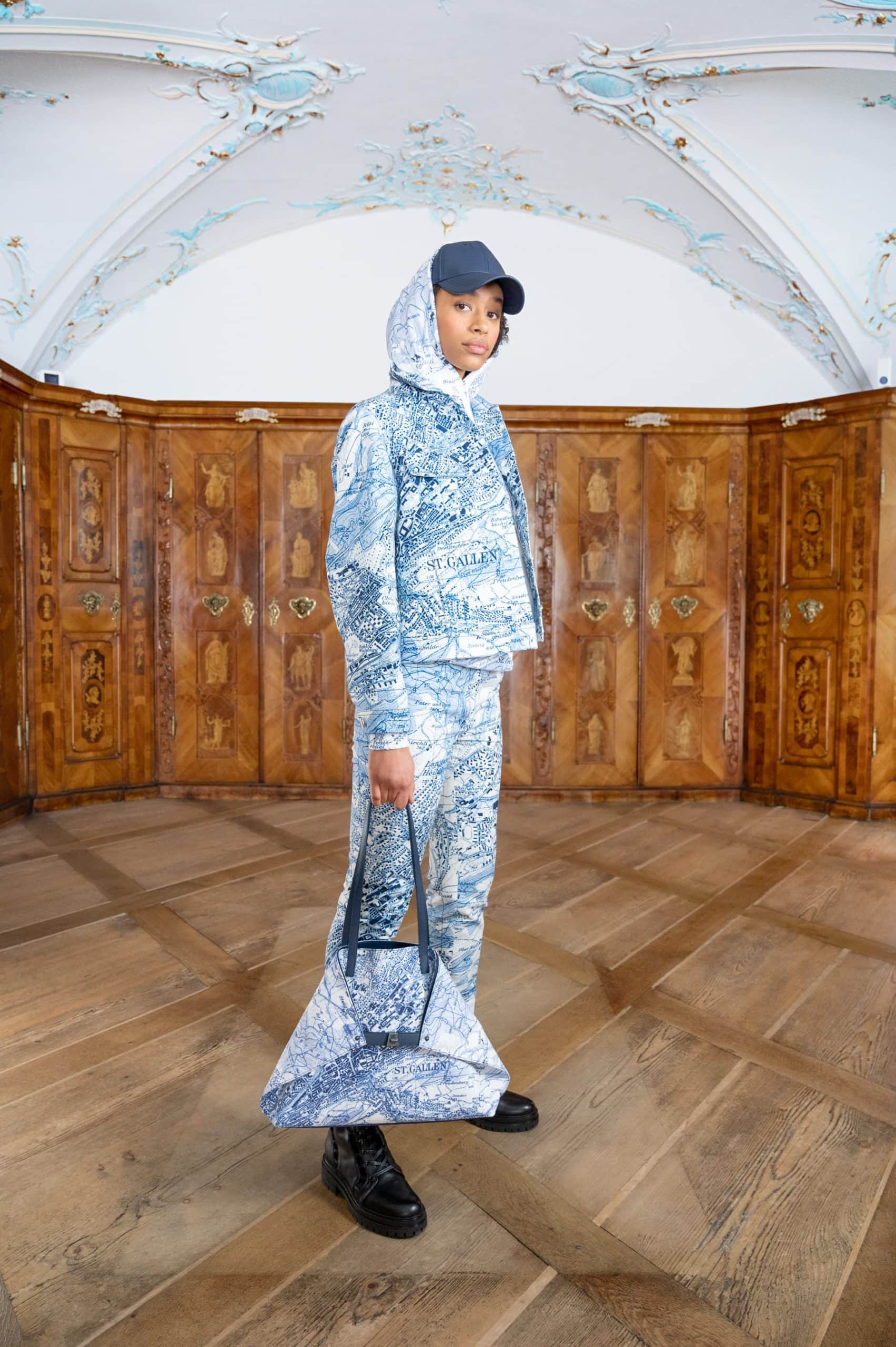 The way clothes feel is very important to Kriemler, who inherited his grandmother's deep knowledge about fabrics and innovation with them, using the highest grade cashmeres and softest lambskin. The cashmere and silk jersey that his father developed in the 70s is "the perfect underpinning as the first layer. It keeps you cozy without being too warm, and it just feels wonderful in winter. Then, you can layer up, but you don't sweat because it's the best on skin." In this vein, the sweater gown is "the most comfy gown you can imagine. You can wear it with heels for dinner; you can wear it with flats or boots during the day. It's how I think gowns should feel; it's our duty to design with this new purpose." Kriemler usually develops novelty fabrics for each collection, but this time, he couldn't see suppliers or go to Milan and Paris to select fabrics, so each look contains St. Gallen embroidery to go with the hometown theme. In fact, 50% of global embroidery was produced in St. Gallen at the beginning of the 20th century.
The video concludes in the gorgeous Abbey Library of St. Gallen, which dates back to the 7th century and has an inscription above the entrance reading "healing house for the soul." This gem of a Unesco World Heritage Site has the most complete collection because it was never looted or burned, thanks to Wiborada, who had a dream that the Hungarians were going to attack St. Gallen, thereby saving the manuscripts, monks and wine. She was the first woman canonized by the Holy See in 1047 and became the patron saint of libraries.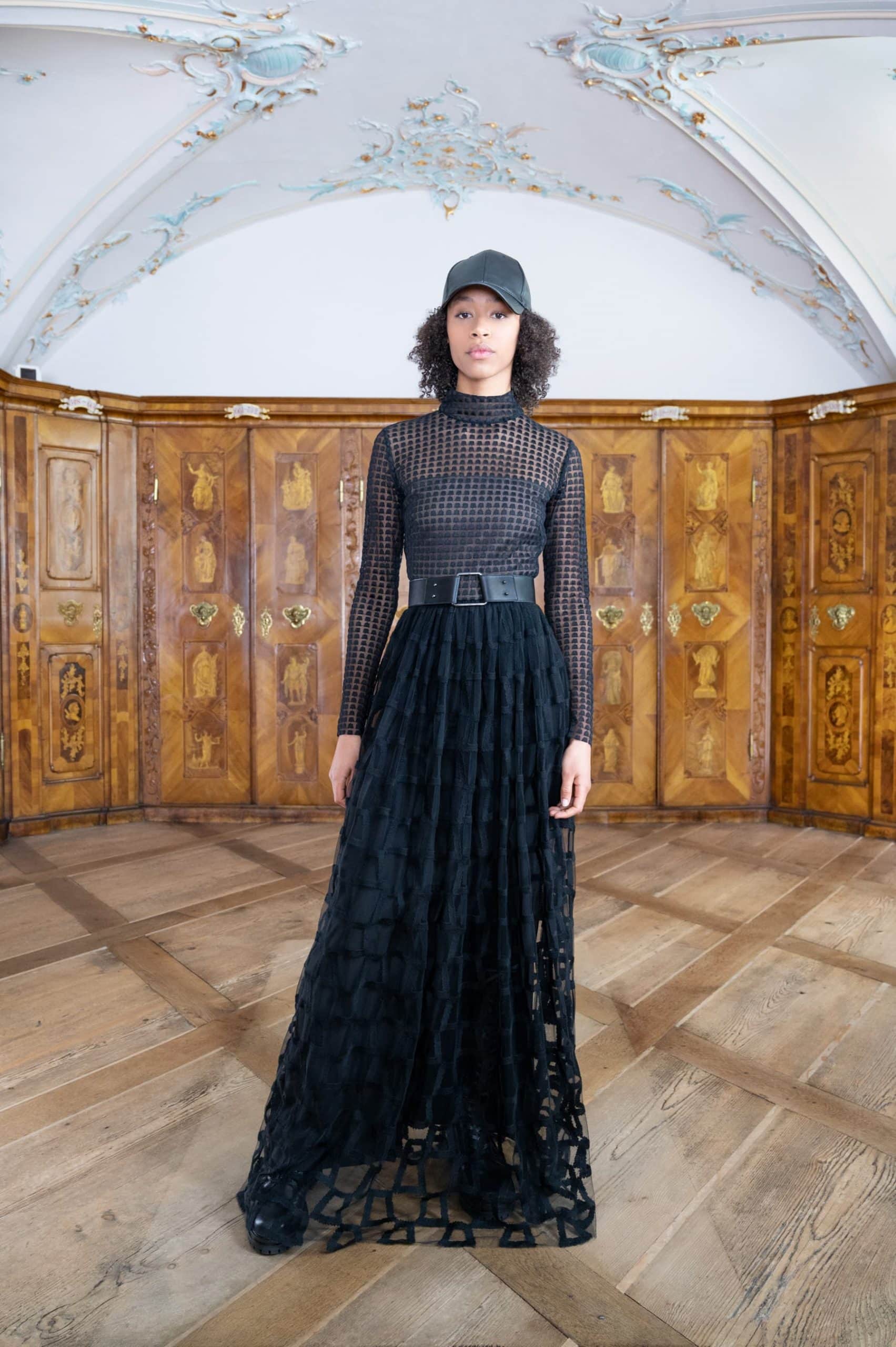 Kriemler designs for a woman with purpose as his grandmother, who founded the company in 1922, was a strong woman with a creative and entrepreneurial vision, and central figure in his life. This International Women's Day, Akris is also launching a Symbol of Purpose initiative to benefit women-led charities. For this inaugural year, they produced a Kinderstern charm from Imi Knoebel's iconic star to support Kinderstern e.V., a non-profit started by Imi's wife, Carmen Knoebel, dedicated to projects for children in need.
---