---
Review of Akris Spring 2023 Fashion Show
100 Years Strong
By Dao Tran
You wouldn't know it by looking at it, but opening the show was a double-face cashmere wrap coat from 1978, which gave the key to the collection. In preparing the book for the 100 year anniversary of the brand, Creative Director of Akris, Albert Kriemler, revisited his archive and realized how modern his pieces were back then and how contemporary they are now. So he chose nine pieces from the 80s and early 90s which form the basis of the collection. Interestingly enough, these silhouettes are actually totally back – that's what the kids are thrifting nowadays or poaching from their mom's trunk, if they had been prescient enough to care for them and keep them. These nappa leather jackets and shorts or high waisted pleated pants could be seen on the streets or clubs of Berlin right now (though paired differently).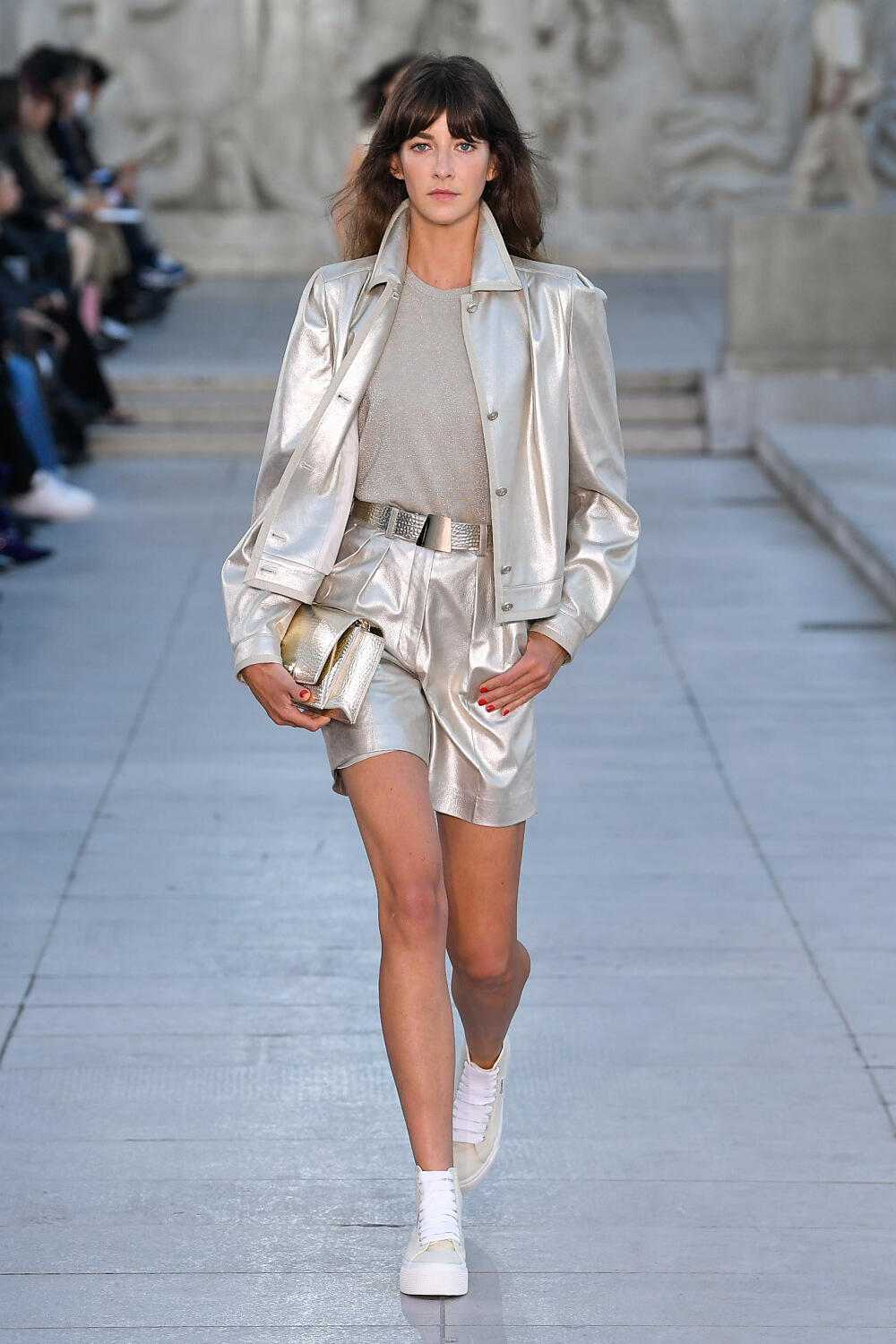 It speaks to the timelessness of his work that you can't tell which pieces are from the archive or now. Long before it became de rigueur to think of sustainability and champion buy less, wear longer, Kriemler has always approached design with a philosophy of building a wardrobe of classic investment pieces. 
It's not a question of what's cool or hot. If we succeed in creating timeless pieces, everything gets resurrected, as we can see with how relevant these archival pieces are today. And between the quality of the fabric and the craftsmanship of our pieces, my clothes are made to last.
Combining the looks with canvas sneakers gives it a youthful, high/low, contemporary feel. It also shows the flexibility of day to night dressing with a different pair of shoes, accessories, makeup and hair. As Kriemler says, "We shouldn't design clothes which only look great with high heels." The way we live nowadays, we want to be comfortable, and he wants the wearer to feel protected, empowered and at ease. His concept of clothing is that it should selbstverständlich, or natural and self-evident, and embody an effortlessness which makes the wearer look and feel good.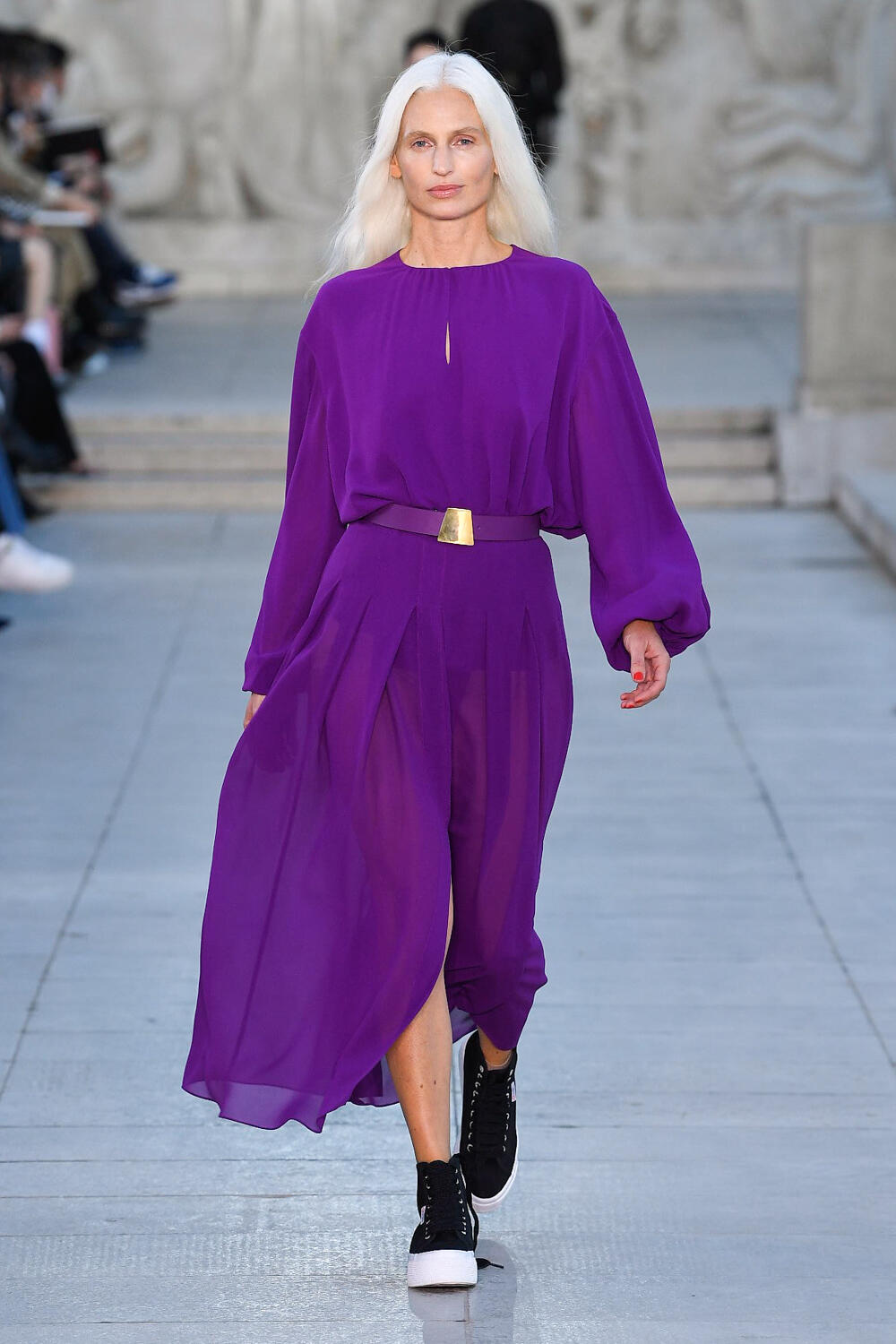 As well, his clothes are smart and fit for a princess. Charlene of Monaco was sitting front and center, and one can well imagine her in this buttery nappa leather ensemble, the embroidered trench coat, or the embroidered tulle gown. The Akris woman truly is a discreet woman of discerning taste and impeccable style.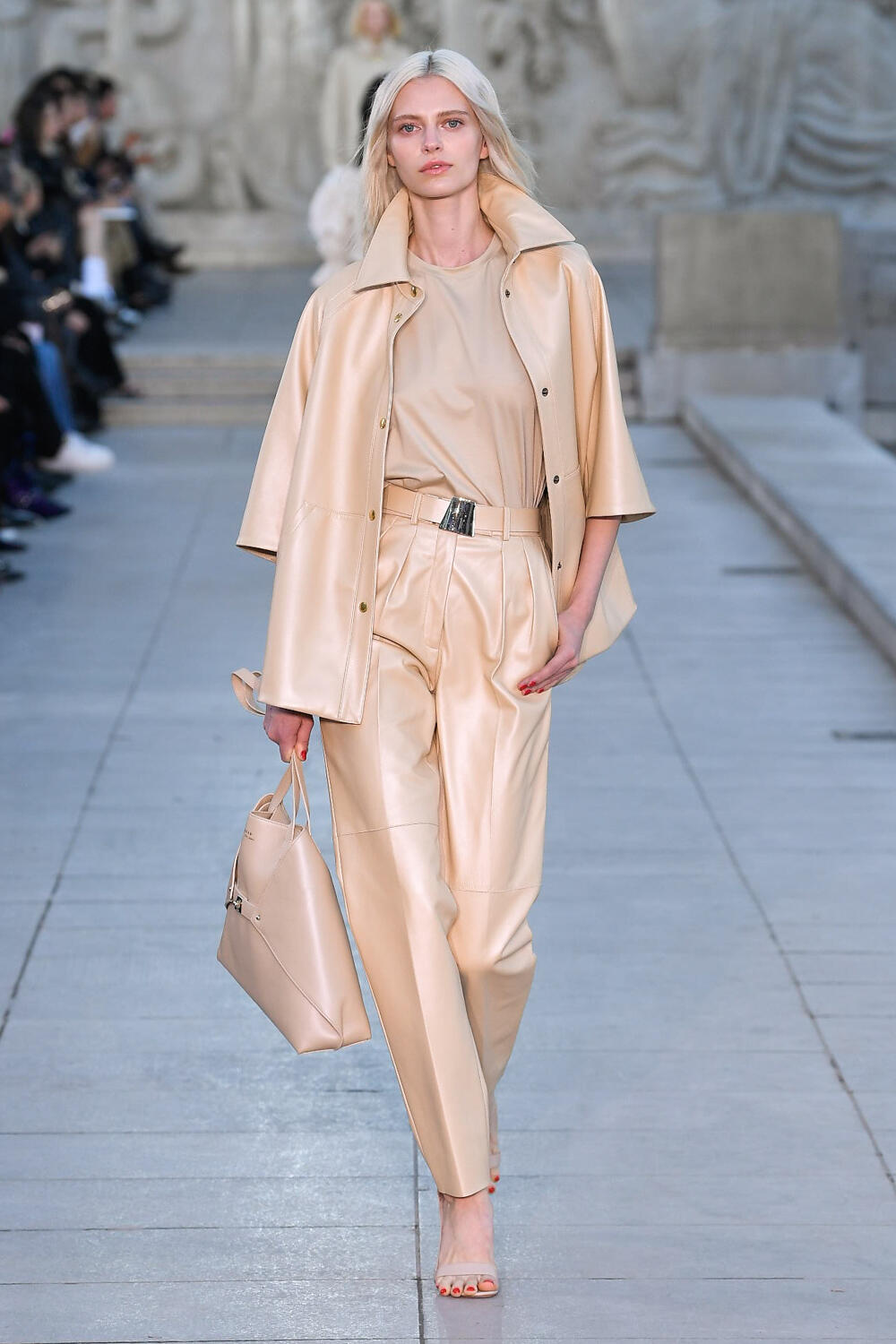 Most stunning and touching was the suite of primary color silk georgette gowns that closed the show.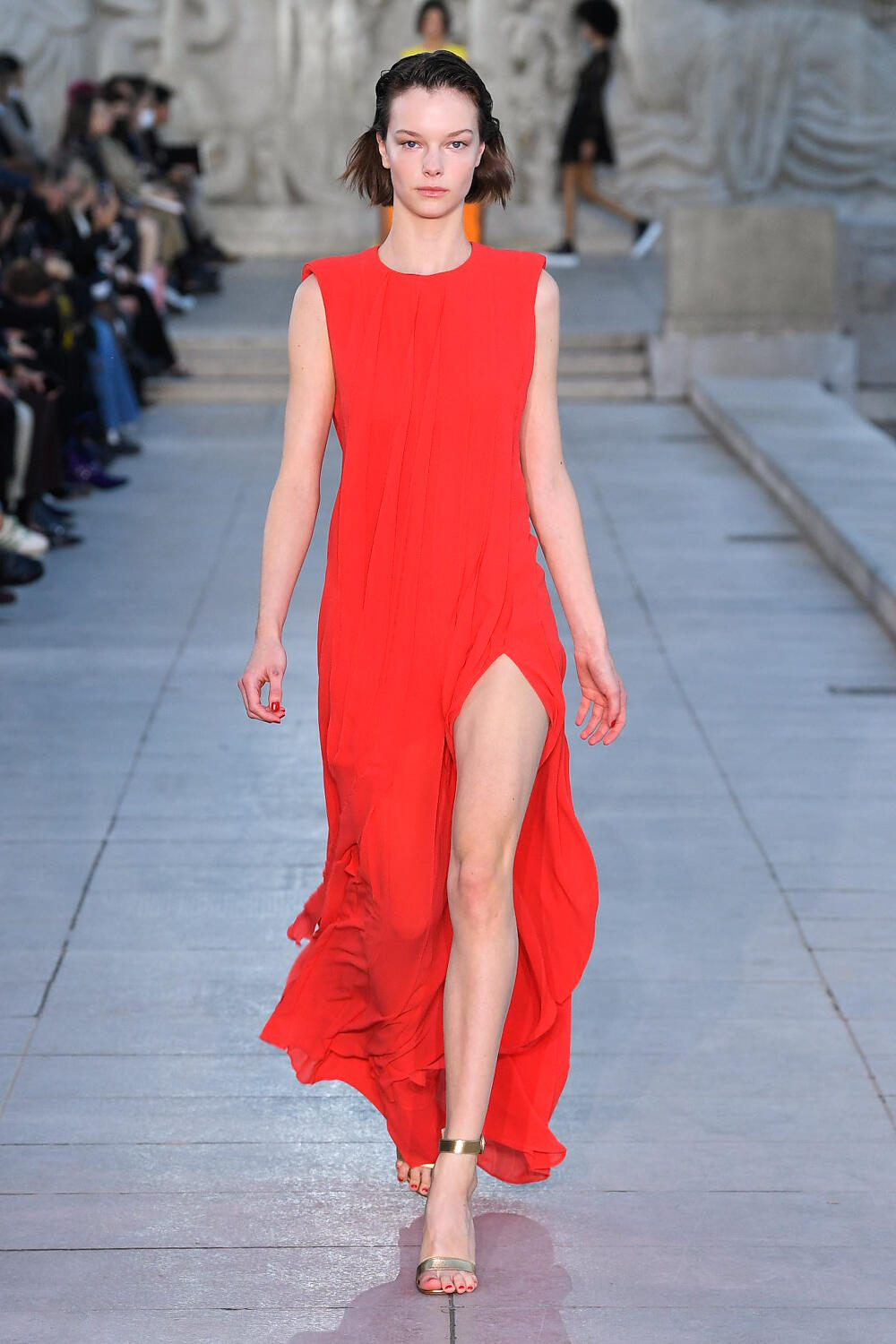 They echoed the rainbow artwork by Ugo Rondinone "We Are Poems" that formed the centerpiece of the Palais de Tokyo space, tying together the whole moment in a message of love and hope.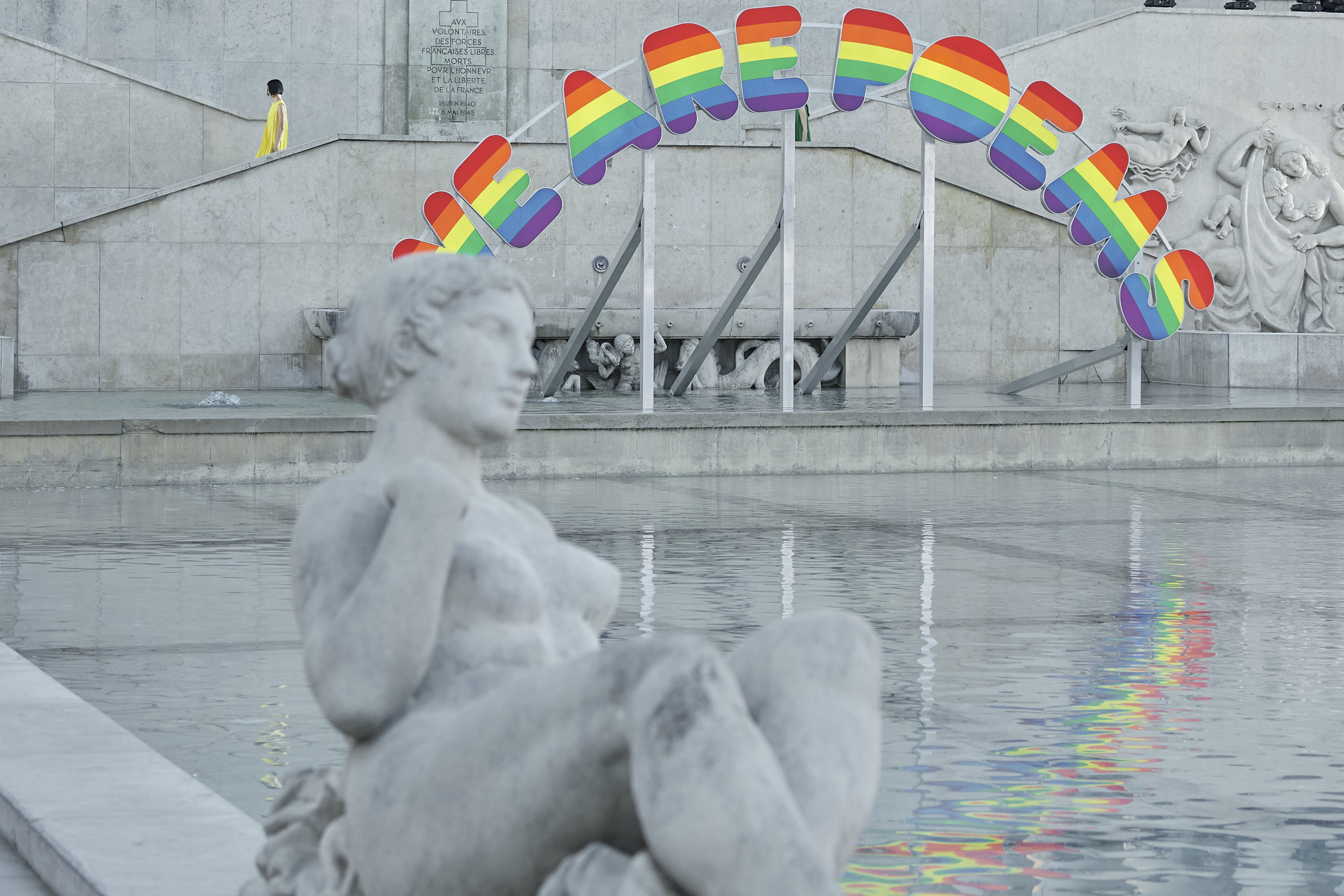 The rainbow stands for so much. It's when rain and sun come together. It's a type of horizon. After the rainbow is hope. It's diversity because it stands for all colors. And it stands for peace. It stands for relationships and further deepening.
On that note, the Kriemler leaves us with a couple of lines from Bob Dylan:
Beyond the horizon, behind the sun. At the end of the rainbow, life has only begun."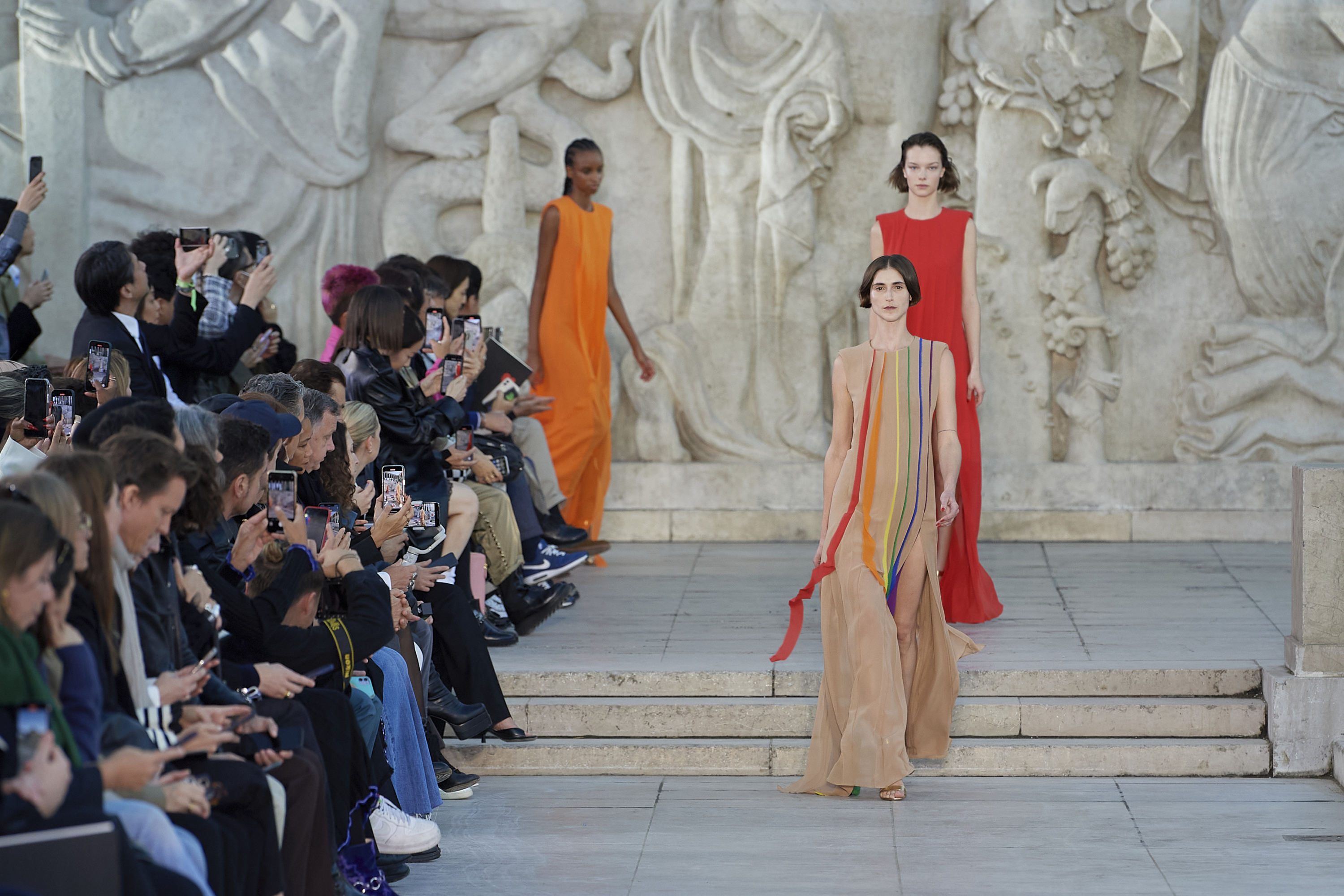 ---