Embracing Freedom Through Visual Fantasy
Review of Akris Spring 2024 Fashion Show
By Angela Baidoo
THE COLLECTION
THE VIBE
THE THEME

After a month-long whirlwind of shows which extolled the virtues of a dark summer, it took Albert Kriemler of Akris to remind us all what season we were actually previewing, that of summer 2024, and with that in mind Kriemler set the scene with his installation of florals adorning the set and stage amongst which a classical double-act played original music which provided the perfect audio-visual marriage for the collection which was about to be shown. Fun fact the poppies were all made from paper and would be re-purposed by the visual merchandising teams across their global retail network.
Each season the creative director deep dives into the subject matter that will inform his collections for Akris, and summer 2024 was no different. After celebrating 100 years the designer was readying the brand for the next 100 with a keen eye on optimistic colour, dynamic textures and a focus on a singular floral for the season – namely the poppy – whose petals the designer noted resembled little round fans. Having taken 6 months to work on his main inspiration, the work of textile and craft designer Felice Lizzi Rix-Ueno can be found reinterpreted through print and crafted details throughout the collection.
The show notes talk to the design movement of 'Viennese Modernism', from which Felice Rix-Ueno emerged as an artist of the Wiener Werkstätte (Vienna Workshop). Defined as a search for "reduction and rationality" (according to the notes) that descriptor is the perfect statement for a show which was wholly dedicated to silhouettes with a reduced linear style and statement details which were expressive in a logical way, adding to or bringing together a section of the collection, whether floor-length fringing or pleated pants. But alongside the simplifying, Kriemler leaned into the textile designer's decision to introduce vibrancy of colour and ornamentation into her designs. Emphasising the idea of fantasy, she used her imagination to produce truly original work.
Speaking exclusively with the designer prior to the show, to get an insight into what had influenced his design process, Kriemler revealed to The Impression "She worked on all fabrics, from curtains to wallpaper, fabrics for life. Felice Rix-Ueno wanted to decorate everything in daily life". Given access to the artists archive at the Museum for Applied Arts in Vienna (which will host an exhibition by the artist, set to open next month), Kriemler's interest was piqued by three key pieces "I took three things which just touched my eye, and it was three times Felice Rix-Ueno because they were so whimsical".
The first looks to grace the runway synced with Kriemler being influenced by Rix-Ueno's designs for a womenswear fabric in 1929 where poppies had been layered in a fan-like composition to create an organic pattern. And further into the show the designer opined that her "Distinct compositions made me think of an illusion of movement – like visual movement". Described as free-floating oval fruits, from a 1922 design for a tablecloth, today it was manifested as a playful, yet distinctive utility set of cropped boxy jacket and clean cargo pant, creating a strong contrast on its neutral background.
Textural play was transformed into metallic tassel fringing on the finale dresses, controlled pleating on blouses, and textured poppies on boxy skirt suits, while organza used across tailoring and outerwear gave these looks just the right amount of edge.
THE BUZZWORDS
Creativity is freedom. Visual poetry. Reduce to reveal.
THE SHOWSTOPPER
Look # 1
The delicate petals of the poppy are flattened and expanded to create a hand-emboidered fan pattern for an abstract mini-dress contrasting black and red for graphic impact.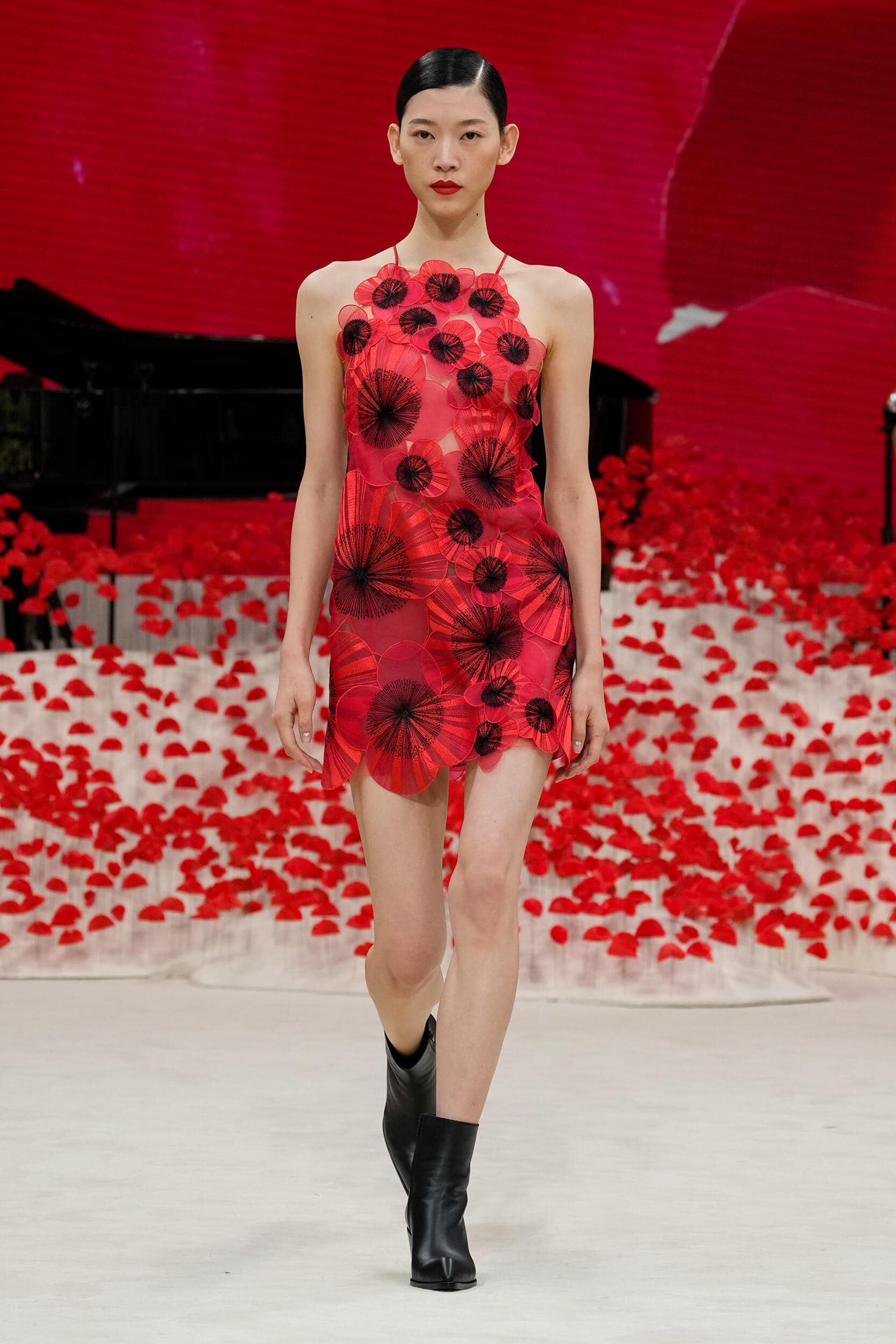 THE DIRECTION
PROS
A strong collection grounded in the work of a whimsical artist with a vibrant visual language.
THE QUOTE
I love flowers, but I think flowers can be so generic, but the poppy is not generic, and her fruits (in reference to her 1922 design for a tablecloth) reminded me of music, because they looked like notes for music, and that's why we had visual music (a live music performance accompanied the show)

– Albert Kriemler, creative director, Akris
THE WRAP UP
The collection was awash with clothes you would want to wear in colours which represented a season of hope and passion, with that poppy red taking pride of place throughout.
Kriemler's collections continue to create a 'visual language' for Akris that is all its own, always considering the woman he is designing for and creating a narrative around his inspirations each season that help his collections to have a strong point-of-view, which persists in capturing the moment, without succumbing to it in the form of fleeting trends.
---