---
Review of Altuzarra, Elie Saab, Rokh, Calvin Luo, & Andreas Kronthaler/Vivienne Westwood Fall 2021 Fashion Shows
Looking at the Future from the Past and the Now
By Long Nguyen
On this sixth day of the Paris fall fashion season, designers are going back to their roots.
Hermès dominated the day with the three cities' live streaming that started with a dance troupe at the Park Avenue Armory in New York, then to Paris Garde Républicain for the actual show and ended in Shanghai energetic dance exhibition. Nadège Vanhée-Cybulski, the artistic director for womenswear, returns to the house crafts roots with a streamlined collection of lean clothes for easy movements.
As I began researching this season, I was intuitively drawn to the story of a chrysalis turning into a butterfly. I stumbled on photos of butterfly wings and started collaging them to create a print. I loved the idea of conveying this transformation throughout the collection, from wrapping and protective silhouettes to joyful, soft, and sensual explosions of colors and texture.

– Joseph Altuzarra on his Fall collection
Altuzarra transformed the butterfly's colorful wings into the print on a bright blue pleated strappy dress with red and purple patterns or a bright orange short sleeve pleated blouse and long skirt with blue and black motifs taken from those collaged wings. The ice blue silk pleated butterfly wings dress reminds Altuzarra's classic dresses from his early days showing at art galleries around New York.
The short dress with the thigh-high slit has now morphed into a longer pleated dress in blue-purple-rust still with the high slit on the legs' left side.
In the collection, Altuzarra intentionally loosens his tailoring, now the core of the brand. He makes his jackets and suits in soft wool in straight but slightly boxy shapes like a brown wool single breast jacket with a dropped shoulder, long flare sleeves, and wide leg pleated pants worn with a wool Shetland turtleneck. The light purple wool cardigan double breast jacket with pleated wide-leg pants is a hybrid between day and evening wear or, for that matter, a relaxed suit to wear at home. Or, for that matter, a dark green merino wool hand-knit cardigan and skirt or one version of this in camel cashmere can also do the trick.
And, at home can also be about fashionable not streetwear.
That's probably the reason Altuzarra shot the video of this presentation at a townhouse in New York with the idea that fashion, or maybe this wonderful fall collection, can be for anywhere and for any reason.
There is something admirable about resisting unwanted changes at Elie Saab.
The designer's Beirut studio headquarter was destroyed in the explosion last August, forcing the house to cancel the postponed couture showing to the client in early September to the city's current lockdown situation once more in a country that just suffered from hyperinflation. The explosion in August wiped out the fashion community-based in Germmayzeh and Mar Mikhael neighborhoods overlooking the harbor. Saab pulled out of the Spring 2021 haute couture presentation in January.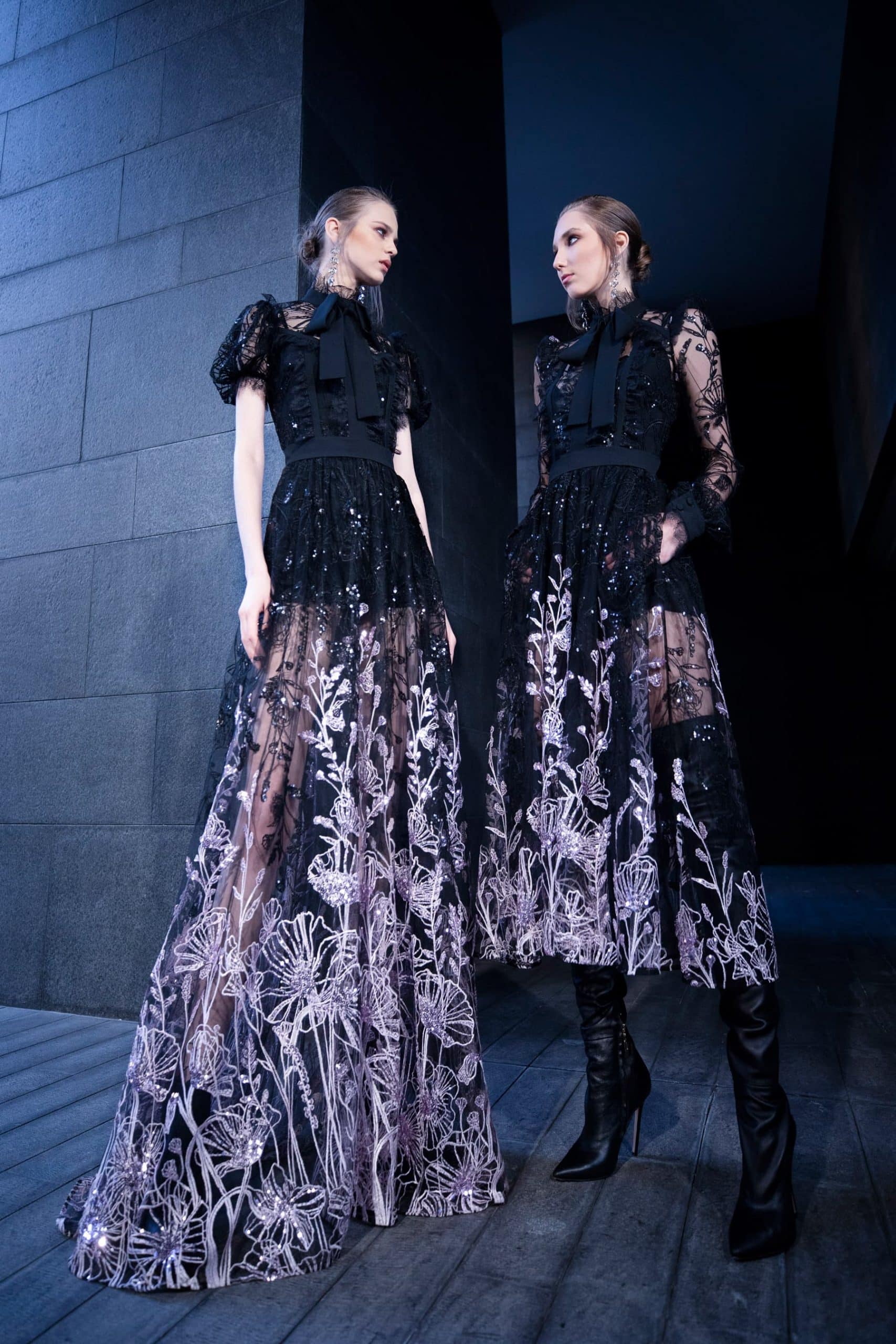 Despite all these adversities, Saab journeys onward with a scale-down and focused fall collection with all the super glamor dresses with exquisite embroideries that he is known for since inception in 1982. To further compromise one's aesthetic would be a total surrender, even perhaps the same can be said of a cashmere tracksuit.
Instead, Saab stayed the course with his dramatic gowns with dark black velvets, ruffles, transparent tulles, and laces with little of the constrictions one may expect. The more dramatic gowns are the black slip dress with tulle overlay, the ruffle folds black organza strapless dress with a thigh-high slit skirt, or the black shiny silk pleated dress twisted organza pattern.
The black polka dot single breast suit, a slim-fitted white suit with extra flare pants, or a boxy white jacket with black trims skirt suit are nods to daywear often missing in Saab's collections. The lean-cut white and black coat with short pants is another sensible day option. The black velvet with white rhinestones lines or the mock neck floor-length velvet sheath dress with white crystals are the more subdued evening options, perhaps as options for late fall when there is the hope of changes, but not exactly back to normal as before.
It takes more courage now to lay down the fashion red lines in the sand and not cross it under any circumstances.
Often, designers are disparaged for failing to keep up with the changing times, at least in their fashion collections. Though, the question is what kind of changing times are we in today and how this may be one of those moments where a radical change of aesthetics while perhaps demonstrating adaptability in the short term may be more hurtful in the long run.
Saab is more than correct to stay his course. His fashion has worked well for his business and his customers over the years. He is on the scene, and he is living the same life as his customers.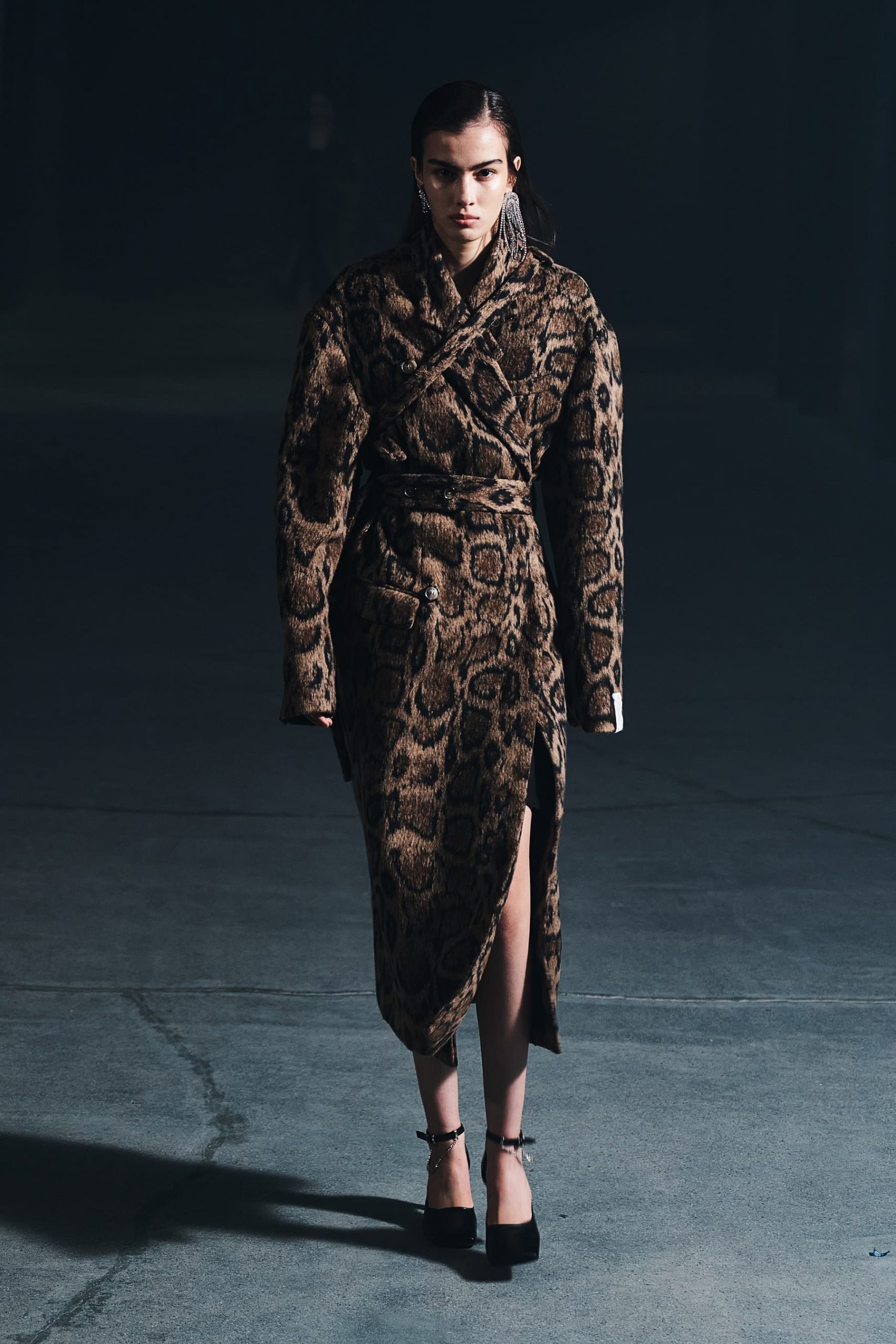 I have always started each collection by revisiting my memories. This season I began by revisiting the story or Rokh. The multi-cultural nature of my past – born in Korea, raised in America, studied and worked in London and Paris – made me who I am. All the random encounters and random identities I've possessed have defined my style, But I wanted to re-analyze our codes, the unique language we use to design. From the beginning, we have focused on craft and construction, but I wanted to more closely highlight our process, which begins with a considered study of clothing.

– Rok Hwang, Rokh designer on his fall collection
Hwang, now based in London since 2017, presented a fall Rokh collection that was very much the mixtures of different styles as much as him being so much in other parts of the world absorbing diverse cultures and tastes. His fall clothes still give that sense of imperfection in the randomness of its reconstructions like the cut-out camel jackets in his attempts to break down one garment and remix them with another garment or in another fabric. A single breast jacket now has only the sleeve and lapel front but missing a section of its central and side body.
Here in this collection, Hwang reimagined the classic wardrobe items like the trench coat, the jean, or the tailored suit and gave them a bit of a jolt to shake these garments out of their habits and into new clothes. Thus, a denim pant now becomes a high waist long skirt paired with a black corset. A camel trench coat converts into a strapless cape with a corset top and shorts or even just a bottom half of a wrap skirt in black.
While the collection contains some good ideas, Hwang should think about scaling it down a bit and focus on the essential and not waste resources sampling so many garments that don't make sense fashion-wise and e-commerce wise.
There are too many black dresses – strapless, boat neck, strappy, and so forth.
The combination of the sparkling ecru blouse with the long train and double denim jeans is cute, but there is no reason to show three versions of them. It is a waste of resources.
Hwang is a bit too calculate with his fashion and overthinks rather than design more emotionally. The clothes, also, have that rigidity of too much thinking.
In celebrating his tenth collection, Calvin Luo, the Shanghai-based designer, did not precisely present a fall collection as a retrospective since he only started after graduating from Parsons in New York in 2014.
Luo sent the collection to 100 women friends over the past months and asked them to photograph themselves in the clothes as part of a virtual front row seating presentation. This new fall collection is more focused and a bit devoid of some of the more thematic showing of the past where Luo tends to overwrought his topics like 1950s subculture for fall 2018 or the 1930s for his spring 2019 season.
The lean and straight-line silhouettes in a less striking combination of colors like a tight black coat with light yellow pants or a green military jacket and white shorts show more focus on the clothes than on themes. And there are plenty of nice clothes young women can choose from here as a blue short sleeve top with boxy ecru pants or a simple black pantsuit. Those more adventurous can undoubtedly pick the black suit with a sheer cut-out panel or the super small cropped green bolero and wide-leg yellow pants.
Looking at the Andreas Kronthaler/Vivienne Westwood Mayfair Lady digital film presentation is like getting stuck in a time warp inside the screen of someone else's phone by mistake, and the sequence keeps on repeating and repeating.
Over the decades, all of the Westwood tropes are present – the punk, glamour, grunge, tartans, slashed pants and slashed dress, vinyl, Anglomania, 19th century. All of that Westwood past translates into this fall collection. They are now exposed dress worn with white tee-shirt, corset dresses, argyle tights, thermals and military coats, oversized sweaters, and even an orange strapless puff cocktail dress and deep green fringe underskirt. Fabrics like ginghams, herringbones, wool checks, and denim are all from the new sustainable stocking or dead stock.
One good thing about this collection is that over 90% of everything shown will be made with recycled and repurposed materials to reduce waste. That also includes the recycling and the repurposing of Westwood's fashion ideas over these decades.
---