Dark Continuity
Review of Ann Demeulemeester Spring 2024 Fashion Show
By Mario Abad
THE COLLECTION
THE VIBE
THE THEME
Stefano Gallici is the new man at Ann Demeulemeester, a brand that has been through ringer with constant turnover and an uncertain business positioning. The latest iteration comes after former creative director Ludovic de Saint Sernin was ousted after just one season after rumors of differences with the current owner Claudio Antonioli. Gallici, who previously oversaw menswear for the brand, added his point of view across dual genders with ribbons dragging across the floor from tailored coats and sheer fabrics juxtaposed with corsetry and distressed pants and shirting. It was a mostly all-black palette with a view touches of ivory and violet as a nod to past '90s collections.
THE BUZZWORDS
Distressed. Layered. Tough.
THE SHOWSTOPPER
Look #1
The first look (correlating with the second look shown on a male model) captures Gallici's intentions the most as it contains several of his key design elements in one: corsetry, tailoring, and those extended strips of fabric in the brand's signature black and white palette. It was clean, sharp and well-executed.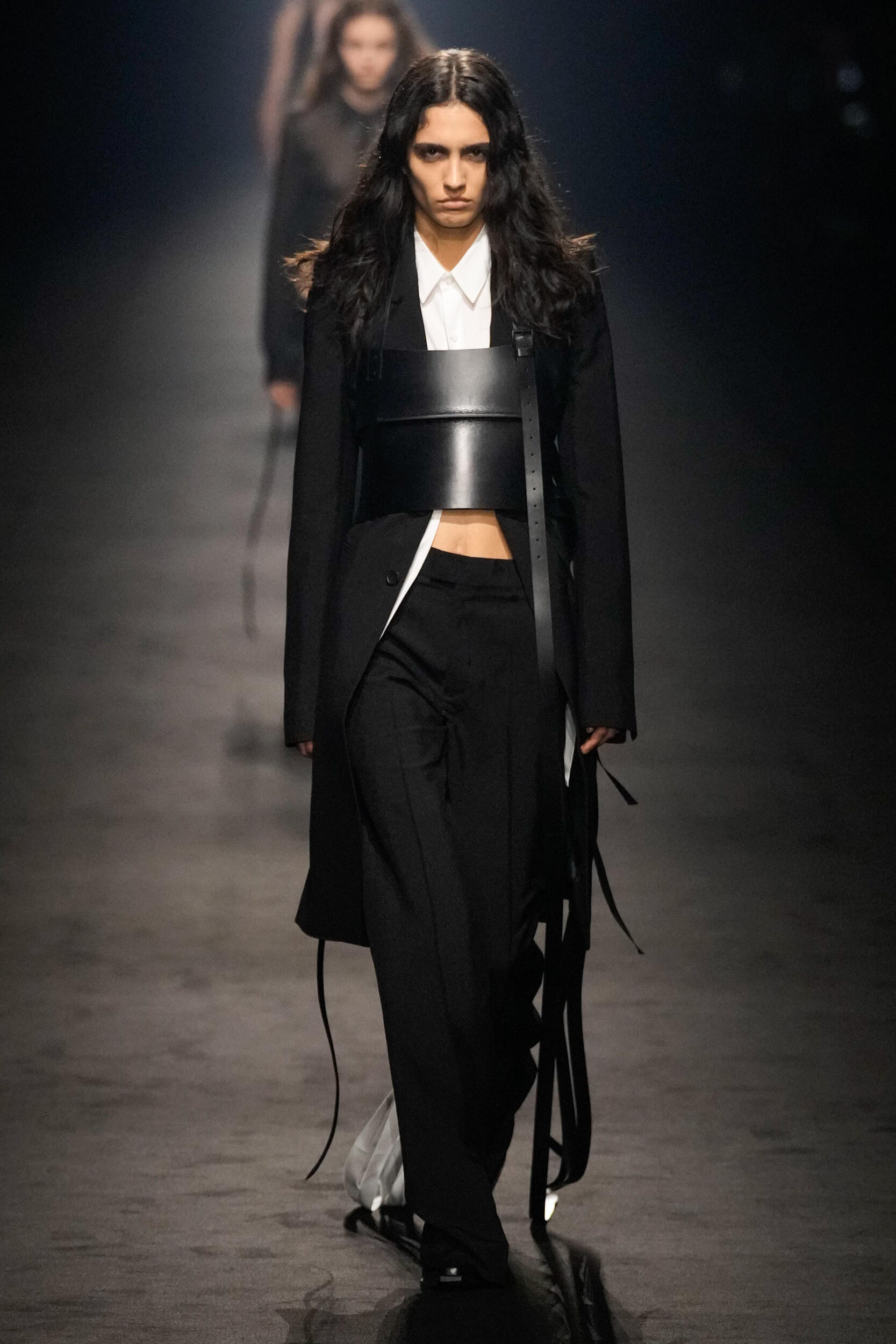 THE DIRECTION
PROS
Leaned into the archives without being too highly referential.
CONS
Not enough storytelling. Who is Gallici's customer? The far location and hour-long wait time didn't help either.
THE WRAP UP
Gallici was virtually unheard of in the industry prior to his appointment as creative director, but the anonymity has served designers well in the past (namely Alessandro Michele) as it gives audiences a chance to surprise them without expectations. Although what he posted on Instagram prior to the show sounded promising ("awareness and respect rather than deference and orthodoxy"), he didn't really take this collection to new heights. Acolytes of the brand will appreciate the subtle nods to eras past but the virtuosity and purpose Gallici could have shown tonight lacked the rigor and precision of the brand's namesake. Perhaps in time he can cultivate that.
---