The Freedom in Forward-Motion
Review of Chanel Spring 2024 Fashion Show
By Angela Baidoo
THE COLLECTION
THE VIBE
THE THEME

As Paris fashion week came to a close, a positive new theme was emerging, outside of the call to simplify your wardrobe, freedom was making strong headwinds as the hill to plant your flag on. While not necessarily a political statement, it is a rallying call in these dark times, to embrace learning, family, time to travel, following your dreams, wearing what you please, and loving whom you want.
Preceding todays show, a short teaser film directed by Inez & Vinoodh and featuring model Rianne Van Rompaey was shot in the gardens of the villa Noailles in Hyères. Inspired by the way the south-facing modernist villa attracts lights and plays with geometry in "contrasting asymmetries" according to the show notes, summer stripes, multi-coloured block patterns, spots and whimsical conversationals were inspired by the location and gave the collection a new outlook on carefree elegance.
For the show Virginie Viard once again dipped into an array of paintbox brights to present a collection which played to the rhythm of youth. Demonstrating that the summer seasons have started to become where the artistic director chooses to test and stretch the house codes. Which will also invariably have the halo effect of appealing to the elusive next generation of customer. The signature silhouettes of the classic skirt suit got a plush makeover, as a tongue-in-cheek reference to a beach towel (what better way to express summer and the promise of a get-away), had a pencil skirt suit variation rendered in towelling cotton. The Chanel tweed itself was shot through with multi-coloured yarns, as grid checks or in graphic monochrome stripes, made up in "dressing gowns", step-hem skirt suits, and hands-free hooded capes.
Wanting to prove that opposites really do attract, there was additional effort placed on bringing together opposing ideas, fabrics, or silhouettes and merging them "in the coolest way possible" according to the show notes. And the best examples of those marriages of conflict were in the looks mixing high-and-low – embellished halter tops paired with a cotton PJ shorts set, and a textured swimsuit with a sheer skirt cover-up acting as the perfect thing to throw on for those beach-to-bar emergencies.
The introduction of a hand-drawn floral print interspersed with the double C logo looked tantalisingly good and is sure to whet the appetite of vintage sellers everywhere, as its vibrancy and distinctivness is sure to make it a future-classic that will forever be associated with the house and Viard.
Quilted mary-jane ballet flats and flip flops were accessory additions that are set have the tills ringing at retail, as comfort remains king. They are also the perfect footwear option for a Chanel girl who requires her wardrobe – from head-to-toe – to give her freedom.
THE BUZZWORDS
Summer stripes. Plush textures. Beach-to-bar ready
THE SHOWSTOPPER
Look #16
Towelling for tweed, who knew the classic Chanel skirt suit could be beach-ready with a simple fabric twist.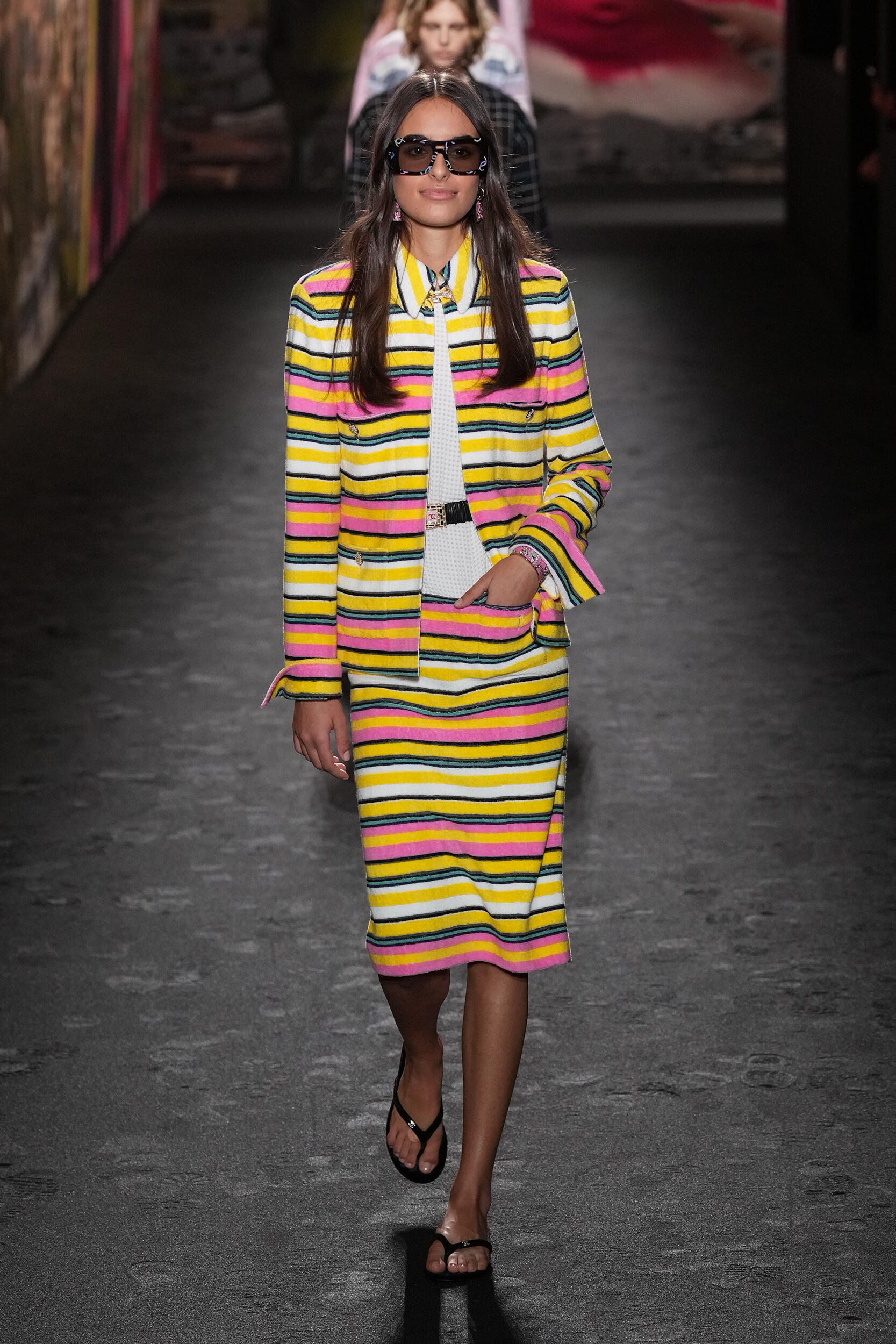 THE DIRECTION
PROS
The summer season suits Viard as the artistic director is able to amp up colour and youthful undertones for suits and sets which feel authentically fun and free.
THE QUOTE
Sophistication and informality, the tweed throughout the collection, sportswear and lace: I tried to bring one thing and it's opposite together in the coolest way possible.

– Virginie Viard, artistic director, Chanel
THE WRAP UP
The unbridled carefree spirit of today's show will ensure that it floats off the shelves when summer 2024 comes around, as Virginie Viard has managed to inject an air of "joy, sport, and celebration" into her collection, as well as the last day of Paris Fashion Week. And if this is the new direction of confident assertion that Chanel are heading toward, then the house is likely on course for unhindered forward momentum.
---