---
Review of Chloè Spring 2022 Fashion Show
Sustainable Luxury
By Erin Hazelton
Outside, the sun shining bright on a crisp September Paris day, on the cobbled bank of the Seine, is where Gabriela Hearst, Chloé's creative director of less than a year, presented the brand's Spring/Summer 2022 collection.
Like the Seine, the collection flowed freely and easily, a soft palette of whites, yellows, fawn-ish peaches and beiges, peppered with black.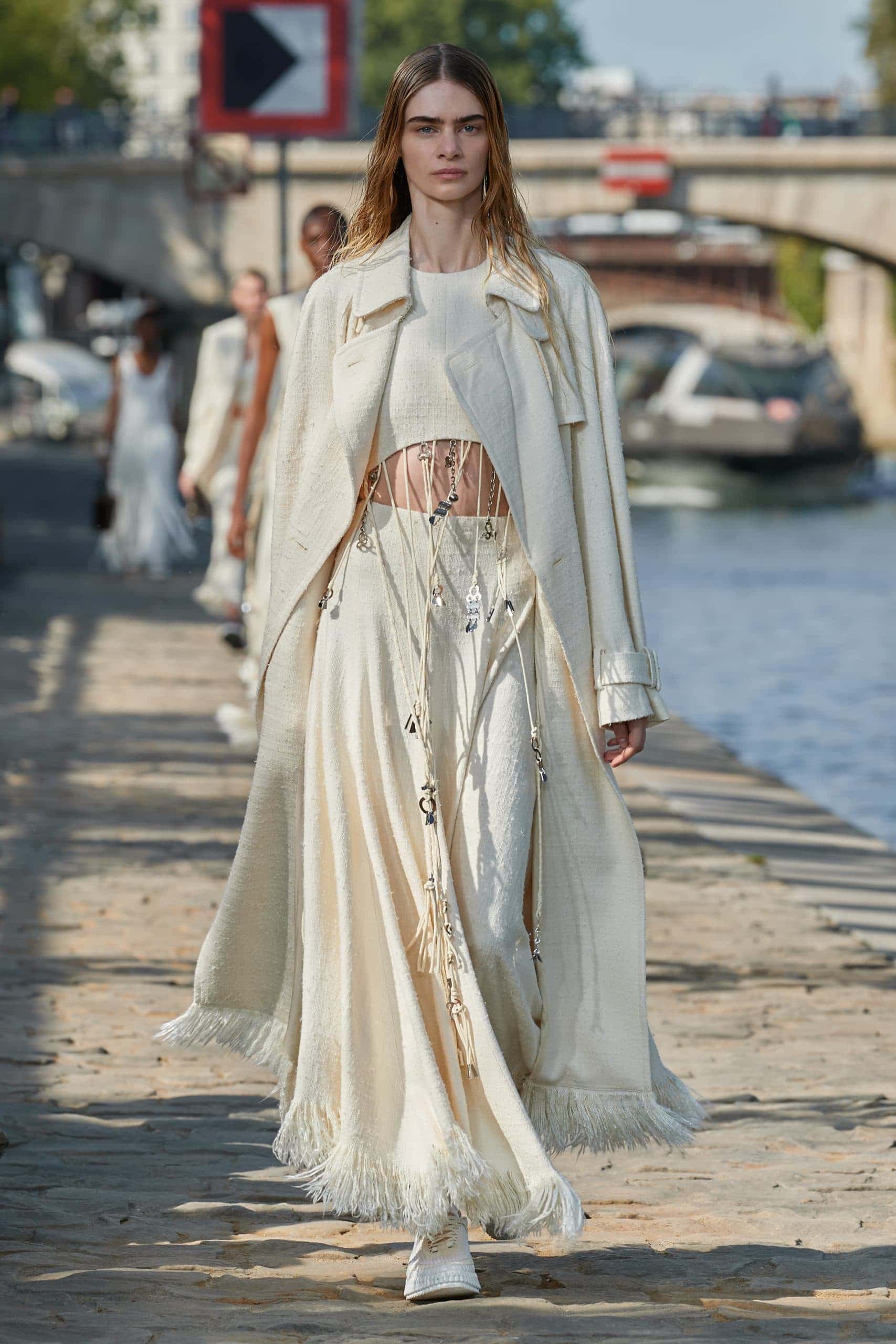 Clean-silhouetted knits were in conversation with elegant tailoring and full, airy skirts. There was a natural feel to this collection that seemed to spring both from brand's "neo-hippie" DNA and Hearst's Uruguayan upbringing: artisanal details found in patchwork dresses and handbags, crochet knits, sometimes crochet with patchwork, macrame that incorporated sea shells, and a few loose, beaded strings and frayed ends.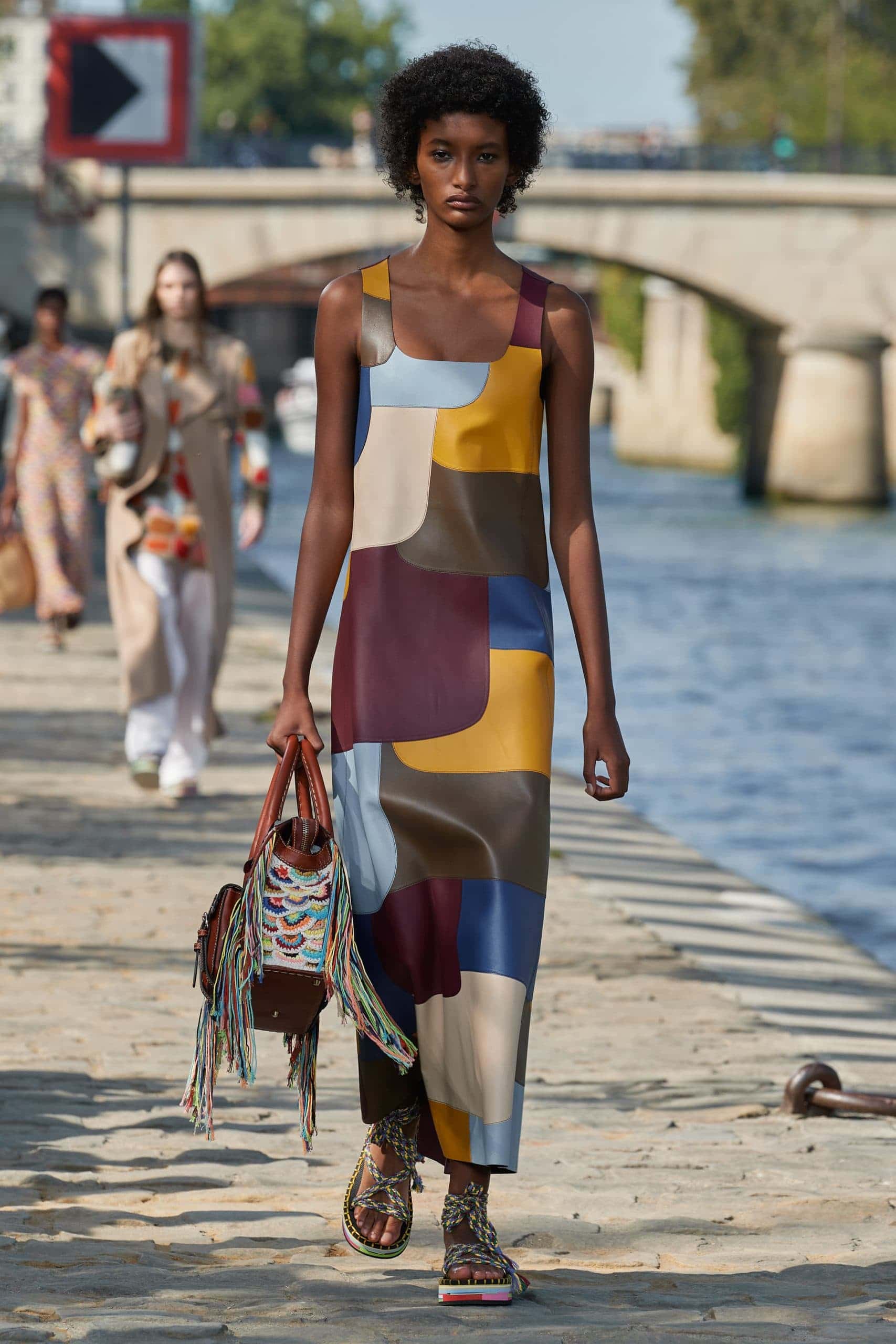 This may all sound rather bohemian, and while the collection felt relaxed, easy, cool, and feminine, it was also definitively luxurious.
There was a polish and finish to this collection, even when nearly all the looks were paired with easy-to-walk-in white sneakers or thick rubber-soled thongs or lace-up sandals.
Aside from the patchwork and the most ornate, expensive looking crochet we've seen this season (think arch upon arch of subdued mini-rainbows), as well as some knotted macrame in the same combination of colors, looks were predominately monochrome, adding to the impression of ease: less work for the wearer.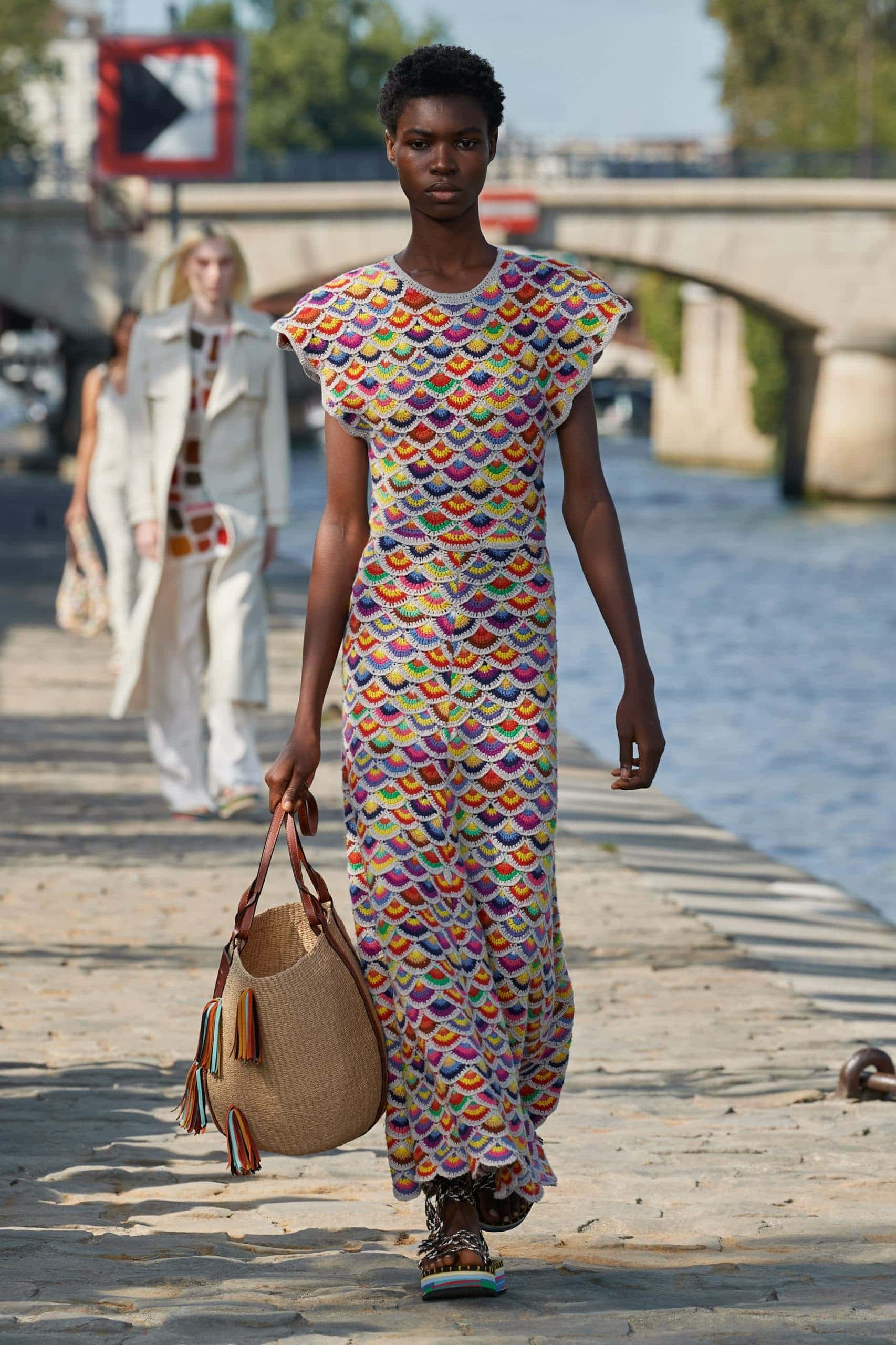 One style that encapsulated the spirit of Chloé's heritage and its new direction under Hearst was a lace-up, grommet-front leather tunic in black and a similarly constructed, longer, white dress version. A modern take on the brand's heritage romantic-cool.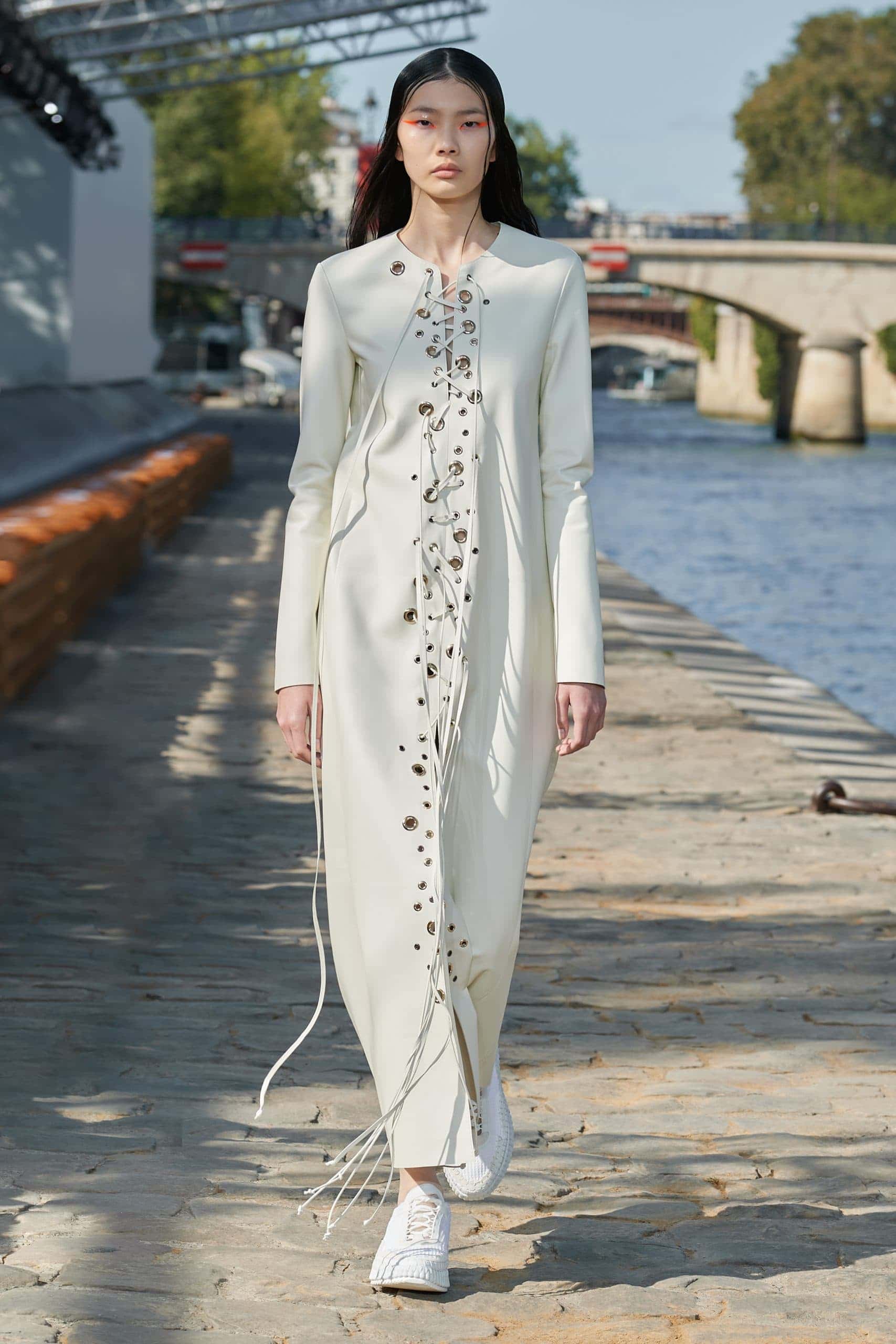 Another cool thing about Hearst as creative director? She's all about sustainability and has already reduced the brand's carbon footprint substantially…
by using recycled cashmeres, organic cottons, lower impact wools and, if our suspicions are correct and patchwork is truly patchwork (and it was just confirmed that is!), then also by reusing material from past collections.
It seems Chloé has made a clean match in hiring Hearst as creative director.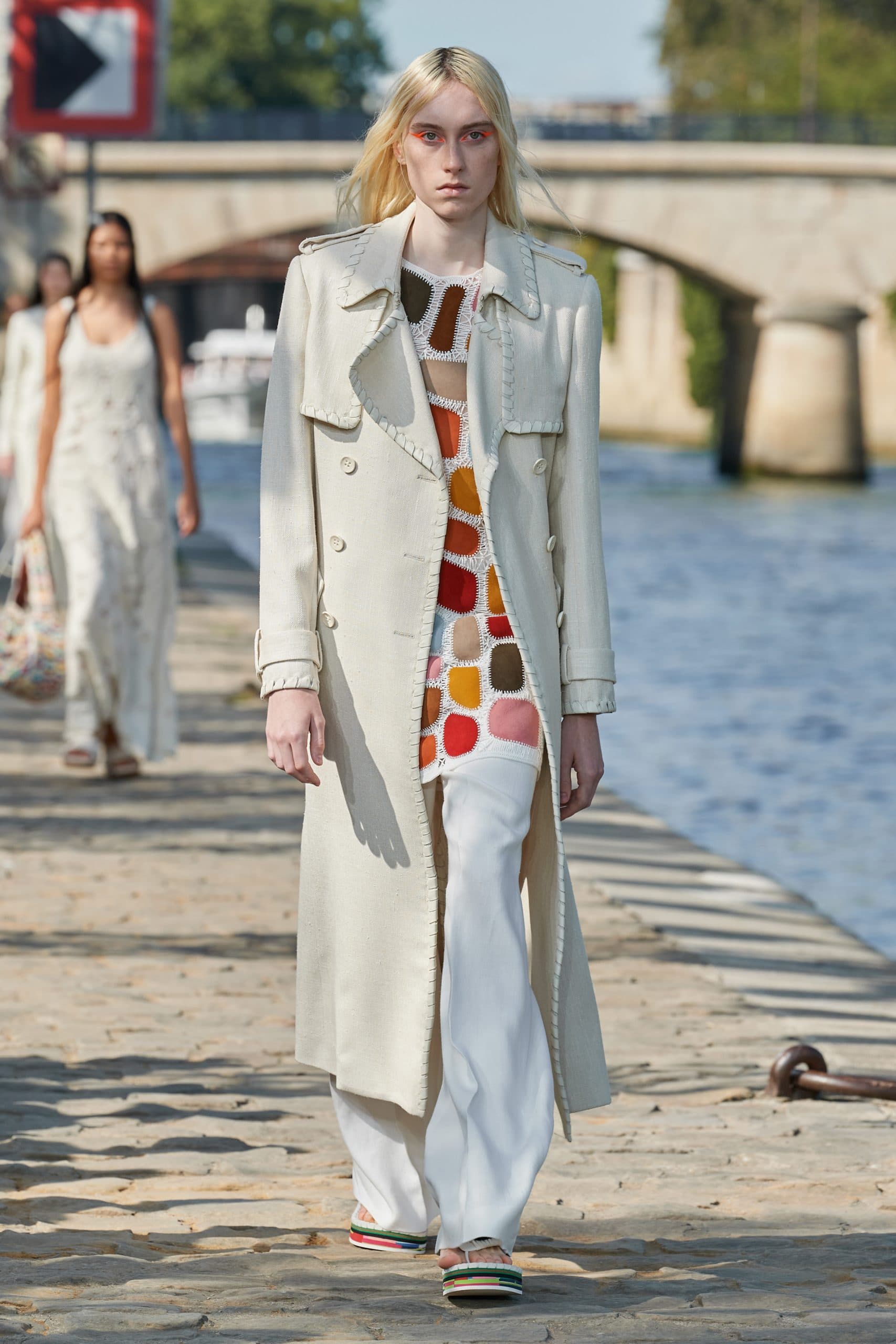 ---