---
Coperni has launched a new digital project comprised of a series of interactive games for Instagram. A follow-up to the brand's previous digital projects "Copernize Your Life" and the "Coperni Arcade", this newest offering entitled "Coperni Summer Camp" began earlier this week and will continue through the end of the summer. As part of the project, Coperni will release new games each day including puzzles, guessing games, crosswords, and more, leading up to the brand's live fashion show in September.
Designed by Coperni creative directors Sébastien Meyer and Arnaud Vaillant in collaboration with Alexandre Silberstein, a French artist and video director, the games are designed around Instagram's basic functions which include swiping, tapping, and bookmarking images. Subsequently, fans of the brand do not have to download a special app in order to engage.
Five days into the "Summer Camp" has revealed panoramic fun-house-mirror-like images such as the one below, which can only be revealed in their entirety by swiping right.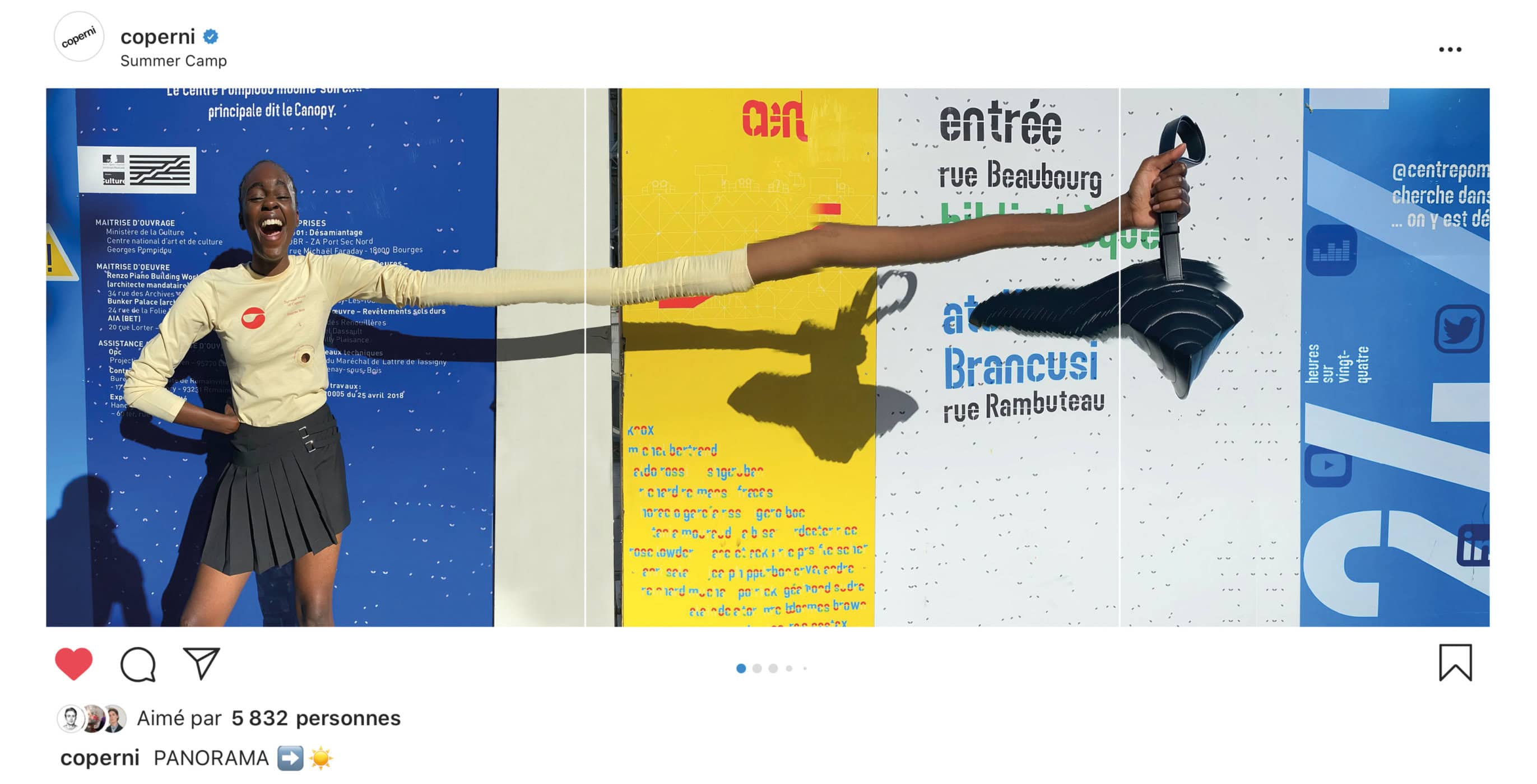 Additionally, there has been a jumbled photo of a roller-coaster that users can re-assemble, and a crossword puzzle as well; the first customer who reposted the correct answers for the crossword with the tag "@coperni #copernisummercamp" won a free t-shirt. Other games have included visual Rebus puzzles (otherwise known as pictogram puzzles) spelling out film titles, in which swiping reveals each picture clue, plus games in which customers can guess singers based on their most famous song. Much more is scheduled in the coming weeks, including games that give the users the ability to play with models and pieces from the most recent collection.
Innovative and fun, the digital campaign represents the "gamification" of digital marketing in order to promote increased engagement with a brand. For Coperni, this and previous digital projects have elevated the brand's status to one of thought leadership within the fashion industry; though it will likely be difficult to commodify exactly how much of the user engagement translates directly into increased sales, other brands will be paying attention now more than ever, because the global pandemic has made digital interactivity more essential than ever before. The short film below shows a preview of what else is in store for the remaining days of the brand's virtual "Summer Camp".
---