---
Let's face it, it is an Instagram game these days with many houses 'Passing Go' to release all their campaigns/narrative via the zero media cost platform. Sure they may talk about the other players, but in reality, we all know who has the monopoly.
But for the lions-share of design houses, grabbing a meaningful Instagram share of voice to maximize their big seasonal event, the runway show, can be a herculean task. Six months of preparation, tons of energy, most of their event marketing budget, and a juggling act of seating all designed to fuel a go-to-market event. Today those shows are produced not simply for the roughly 1,000 attendees but the millions of viewers watching via Instagram. Making the guest list and seating as much a calculated reach analytical game as it is a chess match to satisfy the industry hierarchy.
To lasso all of the engagement and provide some data sets around the recent Spring 2019 fashion month, influencer marketing platform InfluencerDB captured brands and designers Instagram mentions and engagements to put dollars on the value. The report was broken up by week, by city; New York, London, Milan, and Paris as well as a total.
The Impression reached out to get a copy of the report, diving in to find some surprises. Dior outperformed the next best design house by a ratio of 5 times. Several designers that don't traditional make front page news out performed industry titans with decades of brand equity.
Chief Impressionist Kenneth Richard sat with InfluencerDB's Global SVP, Jonathan Chanti to gain some insight into the report, learn about why some brands outshine others, and learn what can be done to improve brand performance for future seasons.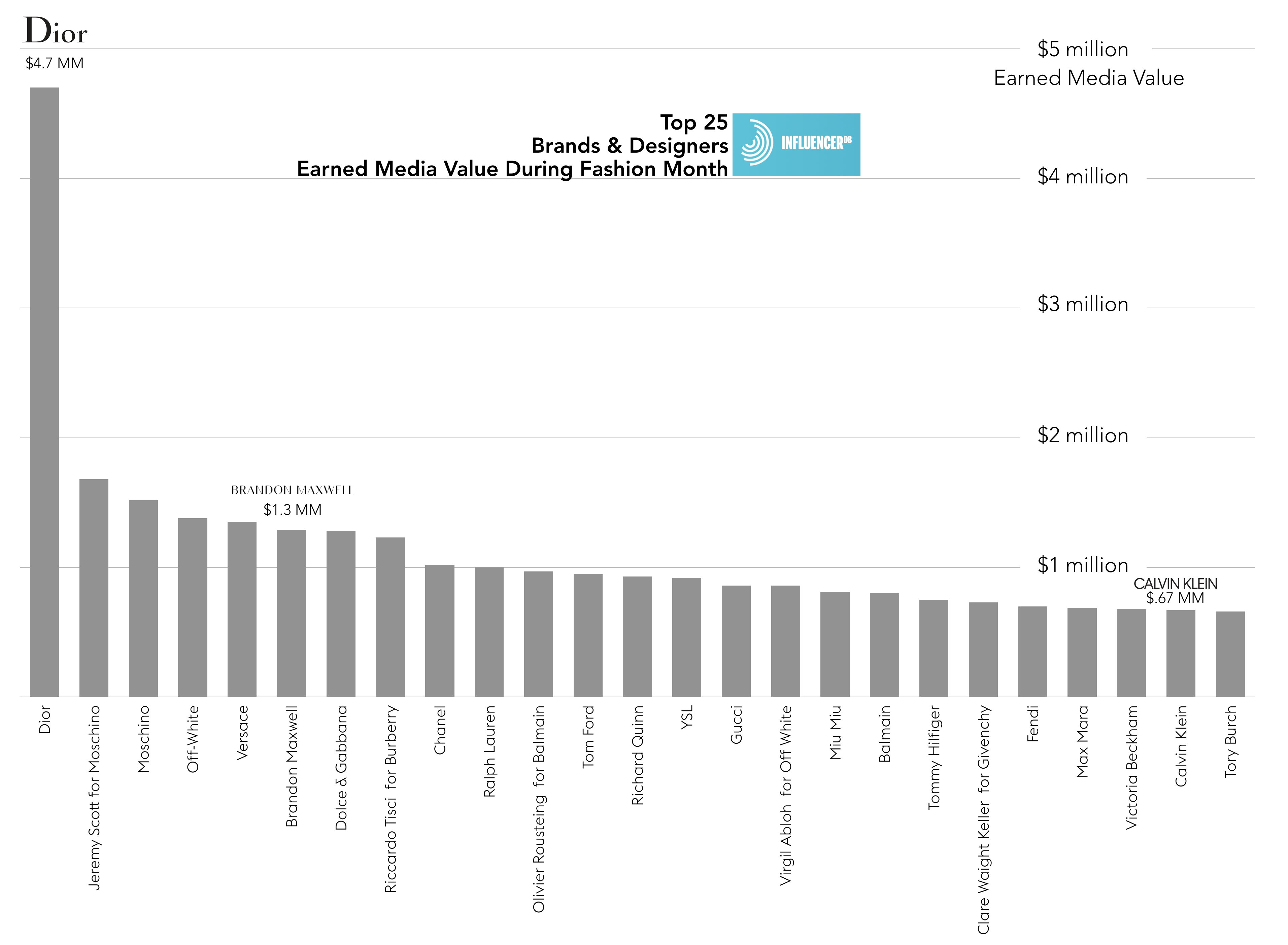 Kenneth Richard: Jonathan, thanks for taking the time to share these results. Had a nice dive, but could use some thinking behind the report. Can you dumb down the math for me to understand how the numbers were drawn up?
Jonathan Chanti: We score each post based on a 5$ cpm (cost per thousand), so the value of the post is what it would cost someone to buy the impressions generated through paid advertising for Instagram.
Kenneth Richard: Straight forward enough. What wasn't straight forward was some of the surprises. How, for example, did Brandon Maxwell outshine a behemoth like Calvin Klein?
Jonathan Chanti: More and more we're seeing it's not the size of the brand, budget or the size of the influencers audience, it's how  engaged and influential your audience is. In this instance, as we've seen in past studies where newer brands like Fashionnova have out shined brands like Zara on social, it's all about your strategy, data science and your execution.
For Brandon Maxwell, it was about quality not quantity. We see that he had fewer influencers mentioning him and fewer likes on posts tagging him than Calvin Klein, as well as others in the top ten, so that means some very big influencers and accounts featured him. Namely: Mac Cosmetics, Instagram itself, the models Candice Swanepoel (12.5 M followers) and Joan Smalls, Yolanda Hadid (mother of Gigi and Bella) and entrepreneurs Rachel Zoe and Camila Coutinho. He had hundreds of others mentioning him, but likely some of these highly influential and engaged followers really pushed him up the list, and got him in front of a much bigger audience.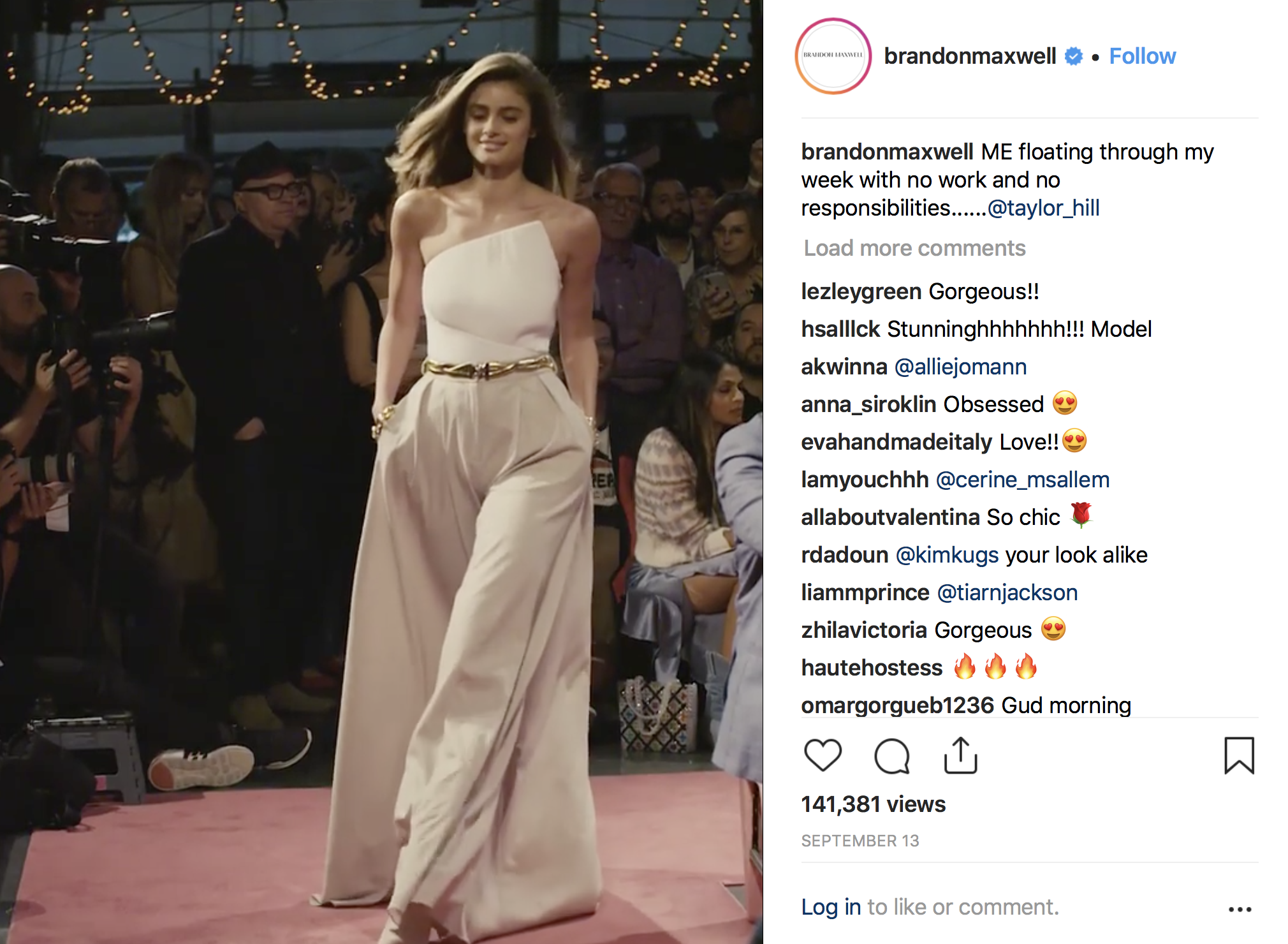 Kenneth Richard: Yet in some of the analysis I read, notice you suggest the inverse can also be true. You speak to the benefits of working with influencers with engagement rather than superstar influencers, can you expand upon that?
Jonathan Chanti: Superstar influencers are not always the best route to go, as they are bigger, they can bring less authenticity to a brand, they are simply an expensive shortcut to press-hits. By identifying and targeting emerging talents who are still oozing in artistry and engagement, you can create a massive waterfall of organic earned media by treating influencers as your new media outlet.
As such, would you prefer to have one channel like CNN or 50 local news channels to cover your brand?
Kenneth Richard: Fair call out, and personally be shocked if any other media outlet ever covered our brand, but that is taking the question personally. Let's talk about those 50 local news channels. Think this ties in. How did Dior go on to so dramatically outpace the rest of the fashion flock?
Jonathan Chanti: Dior outpaced the rest by leveraging every touch point possible when engaging influencers or notable talents globally. It all started with the release of the Saddle Bag back in July. This is when the conversation started building, Dior successfully seeded 100 bags to highly influential and followed talents globally. Two months later, with smart invites and celebrity models to walk in fashion week, Dior capitalized on the success of their new line with the whole fashion world watching.
Kenneth Richard: Saw that Dior cracked the top 10 of New York and Milan fashion weeks before a model even put a foot on the Paris runway. So rather than rely solely on the event they did a build up?
Jonathan Chanti: Exactly. The best brands like Dior, plan and execute beautifully and checked off all the boxes on "How to build the hype."
Not only did they create awareness before fashion week but capitalized during and post. They invited not only the traditional celebrity influencer, but the "cool kids" of fashion getting attention on social. Post show they followed up with videos on how the collection was made. Through these tactics (and beautiful clothes) they were able to get the most eyes, engagement and virality.
Kenneth Richard: So how does a design house, that has fair footing in Instagram with a decent fanbase community, say a 10-year-old brand and not a mega brand, leverage your tools to get better? And why can't they do that on their own?
Jonathan Chanti: Every consumer loves to see a brand that has history reinvent themselves but still stay true to their origin. We have a real platform to help these brands find and identify influencers who can re-establish their authenticity, through relevant content and strongly engaged audiences.
It doesn't matter what stage you are as a business or brand, influencer marketing can be intimidating to navigate. With fraud on the rise, influencers buying followers, bots, etc, it's more important than ever,  especially for brands with smaller budgets, to get educated on how to choose the right influencer for them.
That being said, we can only provide the science and data needed to bring the art of fashion to life, it's a symbiotic relationship. But with rich audience data and content performance metrics, you can easily replicate your successful executions and always have a view of what to expect in the next campaigns. This really isn't something you should be relying on non-data driven professionals to do.
Kenneth Richard: Noticed some of the designers as individuals outpaced the brands they design for. Jeremy outdid Moschino, Riccardo out performed Burberry, Olivier with Balmain and same with Clare at Givenchy. What does this say about the responsibility of being a designer today and how they influence the brand?
Jonathan Chanti: It affirms that influence is real, that designers are viewed as tastemakers, artists, and trend setters, as such they are in fact bigger than the brand, the brand adapts to their vision not vice-versa. They also have the advantage of being able to create content that maintains audience interests, and by associating to a brand, they transfer that awareness. Last but not least, having a lot of amazingly famous and influential friends mentioning and tagging you can drastically increase your visibility. If I had 10 friends that had 1 million followers each, tag, post, engage with me, that now means I'm exposed to 10 million people, whom of which have their own following – further creating a massive web of influence.
Kenneth Richard: Thanks Jonathan. Looking forward to a continued conversation about Instagram and how fashion houses are leveraging.
Jonathan Chanti: Thanks Kenneth. Promise we will stay on top of it and here to chat anytime.
---