Organically Twisted
Review of Issey Miyake Spring 2024 Fashion Show
By Mario Abad
THE COLLECTION
THE VIBE
THE THEME
Designer Satoshi Kondo played primarily with drapery and transparency in a collection that was divided into several groups all with the common thread of fluidity and giving form to the elements of nature. This resulted in pieces like sheer knit tubular dresses that hug the body ever so; woven sets that twist and turn along the weft; looks printed with blurry, gradient hues; and 3D-twisted fabrics with bold silhouettes and strong, curved shoulders. There's also a footwear collaboration with New Balance MT10O created with the concept of "barefoot mobility."
THE BUZZWORDS
Airy. Weightless. Ambiguous.
THE SHOWSTOPPER
Look # 17
There are more "editorial" pieces in the lineup with more exaggerated silhouettes, but the real showstopper occurred in the middle of a show with a pearl-colored shift dress that exemplified the modernity Issey Miyake's point of view in 2023. The elegant folds along the hip make a simple dress more interesting and thoughtful especially when paired with the matching bag. It's simplicity at its finest.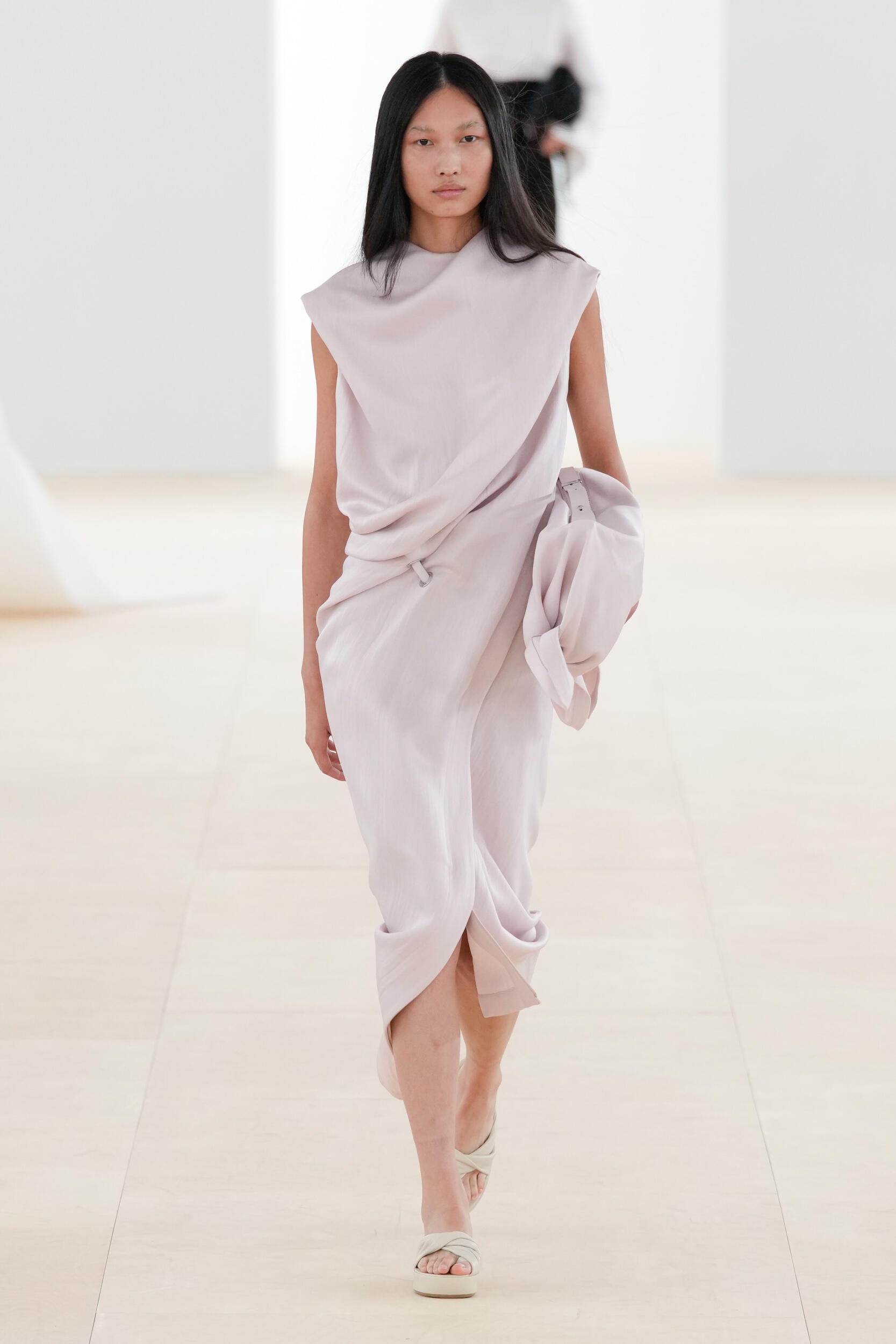 THE DIRECTION
PROS
Elegant, sophisticated pieces that are still interesting and provoking. The balance of sheer fabrics and enveloping silhouettes is spot on.
CONS
We expect to see some sort of dance/performance aspect at Issey Miyake shows but it would be nice to mix it up a bit.
The show was held at the cultural center Césure in a blank white space complete with a musicians (also dressed in all-white) and a finale of dance artists Miyake has used before to bring home this collection's idea of movement and fluidity.
THE QUOTE
For this collection we looked at the form that can be naturally generated. For example, the first series of looks we utilized cotton with high-twist properties which gives the tubular silhouette a beautiful drape. The entire collection is built around how we can have somet
THE WRAP UP
This collection felt like a natural evolution of Kondo's exploration of form and drapery thanks to an emphasis on natural progressions and lightness. The exaggerated pieces can sometimes come across heavy-handed so it was a pleasure to see him counter that with light touches and an almost fragile quality to the clothes, whether it be the sheer tube dresses or even the impressive spring coats that don't weight the model down.
---