---
Review of Rick Owens Spring 2023 Fashion Show
Controlling the Chaos
By Mark Wittmer
For Spring 2023, Rick Owens infused his typical sense of hard-edged industrial gloom with a vital breath of fragility, responding to dark times with a thread of light and lightness and finding modernist new meaning in timeless symbolism and struggle.
The collection bears the title Edfu, after the Egyptian temple to Horus – god of sky and sun – which Owens visited on a recent sojourn to Egypt. The god's timeless power to make the sun rise each night, and his mythological narrative of the triumph of good over evil, and order over chaos that this cycle embodies, forms the basis for the show's staging – with an impressive, ominous, and industrial twist that fits right into Rick's MO.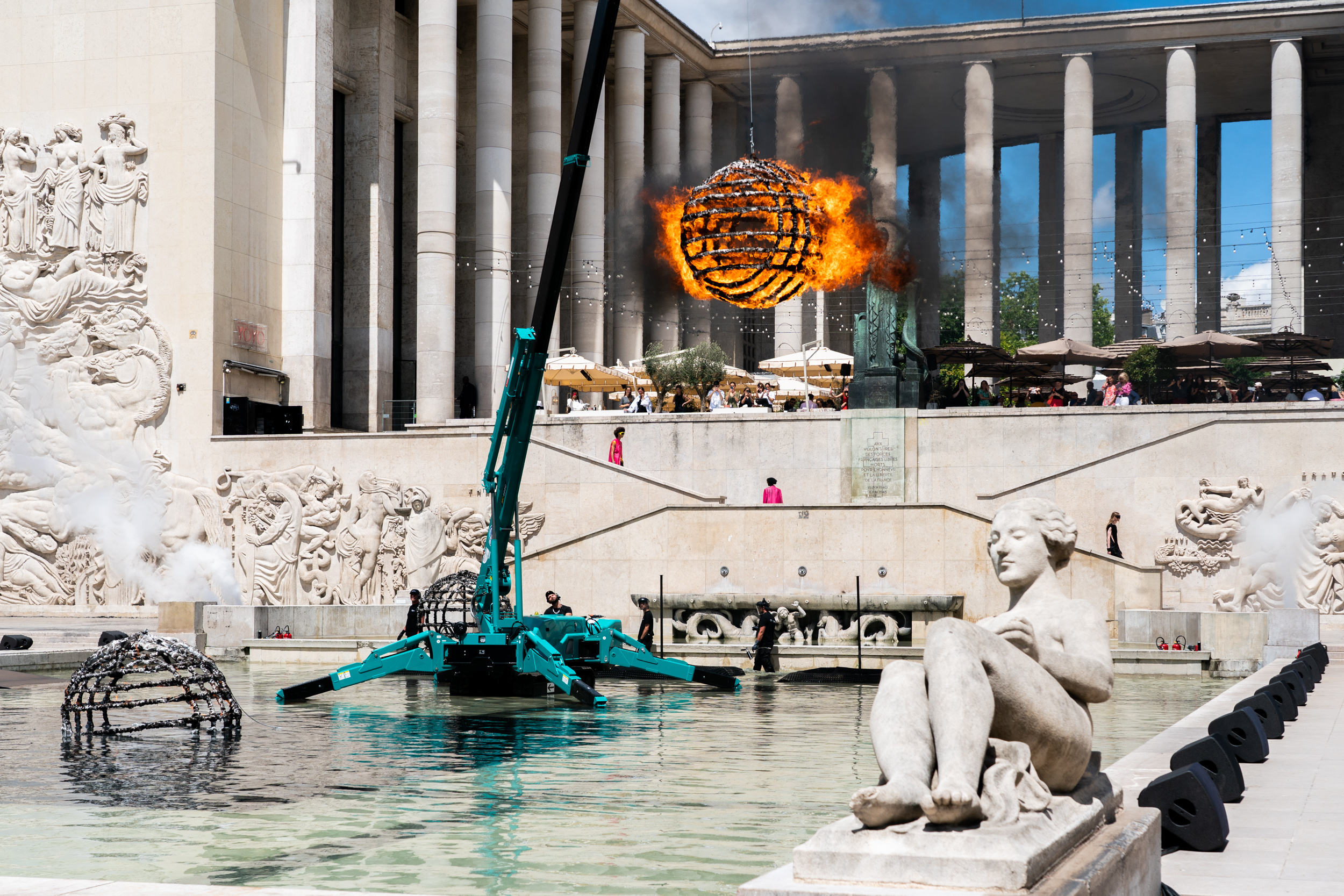 A series of cage-like globes were lit on fire with flamethrowers and hoisted into the air by a crane, to be swung about and eventually dropped into the water of the Palais de Tokyo's fountain.
While the symbology that inspired it may be ancient, and timeless, this mechanical ritual tapped into some pressing contemporary anxieties. But the sense of doom and environmental collapse imposed by this industrial performance art was counterbalanced by the collection itself, which saw Owens pull back his typical sense of deconstruction, destruction, and darkness for a body of work that was subtly threaded with equilibrium and hope.
A sense of symmetry and stable geometry pervades the collection, with graceful, architectural intersections of lines – obliquely recalling the pyramids of Egypt perhaps. Hardware and visible closures are reduced; the construction and fabric of the pieces themselves form their own intrinsic structure.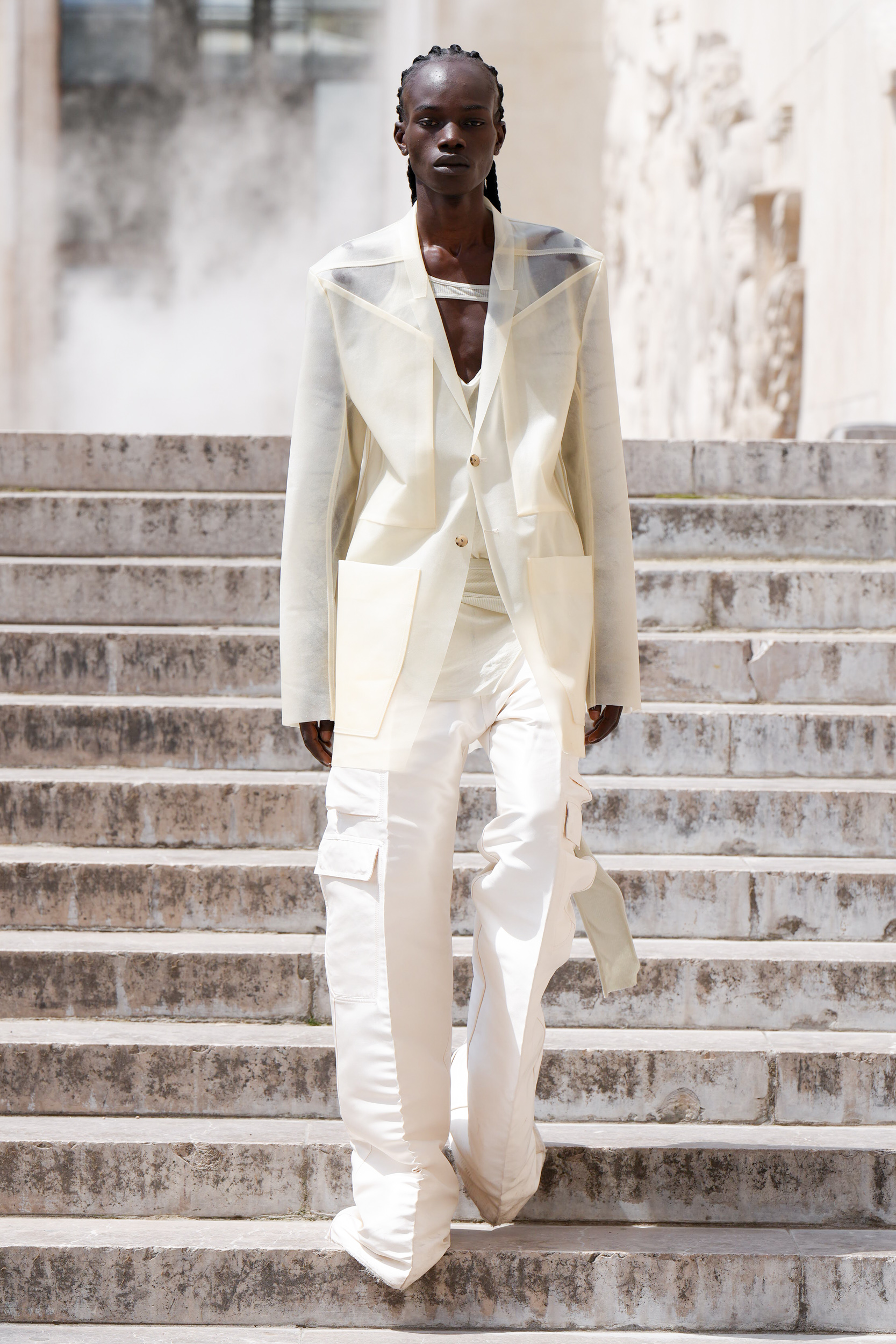 Linearity is further present in a characteristic fabric, a newly crafted take on nylon ripstop fabric constructed with an infinite grid pattern woven into its surface, which Owens sees as emblematic of the order humans impose on the chaos of the world we find ourselves in.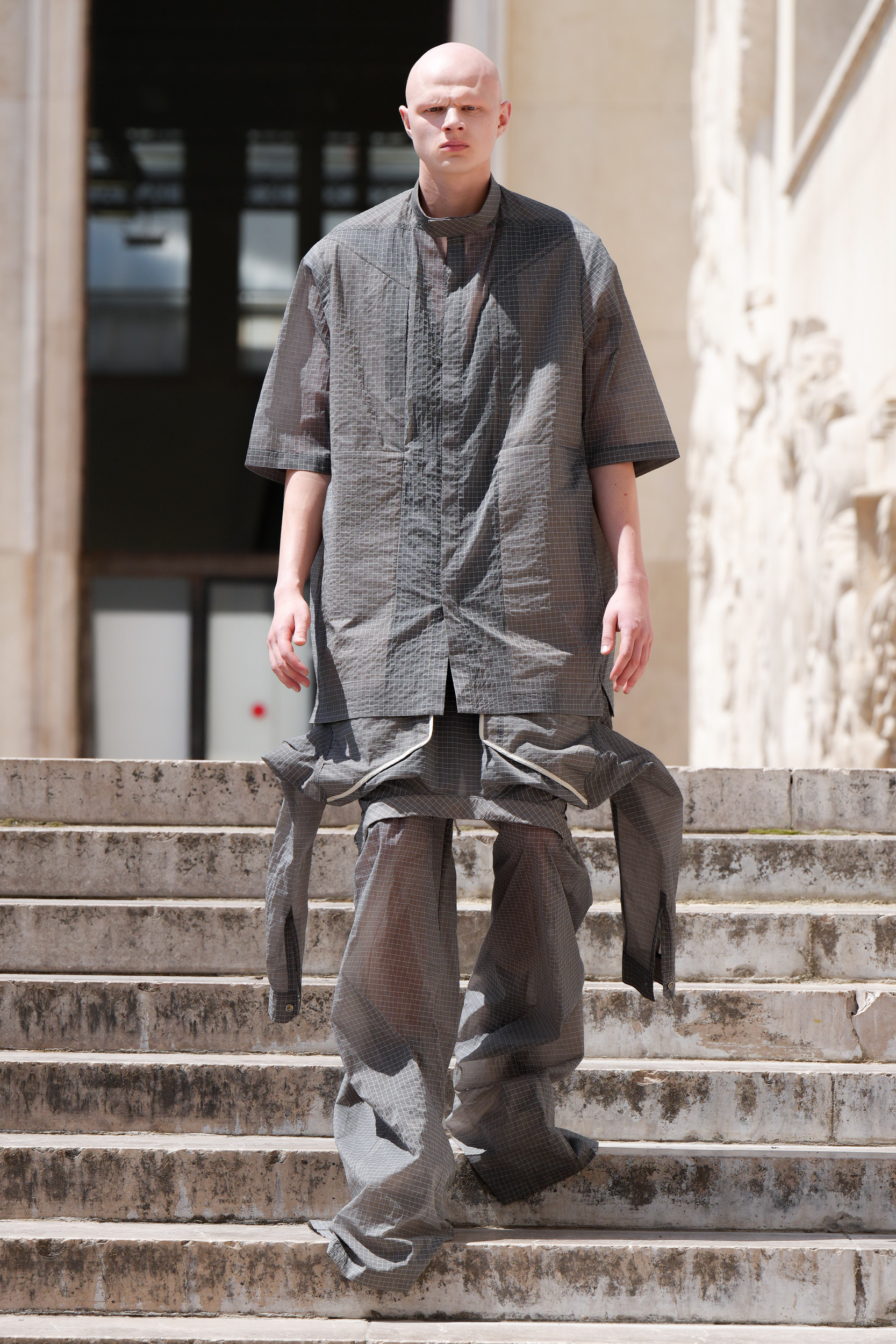 "Grids and graphs and lines – and pentagrams – I always think of as man's way of trying to create order, to try and cut through the chaos. I deal a lot with collapse, I love collapse, but it was a bit too much for me," reflects the designer as he shared with The Impression backstage after the show.
"I needed something in the other direction; I needed something with rigor and restraint and composure and discipline, and maybe a little whiff of science, and that's what this fabric kind of represents to me, " he continues. Then he adds, "And strength."
Even so, this rigidity is balanced out by flowing belts, tails, wide legs, and cinched waists that create ballooning, blooming moments. Another fabric-based balance of the delicate and the robust, gossamer, butterfly-wing pieces are woven with Dyneema threads, a patented composite fabric that is considered to be the strongest fiber in existence.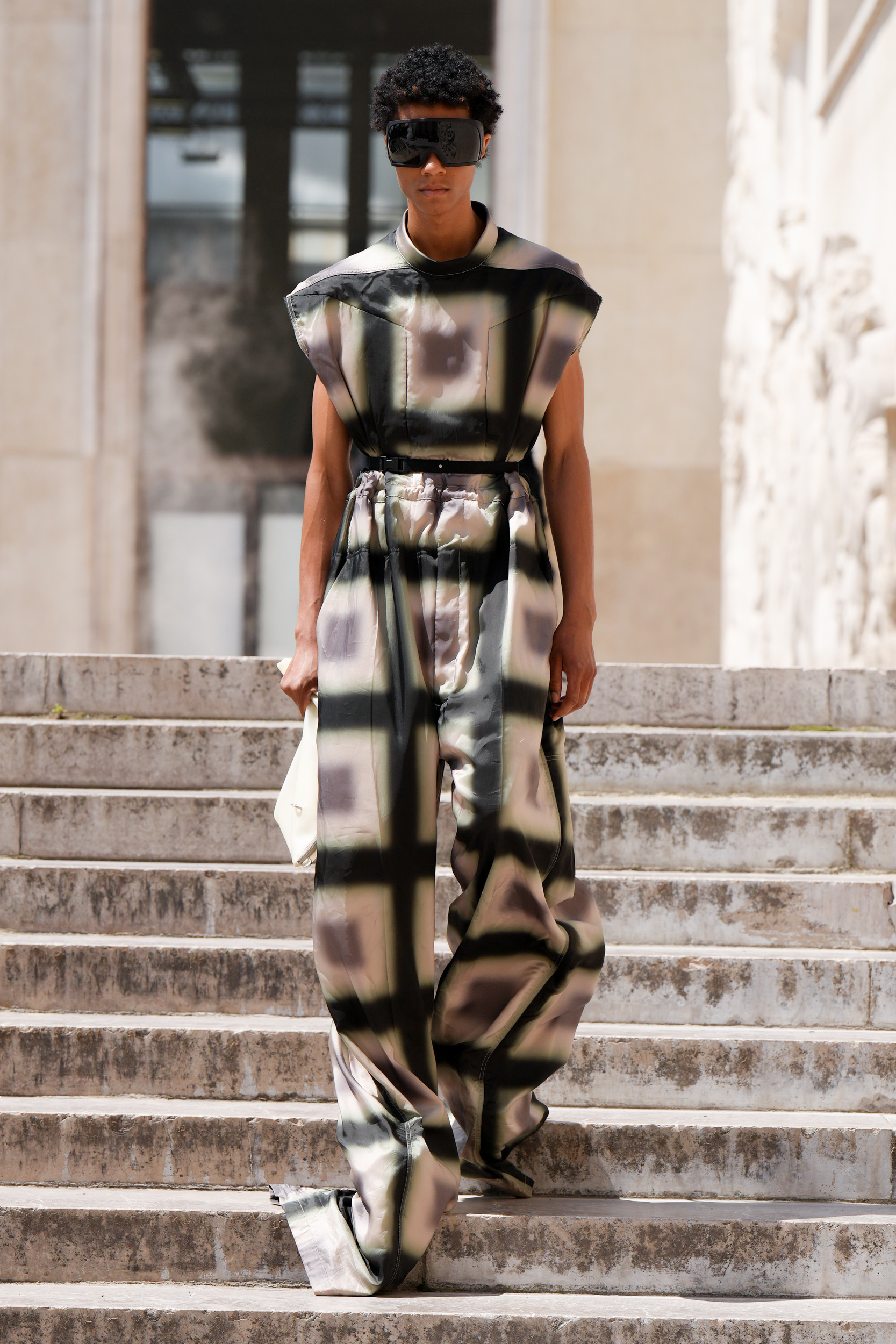 Owens' use of color was visionary and powerful as always and moved into the particularly electrifying territory. The bloom of loud pinks and yellows in the show's final third was vibrant almost to the point of (intentional) kitsch, infusing energy and buoyancy among the otherwise soothing neutrals of the collection. Elsewhere, denims lacquered in an iridescent finish shimmered in the sun, suggesting the armor of scarab beetles or, again, the wings of butterflies.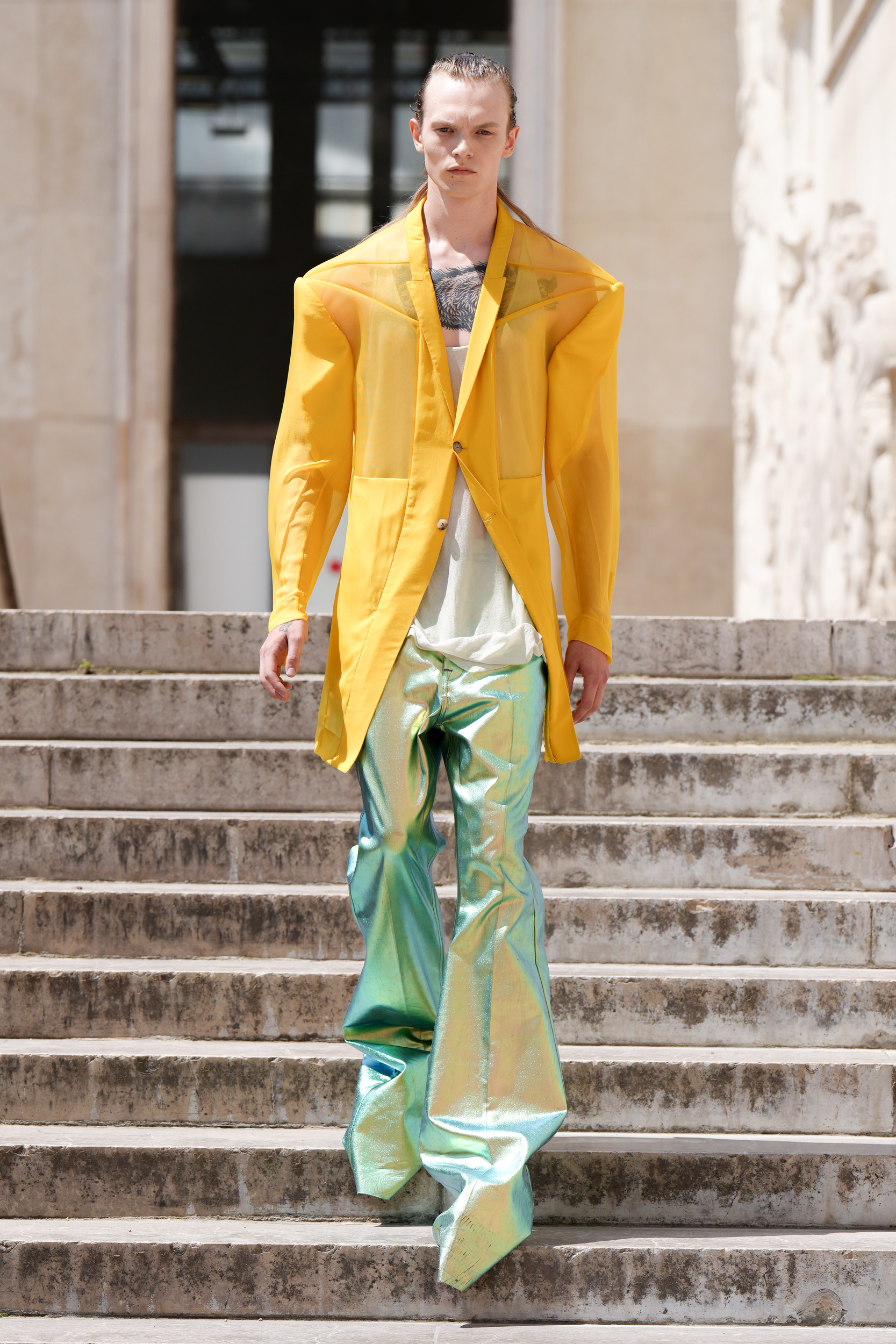 A true master of his craft, Owens recognizes the artist's imperative to respond to his own time, while keeping an eye on his destiny to reveal something that is timeless. Here he turns his distinct hand and vision to hopeful horizons, reminding us that fires ultimately subside, that the sun eventually rises.
---