---
BY LONG NGUYEN
An Eyewitness Account
In the recent 'dark' days of late April at the height of the lockdown in New York City – then the global center of the pandemic – when the 11:30 AM daily news conference by New York governor Andrew Cuomo was the day's most anticipated event, a friend of mine forwarded a YouTube link to the 2000 Madonna-remixed release of American Pie, a 1971 Don McLean song about the loss of innocence of the previous decade's rock and roll generation.
Listening to American Pie (the original and the remix) got me thinking about the upcoming resort, men's and couture show seasons that were all canceled due to pandemic – how will digital presentations work without any live fashion shows, especially haute couture? Will shows even come back at all for the rest of 2020? 
At the end of the month-long process that began in London and ended in Milan, well in Lecce to be exact, the result of the digital format experimentation clearly shows how critical the live fashion show format really is for all the brands, big and small.
Digital fashion weeks did not produce a high level of discourse and exchange that the live experiences conferred, once upon a time in the distant era of three months ago. This is because each individual in the audience absorbs and translates their emotional response to the show differently, as no one sees and feels the same event in the same exact manner. The diversity of this response is what makes the testimonies of the live show experience radically unlike the instant comments during an Internet presentation. The actual testimonies of the live show experiences are part feeling and part rationality, while the actual digital presentations impart more reason and much less sentiment.
Digital can be super fast in communicating information but a fashion look isn't just information – it is supposed to be the first strike into our network of emotion. But in actuality, very few fashion shows in the past decade have stirred that strong emotional response simply because so few designers can create a show where the elements of staging, clothes, and narrative all worked together to make that 'fashion moment' happen.
In London, designers told their own stories and showed little to no clothing at all, clothes that should be the direct result stemming from their own lives and their responses. Personal narratives are great but how they translate into the vocabulary of clothes matters a great deal.  
In Paris, the three days of haute couture digital initiatives deepened the needs for live shows. The Dior movie was a great short film but it did not stir our feelings, while the brief Chanel music video only conferred the reality of the great and special clothes the house offered to their clients. John Galliano delivered a fifty minutes long doctoral thesis that bared naked the couture process for all to see – fascinating insights into the thinking process, but perhaps too much of an intellectual approach for the fashion net citizen.
It was a week later that Pierpaolo Piccioli working with Nick Knight delivered the opus where images of flowers projected onto a super elongated white gown created a temporary trompe l'oeil of a dress that was hand-painted when it actually was not. Piccioli transported the digital audience who tuned into his live performance with real models from Rome, a breathless experience as close as can be done on screen. But this too required mastery of techniques, mastery of technology, and mastery of how to create that special ambiance.  
Live streaming isn't the same as live but Piccioli at Valentino provided the only online show presentation that can draw an emotional response. Yet even this isn't an adequate substitution for witnessing his haute couture shows at the Hôtel Salomon de Rothschild in Paris.  
Menswear designers in Paris had a mixed bag of tricks for their digital fashion week. A few – KidSuper, Maison Mihara Yasuhiro -made fun of the fashion show system while many others showed how and why they made the Spring 2021 clothes. There were moving videos from Pigalle Paris celebrating their tenth year, and one love story from Ludovic de Saint Sernin. There were pop-up boxes from JW Anderson and Loewe to complement the actual online briefings. There was the art-fashion axis like the Dior Men-Amoako Boafo pairing, but there was also real fashion innovation like a peek into Rick Owens' fitting of a male model at his Paris studio. 
In Milan, the commercial dominated as the brands highlighted their central role in the Italian system of fashion that included artisans, fabric manufacturers, and factories, all of which should now be considered as Italian patrimony as much as Michelangelo's David. Most of the Milan presentations fell within this infomercial trap but Dolce & Gabbana, who's actual live show to benefit the Humanitas University research fund was the only real full show with a limited audience, enlivened by the performance of the trio opera pop singers Il Volo. The half-day Gucci live stream of a campaign photoshoot in Rome presented the nuances of the fashion system at the precipice of major changes – value, culture, clothes, identity – all of what we know as fashion. In those 12 hours, most of the time practically nothing happened as tech operators were shown searching for the right monitors showing some action beside the one of an empty hallway. 
Prada was the outstanding presentation that asked five artists to interpret her signatures, letting them visualize the clothes how they wanted to and at the end showed a finale of models, and Mrs. Prada herself acknowledging the audience with her usual soft hand wave. It was the ONLY designer bow this season.  
Did fashion succeed in narrating the next season's clothes during this pandemic? Have these months-long digital formats changed the values of fashion in any way? Is the past really gone for good? And for those glued to their screens this past fashion month, what did they learn, what did they feel? Were many of these presentations just more vapid content, images signifying nothing?
The suggested answers to these questions are not simple but the past cannot simply be dismissed. The live fashion show will be back albeit in a variety of formats depending on the scope of the health situation. Live shows will be back in full force simply because there is no other alternative to really show clothes in a coherent and comprehensive way.
But perhaps it is good to recognize that the live fashion show is not suitable for every brand and not every brand should be doing live shows. Just before the pandemic, we all complained because there were too many fashion shows (really shows that should not show). Brands should evaluate the best way to show new products and some will come to the realization that a live show isn't the sole answer.
Great shows remain legends in the history books and they live on in our collective fashion consciousness through our testimonies and our anecdotes.
Here are some of my anecdotes and recollections of some of the best shows I saw in the late 1990s, an era of unprecedented creativity in fashion, in arts, in music, in films, in literature, and in business (the first dot.com era).  This was a time before there were instant fashion show photos, thus for many editors, pens and notebooks were then the norms, not the exception they are today.  
One of the things that I remembered most when I was a youth in Paris in the mid-1980s was the seasonal wait outside of different venues around the city, to get a chance to stand at the various fashion shows that were taking place in late January and early September and mid-March and early October for men and women respectively. The show people and their security teams were familiar with many of us and always allowed entrance at the last minute. We only wanted to see the designers who were most creative at the times – Jean Paul Gaultier, Yohji Yamamoto, Comme des Garçons, and the French masters Thierry Mugler and Claude Montana because these designers had the ability to create not just clothes that presented a radically different manner of dressing antithetical to their time and existing culture, but a world around their fashion expressions.
I managed to see shows that became not just my favorites over the years like Gaultier's influential Russian Constructivist and 'Joli Monsieur' as well as many from Yohji and the inventive Rei Kawakubo, whose shows served to ingrain in my mind what a fashion show ought to be in terms of creativity and innovation; I have never changed my mind ever since as far as what makes these and other fashion shows great and memorable. An outstanding fashion show and the artistry it encompasses have to envelop the designers' whole universe and bring to a live audience the mindset, and the uncanny ability to translate these living thoughts into actual clothes and let the garments be the words that speak for themselves.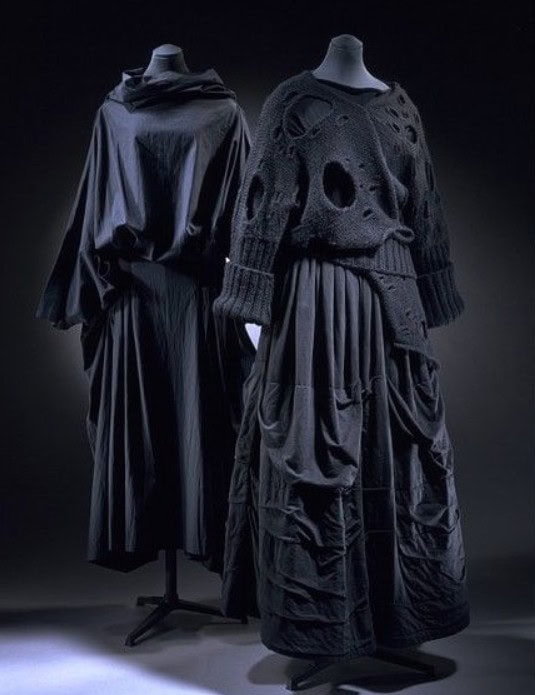 We all know now that the 2020 pandemic has and will change every aspect of our lives and the extent to which some of these changes become permanent remains to be determined, as life unfolds like a roll of dice. Immediately the format of presenting a new season's collections has been radically altered as physical shows ceased and designers scrambled to summon efforts to create on digital platforms any type of creative expression that can replace their runway shows. As the recent London digital experiment clearly conveyed, fashion shows cannot be replaced simply because there is a symbiotic relationship between the audience and the show – an audience bears witness and provides testimonies that are inherent in judging the degree to which designers succeed or fail in their creative mission.
Over the past decades, I have been lucky enough to witness quite a number of fashion shows that are etched firmly in my mind as their impact was far beyond the actual runway experience. As a reminder of the essential necessity for live shows going forward, here are some of my recollections especially during that golden era of creativity (1992-2004) and my notes, hand notes, and drawings in the era prior to having access to pictures from shows, least of all instantly. This will be the first June-July without any men's' and haute couture shows in decades, and fashion surely will not be the same. The experiences of seeing the clothes put together on a live stage, and clothes on hangers or even in 3D images are not the same and can't be shared in a similar manner. Fashion shows, albeit memorable ones, allowed the designer to stage his/her vision through the controlled theatrical setting where the clothes and the chosen models who wore them became the visual and the emotional vocabulary spelling the ethos of the coming season, and the show can foreshadow a shift in the cultural zeitgeist on the verge of breaking into the pop culture space.
Yet very few fashion shows can define fashion for a generation or refine what fashion can be in a new age of consciousness. Raf Simons' Spring 1998 menswear show – 'Black Palms' – in Paris at the Garage de Turenne near Bastille was perhaps the show that defined modern menswear – black skinny silhouettes, punk rock music, graphic tees, skinny suits. A decade and half before the advent of luxury streetwear, the Black Palms show's aesthetics became the foundations and the templates for menswear, as the clothes as were relevant in 1998 as they would be for today's audience and consumers with little modifications required. Other notable menswear debuts were Hedi Slimane's first collection for Yves Saint Laurent Rive Gauche Homme showed at the Maison de la Chimie in a small a square room on a January morning in 1997 a day after the Paris show season had ended, to an audience invited by fax; it was a show that demonstrated Slimane's ability to garnish and romanticize the subcultures with the crafts of menswear, here and later at Dior Homme, then Saint Laurent. I would also put Riccardo Tisci's first Givenchy men's fall 2009 at the Musée Bourdelle on the same pedestal that cements a refined yet accessible, sexy men's aesthetics.
Raf Simmons 'Black Palms' | Spring 1998
Riccardo Tisci for Givenchy Men's | Fall 2009
A little after 10PM one October evening in 1997 at the Conciergerie in Paris in a joint production with Comme des Garçons as both houses shared the primacy of creativity, Martin Margiela Spring 1998 show started with a video montage in the background and then a bunch of older men all wearing long white cotton lab coats, holding in their stretched out hands steel hangers with a collection of totally flat garments – the jackets whether black wool single-breasted or in brown suede, wool coats without any lining or shoulder support, white shirts with flat collars, and flat side folded pants. Decades before the ideas of sustainability, upcycling, and environmental impact concerns came of age, Margiela had already remade and marketed recycling both of old clothes and designs, and these flat clothes that proposed only the use of fabrics totally essential to the garments with little to no waste.
Martin Margiela | Spring 1998
The master showmen Alexander McQueen and John Galliano have surely brought their sense of theater to fashion – those McQueen shows in London in the early days of his career were nothing short of breathtaking experiences, namely the Highland Rape (Fall 1995), the Hunger (Spring 1996), Joan of Arc (Fall 1998), and the Golden Shower (Spring 1998) that demonstrated the energy of his creations seemed boundless. Galliano shocked the couture world with his 'Clochard' Dior Haute Couture Spring-Summer 2000 show at the start of the era where he enmeshed the tear and wear clothes of homeless people around the Bois de Boulogne into sumptuous and strategically torn chiffon dresses in newspaper print, some worn inside out with wine corks and liquor bottles as accessories- all perhaps with the intention of shattering the rigid image of the heritage house and of haute couture, in order to connect to a new mood of couture and more importantly to a new and younger audience. How to make haute couture meaningful to a new audience became a mantra for houses that still cultivate these hand-crafted heavy clothes, but no one took the creative risks that Galliano did with Dior in his early years at the house. But one of the best Dior Haute Couture shows was Spring 2007 Madame Butterfly where the narrative of Pinkerton's affair with Cio Cio San came alive on stage with colorful New Look kimonos, suits, and origami dresses – where storytelling and clothes formed a perfect symbiosis and Shalom Harlow and companions accompanied Captain Galliano in a finale with snow falling on the audience to evoke that emotional response that's so difficult to achieve.
Alexander McQueen 'Golden Shower' | Spring 1998
John Galliano for Dior Haute Couture 'Clochard' | Spring 2000
Two other shows that were ahead of their time both touched on themes of inclusivity, way before it became a conversation in fashion: John Galliano's Spring 2006 show in which couples of all kinds – daddies and young girls, sugar mammas and gigolos, octogenarians, lesbians, and little people – wore his bias cuts dresses, and Rick Owens' Spring 2014 Vicious show with an army of step dancers of all shapes and sizes wearing his versatile street style designs. Both these shows spoke directly to the needs for size and race diversity and representation years ahead of the current conversations taking place today. The impact of these shows came from the power of the casting, which might have overwhelmed the audience more than the clothes did. However, the clothes on the runway were just as important, as they were the vocabulary words spelling out the poetry.
John Galliano | Spring 2006
Rick Owens | Spring 2014
Here is a list of a few other very noteworthy shows: Tom Ford for Gucci Fall 1995 and Fall 2004, Viktor & Rolf 'Maggie Rizer' Fall 1999 Couture, Yohji Yamamoto Spring 1999 Wedding show, Thierry Mugler Fall 1995 20th Year show at Cirque d'hiver, Comme des Garçons Spring 1997 'Body meet dress, dress meets body', Gianni Versace Atelier Versace Fall 1997 at the Ritz, Chanel Haute Couture shows at the Ritz and Cambon salons, Dries Van Noten 50th collection Spring 2005 show on a long dinner table, Helmut Lang late 1990's shows in Paris at the Espace Commines, or the multiple Thom Browne shows – the funeral, the ice skating, and the XXXL.
But as we pause to contemplate the future, here is another thought to ponder. For more than two decades in June, many of us were in Paris for the men's spring-summer show season and then the fall Haute Couture shows, now postponed to mid-July in a solely digital format. We diligently went to shows from morning until late at night to discover what designers had to say and how they used clothes as the language to communicate their ethos. No matter what digital formats – films, videos, product shots, etc. – and no matter which platforms they live on – YT, FB, IG, WB, TT and countless others – however creative these digitals may be they are limited in their capacity to emulate the feeling of the physical shows to the audience who bear witness. Too many shows said nothing but equally as many shows brought the audience to witness, to testify, and to feel a transformative moment and that can not be done on the digital level. At Rick Owens men's Spring 2019 Babel show in the outdoor esplanade of the Palais de Tokyo under the hot sun during a week-long heatwave in Paris in June 2018. The heat of the hot sun, the acrid smell of the yellow, blue, and green smoke (no NOT TEAR GAS) and the inventive and innovative approach to making clothes, this time with tent and scaffolding-like constructions – where design innovation comes to the forefront each season – all these elements intersected with a live performance by Tommy Cash, an Estonian rapper who himself walked the elevated platform conjuring an emotion that can be experienced on the ground and cannot be replicated on screen. Just like Thom Browne's excesses and humor of fashion – all these moments simply cannot be simulated digitally.
Rick Owens | Men's Spring 2019
For that spring collection two years ago, Owens created large odds shapes, coats from imagining that a loose nylon parka can be transformed into a walking tent – this is what fashion can be in the hands and minds of those who dare to push beyond conventions and boundaries, whether they be societal mores hardened over the centuries. Or that special emotional response when after flashes of loud thunder and lightning, the rainwater fell onto the front row guests at the Alexander McQueen's Golden Shower Spring 1998 show in London as models in wet all-white clothes stepped on the splashes of water on the catwalk: what's a golden shower without getting a little wet?
Live fashion shows will return but hopefully designers will use this live format in more convincing and creative ways. That will ensure the relevance of the live shows for years to come.   
Alexander McQueen 'Golden Shower' Finale | Spring 1998
---