Elegant Sobriety
Review of Tod's Spring 2024 Fashion Show
By Lizzy Bowring
THE COLLECTION
Material Mix: The juxtaposition of different textures and materials, especially the contrast between structured leather and delicate fabrics, adds depth to the collection.
Craftsmanship: The unmatched Italian craftsmanship is evident, especially in the leather pieces that are synonymous with the brand.
Timelessness: The pieces have a timeless appeal, ensuring longevity in a wearer's wardrobe
Craftsmanship: The unmatched Italian craftsmanship is evident, especially in the leather pieces that are synonymous with the brand.
Predictability: While the brand is known for its leather goods, there might be an appetite for more unexpected materials or design approaches.
THE VIBE
THE THEME

Amidst the famed backdrop of Teatro alla Scala, Laboratori Scala Ansaldo, where art and craft merge in operatic harmony, Tod's latest collection unfolded like a carefully sculpted artwork developing to the sculptor's eye. This Milanese institution, a beacon of artistic grandeur, bore witness to Walter Chiapponi's final bow as the brand's creative director, encapsulating his journey of artistic evolution and craftsmanship. Chiapponi's four-year tenure at Tod's has been a personal and professional odyssey. As he revealed designs that were a testament to this journey, the Teatro alla Scala, a venue he had sought for over two years, provided more than just a physical space. It mirrored his soulful connection with art, echoing his unspoken aspiration of being a sculptor, molding creations with passion and precision. The collection, in its essence, was a vivid portrayal of design purity underlined by unmatched Italian craftsmanship. Resonances of the '90s emerged in tailored silhouettes, blending ethereal wool gauze with the allure of transparent fabrics. Chiapponi, veering away from the romanticism of past works, embraced an elegance that was raw yet refined.
The color palette masterfully reflected the interplay between art and fashion. Drawing inspiration from the tones in a sculptor's clay workings, the range unfolded with a deep sense of artistic craftsmanship. Faded neutrals evoked the raw, earthy materials from which masterpieces are molded, while spirited splashes of zingy lime added a contemporary edge. This balance of hues captured the ageless spirit of Tod's heritage and the vibrancy of modern innovation.
THE BUZZWORDS
Up to 3 keywords: Timeless, Sophisticated, Sculptured, Pure
THE SHOWSTOPPER
Look # 26
A centerpiece of the collection is a meticulously crafted leather jacket cinched at the waist with a leather pouch belt – a signature touch emblematic of Tod's artisanal excellence. Paired with a flowing pleated skirt, the ensemble exudes elegance and sophistication, serving as a constant reminder of the luxurious heritage of the house.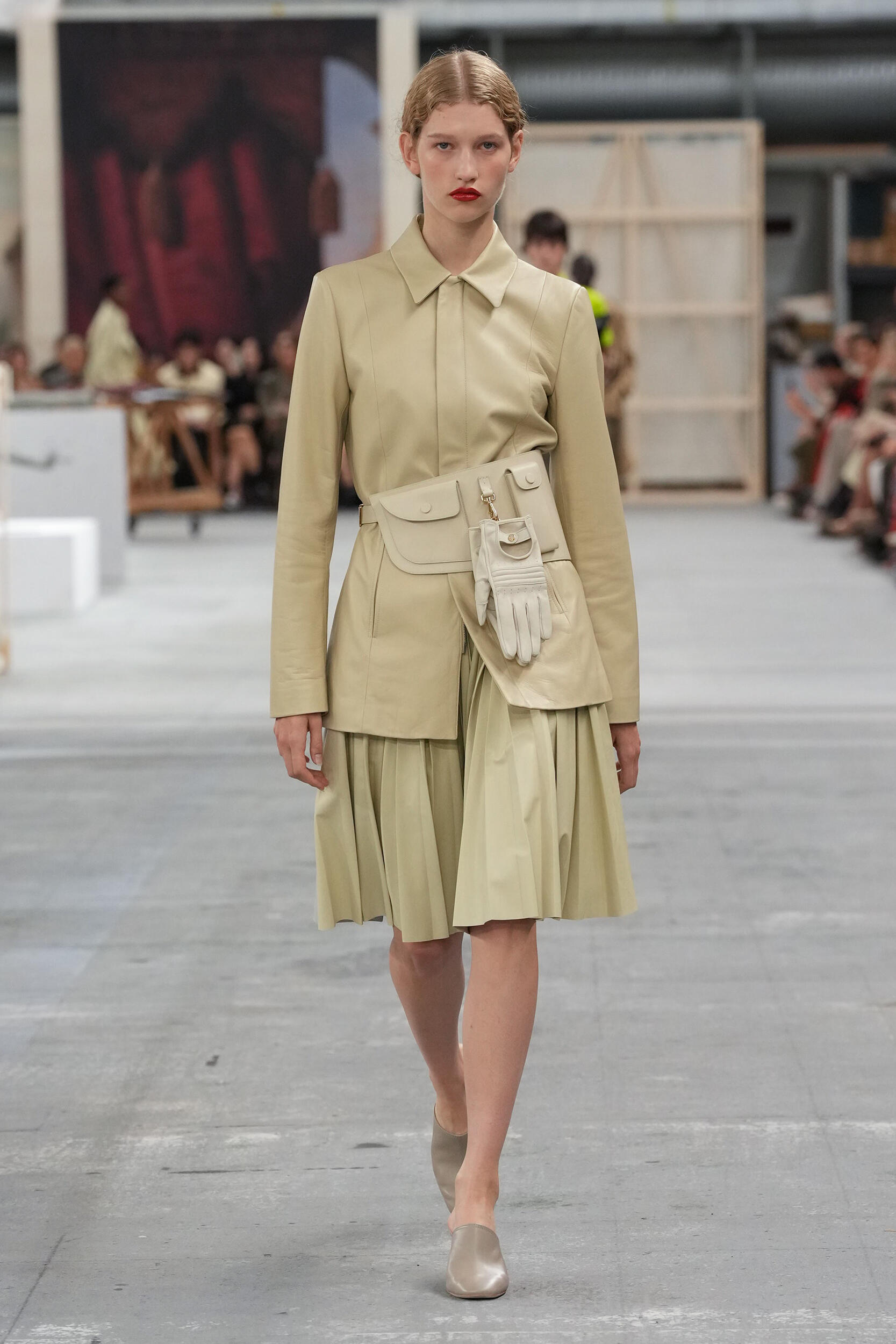 THE DIRECTION
Safety: The collection could be seen as playing it safe, aligning too closely with the prevailing trend of understated luxury.
Lack of Boldness: The collection might not stand out as innovative in a fashion world that thrives on reinvention and pushing boundaries.
Similarity: Several designers are exploring a similar minimalist aesthetic, which could make it harder for Tod's to distinguish itself.


Resonances of the '90s were evident, from tailored silhouettes mixing ethereal wool gauze with transparent fabrics, signaling a shift from Chiapponi's past romantic inclinations to a more raw, yet still polished, elegance. The collection showcased the brand's trademark strengths: monochromatic looks, masterful leatherwork, and the dance of different textures and materials. Knee-length skirts, trench coats, men's suits, and sheath dresses moved with a grace unmistakably Tod's, while vests hinted at a more tactile, sensory experience.
The tension between the structured feel of leather and the flow of more delicate fabrics gave the collection its pulse, its heartbeat. But while Chiapponi's farewell to Tod's was undeniably a masterpiece in its own right, beautifully articulating his journey, experiences, and inspirations, it might be seen by some as too aligned with the current trend of understated luxury.
THE WRAP UP
While Walter Chiapponi's S/S 24 collection for Tod's was an ode to pure design and unparalleled Italian craftsmanship, it arguably played it safe. Many designers are tapping into a similar minimalist aesthetic, and the challenge for Tod's is to continue its legacy while pushing boundaries.
The collection was undoubtedly an artful adieu that celebrated Tod's storied legacy and Chiapponi's visionary approach. However, the next creative director must be brave and inventive as the brand looks to its future. They'll be tasked with upholding the brand's heritage and setting it apart in an ever-evolving, competitive landscape. The gauntlet has been thrown, and fashion enthusiasts will watch to see where Tod's goes next.
---