An Odyssey of Creative Freedom
Review of Bottega Veneta Spring 2024 Fashion Show
By Lizzy Bowring
THE COLLECTION
THE VIBE
THE THEME

For the fourth consecutive time, Matthieu Blazy has pulled off the remarkable at Bottega Veneta — presenting a collection that elevates the fashion narrative and resonates with everyday life. Picture a vibrant painting sprawled across the runway, a richly hued map that serves as the canvas for Matthieu Blazy's SS 2024 Bottega Veneta collection. Alive with colors and intricate details, this map is more than mere decoration; it encapsulates the theme's essence. It's as if the world, in all its glorious diversity and mystery, has been laid out beneath the models' feet, allowing them to fluidly meander from one continent to another, each step reflecting a journey of discovery. It is an odyssey of self-transformation, bridging the chasm between whimsical fantasy and grounded reality.
The garments, in turn, are imbued with this spirit. They're not just articles of clothing but narratives, stories of lands visited, cultures experienced, and lives lived. Whimsical pom-pom designs are gracefully intertwined with open weave sheaths and bold statement coats. This was accentuated further by striking combinations: fringe-adorned dresses, knitwear boasting dynamic patterns, and irresistible accessories. Blazy's theme invites us to see the interconnectedness, the shared tapestry of human experiences in a fragmented world. Men and women, through Blazy's vision, find not just the joy of adornment but the art of immersion. In this Odyssey, a simple shirt metamorphoses into a tunic, jackets wear history on their lapels, and bags evolve from mere scarves. A business suit, with its deliberate defiance, is paired with a bag boasting a horn-shaped handle, nodding subtly to Saint Laurent's iconic Mombasa bag. These aren't mere garments but transformative experiences, ensuring that the traveler doesn't return with mere trinkets but tales woven into the fabric they wear.
THE BUZZWORDS
Sculptural, Handcrafted, Freedom, Unique
THE SHOWSTOPPER
Look # 70
The dress is a testament to the meticulous handcrafting of Blazy's vision. Its intricate details – the fringe pom-poms and the seemingly handwoven dress, capture the very essence of Bottega Veneta under Blazy – a seamless fusion of imagination, tradition, and unparalleled craftsmanship.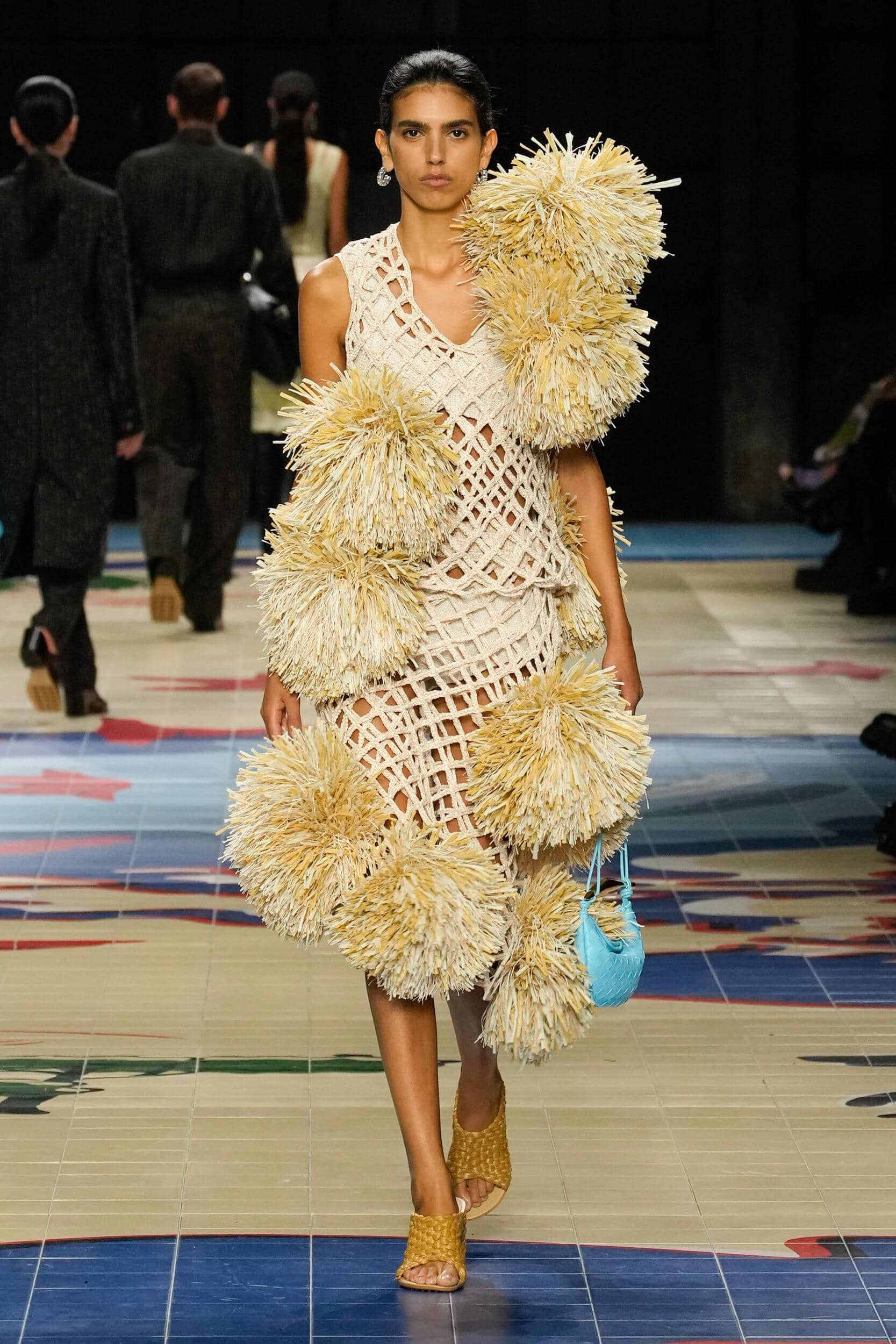 THE DIRECTION
PROS
Exquisite Craftsmanship: Every garment and accessory stands as a testament to the unparalleled craftsmanship
Cultural Immersion:  It beautifully melds world cultures into a cohesive luxury narrative.
Timelessness: Designs have an enduring quality that promises longevity
Balance: The inclusion of bespoke detailed tailoring
CONS
Overwhelming Detail:  Overly ornate
Wearability: The practicality of some garments, especially for everyday wear
Blazy's ascent to prominence is articulated in each meticulously crafted piece of this collection. The garments speak a language of innovation and audacity. From the playful pom-pom wonders, reminiscent of far-off lands and indigenous crafts, to the stately coats that command attention — and the strong-patterned "knitwear," every piece tells a story – the fringes whisper tales of desert sands, the cactus shells nod to arid landscapes. And yet, it's the finer elements that reveal Blazy's directorial brilliance. The accessories are audacious in proportions, a testament to Blazy's ability to reimagine the familiar. Rooted in Bottega Veneta's iconic interwoven traditions, these accessories are beyond mere aesthetics. Blazy ensures that each ensemble carries a narrative, an amalgamation of diverse worlds, cultures, and epochs, seamlessly integrated. He brilliantly merges these different worlds, cultures, and eras without the collection feeling burdened or overdone. From the carefully tailored suits that create a balance to the collection to the fringing under a coat representing a tale from one land to cactus shells narrating another – every piece tells a story and serves a purpose. It's a collection that bears testament to the profound metaphorical journey of its creator.
The odyssey, the journey, is an exploration beyond our immediate surroundings but deep within ourselves — a dance between the tangible and the abstract. It's a journey of metamorphosis, it spans histories, nations, cultures, epochs, and, most profoundly, our evolving selves. Fashion's allure lies in an undying thirst to mold visions of realms yet unseen and is inherent to our creative instincts.
THE WRAP-UP
In the SS 2024 collection, Blazy doesn't just present fashion; he offers a brilliant narrative masterpiece. It's a tapestry woven with threads of exploration and transformation. The garments are not passive wearables but active storytellers, chronicling tales of adventures, dreams, and metamorphoses. They beckon the wearer to dress and adorn oneself with lived experiences, cherished tales, and bold aspirations. As we find ourselves at a crossroads in fashion, oscillating between the nostalgia of the past and the excitement of the future, Blazy's vision provides a compass. It points towards a direction where beauty is not just seen but felt; exploration is both an external journey and an internal metamorphosis, and the allure of the Odyssey remains undiminished with all its uncertainties and promises. And while all were mesmerized by the stunning array of carefully crafted silhouettes, from above, a voice beckoned, "Let's go somewhere." Matthieu Blazy has unveiled his magnum opus, his own Odyssey, in the zenith of fashion.
---