---
Fashion's Leading
Sublime Sophisticate
As the fashion industry has modernized and adjusted to the needs of today the role of the designer has evolved dramatically, pushing them out of the sample room and into the forefront as 'personalities.' The result is many a designer focusing more attention to managing their image and Instagram posts than product creation. Giada's Creative Director, Gabriele Colangelo, has never allowed the trappings of digital attention to sway his focus from creating sublime and artisanal luxury goods that match the house of Giada's core values.
Ever the experimenter and conceptualist, Colangelo has remained focused on fine-tuning Giada's design process, from the front end of teaming with fabric developers to experimenting with luxury piece goods to the backend of creating collections that are intimately complex while reading so luxuriously modern.
Colangelo, a previous LVMH Prize finalist, has consistently made The Impression's Top 10 of the season for both his namesake label as well as Giada. A feat unaccomplished by any other Italian design house, which reflects on how focused Colangelo is on delivering modern timeless collections loaded with thought and edited with precision.
That editing played a major role in how the house of Giada has chosen to present Colangelo's forthcoming collection which is inspired by 'resting one's feet on the earth.' A fitting theme for the times. Blending natural elements inspired by the beauty of stones and minerals with Colangelo's exacting details and elongated silhouettes, the collection continues the house's heritage of sublime sophistication with luxurious details and fabrication.
The collection will be presented in an experiential format that mixes an exhibition with an intimate show and a virtual happening held at the Giada building on via Montenapoleone. Images of the new collection lensed by Annemarieke van Drimmelen will guide guests on a tour of three floors. A small couture-like showing will happen on the 24th for a number of selected guests to view the collection in motion while speaking with Colangelo. The exhibition will then be open for a week and offered virtually online where guests can visit all three floors plus a virtual fourth floor to browse past Giada campaigns, shot by masters such as Paolo Roversi, Inez & Vinoodh, and David Sims.
On the eve of the designer's Giada Spring 2021 outing during Milan Fashion Week, The Impression's Chief Impressionist, Kenneth Richard, caught up with the modernist creator to learn about his training in classic languages, design philosophy, the beauty of being with Giada, how he managed his time during the lockdown, and what is next for the designer and house of Giada.
Kenneth Richard: Gabriele, it's wonderful to meet you somewhere other than backstage as we've been fans of both your collections. I think you're one of the strongest and purest designers working today and I can't wait to learn more about your story.
Gabriele Colangelo: Thank you very much for your beautiful words. I'm so happy that you like my work.
Kenneth Richard: I would love to learn more about you. Your family's in the industry, did you grow up wanting to go into fashion?
Gabriele Colangelo: My path to becoming a designer was serendipitous. In high-school, I studied Latin and Greek, and I continued my study of Ancient Languages at university. So no, I wanted to become a teacher of ancient literature.
Kenneth Richard: Was it the narrative that excited you about ancient literature?
Gabriele Colangelo: I wanted to understand and know the origin of my language, and those origins are Greek and Latin. In the Italian school system, Greek and Latin are very difficult disciplines. So just like I do with my designing, I put myself in my work. I wanted to demonstrate to myself that I was able to make it. These studies helped me better understand the meaning of every word in my language today. So for me, it was to become a proper owner of the language I speak.
Kenneth Richard: Did you apply those same philosophies when you got into design?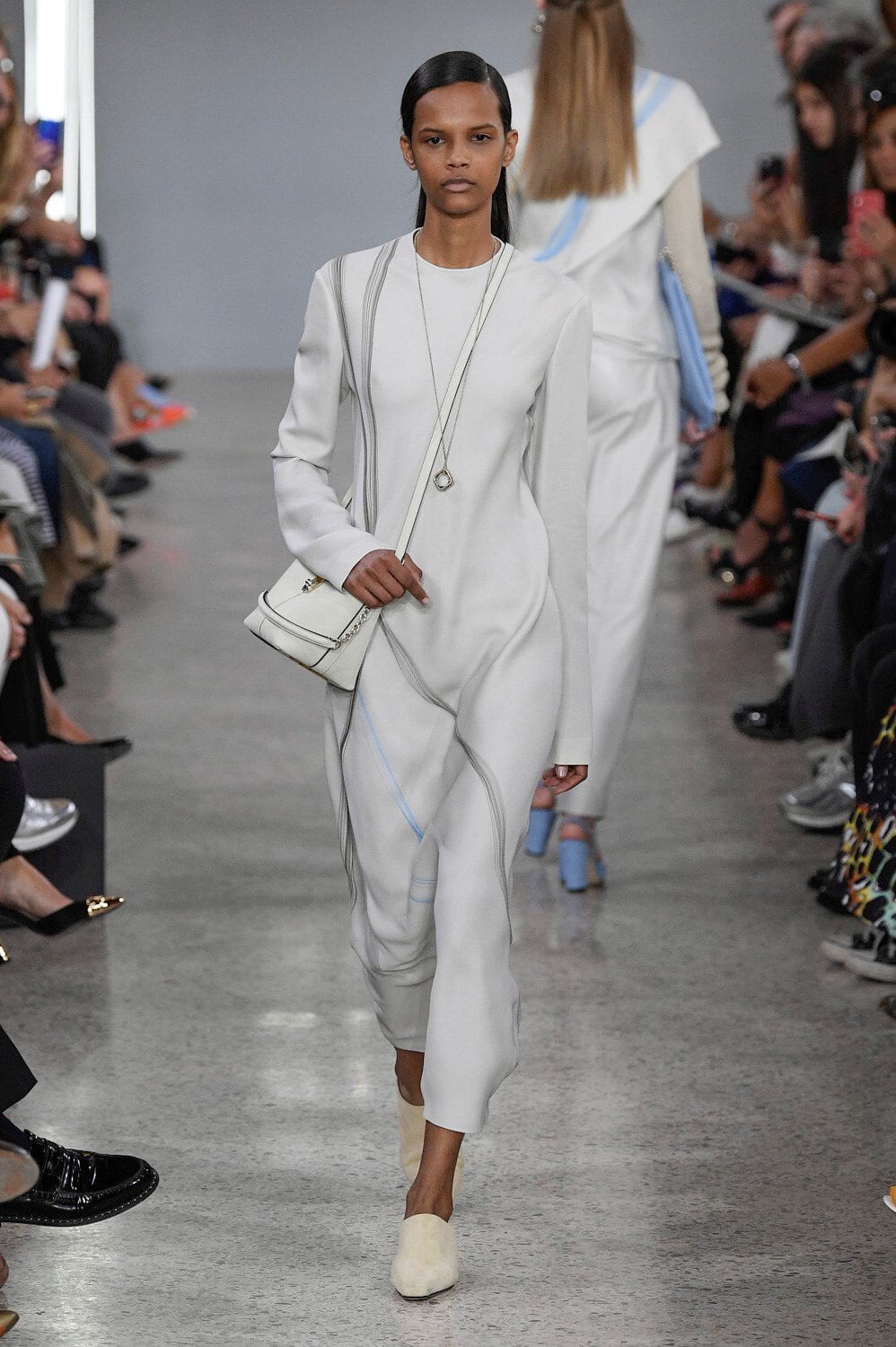 Gabriele Colangelo: Yes. First, these kinds of studies teach you to be very dedicated in what you do. They teach you that hard work takes sacrifices. Moreover, learning a language is not simply learning the language's rules. Words can and do have an accepted meaning, but to really get the sense of what is being said, you have to interpret those words. You have to understand their meaning in their context. So this means that you are the interpreter of an ancient tale. I apply the same philosophy in my work, especially in the construction of the collection.
My collection has artistic references, but I don't like to assert them in a didactic way. I prefer to have my personal interpretation of an artist's work, one translated by my filters and my aesthetic. I tap in to this idea of translation in my design just like when I needed to put an ancient text in the Italian language.
Kenneth Richard: How did the transition come about between languages and fashion?
Gabriele Colangelo: When I was studying Latin and Greek, I was also always doing drawings. You can see it in my books. The pages are full of sketches. Drawing always came quite naturally to me. Also, as you said, my family worked in fashion, and the fashion industry had an atmosphere which attracted me even as a young boy. I bought my first Italian Vogue when I was eleven years old. When I saw that cover for the first time, I felt a sort of shock. I then asked my parents to buy me a subscription as a gift for my birthday. I loved the possibility of having the magazine arrive every month at dawn. And then I really started to learn. Italian Vogue was, at that time, my encyclopedia of fashion.
Kenneth Richard: I'm sure that Franca Sozzani would have loved to have heard that, and today Ferdinando Verdi would be delighted to carry on that tradition of influence. Did Italian Vogue steer you into fashion?
Gabriele Colangelo: Yes but it was also an article of an Italian magazine, Il Sole 24 Ore, one of the most important in Italy. It had a contest for a young fashion designers. I never studied fashion before, but I decided to participate in the contest, and I won the prize.
I took that as a sign. So I decided to attend this school dedicated to fashion, and that started my career in fashion.
And then in 2008, I decided to create my personal collection. There is a nice story there, too. I prepared twenty sketches and I gave ten to my father. He did the fur and leather pieces for the collection. Then I went to India to visit a company which a friend of mine owned. She does embroideries for the most important brands today, like Dior. We spent about two weeks there preparing these garments, the embroidery and the new material. Then I came back to Italy. I did the manufacturing here, and I presented my collection on the first day of the Italian fashion calendar. And at that presentation, Franca Sozzani saw my collection, and she asked me to participate in this contest, "Who's on Next?"
I participated in the contest against other designers, and I won the prize. And because of that contest, I got to meet Andre Leon Talley. I mean, for a younger guy, it was like a dream come true to have all these people from fashion see my work from your first collection.
And then it started, the Colangelo Collection.
Kenneth Richard: That's an amazing first entry. And then you toiled for a while before the LVMH Prize happened in 2014.
Gabriele Colangelo: Yes. I was invited to participate with the other Italian designers, and I made it to the top 10. I was the only Italian. It was stressful for me because I'm not used to seeing so many people. I'm quite shy. But it was a nice experience, I have to say.
Kenneth Richard: What did your family think of all of this?
Gabriele Colangelo: My family was always supportive of my choices because they saw me as a very dedicated person. They didn't worry that I was making my choices thoughtlessly. So when I made my choices, they would help. My father was quite proud. And, he is today too, of course.
Kenneth Richard: Is he still operating his business?
Gabriele Colangelo: Yes, he's still doing his business, and sometimes we work together.
Kenneth Richard: Oh, that must be fun. Do you guys talk shop a lot?
Gabriele Colangelo: Sometimes, but that isn't always super fun. (laughs) But, I must say, he's an amazing technician. He knows his craft, the artisanal side of this work, which I'm always very attracted to. So, for me, he is the best, and he is a teacher to me.
Kenneth Richard: Well, that passed down because, I think your work is very technically proficient. It's very subtle and quite refined. The seaming details specifically.
Gabriele Colangelo: Thank you.
I also think a lot about my fabric, and like inventing new materials. I am very fond of this aspect of my work. I just started having ideas and sharing them with the suppliers.
They gave me the opportunity to work with them, to create new materials. That was, of course, very fun for me. Now I still have such a beautiful relationship with my suppliers.
I'm lucky to be in Italy where the most beautiful materials are made. I like to go to suppliers and see their archives. I look to their traditional materials and try to translate it into something which is new and avant-garde.
So that has been a beautiful experience. I focus on the stitching which is very Italian in a way, but I try to interpret it in a more, let's say, international point of view.
Kenneth Richard: When you start a Giada collection, do you start with the shoe and work north? With the fabric? With art? What's your traditional starting point?
Gabriele Colangelo: I begin with the concept which is often an artistic reference. The challenge is to translate the artistic reference into something that is a fabric and then a dress. I work with my team, giving them my inputs, and I give the same input to the supplier. So we go together through the archives, through the materials and then, after I have all this material on my table, I decided what can and cannot be in the collection. The fabrics that I decide against might show up in the future. I have a big archive of experimental trials in my office. So, my approach is very artistic at the beginning.
My first step is not to ask whether an idea is sellable or not. It is to ask whether it is beautiful or not.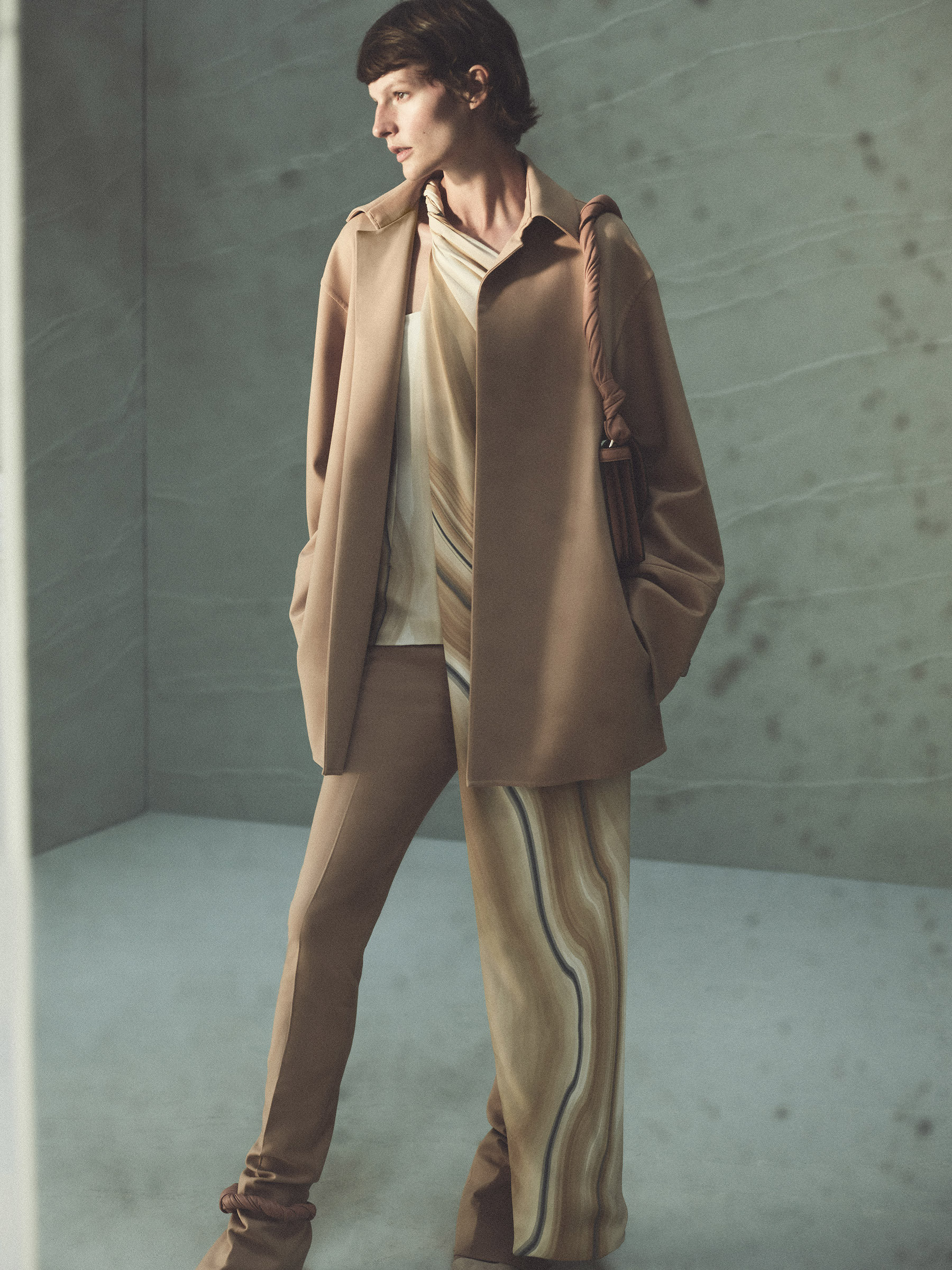 Then, of course, there is the dilution of this idea of beauty into something which has a shape, and eventually the two—beauty and sell-ability—overlap, and it creates a connection.
Kenneth Richard: Speaking of connecting, your presentation is in a heartbeat. Can you share with us what you're up to?
Gabriele Colangelo: For Giada this season, we decided not to do a classic fashion show considering what has been going on in the world. We are going to a virtual experience. The advantage of this approach is it can be seen by more people. Then, it will be a live event during fashion week. We just wrapped the photoshoot. For this 'shoot' I've decided to be more artistic, less discreet.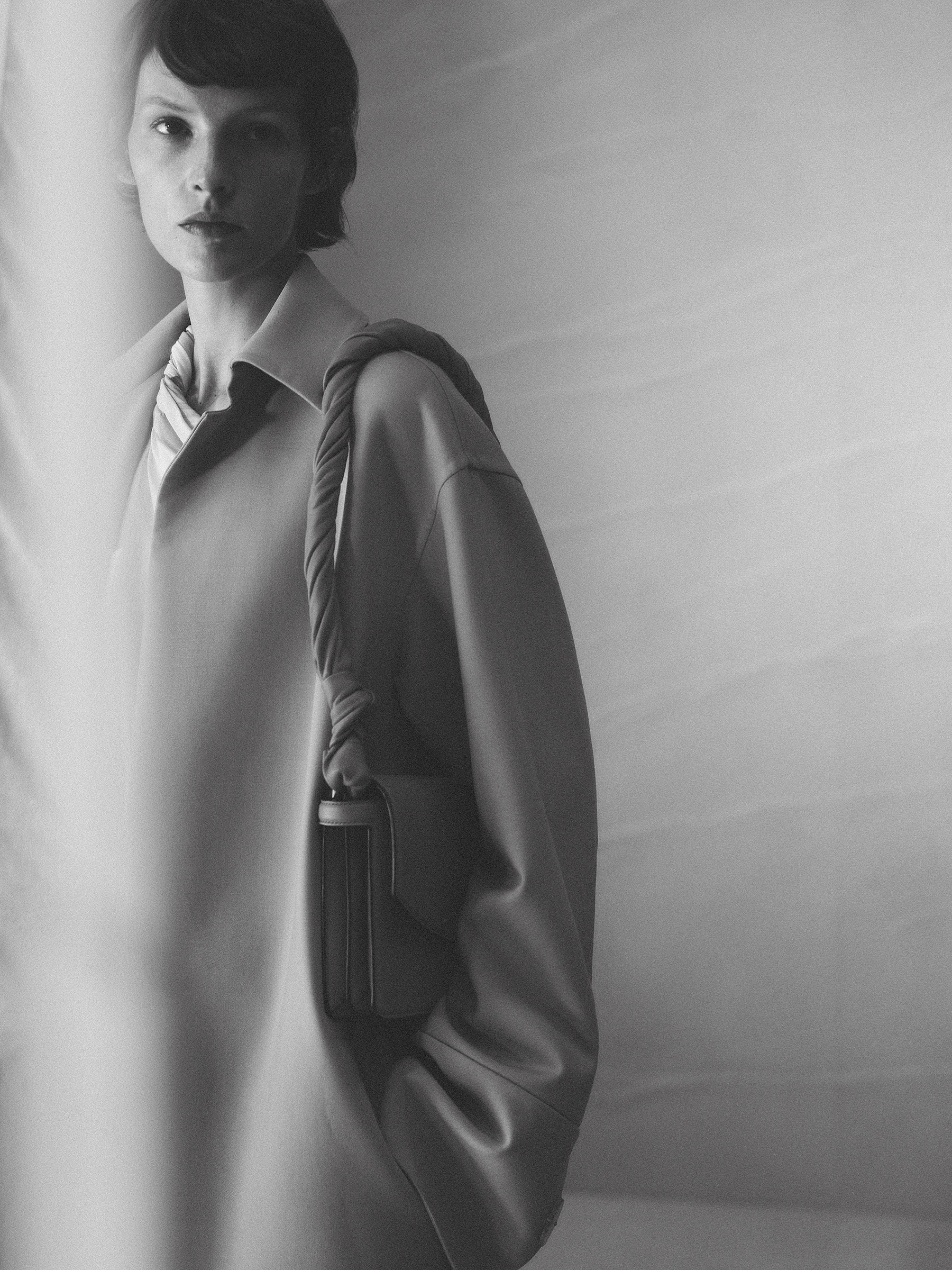 I want Spring 2021's virtual experience to be less about the description of the collection and more about the inspiration and emotion to the collection. This collection is a continuation of my exploration, through fashion, of the beauty of nature. We decided to present our work in the form of an art gallery, but instead of the paintings on the walls, we will have our 'shots.'
Displaying this exploration is the central motive of the shoot. We will try to continue with an artistic-focused presentation during fashion week. Considering that we cannot do the show, the photograph has, in this moment, a very important meaning. But, the photograph has the potential to translate, to give the emotion, and to truly display the product to the people.
Kenneth Richard: Giada, as well as your own label, has done a tremendous amount of marketing imagery. How do you define the language of your communication in terms of narrative? Do you have particular people that you always work with?
Gabriele Colangelo: Giada, until last season, we worked with Giovanni Bianco for the creative direction for the campaign. And we had a very long relationship with Inez & Vinoodh for the campaign images.
Last season, we worked with a photographer who I really love, Paolo Roversi. Paolo has poetry inside of him. He was the perfect interpreter of Giada's poetry.
You know, when you do minimalism, people usually think it very cold and distanced, but minimalism is poetry.
So I need a great interpreter of this poetry. And Paolo did it with magic.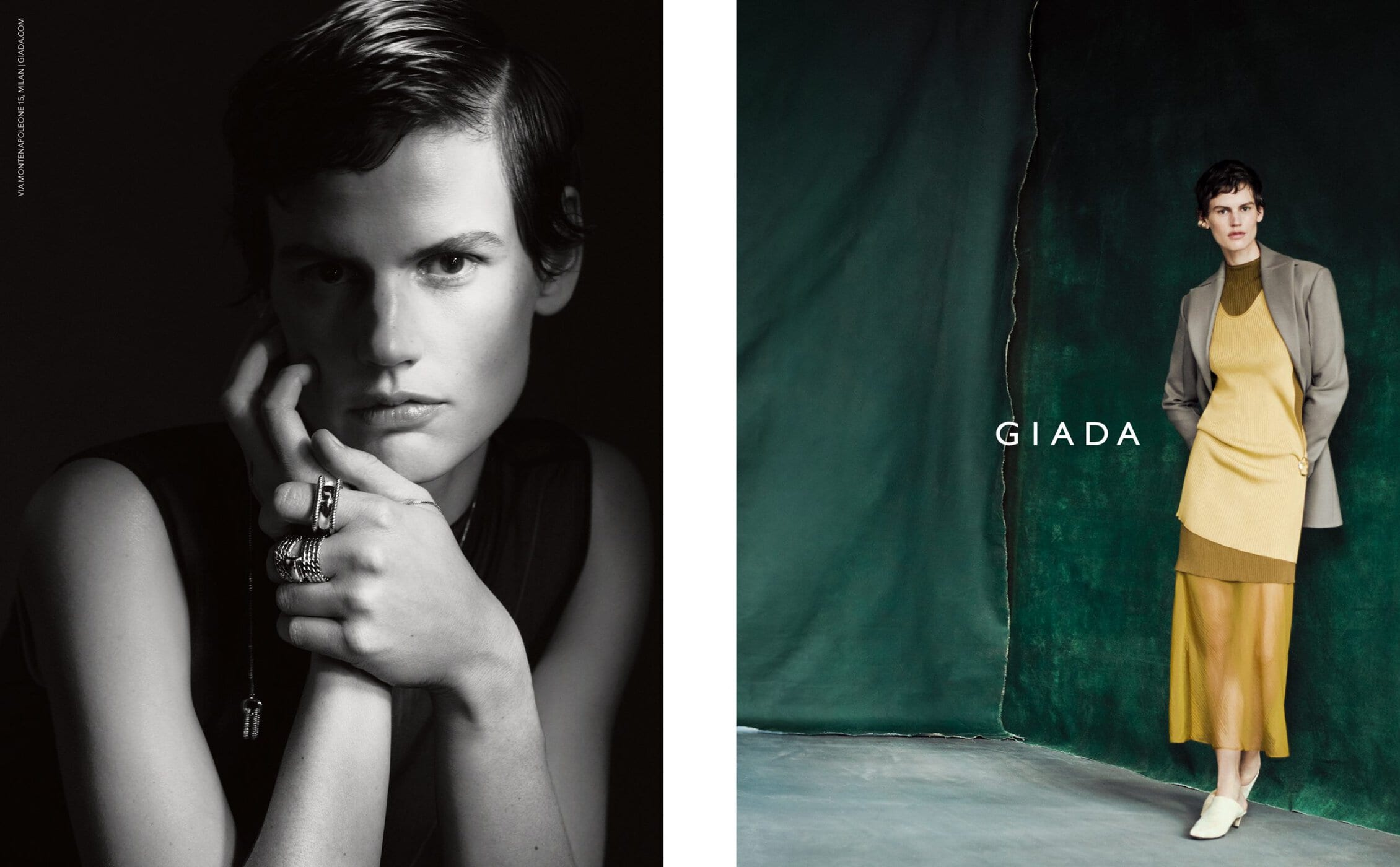 Kenneth Richard: Will you be working with Paolo Roversi this next season?
Gabriele Colangelo: We are working with another photographer this season, Annemarieke van Drimmelen. She's from the younger generation which I like. She's similar to Paolo but, of course, different. She has an idea of the simultaneous fragility and strength which Giada women have. It's an important contrast.
You know an interesting narrative has a sort of balance between opposites.
And, with her, we found that balance.
Kenneth Richard: Balance is a word that keeps coming up as the last four months have been crazy. Where were you after Milan fashion week and how has this all unfolded for you?
Gabriele Colangelo: It was crazy. I had my show on February 23rd and 24th, Milan was quite closed up. After that, I stayed at home in Milan for about two and a half months.
We take for granted the connection with other people, the connection with our friends. Something as absolutely simple and natural for human beings as seeing loved ones became extraordinary.
I didn't see anybody for two months and a half. We were only allowed to go out for food or medicine—no exceptions. I didn't see my family during that time. They're very strict here.
Kenneth Richard: I was on the tarmac in Milan on the 24th as they issued the lockdown. What did two plus months of solitude bring to you?
Gabriele Colangelo: I have to say that in these two months, I worked a lot on designing the collections. You know, sometimes you have to do so many extra things during the day. You have so many commitments or meetings.
But with all of this alone time, I designed so many things. Design was my escape. It was like a beautiful dream working on the collection. It gave me a real motive to continue.
Without the collection, depression could have been just around the corner, being alone for so long. There was plenty of personal reflection, and I heard a lot of people speculating about what is next for the pandemic. But just in terms of myself, my designing is important to me, and I want to continue in the very honest and sincere way that I'm doing it.
Quality clothing that can last in the time, for many season, is now my mantra. It has become the reason why I want to do this work. I want to produce something that becomes timeless and can last for as long as people want. That takes quality in the concept, quality in the fabric, quality in the manufacturing, so I became more strict in checking every step in constructing the collection.
Kenneth Richard: It's a nice thing to take away from that experience.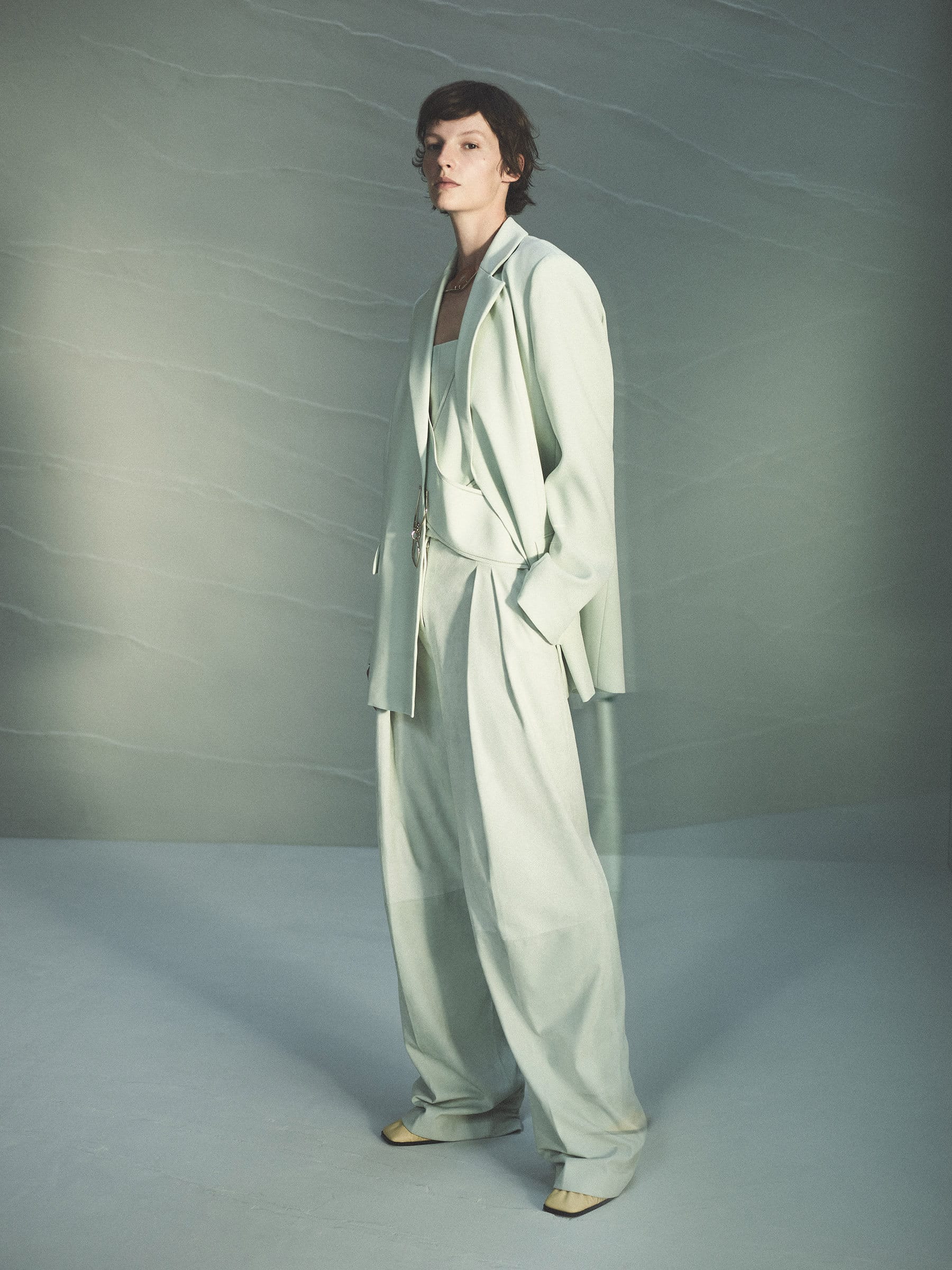 Gabriele Colangelo: Yes, I think it was a lot of time for reflection. And, people don't understand the work that is behind fashion. They just see fashion shows, catwalks, and they see the people sitting in the front row. They don't understand all that goes into it. I mean, I don't save any lives. I'm not a doctor. But, I put all my energy and effort in my work, and that means sacrifices. I work every day from ten o'clock in the morning until eight or nine in the evening. So, there is work behind fashion. That's why I will not do the show for Colangelo this season, but I want to do a presentation to speak about my clothes.
I want to show people the details. In the show, you have seven or eight minutes, and everything passes so fast. You don't have long enough to see how beautiful the clothes are or how much time I spent in creating a fabric, working a concept, or perfecting the stitching. And, all these things are the true beauty of my work.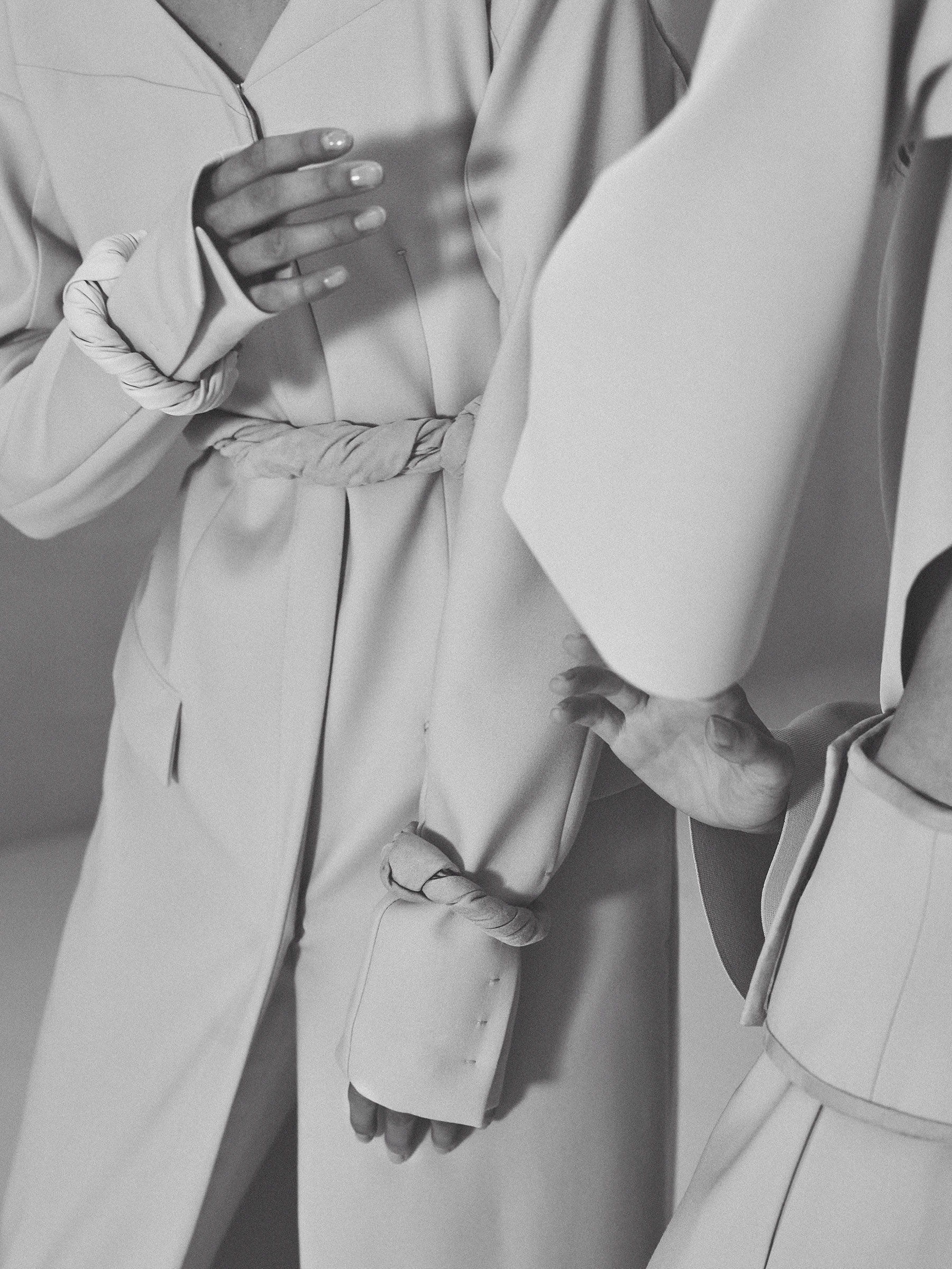 It's a pity that this message doesn't come across. Only some people can understand it, not all. And, it's not because I'm doing super niche work. It's because the system doesn't help you to stop and see and think and elaborate. The shows are so fast. You see my show, and then in ten minutes, you will see another one and then, in another ten minutes, another one. You don't even have the opportunity to think more deeply. At the same time, if you think of the schedule that we have… we do precollections, then the show collections, and then, like, a million capsule collections in the meantime. You know, creativity lasts one day and it's a pity. So, I hope that the pandemic will help all of us to stop a little bit and think more.
Kenneth Richard: Tell me a little bit about the Giada brand and what excites you about it?
Gabriele Colangelo: I've been with Giada for about six years.
The beauty of this marriage is that Giada and I both care about the quality and the attention to the details.
The difference between Giada and Colangelo is that when I'm creating something for Giada, it has to be a classy reinterpretation of pieces.
We work with very precious materials like cashmere and silk and wool which are so precious, and the DNA of the brand was about the preciousness, the quality of the materials. But my work was to make this updated, more contemporary, more—not fashion-forward, we wouldn't want to be that—we want to be something which is timeless. But timeless is not classic.
Timeless is something that you always wear and can wear. But, to find in every season a new interpretation of the classic wardrobe is a big challenge especially when your language is very, very strict as it is at Giada. We don't work with embellishments. We don't work with, you know, bling-bling things. So all the pressure is on the material and its manufacturing. If you don't have beautiful manufacturing, the material won't have the right result.
Kenneth Richard: As a person who understands the value of classics and reinterpreted for today, you are a perfect fit.
Gabriele Colangelo: Yes, Giada is a very sincere product. It's expensive, but what you pay is justified by the product. The price is not just for the brand name. It's justified because the quality's amazing. Everything is very well done, and we have people that control check the collection, and they are so strict. If the product does not meet our high standards, they decide not to put it in the store.
Giada is really honest which is quite rare in fashion. Because sometimes there is a sort of mystification, you know. You see all these beautiful images, but when you go into a store, the clothes are not the same. In the case of Giada, what you see on the catalogue and in the campaigns, you find in the store.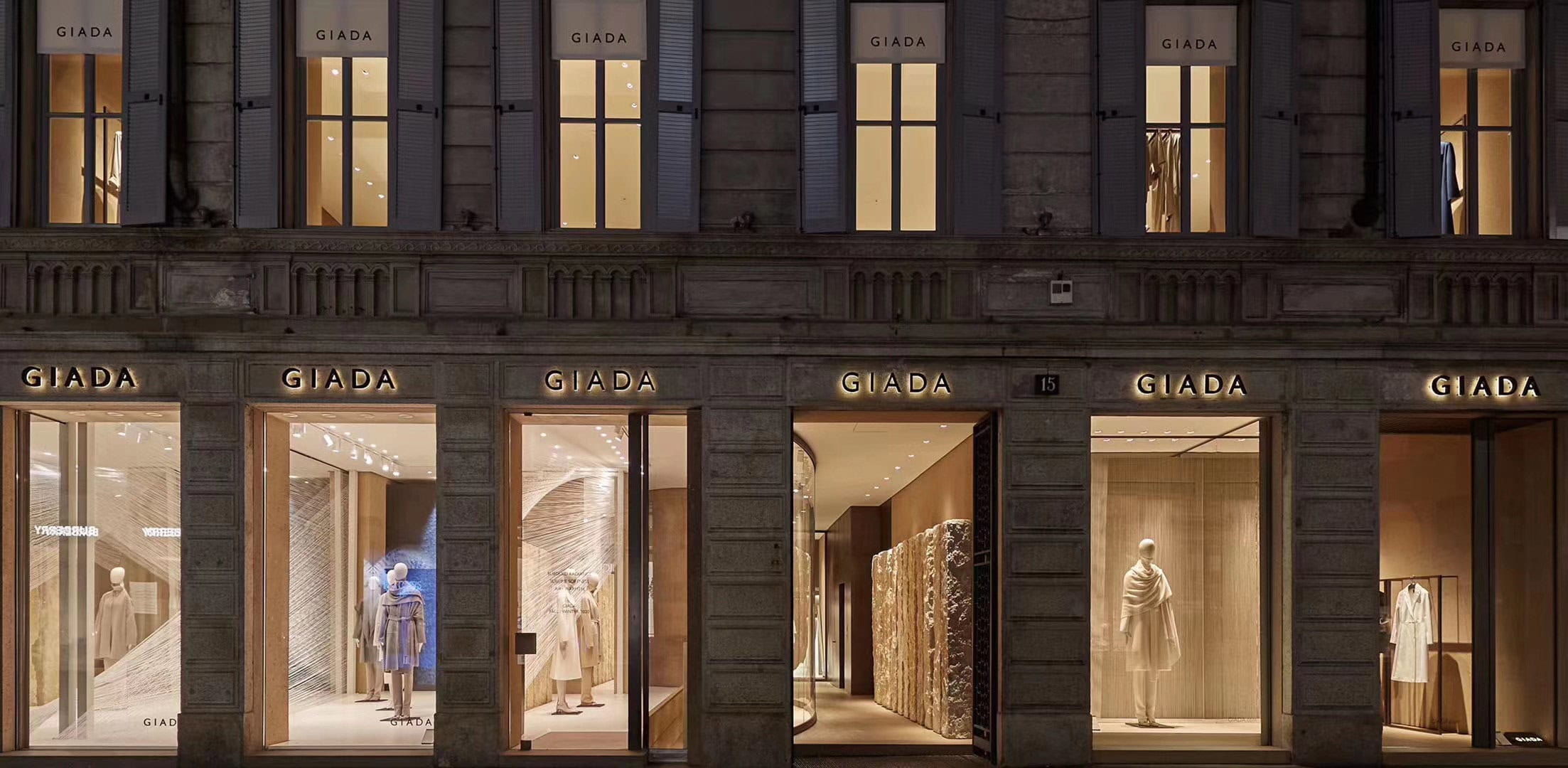 Kenneth Richard: Your philosophy matches up with the brands and the truth of what I see.
Gabriele Colangelo: Oh, fantastic. That is good feedback for me. I like to make sure that the ideals I have come to life.
Kenneth Richard: It's evident. What are you looking forward to next?
Gabriele Colangelo: I mean, being able to travel again, for sure.
Traveling is an essential part of my research. Seeing people all around the world is very inspiring. You know, you cannot design a collection by browsing the internet or Instagram. That's too one-dimensional. It's not the same as seeing the people around the world walking on the street. That's different and special.
Kenneth Richard: I agree, and am missing coming to see you and all of Milan.
Gabriele Colangelo: I hope to see you very soon. It's a pity that, in the past, we didn't have the time to speak in this way?
Kenneth Richard: Backstage post shows isn't really enough time.
Gabriele Colangelo: Yes, we need real time to go just a little bit deeper. Everything doesn't remain just on the surface.
The thing I want people to understand in general is that in this work there is a lot of effort in the thinking, the doing, the manufacturing. It's not just parties.
Kenneth Richard: Thank you so much. Give my best to everybody there and we look forward to both your collections.
Gabriele Colangelo: I'm so happy to meet you.
Kenneth Richard: We are the ones honored to meet with you. Look forward to seeing you sometime in Italy and excited to see you new collections. Good luck with the showings.
Gabriele Colangelo: Ciao. Grazie.
---